Grand Myanmar Discovery - 20 Days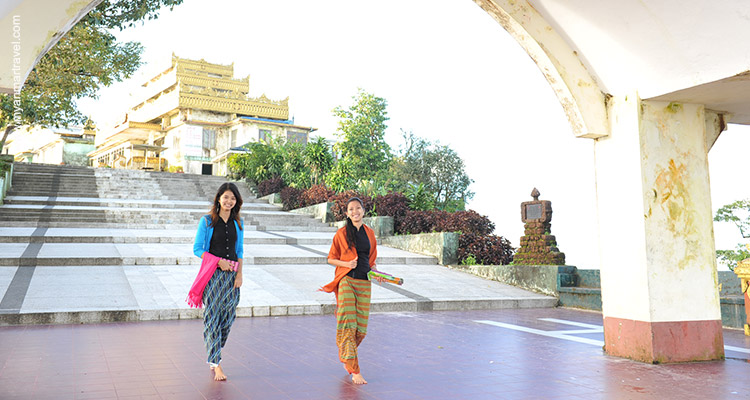 Starts

Yangon

Destinations

Ends

Mrauk U

Yangon → Bagan → Inle Lake
Highlights
Enjoy fine dining with Burmese food and amazing cultural show
Admire the amazing sunset over Ubein Bridge & Bagan plain
Discover authentic locals' life and various handicraft workshops on scenic Inle Lake
Ultimate beach relax on one of the most beautiful beach of Myanmar
Visit the unique village of Chin Tattooed faced women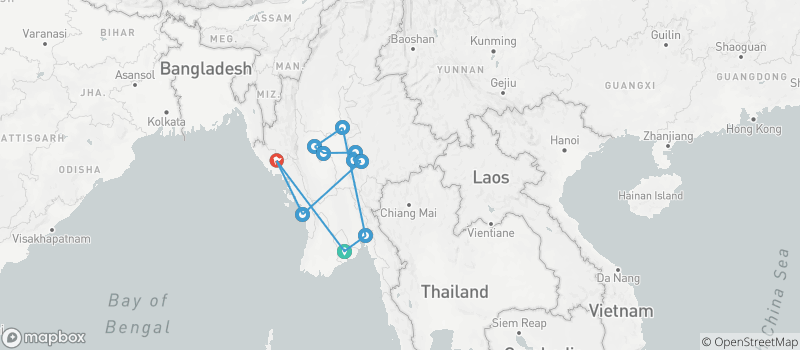 Age range

Accommodation

3

/ 4

/ 5

Transportation
Travelling through spectacular landscapes, this tour reveals the innate beauty of Myanmar's landscapes and its people. You will uncover Myanmar's mystique aura with an in-depth excursion into the country's cultural and natural wonders.
We offer even better rate for group of more than 10 people.
Let our travel consultant custommized your dream Vietnam Package
Go to customize.
Itinerary
Download PDF Brochure
Show all
Day 1: Yangon Arrival. Brief city tour

Mingalabar! Up on arrival at Yangon International airport, our guide and driver will welcome you at the airport and transfer to your hotel.
After refreshment, enjoy guided city tour to discovery the most highlights of busting formal capital Yangon.
Start with the visit to Sule Pagoda which is believed to enshrine a strand of hair of the Buddha & the nearby City Hall & Mahabandoola Park with Independent Monument
From Sule Pagoda, we embark on an orientation walk to Chinese Town, covering exotic streets of Yangon downtown and British Colonial building as Emmanuel Church, Inland Water Buildings.
Late afternoon, visit Shwedagon pagoda – the most prominent monument in Yangon which dominates the sky with golden flash, giant spires and holy relics.
Your highlight for this evening is the dinner in Karaweik Palace. The dinner is served with fine Burmese food and amazing cultural show.
Meals: Welcome dinner
Accommodation: Hotel in Yangon

Day 2: Yangon – Kyaikhtiyo

After breakfast in the hotel, we are leaving Yangon in the morning; enjoy a scenic journey to Kyaiktiyo, 190km to the east. One of Myanmar's great pilgrimage sites is the Golden Rock at Kyaiktiyo, a huge boulder covered by gold leaf and delicately balanced on the edge of a cliff. The pagoda at the Golden Rock is said to hold a hair of the Buddha. Late morning, arrive at Kyaiktiyo base camp and transfer to the transit junction with one of the small open trucks in an one hour ride, followed by up to an hour challenging walk up to the hill top.
Here, you will visit Kyaiktiyo Pagoda, built on the top of a huge gilded boulder and enjoy sunset from this unforgettable site.
Meals: Breakfast
Accommodations: Hotel in Golden Rock

Day 3: Kyaikhtiyo – Bago – Yangon

After breakfast, return to the base-camp by open truck and head in the direction of Yangon for 110km to Bago, an ancient capital dating back to the 6th century. Sightseeing in Bago includes the beautiful 55m long reclining Buddha called Shwethalyaung and the Mon style Shwemawdaw Pagoda, one of the most venerated in Myanmar. Its spire stands 114m high and is taller even than the Shwedagon Pagoda. Also visit the old Palace of
Kambozathadi and the huge four sitting Buddhas. Transfer back to Yangon.
Meals: Breakfast.
Accommodations: Hotel in Yangon

Day 4: Yangon – fly to Mandalay. Sagaing – Inwa

Known as the hub of Buddhism in Myanmar, Mandalay is a realm of stupas, monks and monastery. The most fascinating visit will be the time to behold the monks doing their worship and having meals.
Take the morning flight to Mandalay. Upon arrival, meet our tour guide and head to Sagaing, Here, you will discover the monk education, visit Budda Cave, Uminthonze Pagoda, Sunooponnyashin Pagoda and enjoy the panoramic view of Mandalay.
We then cross the river by ferry to Inwa (Ava), situated on the banks of the Irrawaddy River. Once a royal capital, Inwa is now a quiet rural oasis. Enjoy a horse cart ride around the peaceful countryside, visiting Bagaya Kyaung, a beautiful teak wood monastery, Maha Aungmyay Bonzan Kyaung, and Nan Myint tower.
End of the day, walk over Ubein Wooden Bridge, the longest teakwood of its type & enjoy great sunset view here.
Meal: Breakfast
Accommodation: Hotel in Mandalay

Day 5: Mingun – Mandalay City

Drive to Mandalay pier, embarking on a private boat upstream to visit Mingun, famed for its huge and incomplete Pahtodawgyi Pagoda, Mingun Bell the 90 tons ringing bell and the white temple Hsinbyume.
In the afternoon, visit Shwenandaw Monastery – noted for its exquisite wood carvings, Kuthodaw Pagoda – known as the world's biggest book and some handicraft workshops of gold leaf beating & silk weaving.
Late afternoon, drive to Mandalay Hill to watch the sun-set and the panoramic view of the city.
Meal: Breakfast
Accommodation: Hotel in Mandalay

Day 6: Mandalay – Mt. Popa – Bagan

Leave Mandalay for a scenic 4 hour drive to Bagan with a stopover to visit Mt. Popa, known as the most sacred site for meditation in Myanmar. Our guide will lead you to Popa Kalat Monastery where you can enjoy the panoramic view of Popa national park.
Continue to Bagan and on the way, we will experience the traditional palm work, cigar maker and peanut oil distillation.
Meal: Breakfast
Accommodation: Hotel in Bagan

Day 7: Bagan sightseeing

Spend the whole day exploring Bagan where over 2,000 ancient temples blossom from the countryside.
Start our sightseeing today with the visit to lively & colorful market of Naung U. Our first temple visit is to Shwezigon Pagoda, which is believed to enshrine a bone and tooth of Gautama Buddha. Continue to Htilominlo Temple, Ananda Temple, housing four standing Buddha and then to Sulamani Temple.
This afternoon, enjoy the exotic horse cart to one of the biggest temple in Bagan: Nan Paya pagoda and many other interesting sites nearby. The highlight of today is the panoramic sunset view over Bagan.
Meal: Breakfast
Accommodation: Hotel in Bagan

Day 8: Bagan – Salay – Bagan. Sunset boat trip

After breakfast, set out for a scenic drive Southward, parallel to the Irrawaddy River to Salay. After first hour drive, we make a stop in Chauk which has a colorful morning market to explore. Few tourists visit this market and it is a great place for local interaction and photos.
Another half an hour, we reach Sale (Sa-lay), a sleepy town where various colonial buildings, monasteries and pagodas can be seen.
Amongst, we will visit Yoke-Sone-Kyaung Monastery which is a cultural heritage site in Salay, situated on the eastern bank of the Ayeyarwaddy River. It is famous for its beautiful artistic woodcarvings.
Return to Bagan to visit lacquerware workshop, discovering the traditional way that local people make the lacquer wares which features a part the Bagan fame.
We offer an hour beautiful sunset boat ride on Irrawaddy River.
Meals: Breakfast
Accommodation: Hotel in Bagan

Day 9: Bagan – fly to Heho – Pindaya – Kalaw

Leave Bagan for a short flight to Heho. On arrival, meet our tour guide and enjoy a scenic drive to Pindaya. It is time to experience the great work of decoration inside Pindaya cave.
These caves are ensconced in a limestone ridge overlooking the lake. Inside the cavern
there are more than 8000 Buddha images - made from alabaster, teak, marble, brick, lacquer and cement - and are arranged in such a way as to form a labyrinth throughout the various cave chambers. Shwe U Min Paya - this is a cluster of low stupas just below the ridge near the Pindaya Caves.
Late afternoon, drive to Kalaw
Located on the mild highland of Shan state, Kalaw exposes a green natural beauty, combining the exotic life of ethnic minorities and pine plantations.
Check in your hotel upon arrival and rest of the time is at leisure.
Meals: Breakfast
Accommodations: Hotel in Kalaw

Day 10: Kalaw trekking

Spend the morning trekking to the habitat of Pa-O tribes. You are offered to know about their unique lifestyles and join local for their farm works.
As you walk through valleys and plantations, you will see local people work hard with their planting or harvesting wheat, ginger and a variety of other crops.
Meal: Breakfast
Accommodation: Hotel in Kalaw

Day 11: Kalaw – Kakku – Inle Lake

This morning, leave Kalaw for Kakku on a 4 hour drive journey. Stop at Taunggyi for a short visit en-route then head into the rolling hills toward the east of the lake. The drive is spectacular, crossing over the railway line and through small villages inhabited to the Pa-Oh people. This area was closed to visitors for many years and even now only a few intrepid tourists make their way through here.
The first view of Kakku is breathtaking: there are more than 5200 individual stupas, some of which are 20 metres high, and several Buddha images scattered throughout. There are no clear facts about the history of the stupas but most date back to the 11th-13th century, the same period when Bagan was thriving. Wander throughout the temples, taking your time to enjoy the wonder and awe of this site and discover the intricate carvings and details on the structures.
Late afternoon, transferred to your resort in Inle Lake. Check in and rest of the time is at leisure.
Meals: Breakfast.
Accommodations: Hotel in Inle Lake

Day 12: Inle Lake discovery

This morning, you will visit the 5 day market which is hold in different villages surround the lake. This is definitely a fascinating place to enjoy the scene of local tribes in their colorful clothes and exotic market atmosphere.
The boat will then take you to beautiful temple of Indein, located on the hill overlooking the lake. It will be definitely relaxing to walk along the corridor and enjoy the giant columns which have been left to the nature for centuries.
Continue our sightseeing tour to Phaungdawoo Pagoda, famed for its richly gilded five small Buddha images, also is believed the holiest in Inle Lake. As you travel further to Nam Pan village; cotton and lotus weaving factory, cigar making houses will impress you with a sense of traditional Intha life.
Meals: Breakfast.
Accommodation: Hotel in Inle Lake

Day 13: Inle Lake – Heho. Fly to Ngapali

This morning, take an hour flight to Ngapali.
Get picked up on arrival and rest of the time is at leisure.
Meals: Breakfast.
Accommodation: Hotel in Ngapali

Day 14: Ngapali free at leisure

Meals: Breakfast.
Accommodation: Hotel in Ngapali

Day 15: Ngapali free at leisure

Meals: Breakfast.
Accommodation: Hotel in Ngapali

Day 16: Ngapali – fly to Sittwe – Mrauk U

Take a short flight to Sittwe. Meet our tour guide and driver for a transfer to the jetty for a private boat trip along the Kaladan River to Mrauk-u about 5 – 6 hours upstream & enjoying river life.
Late afternoon arrive at Mrauk U. Check in at hotel and overnight in Mrauk-u.
Meals: Breakfast.
Accommodation: Hotel in Mrauk U

Day 17: Mrauk U sightseeing

After breakfast, start sight-seeing in Mrauk-u, the ancient capital city of Rakhine Kingdom (15th century). First, visit to city market to see the ways of life of local people. Then, followed by visit to Pharaouk Pagoda, Mong-Khong- Shwe Du Stupa, Pesi paya, Koe Thaung Temple (a shrine of 90000 Buddha images), Latt-Say Lake (artificial lake with city wall and a gate) an Mahabandola Monastery like a museum and back to hotel for lunch and break for a rest.
In the afternoon, visit to the massive Shit-Thaung Temple, a curiously remarkable temple
with 80000 Buddha images and reliefs, Htaukkhan-Thein Temple likes the fortress, Andaw temple, Ratanabon Stupa, Laymyathanar temple (four sided temple), Laungbanprauk Pagoda locally known as "Plate Pagoda" and Pitakataik (a small library).
Late evening, drive to Harritaung hill for Sunset and back to hotel and overnight.
Meal: Breakfast
Accommodation: Hotel in Mrauk U

Day 18: Mrauk U – Chin Tattoo Village – Mrauk U

After breakfast at hotel, morning depart for Nann Kyar Village and Jetty by car (half an hour drive) and then 3 hours sailing up by boat along very fantastic scenery up stream Lay Myo river to Kone Chaung Village. Visit around the village to see very wonderful Chin ladies with tattoed faces with very different exciting tattooed pattern and their very simple ways of life. Visit Kyung Chaung , Sinkechin tribe villages which all are located at the lay Myo river bank. Lunch-box is needed to bring. Return back along downstream 2 and half hours. Then drive back to hotel.
Meal: Breakfast, Lunch
Accommodation: Hotel in Mrauk U

Day 19: Mrauk U – Sittwe. Fly to Yangon

Drive to Sittwe with a visit on the way to Mahamuni Pagoda then take the afternoon flight to Yangon. Get picked up on arrival and rest of the time is at leisure.
Meal: Breakfast
Accommodation: Hotel in Yangon

Day 20: Yangon departure

You are free to explore Yangon on your own or enjoy last minute shopping for souvenirs before getting transferred to the airport for departure. End services.
Meals: Breakfast.
Accommodations: N/A
Detailed services
Show all
Accommodation

Rated Excellent by past passengers

Note:All the hotels/ cruise are subject to availability and can be changed. In case any of the listed hotels are fully booked, alternatives of equivalence will be taken.

Guide

Rated Excellent by past passengers

Meals

Rated Excellent by past passengers

Daily breakfast at hotels
1 Lunch, 1 Dinner

Transport

Rated Excellent by past passengers

Private transportation with A/C
Flights

5 domestic flgihts
Yangon - Mandalay
Bagan - Heho
Heho - Thandwe
Thandwe - Sittwe
Sittwe - Yangon

Note:Please note that airfares are subject to availability and to change without notice
Open
Price Includes
• 5 domestic flights in Myanmar
• Accommodation with daily breakfast at selected hotels
• Private tours, transfers and all services as mentioned in the itinerary
• Services of a private driver and air-conditioned vehicles
• Service of English speaking guides in every location
• Entrance fees for all mentioned sights visited
• Meals as mentioned in the itinerary
Price Excludes
• International flights
• Meals other than those mentioned in the itinerary
• Early check-in and late check-out at hotels
• Personal expenses (such as laundry, telephone, drinks, etc.)
• Tips for guides and drivers
• Personal travel insurance
• Myanmar Visa fees
START PLANNING NOW