Luxury Cruise from Mandalay to Yangon - 14 Days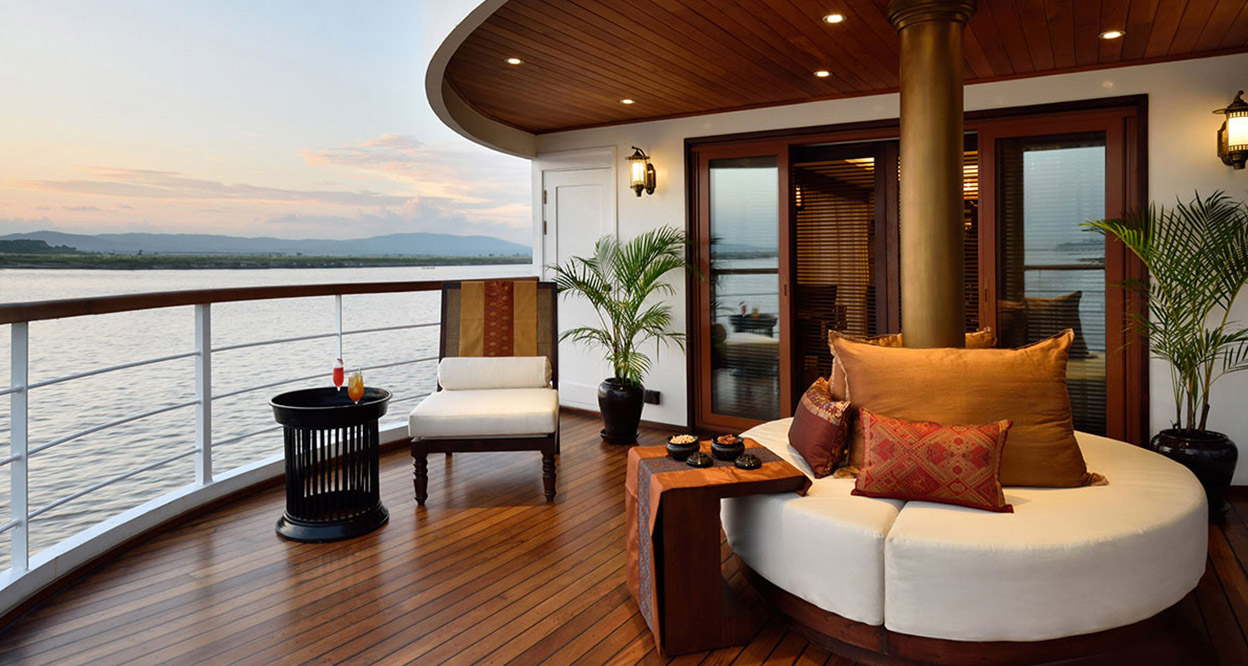 Starts

Yangon

Destinations

Ends

Yangon

Yangon → Bagan → Mandalay
Highlights
Admire the most sacred pagoda in Myanmar, Golden Shwedagon Paya
Experience 11-night luxury cruise with exciting daily excursions.
Enjoy various onboard activities & performance.
Capture beautiful sunrise and sunset views on Irrawaddy River
Visit authentic villages with chances to interact with local people.
Age range

Accommodation

5

Transportation
This 14 Days Luxury Sanctuary Ananda Cruise from Mandalay to Yangon will take you in style on voyages of breathtaking beauty and discovery on the mysterious rivers of Myanmar.
The journey is along the Irrawaddy River, visit on a choice of cruise to many temples, pagodas, places and monasteries. You are sure to fall in love with every part of this magnificent cruise trip.
We offer even better rate for group of more than 10 people.
Let our travel consultant custommized your dream Vietnam Package
Go to customize.
Service Category

2

Adult(s)

0

Child(s)

0

Infant(s)
Discount
Total
Select

$ 1,769 x 6

-

-

-

$ 10,614

Book It
Itinerary
Download PDF Brochure
Show all
Day 1: Mandalay arrival

Our tour guide & driver will welcome you at the airport and transfer you to your hotel (check in time is at 14:00, early check in is subject to availability).
Meals: N/A
Accommodation: Hotel in Mandalay

Day 2:Mandalay - Cruise embarkation

Welcome on board the Sanctuary Ananda.
Check-in is 12.30pm, but should you arrive on an early flight there's an optional sightseeing tour of Mandalay. We'll see Mahamuni Pagoda which houses the Mahamuni Image, the teak Shwenandaw Monastery, the only palace to have survived WWII's bombings, and Kuthodaw Pagoda, which was modelled on Shwezigon Pagoda in Bagan. It is often referred to as 'the biggest book in the world' thanks to its hundreds of marble slabs inscribed with the Buddhist canon.
Once on board, enjoy lunch as we cruise towards the pagoda-dotted hills of Sagaing. Formerly the capital of the Shan kingdom, it's home to hundreds of monasteries and thousands of monks and nuns. This afternoon, we'll visit several pagodas, and a highlight will be pausing on the terrace of Soon U Pon Nya Shin on Sagaing Hill.
We'll set off for Amarapura; once known as the City of Immortals, it held some 200,000 inhabitants in its heyday. But instead of the noisy bustle of yore in this former capital, today you'll hear a leisurely clack-clack from the looms of the cotton and silk weavers at work. We'll pop into textile workshops, and then pause by the U Bein Bridge. This long teak bridge snakes across Taungthaman Lake and it really is a spectacular spot to enjoy sunset. Built by a notorious mayor in 1847, the fraudster pocketed the money raised for its construction, reusing the timbers from the abandoned Ava Palace – thankfully the king eventually saw through his ruse. After the sun has gone down, we'll head back to the boat moored at Gawein jetty to enjoy dinner on board.
Meals: Breakfast, Lunch, Dinner
Accommodation: On Cruise

Day 3:Sin Kyun To Semikhone

Early morning tour of Sin Kyun - here you'll get a true taste of traditional farming and artisanal life in our adopted village. After the village tour we will take a small boat to cross the river and will visit Mingun. Here in this sleepy village, an ox cart will transport you to the unfinished Mingun Pagoda. Building started in 1790 but all that remains of King Bodawpaya's ambitious scheme today is a huge pile of bricks.
Also noteworthy is the massive Mingun Bell, which measures an eye-watering 12 feet high and 16 feet wide. Lastly, you'll see a most unusual white pagoda known as Myatheindan. King Bodawpaya's grandson Bagyida created it in memory of his senior wife, the Queen Hsinbyumei.
Return at 11.30am to the ship so that we can start sailing south, passing unspoiled scenery that rarely gets exposed to tourists. This region backdropped by rich tamarind trees and hillside white and golden pagodas is unique for its unintended beauty - look out for scenes of ladies perched on rocks chatting as they do their daily wash, or ox carts waiting on the banks for a boat to arrive and unload its goods. A perfect place from which to observe these authentic filmic tableaux from is the air-conditioned Kansi Panorama Lounge.
Early evening, Sanctuary Ananda will drop anchor at the confluence; this is the ideal time to ask the barmen to create your favourite sundowner as an aperitif in a setting you'll never forget.
Meals: Breakfast, Lunch, Dinner
Accommodation: On Cruise

Day 4:Pakokku to Bagan

Early morning we'll start sailing towards Pakokku, just south of the confluence of the Ayeyarwady and Chindwin Rivers. The site of a well-known battle at the end of World War II, Pakokku is famous for tobacco and sugar palm (jaggery). You will visit the local market where colourful, exotic fruit and vegetables are laid out as though for a photographer, brightened up with sprigs of tropical flowers. Then it's on to the cheroot factory, where the girls who roll the cigars work with incredible speed and dexterity making it quite a thing to see.
Return to the ship for 12.00am and the boat will sail 25 miles so as to arrive at Bagan just after lunch. Here you'll see the remarkable Ananda Temple. Completed in 1091 AD, it is considered one of the four great temples in Bagan, celebrated in folklore as one of Myanmar's most beautiful. Shaped like a perfect Greek cross, the temple rises in graduated terraces to a height of about 170 feet. Inside, there are four magnificent golden Buddha statues and within the grounds is the Ananda Oakkaung, the well-preserved remains of a monastery where murals depict the secrets of Burmese life from the 11th, 12th and 13th centuries.
Next is a visit to Htilominlo Temple, a two-storey redbrick temple built around 1211 AD. A magnificent structure, it is heavily restored, standing at 150 feet high and 140 feet wide. Inside are four Buddha images facing the cardinal points, and some of the old murals can still be seen, as well as a number of friezes and old horoscopes, which were painted to protect the building from damage.
The day's finale is the sunset view over Bagan. The 'Golden Hour' light on these mysterious ancient pagodas is mesmerizing and when the sun sets behind the hills on the far side of the Ayeyarwady River, the sky glows red.
Meals: Breakfast, Lunch, Dinner
Accommodation: On Cruise

Day 5:Bagan to Sale

After breakfast there's a visit to Bagan by bus to experience the bustling Nyaung-U market. Farmers and traders meet here daily to buy and sell fruit and vegetables and china and lacquerware. Next is a visit to the golden Shwezigon Pagoda; begun by King Anawrahta it was finished by his son, King Kyanzittha, in 1087 AD. It holds a special place among Burmese pagodas for two reasons: it was the first major monument built in the Burmese style (as distinct from Mon style) following the country's conversion to Theravada Buddhism, and it was the first pagoda to have nat (spirit) images allowed within. The Shwezigon is said to contain important relics of the Gautama Buddha: two bones and a copy of a tooth. In Myinkaba, you'll learn about the ancient art of creating fine lacquerware from watching artisans in their workshops.
Return to the ship at 12.30pm and we'll sail downstream towards Sale, passing Chauk, one of the original oilfields where the 'nodding donkeys' (oil-well pumps) work away at the river's edge. We'll get to Sale (Salay) around 3pm. We will visit Yoke Sone Kyaung monastery, a fine teak building with some beautifully crafted reliefs. Our final stop before returning to the boat for dinner is Tha-ta-na Kyaung - this small temple has an interesting Buddha image made from bamboo.
Meals: Breakfast, Lunch, Dinner
Accommodation: On Cruise

Day 6:Minbu to Magwe to Minhla

We'll spend the morning sailing to Magwe, and this leg of our adventure includes passing Minbu village around lunchtime. Nga Ka Pwe Taung, meaning 'Dragon Lake', is a unique gas-and-mud-bubbling pool set here in what seems like a lunar landscape. Not many tourists have the opportunity to stray to this part of Myanmar.
Around 2pm we'll dock in Magwe and take you to Myat Than Lun Paya, a stunning 1929-built pagoda of solid-gold bricks set on a river-view hilltop. Later this afternoon we will carry on along the river towards Minhla where we'll dock overnight. Minhla Fort, the dramatic military construction here, which harks back to the Konbaung era.
Meals: Breakfast, Lunch, Dinner
Accommodation: On Cruise

Day 7:Minhla fort to Thawutti to Pyay

At 9am we will take a walking tour of the Minhla Fort. An unusual construction built for the Burmese king by Italian engineers, it was intended to resist a British invasion in the second Anglo-Burmese War.
Back aboard the ship, we'll cruise on to Thayet where we'll dock overnight.
Meals: Breakfast, Lunch, Dinner
Accommodation: On Cruise

Day 8:Thayet to Pyay

The next chapter in our adventure includes the mystical white pagodas and charming colonial houses as we explore postcard-perfect rural Thayet. Built by the British in 1887, Myanmar's first golf course is also here.
Pyay (pronounced by some as 'pyay' and 'pyi' by others) is a charismatic dock with a startlingly beautiful pagoda. Late afternoon we will have a look around this destination formerly referred to as Prome by the British, this is a highlight of this cruise.
Shwe Daung village is next on our day's agenda. Look out for the only Buddha wearing gold sunglasses at Shwe Myet Hman pagoda, before we head back to Sanctuary Ananda about 6.30pm.
Meals: Breakfast, Lunch, Dinner
Accommodation: On Cruise

Day 9:Pyay to Kenaung

This morning, before returning to see more of Pyay, we will visit Thayekhittata, an old Pyu Dynasty city; on display is a wealth of different-sized stupas, built between the 4th and the 13th centuries.
Worthy of a pilgrimage, Shwesandaw Paya is not only impressive in scale, but this temple is celebrated for housing supposed strands of Buddha's hair and also an actual tooth which takes the form of a golden bell which is revealed only during November's full-moon festival. From this hilltop pagoda, it is impossible not to be awestruck by the vision of the 10-metre-high Buddha statue.
Returning to the boat at in time for lunch, you'll be able to enjoy an afternoon on board. On the way we pass Akauk Taung; here you'll be able to capture the best possible photos of these truly staggering cliffs. Meaning 'Tax Mountain', this quirky site takes its name from all the 19th century toll-takers who would kill time in between charging passing boats by carving hundreds of Buddhas right here into the steep cliffside.
Meals: Breakfast, Lunch, Dinner

Day 10: Kenaung to Zalun

At about 9am we will pause at Kenaung village.
After lunch, as we sail 68 miles south towards Zalon, this is another chance to savour your time on this extraordinary riverboat. As the ship continues south, enjoy a restful on your private balcony or take full advantage of Santuary Ananda's extensive services and facilities. Whether you choose to relax and unwind or seek stimulation or conversation, boredom is never an option aboard Ananda.
Meals: Breakfast, Lunch, Dinner
Accommodation: On Cruise

Day 11: Zalun to Danuphyu

This morning we will visit the small port town of Zalon where we'll whisk you on the local tuk tuk to see the Buddhas in the remarkable Pyi Taw Pyan; these bronze figures were controversially stolen by the British Army but then returned by order of Queen Victoria.
After sailing south to Danuphyu, we will take a local trishaw and visit a monastery and the Maha Bandula memorial at Pali University. It was from here that General Maha Bandula led a Burmese defensive against British troops during the Anglo-Burmese War.
Meals: Breakfast, Lunch, Dinner
Accommodation: On Cruise

Day 12: Danuphyu to Yangon

Your last day will be the perfect chance to relax and reflect on all that you've seen and done. We'll spend today sailing downstream, which means you have ample time to make the most of the many luxuries on board Ananda. Maybe have a spa treatment or relax by the pool with a book from our library? Or just enjoy gliding through the soul-stirring riverscapes that so few foreigners get to see...
Tonight's farewell dinner features a special puppet performance.
Meals: Breakfast, Lunch, Dinner
Accommodation: On Cruise

Day 13: Yangon - Disembark cruise

As your cruise comes to an end, we thank you for sailing with us on board the Sanctuary Ananda and immersing yourself in the magic of Myanmar. Pick up at the port and transfer to your hotel.
Enjoy welcome dinner at Karaweik Palace, overlooking to the Royal Lake. The dinner is served with fine Burmese food and amazing cultural show.
Meals: Breakfast, Farewell Dinner
Accommodation: Hotel in Yangon

Day 14: Yangon city tour - departure

Explore half day visiting Yangon downtown, embarkation on an orientation walk from Sule to Chinese Town, covering exotic streets of Yangon downtown and British Colonial building as Emmanuel Church, Inland Water Buildings.
Visit Shwedagon pagoda – the most prominent monument in Yangon which dominates the sky with golden flash, giant spires and holy relics.
Our driver will transfer you to the airport for departure flight. Trip ends. Have a good journey and see you again.
Meal: Breakfast
Accommodation: N/A
Detailed services
Show all
Accommodation

Rated Excellent by past passengers

Note:All the hotels/ cruise are subject to availability and can be changed. In case any of the listed hotels are fully booked, alternatives of equivalence will be taken.

Guide

Rated Excellent by past passengers

English Speaking Tour Guide (other language on request)

Meals

Rated Excellent by past passengers

Meals as mentioned in the itinerary

Transport

Rated Excellent by past passengers

Private transportation with A/C
Flights

Flight: 01 domestic flight

Note:Please note that airfares are subject to availability and to change without notice
Open
Price Includes
• Accommodation with daily breakfast at selected cruise/ hotels
• Private tours, transfers and all services as mentioned in the itinerary
• Services of a private driver and air-conditioned vehicles
• Service of English speaking guides on board, in Mandalay, Yangon
• Entrance fees for all mentioned sights visited
• Meals as mentioned in the itinerary
Price Excludes
• International flights
• Meals other than those mentioned in the itinerary
• Early check-in and late check-out at hotels.
• Personal expenses (such as laundry, telephone, drinks, etc.)
• Tips for guides and drivers
• Personal travel insurance
• Myanmar Visa fees (contact us for further information)

START PLANNING NOW