Savour Myanmar Cuisine - 10 Days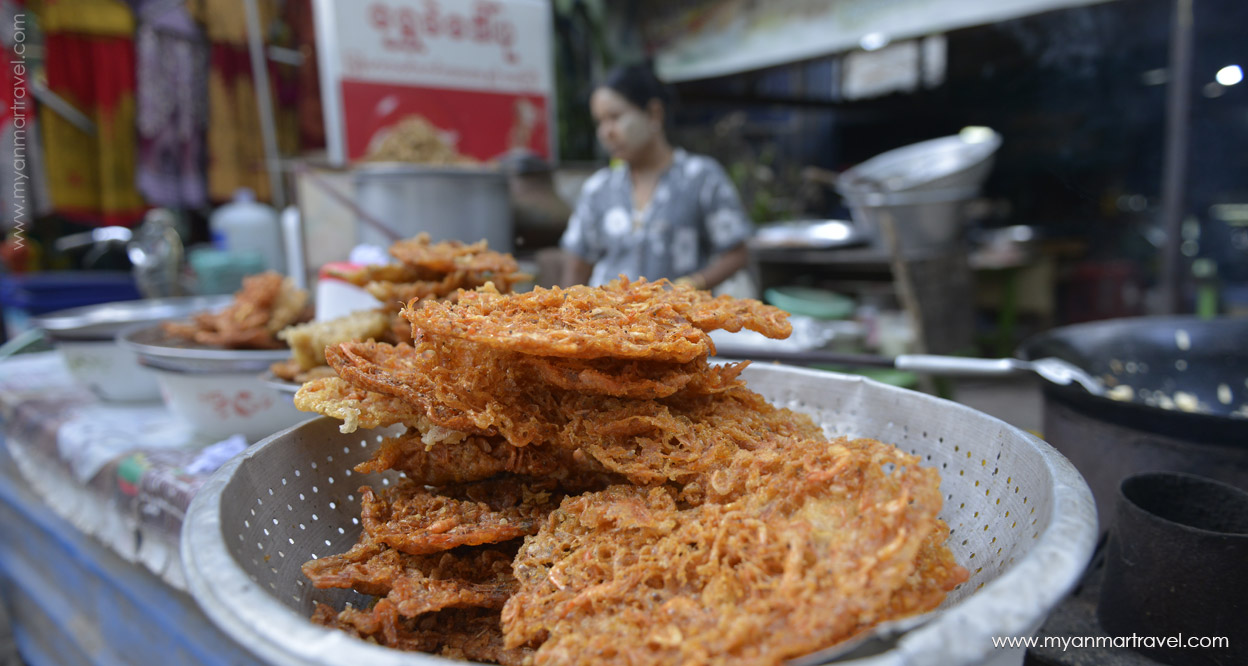 Starts

Yangon

Destinations

Ends

Yangon

Yangon → Bagan → Mandalay → Inle Lake
Highlights
Enjoy fine dining with Burmese food and amazing cultural show in Karaweik Palace.
Admire the most sacred pagoda in Myanmar, Golden Shwedagon Paya
Capture the amazing sunset over thousand temples of Bagan
Learn about Buddhism in Mandalay, known as the hub of Buddhism in Myanmar.
Savoring some of the best foods in Myanmar with different tastes.
Learning local dishes in fun cooking class.
Enjoy the best local food at View Point Lodge restaurant.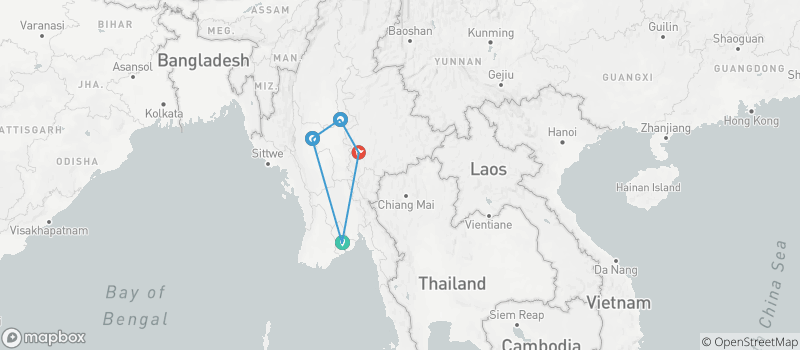 Age range

Accommodation

3

/ 4

/ 5

Transportation
Burmese cuisine is an exotic blend of flavorful ingredients that make up unique dishes which are an absolute must try. Savoring some of the best street foods in Yangon with different tastes. Cooking class at Pennywort Bagan and also View Point Lodge restaurant with stunning views of the canal, rice paddies and the highest mountains in the Inle region. Get a feel for Myanmar and its gastronomy as you explore the various food that surely build a forgettable trip in your life.
We offer even better rate for group of more than 10 people.
Let our travel consultant custommized your dream Vietnam Package
Go to customize.
Service Category

2

Adult(s)

0

Child(s)

0

Infant(s)
Discount
Total
Select

$ 1,124 x 6

-

-

-

$ 6,742

Book It

$ 1,205 x 6

-

-

-

$ 7,230

Book It

$ 1,422 x 6

-

-

-

$ 8,532

Book It
Itinerary
Download PDF Brochure
Show all
Day 1:Yangon arrival

Our tour guide & driver will welcome you at the airport and transfer you to your hotel.
Meals: not available
Accommodations: Hotel in Yangon

Day 2:Yangon circle train - street food tour

Spend a few hours on circle train to visit Yangon city. Seeing markets, filled with vendors and some colorful items for sale. Spend time walking amid the stalls examining the fruits, produce and meats on sale as well as chatting with the friendly locals.
Transfer by car back to the city centre of Yangon. Take a short walking tour through Chinatown and Little India, two fabulously diverse and vibrant neighborhoods of Yangon. You'll see street markets, snack vendors and many places of worship as you walk along the street.
In the afternoon, you will have time to explore street food, that is an unforgettable journey through exotic food stalls in Yangon. Our tour guide will show you the best vendors and the best amazing local dishes. There are some different stops and you could enjoy lots of local food. We make sure that all the stops are carefully selected for safety and cleanness.
Meals: Breakfast, Dinner
Accommodations: Hotel in Yangon

Day 3:Yangon - Fly to Bagan - discovery

Our private car will pick you up at your hotel and transfer to the airport for flight to Bagan.
Upon arrival, pick up and proceed to the tour. Today you will start your first Myanmar experience with a visit to local market Nyaung Oo Market, for a dose of local life and culture. Come to Shwezigone pagoda, which is believed to enshrine a bone and tooth of Gautama Buddha. Next to Wetkyi village – Wetkyi In Gubyaukgy temple. Going to Ananda, Sulamani Temple.
In the afternoon, we visit few temples nearby and discover the traditional way that local people make the lacquer wares which features a part the Bagan fame. The highlight of today is the panoramic sunset view from pagodas.
Meals: Breakfast
Accommodations: Hotel in Bagan

Day 4:Cooking class - horse cart riding - sunset cruise

Having lunch time cooking class with Pennywort in New Bagan. Go to the local market to buy the ingredients then back to their house to prepare the dishes. From this activities, you could learn a lot at the market not only food but also the local life.
The cooking class uses traditional techniques and recipes from their family. Make salad from local organic ingredients. Finally, enjoy everything that you prepared. Lunch is delicious and the great experience.
This afternoon, enjoy the exotic horse cart to one of the biggest temple in Bagan: Nan Paya pagoda and many other interesting sites nearby.
We offer a beautiful sunset cruise on Ayeyarwaddy River for today, you could observe the lifestyle of fishermen and riverside villages, as well as enjoying the unique views of Bagan's temples from the river.
Meals: Breakfast, Lunch
Accommodations: Hotel in Bagan

Day 5:Bagan - Fly to Mandalay - sightseeing

Our private car will pick you up at your hotel and transfer to the airport for flight to Mandalay.
Come to Amarapura. Being famous for Mahagandaryone Monastery Amarapura is the best place to experience the monk life in Mandalay. We will transfer from the city to Sagaing Hill- known as the center for meditation, discover the monk education, visit Budda cave, Uminthonze pagoda, Khaungmudaw Pagoda and Sunooponnyashin pagoda. Behold the panoramic view of Mandalay.
Walk over Ubein Wooden Bridge, is believed to be the longest and oldest teak wood bridge in the world.
Meals: Breakfast.
Accommodations: Hotel in Mandalay

Day 6:Mingun - Mandalay Palace & enjoy some snack

Driver to Mandalay pier, embarking on a private boat upstream to visit Mingun, famed for its huge and incomplete Pahtodawgyi Pagoda and Mingun Bell the 90 tons ringing bell. Continue visiting Mya Thein Dan Zedi pagoda.
In the afternoon, visit Mandalay Palace, Shwenandaw Monastery – noted for its exquisite wood carvings, gold leaf beating workshop, Kuthodaw Pagoda – known as the world biggest book. We will try le phet thoke – the salad made from fermented tea leaves, it can be eaten as snack. We will finish the tour by visiting Mandalay Hill to watch the sun-set and the panoramic view of the city.
Meals: Breakfast.
Accommodations: Hotel in Mandalay

Day 7:Mandalay - Fly to Heho - Red Mountain Estate Vineyards and Winery - Inle Lake

Our private car will pick you up at your hotel and transfer to the airport for flight to Heho. Upon arrival, pick up & proceed to the tour. We go east for 12 km, turn right at sign "Red Mountain Vineyards". The Red Mountain winery is a popular place for wine tasting - most people are pleasantly surprised. Red Mountain Estate vineyard in the hills for some wine tasting. One of only two vineyards in Myanmar, this definitely breaks the mould of your day-to-day Myanmar experience, making it suddenly feel as if you have been transplanted to the south of France. You can try the tasting menu (featuring wines from four different types of grape) whilst taking in the stunning sunset views over the lake.
Riding to View Point Lodge restaurant and enjoy your lunch. This is one of the best local restaurant in Myanmar, you can dine while enjoying stunning views of the canal, rice paddies and the highest mountains in the Inle region. Food and service are equal to the beautiful and exotic surroundings.
Meals: Breakfast, Lunch
Accommodations: Hotel in Inle Lake

Day 8:Five days market - Visiting Inthar Heritage House

This morning, you will visit the 5 days market which is hold in different villages surround the lake. This is definitely a fascinating place to enjoy the scene of local tribes in their colorful clothes and exotic market atmosphere.
We will head to the Inthar Heritage House which is an unusual restaurant which serves Myanmar Cuisine. It's also a catering school, a gallery and a cat Sanctuary for nearly extinct Burmese Cats.
Meals: Breakfast, Lunch
Accommodations: Hotel in Inle Lake

Day 9:Inle lake - Heho - Fly to Yangon - city tour - Dinner at Karaweik Palace

Our private car will pick you up at your hotel and transfer to the airport for flight to Yangon. Upon arrival, our tour guide will pick you up and proceed to the tour.
Spend your full day exploring Yangon, the heart of Yangon city; Chaukhtayi pagoda and Kandawgyi Lake. Discover the most outstanding pagoda in Yangon: Shwedagon pagoda, the golden pagoda is really a must see while you are in Myanmar. Enjoy your shopping time in Scott market (closed on Monday & holiday).
Your highlight for this evening is the dinner in Karaweik Palace, overlooking to the Royal Lake and Shwedagon pagoda. The dinner is served with fine Burmese food and amazing cultural show.
Meals: Breakfast, Farewell dinner
Accommodations: Hotel in Yangon.

Day 10: Yangon departure

You are free time till our driver transfers you to the airport for your departure flight.
Meals: Breakfast
Accommodations: Not available
Detailed services
Show all
Accommodation

Rated Excellent by past passengers

Note:All the hotels/ cruise are subject to availability and can be changed. In case any of the listed hotels are fully booked, alternatives of equivalence will be taken.

Guide

Rated Excellent by past passengers

English Speaking Tour Guide (other language on request)

Meals

Rated Excellent by past passengers

Daily breakfast at the hotels

Transport

Rated Excellent by past passengers

Car: Private transportation with A/C
Flight: 04 domestic flights
Boat: Inle Lake boat trip
Flights


Note:
Please note that airfares are subject to availability and to change without notice
Open
START PLANNING NOW