Best Restaurants in Yangon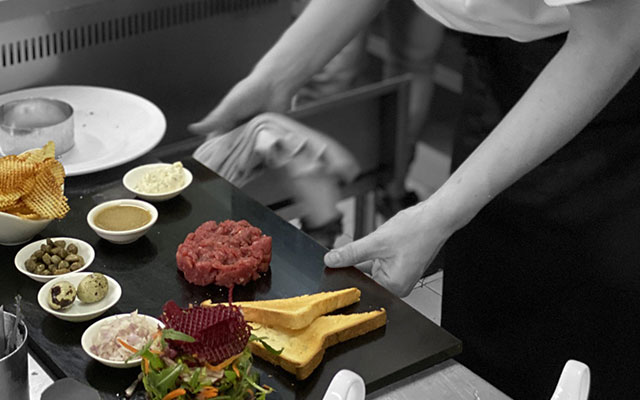 As the main gateway to Myanmar, Yangon offers something for every type of palate and budget. Traditional flavors from all over Myanmar mixed with international fusion and fare waft through the streets. Here are the best restaurants in Yangon you need to try when visiting this charming city.
1. Best restaurants for Burmese Cuisine in Yangon
Myaungmya Daw Cho Mohinga
Mohinga is considered as the national dish of Myanmar. It is a fish noodle soup served over rice vermicelli. Street vendors sell mohinga all over Yangon but the best well – known restaurant is Myaung Maw Daw Cho. Here the broth is thicker, brighter, and pungent with ginger. Garnish your soup with fresh cilantro and chili flakes on the table, and don't skip out on the deep-fried crackers and scallions, which make this bowl unforgettable. This famous mini-chain of mohinga shops has several locations in Yangon, and for about $3 U.S. you can take home a powdered mix of the soup base.
Address: 118A Yay Tar Shay Old Street, Bahan, Yangon
Tel: +95 1 701 692
Kaung Myat
19th street in China Town is known as Barbecue Street, where storefronts display skewers of meat, vegetables, and fish ready to be rushed back into the kitchen where they're grilled over intense flames. Among of them, Kaung Myat, easily identifiable by its bright green interior to match the label of the omnipresent "Myanmar" beer. A whole grilled fish is a highlight, cut into sections you can easily peel away with chopsticks.
Address: 110 19th Street, Latha, Yangon
Tel: +95 1 251 590
Aung Mingalar Shan Noodle Restaurant
Shan cuisine is very popular through the country. It has dozens of variations of a simple noodle dish with a thin broth of fragrant garlic and black pepper. Aung Mingalar is a good place to try Shan food. It is a bright and airy restaurant located just behind Bogyoke Market with an English menu that makes it easy to order. The sticky chicken noodle salad is exceptional.
Address: Bo Yar Nyunt Street, Dagon, Yangon
Tel: +95 9 44854 0036
Aung Thukha Restaurant
If you have an appetite for authentic Burmese food which is served in the local way, Aung Thukha is the restaurant for you. Hidden in the suburb of Bahan, it is very popular for locals. If you come during lunch and dinner time, the restaurant is very busy.
All the dishes are cooked in advanced and displayed in big trays. To order, pick any dish you like and take a seat. The staff will deliver your chosen dish, with rice and side dishes (soup, pickles and burmese style fish sauce) to your table.
Fast service and friendly staff. Not much English spoken, but try it for a real Burmese food experience.
Address: 17-A 1st Street, West Shwegondine, Bahan Township, Yangon
Tel: +95 1 525 194
Rangoon Tea House
Rangoon Tea House takes Burmese cuisine to new heights. It's delicious, reasonably priced, and the design is classy chic. The place was almost always full of locals and tourists, connoting that it was one of the most-frequented restaurants in the area. The menu offered a variety of Burmese cuisine, from appetizers to main dishes and even coffee. The service was excellent; all the staff were very accommodating, attentive and courteous and they all speak English.
Address: Ground Floor, 77-79 Pansodan Street (Lower Middle Block), Yangon.
Tel: +95 9 979 078681
Minn Lann Seafood
If you look for tasteful seafood restaurants, Minn Lann seafood is the best. It's a chain of restaurants with over 5 big restaurants in Yangon. It specializes in serving a wide range of Rakhine style seafood dishes (the state that occupies the western coastline). The menu is huge, and includes versions of anything from the sea that you'd like. The flavors are heavy on garlic, nicely spiced with chilies. One of the dishes you should try is 'Rakhine Mote Tee', rice noodle salad with green chilli which is accompanied with fishy soup.
Address: Parami Road, Yangon
Tel: +95 9 969 910406
Jana Mon Ethnic Cuisine
Situated near the East gate of Shwedagon pagoda, Jana Mon Ethnic Cuisine offers Mon – styled dishes. Mon is the ethnic group who live in the lower part of Myanmar. The ethnic Mon food is quite distinctive and very different from other Burmese food. The palm fish curry in particular is a highlight. Generally, the foods are spicy but you can order them not to make your food spicy. Although the restaurant is not a big fancy place, the foods are remarkably delicious.
Address: 114 Nandawon Street Bahan Township, Yangon.
Tel: +95 9 250 825 442
2. The best restaurants for Asian Cuisine in Yangon
Golden Duck Restaurant
It is very popular restaurant in Yangon. This restaurant has several branches. The one near Cousins Grill is the most popular for its foods, while the one near Shwedagon Pagoda is most reputed for its view. They offer many favorite Chinese and Thai dishes but the roast duck is its signature.
Address: Inside Kan Taw Mingalar Park, U Wisara Road, Yangon.
Tel: +94 240216
800 Bowls Chinese Restaurant
The restaurant is clean and decorated well. If you sit beside window, you can see the Yangon downtown through whole glass. This restaurant is famous for lamian noodle and dumpling. The menu has 7 pages which consists of all kinds of noodle dishes.
Address: Corner of 48th Street, Maha Bandula Road, Botahtaung Township, Yangon
Tel: 09 964 588875
Gekko Co.Ltd
It is Yangon's first true open kitchen with a charcoal fired Yakitori/Robotayaki grill and cosy cocktail lounge in down-town Yangon. It is set over two floors with a mezzanine lounge and two private rooms, seating up to 12 people. The menu is focused around charcoal fired Yakitori but includes some Korean and Vietnamese dishes. It is wonderful place to enjoy sushi in nice atmosphere with jazz band. The staff are very friendly and knowledgeable
Address: 535 Merchant Street, Kyautoda Township, Yangon
Tel: (+95) 9 431 90232
Golden Pho Restaurant
Golden Pho restaurant provides fresh and healthy authentic Vietnamese dishes with fast and friendly service, in a clean and modern environment. The menu consists of many Vietnam's most popular street food dishes as well as traditional a la carte dishes to share with friends and family. The signature dish is Pho Bo (rice noodle with beef) as reported in CNN-Health, is an aromatic, broth-based noodle soup full of antioxidant-packed spices.
Address: 221 Sule Road A-4 Ground Floor Also at Sule Square Mall, Yangon
Tel: +95 9 791 601 333
Thai 47 Restaurant
Thai 47 (Downtown Branch) is opened 2014 and it is one of the well know restaurant in Yangon. It serves all types of Thai dishes, Alcohol, Beer, Cocktail and Mock tail which are imported by Thai. Roasted Milled Rice Grilled, Pork Neck Salad and Beef Grilled are the popular menu of the customers and best-selling at this restaurant. The owner decorated the restaurant with modern style with air con and you can feel relax.
Address: No (153), corner of 47th Street & Anawyahta Road, Botahtaung Township, Yangon
Tel: +95 9 5169215
The Corriander Leaf
If you want the taste of authentic Indian cuisine, this restaurant will make you satisfied. It offers all your vegetarian and non-vegetarian favourites, including traditional great tasting curries in a fine-dining atmosphere.
Address: #12 Yangon International Hotel Compound, Ahlone Rd., Ahlone Township
Tel: +95 9969 684 523
3. The best restaurants for Western Cuisine in Yangon
50th Street Restaurant & Bar
It is one of Yangon's most popular for expats. This is not only about food; the restaurant also provides its patrons the best place for hanging out. The colonial façade helps the superb atmosphere of this spacious pub with live music on weekends. They serve pizza and a wide selection of western cuisine.
Address: No.9/13, 50th Street, Botataung Township, Yangon.
Tel: +95(1)397 060
Café Dibar
If you are looking for a quiet place with pleasant decoration, Cafe Dibar is your place. It offers Italian favourites such as spaghetti, lasagna, pizza, pasta. They also have grilled fish, chicken, pork, Australian lamb chops, and more. Food comes in big portions at reasonable price.
Address: No.104, University Avenue Road, Kamaryut Township, Yangon
Tel: +94 9500 6143
Le Planteur Restaurant and Bar
One of the most recommended restaurants in Yangon, this French restaurant is known in Myanmar as one of the finest places to dine. It is located on a colonial villa with a very beautiful garden by Inya Lake and offering delicious world-class European cuisine in Yangon. It was established since 1998 and their standard of quality has not changed. Dishes offered include salmon, lobster, foie gras, and prime rib of beef. They also have an impressive selection of cheese and wine.
Address: 22 Kaba Aye Pagoda Road, Bahan Township, Yangon
Tel: +95(1)541 997
L' Opera Restaurant and Bar
L'Opera is idyllically situated in an old colonial building in the midst of manicured gardens on the romantic and enchanting Inya Lake. This is one of the best Italian restaurants in Yangon. Under the guidance of an Italian Managing Director and an Italian Chef, meals are cooked with the use of only the freshest ingredients – such as tomato, basil, rosemary and garlic – as well as quality dairy, imported meat products and extra virgin olive oil. They serve authentic Italian dishes such as homemade pasta, wood-fired oven pizzas and fresh salads.
Address: 62D U Tun Nyein Street, Mayangon Township
Tel: +95 1 665516