Things to do in Myanmar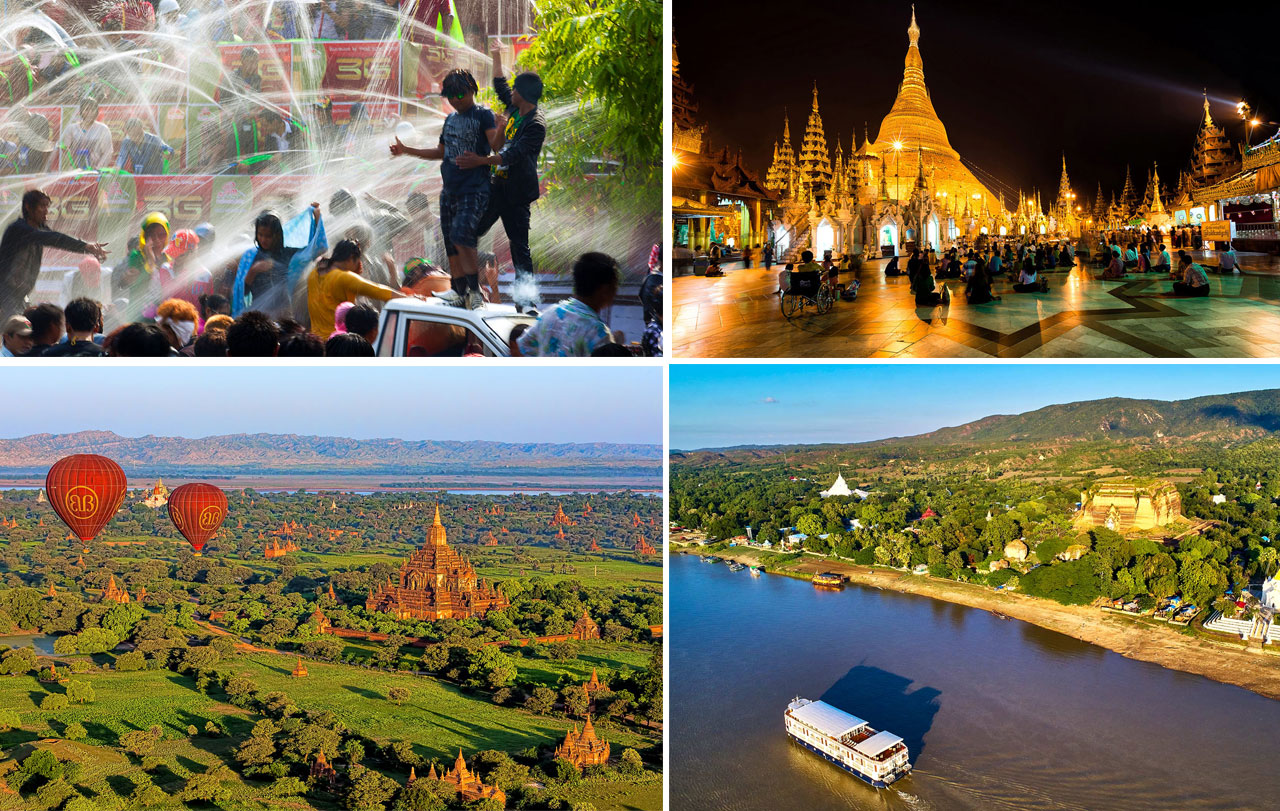 Myanmar, also known as Burma, is a country in Southeast Asia that offers a rich and diverse travel experience. Whether you are looking for culture, history, nature, or adventure, you will find something to suit your taste in Myanmar. In this article, we will show you some of the best things to do in Myanmar, from exploring the ancient temples of Bagan and experiencing the unique culture of Inle Lake, to enjoying the scenic views from Mandalay Hill and visiting the golden Shwedagon Pagoda in Yangon.
We will also give you some tips on how to cruise along the Irrawaddy River, trek through the hills of Kalaw, relax on the pristine beaches of Ngapali, and join the colorful festivals of Myanmar. By the end of this article, you will have a better idea of what to expect and how to plan your trip to Myanmar. So let's get started!
Explore the ancient temples of Bagan
Bagan has over 2,000 temples remaining, dating from 11st to 13rd century. The majority of Bagan's temples can be found within the Bagan Archaeological Zone with outstanding ones such as: Shwezigon Temple, Htilominlo Temple, Ananda Temple, Dhammayangyi Temple and Shwesandaw Temple.
Some of the most famous and beautiful temples in Bagan are:
Ananda Temple: This is one of the finest and best-preserved temples in Bagan, built in 1105 by King Kyanzittha. It is known for its four standing Buddha images that face each cardinal direction, as well as its exquisite carvings, paintings, and glazed tiles.
Dhammayangyi Temple: This is the largest and most massive temple in Bagan, built in 1170 by King Narathu. It is known for its remarkable brickwork, which is so tight that a needle cannot be inserted between the bricks. It is also shrouded in mystery, as many of its inner passages and chambers are blocked by bricks.
Shwesandaw Pagoda: This is one of the tallest and most visible pagodas in Bagan, built in 1057 by King Anawrahta. It is known for its five terraces that offer panoramic views of the surrounding plains, especially at sunrise and sunset. It is also believed to contain a sacred hair relic of the Buddha.
Thatbyinnyu Temple: This is the highest temple in Bagan, built in 1144 by King Alaungsithu. It is known for its elegant and symmetrical design, as well as its two-storey structure that resembles a palace. It also contains a large seated Buddha image and a smaller reclining Buddha image.
Experience the unique culture of Inle Lake
Inle Lake is a beautiful and fascinating destination in Myanmar, where you can experience the unique culture of the local people who live on and around the water. Here are some of the ways you can immerse yourself in the culture of Inle Lake:
Watch the leg-rowing fishermen: One of the most iconic sights of Inle Lake is the fishermen who row their boats with one leg wrapped around an oar, while balancing on the other leg. This technique allows them to have both hands free for fishing, and to see over the floating plants that cover the lake. You can observe their skillful maneuvers and their traditional methods of fishing, such as using conical baskets and spears.
Visit the floating gardens: Another remarkable feature of Inle Lake is the floating gardens that are made of reeds and other plants. The locals grow vegetables, especially tomatoes, on these gardens, which are anchored to the lake bed with bamboo poles. You can see how they cultivate and harvest their crops, and even taste some of their fresh produce.
Learn about lotus weaving: Inle Lake is also known for its unique textile industry, which uses lotus fibers to weave fabrics. The lotus flowers grow abundantly on the lake, and the locals extract the fibers from the stems by hand. They then spin and dye the fibers, and weave them into scarves, shawls, robes, and other garments. You can visit some of the weaving workshops in the villages of Kyaing Khan and In Paw Khon, and see how they create these exquisite products. You can also buy some as souvenirs or gifts.
Explore the pagodas and monasteries: Inle Lake is also rich in religious and cultural heritage, with many pagodas and monasteries that reflect the Buddhist faith of the people. One of the most famous ones is the Phaung Daw Oo Pagoda, which houses five images of Buddha that are covered in gold leaf. Every year, a festival takes place in October or November, where the images are carried by boats to different villages around the lake. Another notable monastery is the Nga Phe Chaung Monastery, which is also known as the Jumping Cat Monastery, because of its trained cats that jump through hoops. You can visit these sacred sites and learn more about their history and significance.
Join the floating market: One of the most lively and colorful places to experience the culture of Inle Lake is the floating market, which is held every five days in different locations around the lake. The market is made up of vendors and customers in boats, who sell and buy everything from vegetables and fish to clothing and handicrafts. You can mingle with the locals, bargain for some goods, or just enjoy the atmosphere of this unique market.
Visit the golden Shwedagon Pagoda in Yangon
Buddhism is the main religion in Myanmar and local people have strong belief in their religion. You will see thousands of temples throughout the country, many of them are very big and gorgeous although local people are generally poor. A visit to Buddhist temples is a great way to learn more about Burmese culture and people. Many important pilgrimage sites now become the key sights for travelers.
Shwedagon Pagoda, the almost 100 – meter gold plated stupa of Yangon is one of the most majestic temples in Myanmar. This pagoda dominates the area with its diamond studded spire set on top of a small hill in Yangon. If you come at night, the pagoda is lit up by spotlights.
The Shwedagon Pagoda is located on a hill that is 51 meters high, and the pagoda itself is 112 meters tall. It is covered with gold plates and topped with a stupa that contains thousands of diamonds, rubies, and other precious stones. The pagoda is visible from almost anywhere in Yangon, and it shines brightly in the sun.
The pagoda is believed to be over 2500 years old, and it contains relics of the four previous Buddhas of the present era. These relics include eight strands of hair from Gautama Buddha, the founder of Buddhism. The pagoda is also a place of pilgrimage and worship for Buddhists, who come to pray, meditate, and make offerings.
The pagoda is open daily from 4 a.m. to 10 p.m., and there is an entrance fee of about $8 for foreigners. You need to dress modestly and remove your shoes before entering the pagoda complex. You can also leave your shoes at a designated area for a small donation. You can enter the pagoda from four different gates, each with its own attractions and vendors.
The pagoda complex consists of hundreds of colorful temples, stupas, statues, and shrines that reflect the different architectural styles and eras of Myanmar's history. You can explore the various structures and learn about their meanings and stories. Some of the most famous ones are the Ananda Temple, the Dhammayangyi Temple, the Shwesandaw Pagoda, and the Thatbyinnyu Temple.
The best time to visit the pagoda is either at sunrise or sunset, when you can witness the stunning views of the city and the sky. The pagoda also glows with lights at night, creating a magical atmosphere. You can also join the locals in celebrating various festivals and ceremonies that take place throughout the year at the pagoda.
Mandalay hosts several beautiful temples such as Mahamuni temple – houses the Mahamuni Buddha image, the most highly revered Buddha image in the country, Shwenandaw Monastery – noted for its exquisite wood carvings, gold leaf beating workshop, or Kuthodaw Pagoda – known as the world biggest book…
Golden Rock is also one of the most beautiful temples in Myanmar. This rock covered in gold leaves seems to defy gravity. Situated on the top of a mountain, it offers some of the most incredible views in Myanmar.
Enjoy the scenic views from Mandalay Hill
Mandalay Hill is a great place to enjoy the scenic views of Mandalay, the second-largest city and the last royal capital of Myanmar. You can see the city from different perspectives, as well as the surrounding plains, hills, and rivers. Here are some of the things you can do to enjoy the scenic views from Mandalay Hill:
Climb up the hill by foot or by car. There are four covered stairways that lead up to the hill from different directions, each with its own attractions and sights along the way. You can also take a one-way motor road that saves time and energy, and then use an escalator and a lift to reach the top. The climb is considered a rewarding and meritorious deed by Buddhists, who often visit the hill as a pilgrimage site.
Visit the Sutaungpyei Pagoda at the summit of the hill. This is a beautiful pagoda that literally means "wish-fulfilling" in Burmese. It has a large terrace that offers panoramic views of Mandalay and its surroundings. You can also see many Buddha images, statues, paintings, and mosaics inside the pagoda.
Watch the sunrise or sunset from the hill. Many people come to Mandalay Hill to witness the spectacular sunrise or sunset over the city. The sky changes colors and creates a stunning contrast with the golden pagodas and temples below. You can also see the reflection of the sun on the Irrawaddy River, which is the longest river in Myanmar.
Explore the other pagodas and monasteries on the hill. There are many other religious and cultural sites on Mandalay Hill that you can visit, such as the Shweyattaw Buddha Pavilion, which has a large standing Buddha image that points towards the city; the Nga Htat Gyi Pagoda, which has a huge seated Buddha image with a golden crown; and the Nga Phe Chaung Monastery, which is also known as the Jumping Cat Monastery because of its trained cats that jump through hoops.
Learn about the history and legends of Mandalay Hill. Mandalay Hill has a long and rich history that dates back to ancient times. According to legend, the Buddha visited the hill and prophesied that a great city would be built at its foot in 2400 of the Buddhist Era (1857 CE). The city was founded by King Mindon in 1857 CE and named after the hill. Mandalay Hill also witnessed many historical events, such as the British invasion in 1885 CE, the Japanese occupation in 1942 CE, and the independence movement in 1948 CE.
Capture sunset moments in beautiful spots
I am pretty sure that you have been seen many stunning photos of sunset in Myanmar. So, you should not miss a chance to take your own shots when you are in the country. Myanmar offers so many magical places which you are hard to find anywhere else. The world's largest teak bridge, the U Bein in Mandalay is one of Myanmar's most photographed spots. This wooden wonder provides a perfect silhouette at sunset where visitors can catch glimpses of local farmers, fishermen, monks, and nuns as they cross this ancient landmark.
Sunset is also the favourite time to visit Shwedagon Pagoda in Yangon. Travelers prefer to come to the pagoda before sunset, so they have an opportunity to watch the city's residents coming to pay their respects after finishing work or school, then find a quiet spot to sit and soak up this magical atmosphere as the sun dips below the horizon and darkness falls in this most sacred of places.
Sunset over Bagan temples from high hills or boat trips along the river is highlight of any trip to Myanmar.
Ride a hot air balloon at sunrise.
Go up in a basket and float into the sky when the dark gradually appears is once in lifetime experience. This, in our opinion, is the best way to appreciate the wonders.
Balloon flights are available in few destinations including Bagan, Inle Lake, Ngapali, Mandalay. However, the most magical place is absolutely Bagan. It is truly unforgettable to see Bagan waking up in the morning with many temples in the distance – no two of which are the same Sometimes you may fly over villages and see people on their early morning rounds, feeding their animals; or going to market.
Join the colorful festivals of Myanmar
Myanmar is a country with a rich and diverse culture, and one of the best ways to experience it is by joining the colorful festivals that take place throughout the year. Whether you want to celebrate the new year, honor the Buddha, or learn about the local traditions and arts, there is a festival for every occasion. Here are some of the most popular and spectacular festivals of Myanmar that you should not miss:
The biggest one is Water Festival (Thingyan). It lasts 5 – 7 days, usually in early April. This is the most famous festival in Myanmar, and it marks the beginning of the new year. It is similar to the Songkran Festival in Thailand, where people splash water on each other as a way of cleansing and blessing. The festival lasts for four days, and it is a time of joy and fun. You can join the water fights on the streets, or visit the temples and pagodas to pay respect to the Buddha. You will also enjoy the music, dancing, and food that are part of this festival.
Thadingyut Festival of Light: This festival celebrates the return of the Buddha from heaven, where he had preached to his mother. It is also the end of the Buddhist Lent, and a time of gratitude and forgiveness. People decorate their houses and streets with candles and lanterns, creating a beautiful sight at night. You can also enjoy the markets, food stalls, concerts, and plays that are held during this festival. You will also have a chance to make offerings to the monks and elders, and ask for their blessings.
Kachin Manaw Festival: This festival is a joint celebration of the new year, battle victories, tribal reunions, and traditions of the Kachin people, one of the ethnic groups in Myanmar. The highlight of the festival is the Manaw dance, where men and women dance around decorated poles in colorful costumes. The festival also showcases the culture and cuisine of the Kachin people. You will also get to see their traditional instruments, weapons, and crafts.
Taunggyi Balloon Festival: This festival is held during the full moon of Tazaungmon, which is usually in November. It is a competition of hot air balloons made of paper, which are released into the sky with fireworks and candles attached to them. The balloons are decorated with religious or cultural symbols, and they create a dazzling display in the night sky. The festival also features music, dancing, and carnival games. You will also witness the amazing skills and creativity of the balloon makers.
Several other celebrations, such as the light festivals of Thadingyut and Hot air balloon festival aren't to be missed either. Thadingyut takes place for three days during the full moon of the seventh month of the Burmese calendar (usually near the beginning of October), and marks the end of Buddhist lent. It's a time for families to come together and celebrate Buddha's descent to earth after visiting his mother in heaven. Cities throughout the country are especially aglow during Thadingyut with fireworks, dangling lights or candles.
Hot air balloon festival in Taunggyi is the most explosively colourful. Once a year in early November, a field outside the Shan capital of Taunggyi becomes the venue for a spectacular hot-air balloon competition. The event becomes more raucous into the night, with drinking, dancing and gigantic balloons laden with thousands of fireworks that sometimes blow up in unplanned ways.
Cruise along Irrawaddy River
The 2000-meter-long Irrawaddy (navigable all the way from Yangon to Putao near the Chinese border) is one of the world's most fabled rivers, carrying barges and passenger cruise ships. Many activities of local people rely on The Irrawaddy.  Local ferries make the journey from Mandalay to Bagan in one day but there are also more comfortable options along the same route with overnight stays and cabins available. Hop aboard the luxury cruises and journey up the Irrawaddy River is a wonderful way to take in the river, as you float past rural riverside villages, and watch local life unfolding along the way.
A cruise along the Irrawaddy River is a great opportunity to explore Myanmar and discover its rich culture, history, and nature. Various cruise options are available to suit your preferences and budget, and you will enjoy a relaxing and memorable journey on the water. Here are some of the benefits and highlights of taking an Irrawaddy River cruise:
The stunning scenery of Myanmar will amaze you from a different perspective, as you glide past lush green hills, golden pagodas, rural villages, and bustling cities. The sunrise and sunset over the river will create a magical atmosphere.
Some of the most iconic and fascinating destinations in Myanmar await you, such as Mandalay, Bagan, Yangon, and Inle Lake. You will explore their cultural and historical attractions, such as temples, monasteries, palaces, markets, and museums. You will also learn about their local customs, traditions, and lifestyles.
A luxury riverboat will provide you with comfort and convenience as you travel. You will have spacious cabins, gourmet dining, spa services, and entertainment. The crew and guides will be friendly and professional, and they will make sure you have everything you need.
Other travelers who share your interest in Myanmar and its culture will be your companions. You will join in various activities and events on board, such as lectures, demonstrations, games, and shows. You will also have the option to participate in excursions and tours that will enrich your experience.
Trek through the hills of Kalaw
If you want to explore the rural and natural beauty of Myanmar, trekking through the hills of Kalaw is a wonderful way to do it. You will experience the diverse landscapes, cultures, and lifestyles of the local people, as well as enjoy the fresh air and scenic views. Trekking in Kalaw is different from trekking in other places, as you will mostly walk through farmland, villages, and forests, rather than steep mountains. You will also need a guide to show you the way and arrange your accommodation and meals.
There are different options for trekking in Kalaw, depending on your time, budget, and preference. You can choose from one-day, two-day, or three-day treks, which will take you to different destinations and attractions. Some of the most popular treks are:
One-day trek: This option is suitable for those who have limited time or want a short introduction to trekking in Kalaw. You will visit some nearby villages and see their daily activities, such as farming, weaving, and cooking. You will also enjoy the views of the rolling hills and green fields along the way. A typical one-day trek covers about 15 to 20 kilometers and takes about 6 to 8 hours.
Two-day trek: This option is ideal for those who want to experience more of the local culture and nature. You will stay overnight at a local home or monastery, where you will interact with the hosts and learn about their traditions and beliefs. You will also visit some of the most iconic and fascinating destinations in Myanmar, such as Inle Lake, where you will see the famous floating gardens, stilt houses, and leg-rowing fishermen. A typical two-day trek covers about 40 to 50 kilometers and takes about 12 to 16 hours.
Three-day trek: This option is perfect for those who want to challenge themselves and explore more of the hidden gems of Myanmar. You will trek through various terrains and altitudes, such as bamboo forests, pine woods, tea plantations, and mountain peaks. You will also visit some of the most remote and authentic villages, where you will witness their unique customs and lifestyles. You will also enjoy some of the most stunning views of the countryside and the sky. A typical three-day trek covers about 60 to 70 kilometers and takes about 18 to 24 hours.
No matter which option you choose, you should prepare yourself both physically and mentally for the trek. You should pack some essentials, such as comfortable clothes, shoes, water bottles, sunscreen, hat, sunglasses, flashlight, insect repellent, toiletries, snacks, and a camera. You should also have an open mind and respect the local culture and environment. You will be amazed by the hospitality and generosity of the people you meet along the way.
Relax on the pristine beaches of Ngapali
Ngapali is a beautiful beach destination in Myanmar, where you can relax on the pristine white sand, swim in the clear blue water, and enjoy the tropical scenery. Ngapali is also known for its fresh seafood, local culture, and peaceful atmosphere. If you are looking for a place to escape the hustle and bustle of the city, Ngapali is a perfect choice.
There are many ways to experience Ngapali, depending on your preferences and budget. You can choose from different types of accommodation, ranging from luxury resorts to budget guesthouses. You can also explore the nearby attractions, such as fishing villages, pagodas, and islands. You can also try some of the activities available, such as snorkeling, kayaking, cycling, golfing, or fishing.
Ngapali is a great place to visit all year round, but the best time to go is from November to March, when the weather is dry and sunny. You can reach Ngapali by plane from Yangon or Mandalay, or by bus from Thandwe. Ngapali is a popular destination among both locals and foreigners, so it is advisable to book your accommodation and transportation in advance.
Get off the beaten track to visit ethnic groups
With 135 ethnic groups, travelers have many chance to discover authentic culture and tradition which are not much influenced by outside world. If you are a bit stressed with religious sites, take time to travel out of cities to interact with local people.
Kalaw is an old hill station with a welcome cooler climate in Northeastern Shan State. It is a popular based for trekking lovers. From Kalaw, you can do one to few days to nearby villages where you can visit different tribes as Pa O, Danu, Palaung… To fully appreciate the charms of rural Myanmar, trek over the rolling hills from Kalaw to nearby Inle Lake. You will have a chance to stay in local monastaries, being lulled to sleep by chanting monks whilst during the day watch the farmers planting, tending or harvesting their crops – rice, chillies or corn depending on the season.
Closed for over half a century and only recently opened to visitors, Kayah state is home to nine distinct ethnic groups who still practice their indigenous customs, handed down for centuries and dress in their traditional costumes. The most well – known group is Kayan. The Kayan women wear many brass coils around their necks to make the necks longer. They believe that longer necks will make them more beautiful.  The sleepy capital Loikaw is a base to visit this tribe.
Chin State is homeland of Chin people who is known for tattooed face. Many of the women here sport full facial designs denoting which Christian-animist tribe they belong to. They were tattooed when they were just nine years old. It was an ancient custom to prevent invaders from stealing away the local women. To visit Chin people, you need to take 8-hour car journey from Bagan.
Relax on beautiful beaches in Mergui Archipelago
With Myanmar's location next to the Bay of Bengal and Andaman Sea, Myanmar offers many stunning beaches to travelers.
After touring Myanmar's main sites, laid back Ngapali Beach is a place to unwind, enjoy the balmy blue waters of the Bay of Bengal.  Unlike some resorts in neighbouring Thailand, Ngapali is still relatively unspoilt with just a small number of beachfront hotels. Travelers can take a boat trip for a spot of snorkelling and visit the traditional fishing villages that line the coast.
The Mergui Archipelago, a group of 800 islands scattered in the Andaman Sea off the western shore of Myanmar's remote south, is one of the last untouched and unspoiled tropical destinations left on earth. Travelers can choose to stay in some cruises or eco resorts which are located in remote islands. Whether you stay on cruise or eco resorts, you will have a chance to immerse yourselves in clear and calm waters of Andaman sea, explore the wild jungles and visit the indigenous Moken people, also known as sea gypsies. In addition, surrounded by unexplored corals, fish and sea life, Mergui is the best place to do snorkeling and scuba diving which are provided by any cruises or resorts in Mergui.
Experience train journeys in Myanmar
Myanmar has very outdated railway system which make traveling by train uncomfortable and long. So, it is not a preferable mode of transportation to travel. However, there is no better way to really experience the Burmese culture than taking a train. If you mind long train which may take the whole day, just take a short ride in the Circular Train in Yangon.
Probably one of the cheapest trains in the world (only $0.13), the circular train will take you through local neighborhoods, villages and markets. Along the way, you'll find yourself in the thick of local life, with all its chaos and color and excitement. As the train will make its way through Yangon and its suburbs, local vendors selling fresh fruits, vegetables and local dishes will come through the wagons.  From the windows, you will see kids going to school, housewives doing their groceries and people going back home from work.
A train crossing Goteik Viaduct has gained popularity among tourists. Gokteik Viaduct is one of Myanmar's most stunning man-made marvels built by the colonial British. It is on the railway which connects Mandalay and Lashio, a principal town near China border. Priced at $4, the train ticket is worth every cent for the magnificent landscapes it passes.
Visit Buddhist caves
Famed for limestone terrain, incredible landscapes, and uncharted cave systems, you should not leave Myanmar without going underground and seeing beneath the surface of country.
Laid-back Hpa An, close to the Thai border, is home to impressive karst mountains similar to Vietnam's famous Halong Bay – but less crowded. The highlight is Sadan Cave, a towering place full of pagodas and Buddhas, where you can walk under the entire mountain and take a tiny wooden boat back through the paddy fields.
Boasting more than 8,000 images of Buddha from a variety of different time periods, the Pindaya cave is a unique attraction in Shan State. An overwhelming amount of Buddha figures covering the walls, corners, and ceilings of the cave, many visitors walk through the area slowly and silently to soak in the unique views of this stunning labyrinth. The cave is situated in a limestone hill near Inle Lake.
Phowintaung is another amazing cave complex in Monywa. The complex contains 947 small and large richly decorated caves. It is carved into a sandstone outcrop and contains numerous carved Buddha statues and mural paintings of geometric patterns and Jataka stories. The statues and paintings have been dated to between the 14th and 18th centuries. The drive to Monywa is 140 kilometres from Mandalay and takes around three hours.