Things to do in Inle Lake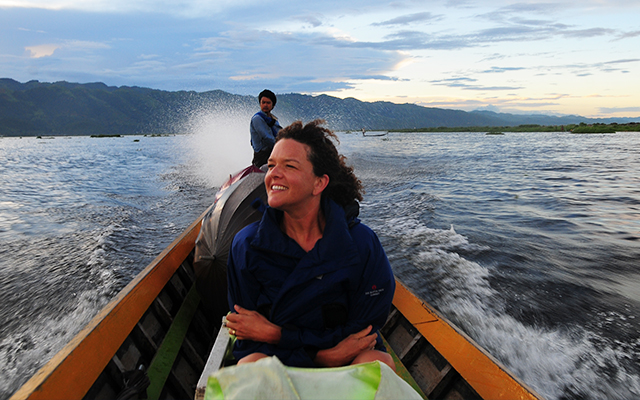 Inle Lake is an iconic Myanmar destination and the region is always in must – visit list.
The lake itself is beautiful plus the leg-rowing Intha people and the local market make it even better. The beautiful resorts around the lake will make your visit more comfortable. Go with Myanmar Travel to discover 11 things to do in Inle Lake which may attract you.
11. Take a boat trip on the lake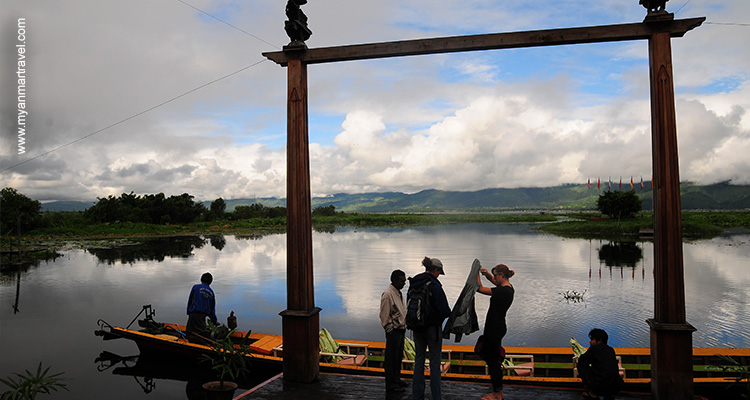 A trip to Inle Lake cannot complete without exploring the lake by long-tail wooden boats. You can enjoy a private boat tour to floating villages where you can see how people live and work on the lake, especially discover how the traditional fishermen do their tricks. The people here live on floating houses, do their plan on floating gardens, and have their own floating Buddhist sites on the lake. The most popular ones for travelers are Phaungdawoo Pagoda and Nga Hpe Kyaung, also called the Jumping Cat Monastery.
Intha fishermen have a unique leg-rowing technique. Although the modern fishing method is now done via a net, some traditional fishermen can still be seen in the quieter corners of the lake. They wrap one of their legs around their oar to drive their boat through the water, leaving both of their hands-free to handle their nets. They balance on one leg, perched at the stern of their boat, holding their big conical nets. It's a pretty incredible balancing act. This has become a big tourist attraction in Inle Lake
In addition, the boat trip also takes you to Indein village where you can visit groups of ancient pagodas.
Entrance fees: US$ 12 per person
10. Watch the sunrise and sunset from floating resorts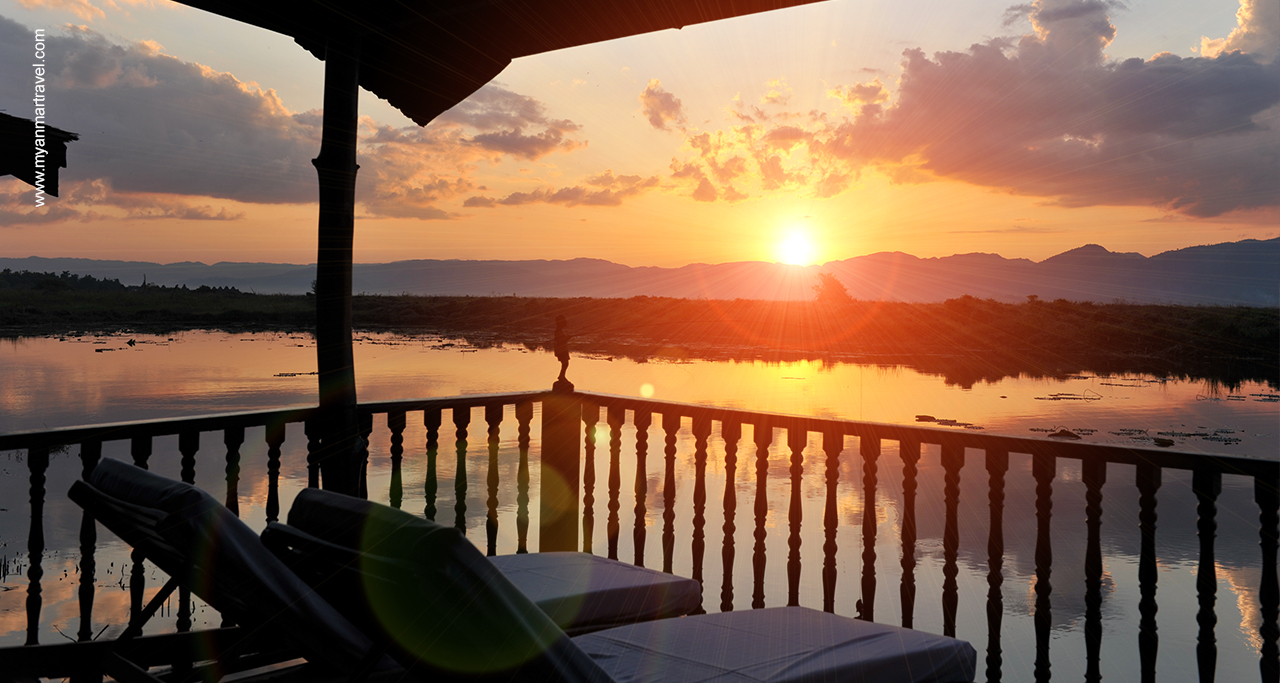 In Inle Lake, visitors can choose to stay in a hotel located in Nyaung Shwe town and nearby villages or floating resorts around the lake. Floating resorts are definitely one you should try. The floating resorts offer a direct view of the lake, just choose a nice position in the hotel to sit, enjoy some drinks and enjoy either sunrise or sunset. It is really magical to see the sun goes up or down over the water.
Price range: US$ 50 – 200 per night
9. Discover the five-day market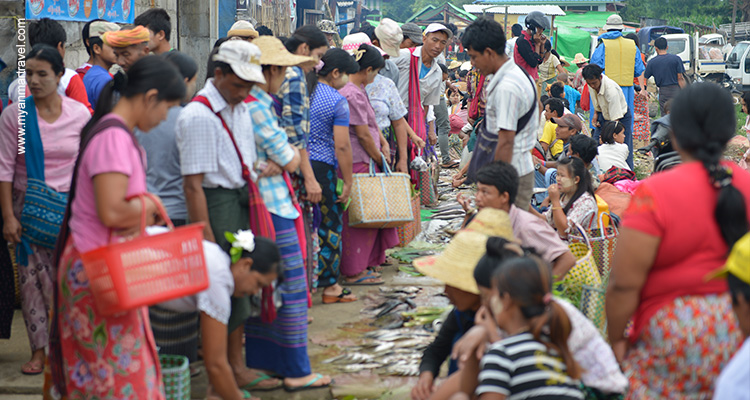 The market is changed locations over a five-day period, rotated around five different lakeside villages. It is a reason why it is called "five-day market". These markets are colorful, lively, and always super busy. People come from all over the region to buy and sell their products. Plus the markets are also full of tourists! Most people arrive by boat, which makes finding a place to tie your boat rather tough. Somehow the boat drivers always seem to find a way to make it work, however! Trading is also conducted on small boats out on the water, so as you approach the market, expect a visit from boats full of trinkets. It is a great place to buy souvenirs.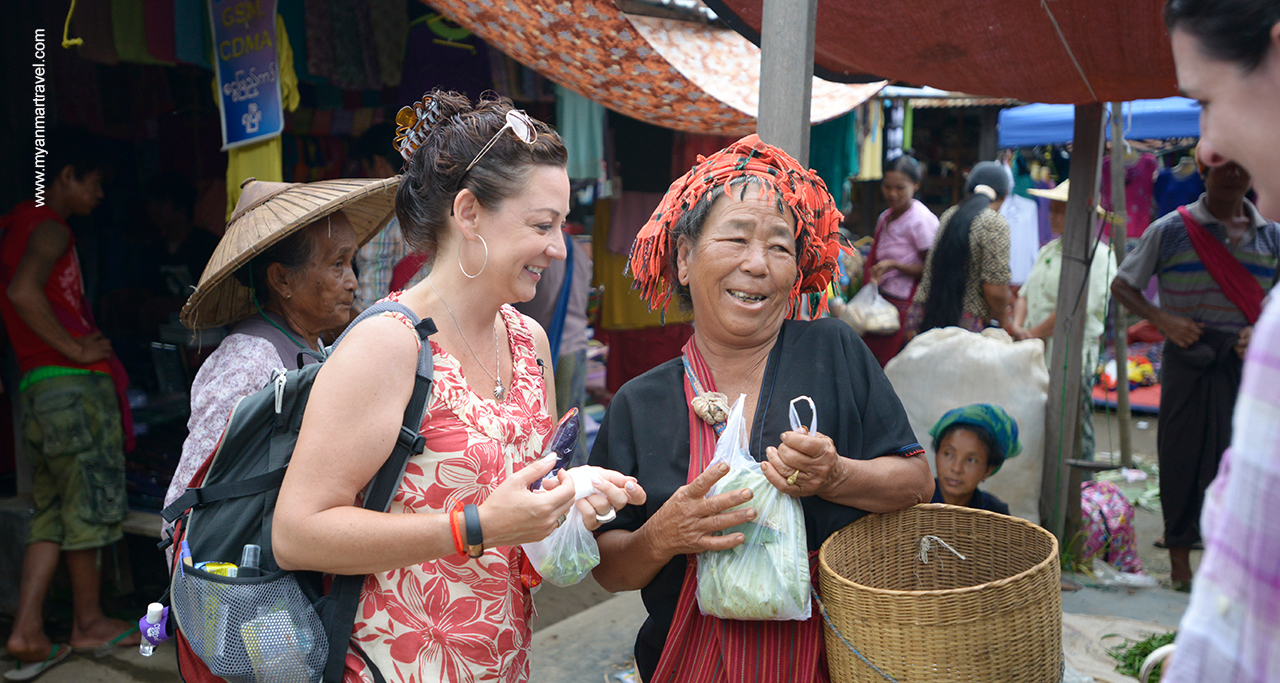 8. Meet the Longneck Paduang women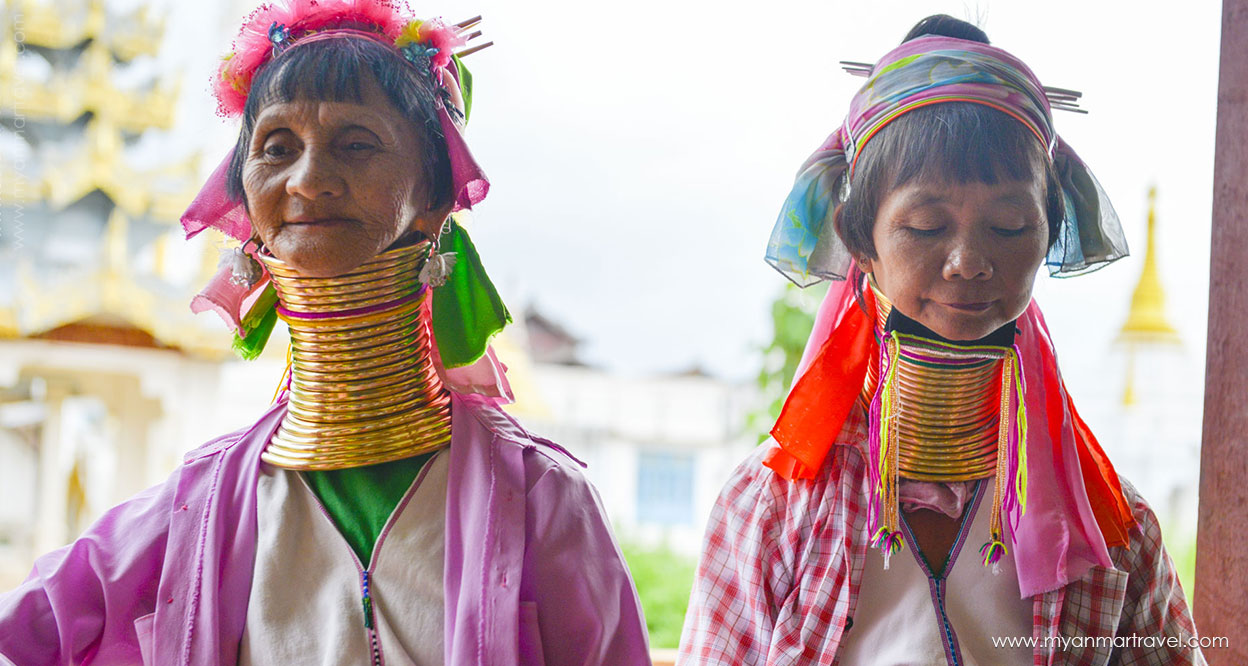 The Paduang women mainly live in Loikaw, 5 hours driving from Inle Lake. They are well–known by their long necks. To make the necks longer, they wear brass coils from an early age, and the weight of the rings pushes their collar bone down and compresses their sternum and rib cage. The reason for doing this is unknown, although some say it was initially done to protect their body from tiger attacks!
There is a small community of  Paduang people who live by the lake, where you could meet them, see how they live and work.
7. Join cooking class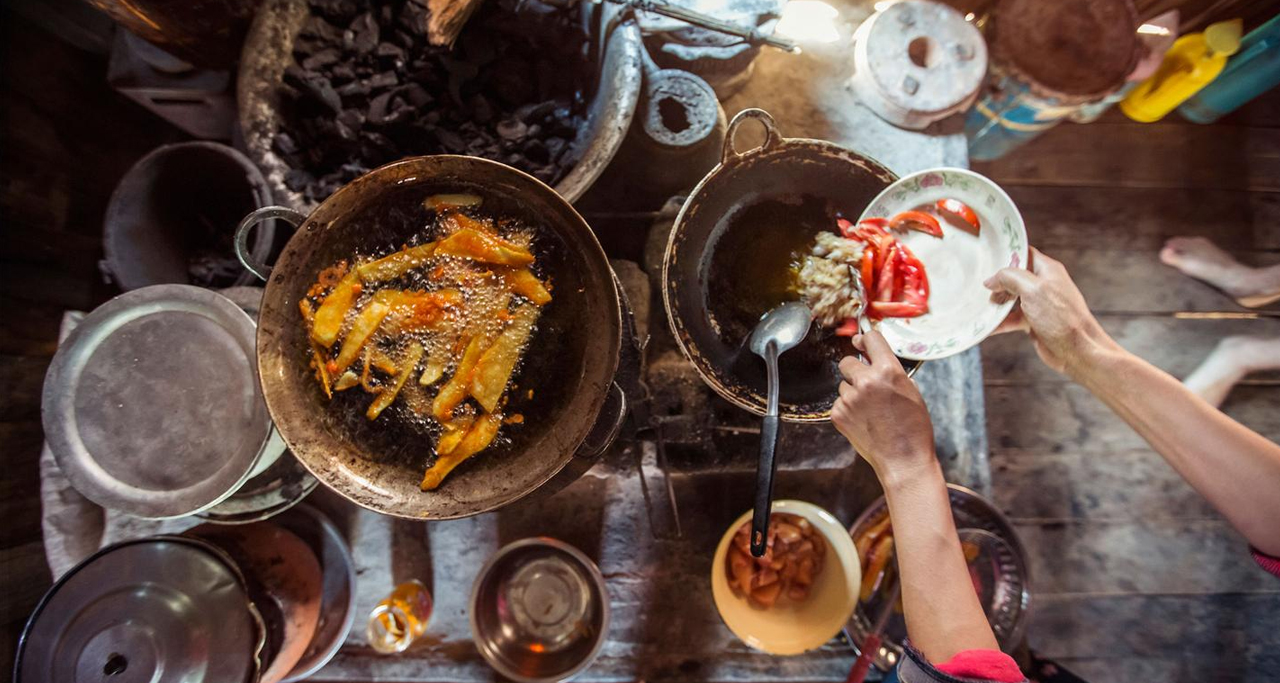 Shan cuisine is very popular in Myanmar. You can find Shan restaurants anywhere throughout the country. Inle Lake is the ideal place to learn how to make this for yourself.
Most cooking classes last from the morning until late afternoon. It starts by a visit to local market where you can learn about the local ingredients used in Shan cooking.
After you purchase enough ingredients, local chef will show you how to make some of the signature dishes here such as chicken with cashews. The best part is that you get to eat all the tasty treats at the end of the class.
It costs about US$ 30 per person
6. Ride a bicycle to Red Mountain Estate Vineyard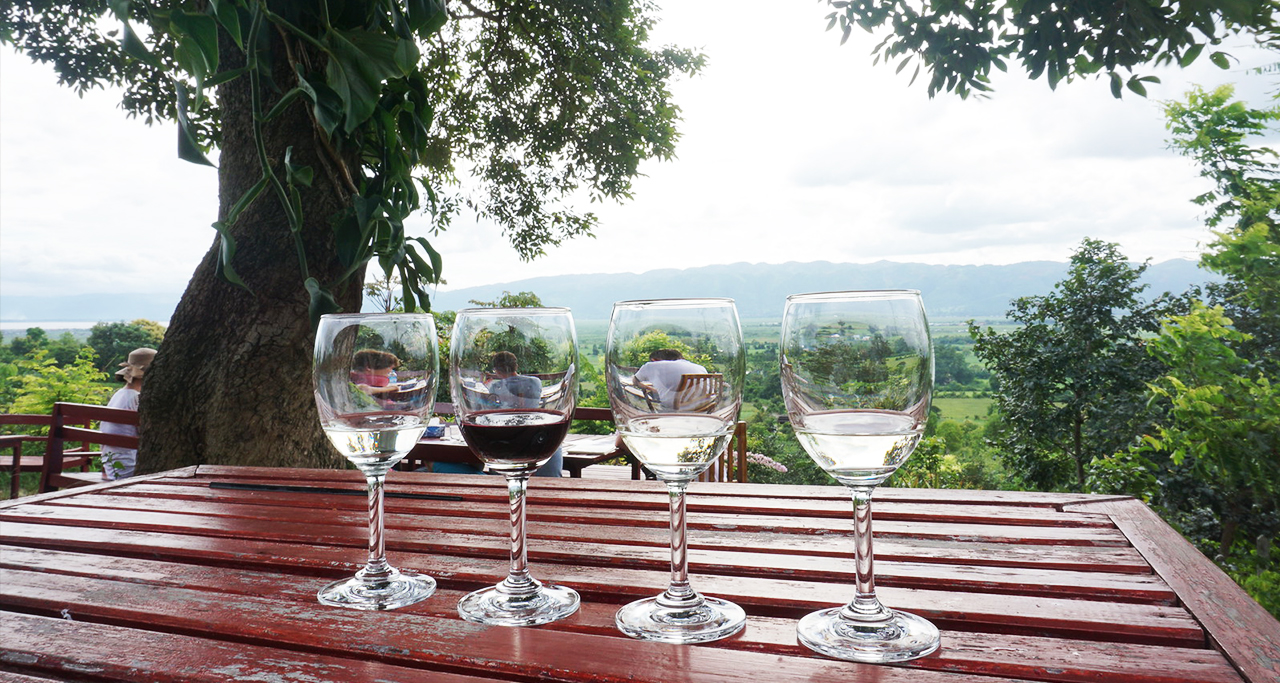 Cycling is the best way to explore beautiful local villages around Inle Lake. Spend an afternoon to do cycling from Nyaung Shwe to Red Mountain Estate Vineyard is a nice experience that gives amazing views of the area from high on the hill
One of only two wineries in Myanmar, the Red Mountain Estate Vineyard produces nine different varieties of wine made from locally grown grapes. Once here, you can take a tour of the facility and learn about its history, as well as see how the wine is made. For less than 5USD, you can enjoy a wine tasting that includes 4 locally produced wines together with cheese and bread. There is also a restaurant on site where you can have a meal and watch the sunset over the idyllic vineyards.
5. Go trekking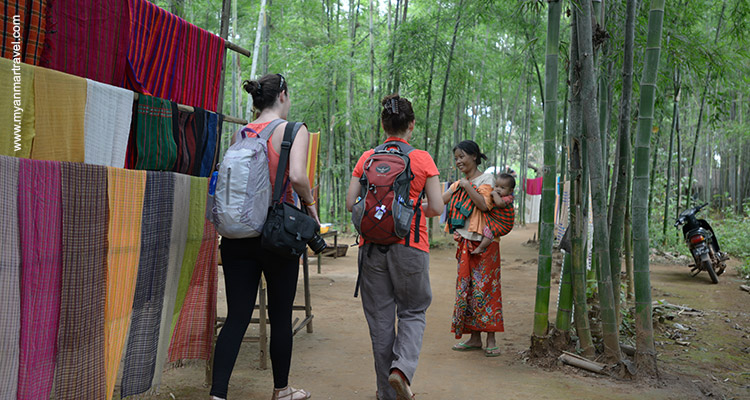 There are lots of trekking routes around Inle Lake. The trek can take from 1 to 3 days with overnight stays at monasteries in local villages. From Inle Lake, you will trek to nearby villages to visit different ethnic people, explore their way of life. Besides, the natural landscape of the Shan mountains is also a highlight of these trips.
Price range: US$ 50 – 120 per person.
4. Take a hot air balloon ride over the lake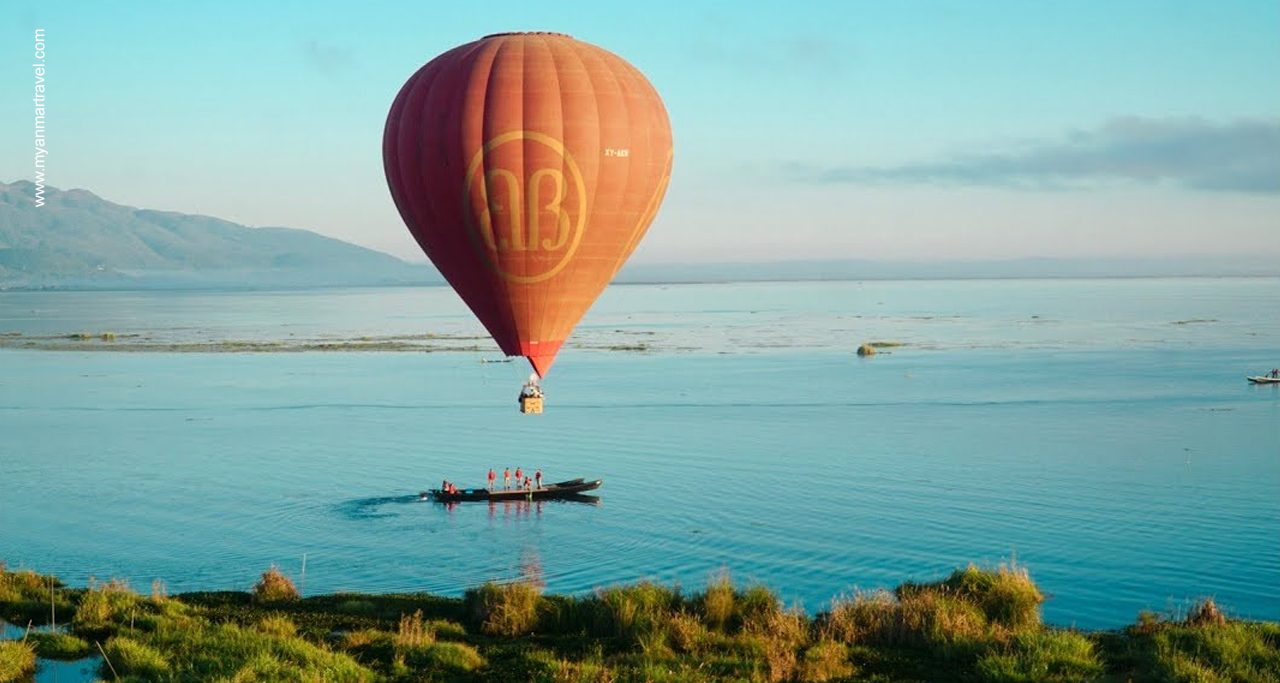 Together with Bagan, Inle Lake is an amazing place to do a hot air balloon. Seeing Inle Lake waking up in the morning: villages, canals, boats, floating gardens in the distance and get a spectacular aerial view of Inle.
Read More : Best things to do in Bagan
The passengers need to wake early for being collected from the hotel and transferred by boat to the launch site. Arriving at the balloon checking point, an experienced UK-licensed Commercial Balloon Pilot will provide a comprehensive safety briefing. After that, the balloon will take-off gently. The flight duration is about 60 – 90 minutes. Breakfast is taken next to one of the beautiful Shan villages wherever you land.
Price: US$ 300- 350 per person.
3. Take a two-hour boat trip to Sagar Village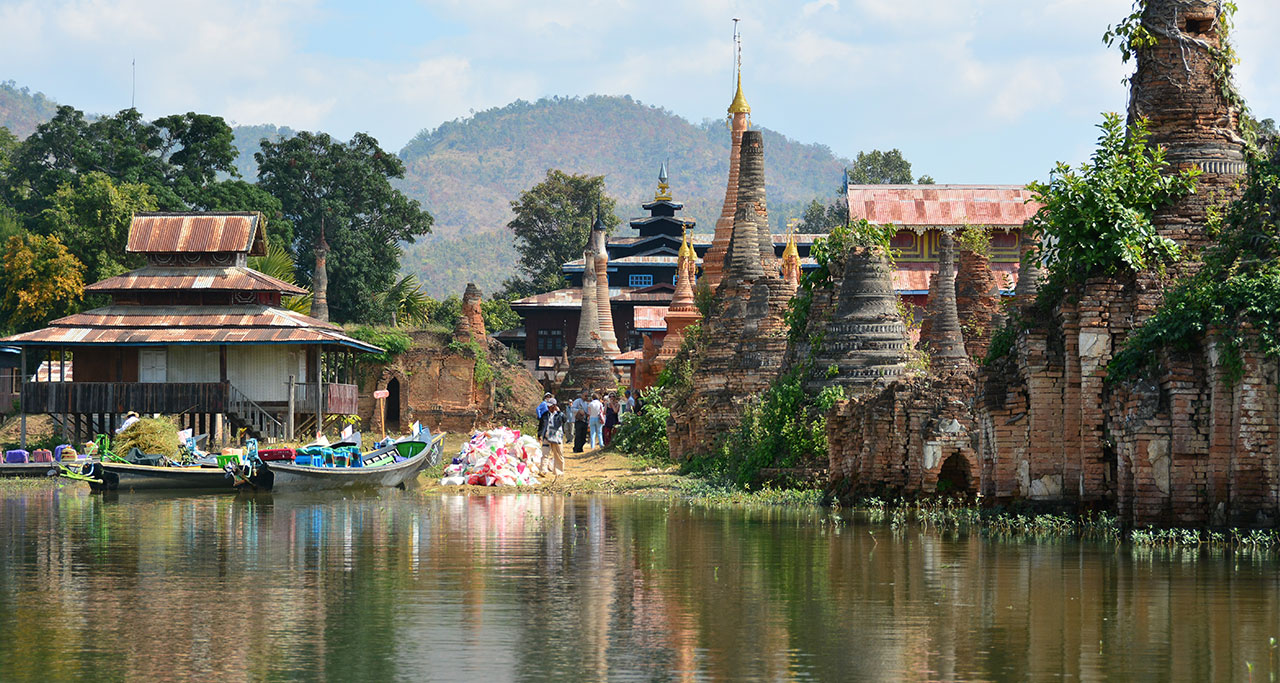 Sagar Village is a ruined royal capital situated in the deep south of Inle Lake. The main highlight for many travelers is the 'sunken' stupas of Sagar – 108 stupas from the 16-17th centuries. It's a much quieter part of Inle Lake because not many tourists come.
The boat journey takes a quite long time but is full of fabulous views. With the hazy Blue Mountains constantly on the horizon, you'll pass by floating farms and several more stilt villages. You'll come across ponds covered with lotus flowers, and spot migratory birds flying above you.
Once you arrive at the village, you'll be welcomed by the friendly villagers and given floral necklaces and plenty of smiles. Just wander through the village and get lost amongst the crumbling stupas.
2. Visit the Pindaya Cave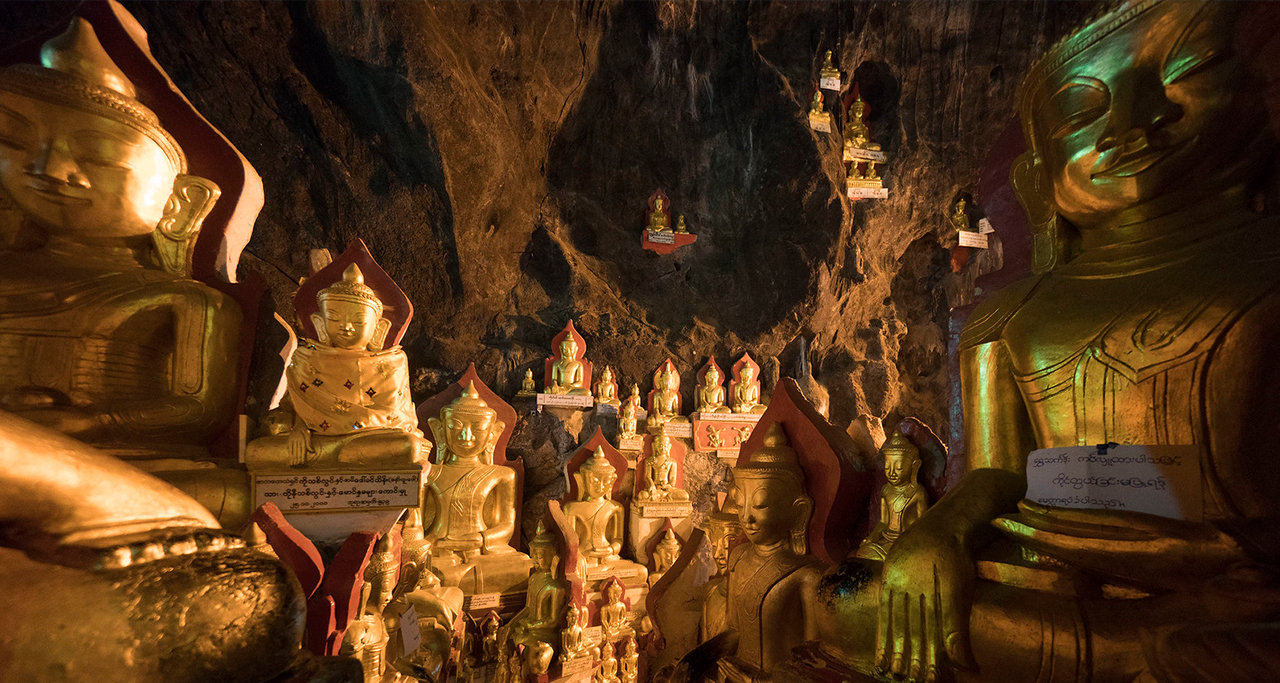 The Pindaya cave is located next to the town of Pindaya, just two hours drive from Inle Lake. Set deep into the limestone hillside, there are over eight thousand statues of Buddha inside the caves. Some date as far back as the 18th Century. The statues are in all different styles and sizes, representing the various eras in which they were made. They are made from white marble, bronze, emerald, painted plaster, or wood coated with gold leaf. The limestone cave reaches back about 490 feet into the hillside, and it's a jaw-dropper. It's an important pilgrimage site for Burmese Buddhists, and for us non Buddhists it's a very unusual and fascinating temple to visit. It's quite far from Inle Lake, but it was well worth the visit.
Entrance fees: US$ 5 per person.
1. Visit Kakku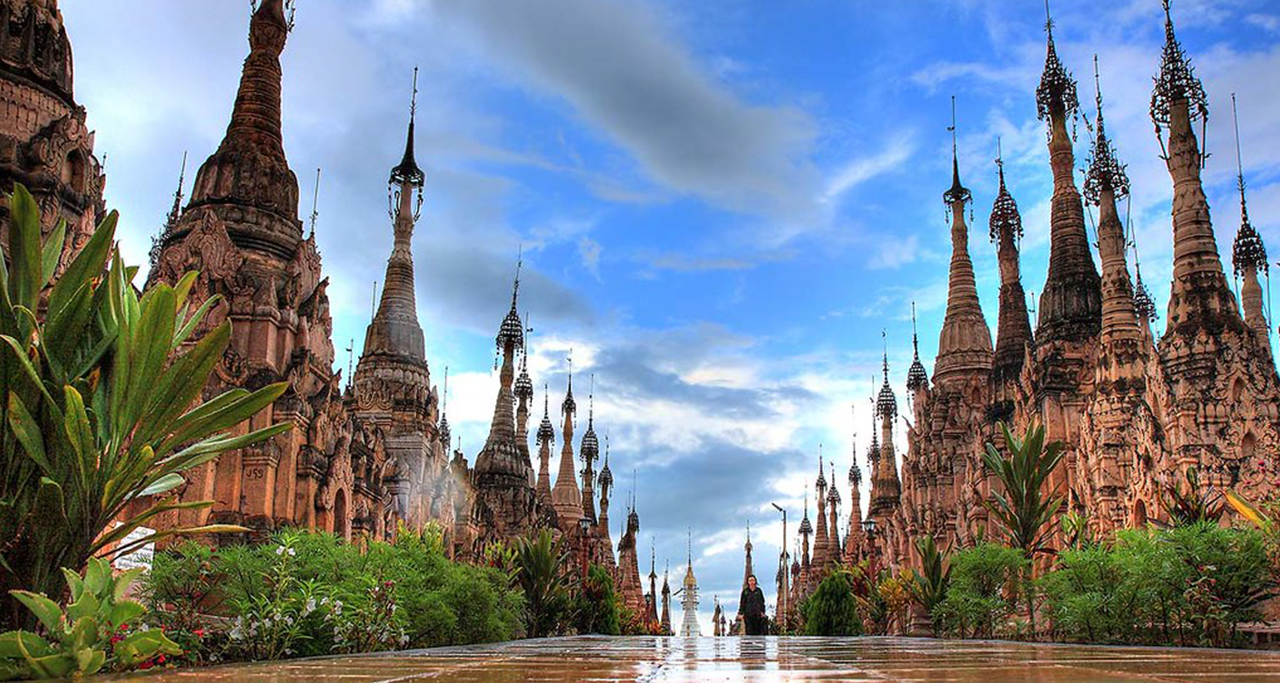 A Shan State hidden gem, Kakku is a collection of 2,478 stupas commissioned 2,000 years ago and it is a religious center for the Pa'O people, a Buddhist tribe from Myanmar. Due to local laws, it is required to take the trip with a local guide: we made a stop along the way to collect our tickets and our Pa'O guide up in the Taunggyi tourism office en route from Kakku from Lake Inle
Entrance fees: US$ 3 per person and a local guide are highly suggested to make your trip safe and enjoyable.
Normally, travelers will spend 2-3 days visiting Inle Lake. It is not easy to cover all these things in such a short time. If you are wondering what you should do and what you can miss, please contact Myanmar Travel to plan a perfect trip to Inle Lake.