Best restaurants in Inle Lake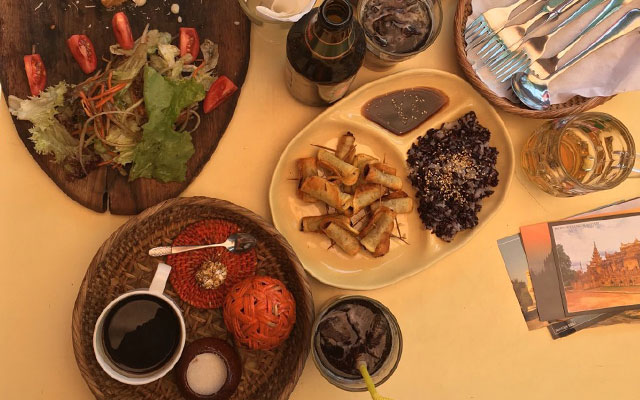 Inle Lake is one of the main destinations in Myanmar, located in western Shan State. There are several major ethnic groups living within this state all with their own identity and cooking traditions. The Shan people constitute the majority in the state and the second-largest ethnic group in Myanmar. So, their cuisine influence spreads widely across the country, making it a popular and widely eaten cuisine all over Myanmar.
Located in the picturesque Shan Plateau, Inle Lake's gateway town Nyaungshwe offers many restaurants specializing in Shan dishes. However, it is not difficult to find restaurants serving international cuisines such as Chinese, Vietnamese, Laotian, Thai, Indian, and even tapas. There's no shortage of outstanding places to eat, but these are the very best restaurants Inle Lake has to offer.
List of best Restaurants in Inle Lake:
1. The Best Restaurants for Traditional Shan Food
Inle Heart View Restaurant
This is a lovely restaurant set on a small hill, just outside the town. From here, travelers can have amazing views of Inle lake, especially at sunset. This cute little restaurant is run by a family who has the highest standards of quality and service. There is a vegetable garden just next to the restaurant. The owners will pick the vegetables from the garden after they take your order. So, the food cannot be fresher.
The owners are really kind and will definitely do everything to give you a great visit. The menu is varied and full of dishes. They have a large selection of cocktails as well. Avocado salad is the must–try dish in this restaurant.
Location: Inle Lake East Corridor Road, War Daw Village, Nyaungshwe
Tel: +95 9 42831 4979
Sin Yaw Restaurant
Sin Yaw is one of the most popular restaurants in Inle Lake to experience traditional Shan food at a reasonable cost. It is always full of both locals and tourists. The restaurant offers a wide range of food and one you should not miss is the lake fish. The fish is usually fried whole served accompanied with seasonings such as lemongrass and chili or spring onion and tomato.
Besides the good taste, Sin Yaw is also known for its friendly service and unmissable cocktails. They offer complimentary pre-meal snacks but also free tea refills
Location: Mingalar Ashae Street Kantar Quarter, Nyaungshwe Myanmar
Tel: +95 9 493 51883
Linn Htet Restaurant
For cheap, authentic, and tasty local Shan food, Linn Htet will get our vote. It is a very simple place serving mainly locals, so do not expect fancy furniture. This restaurant has many options of curry: chicken, pork, beef…They offer lots of local vegetables as well, so it is suitable for vegetarians.
It sits on a corner of the market with walls open to the busy street and passerby, so it's a great place to spend hours eating and watching life in Nyaungshwe.
Location: Yone Gyi Road, Nyaungshwe
Tel: +95 9 45804 0182
The Shan Restaurant
Setting in the serene location of Viewpoint Eco Lodge, overlooking a canal and rice paddies, the Shan Restaurant is a good place to try out fresh Burmese cuisine that's done in a nice ambiance. They also have a great wine selection.
There are different options for dining: picnic in a bamboo forest, special private dinner in a hidden Shan village or exotic lunch on the lake served on a converted rice barge. Notable dishes include Shan-style BBQ, chicken satay, fish curry, green tomato salad, butterfish in banana leaves
Location: Yone Gyi Street | ViewPoint Lodge, Nyaungshwe
Tel: +9581209062
2. The best restaurants for Asian cuisine
Live Dim Sum House (Chinese cuisine)
If you are a Chinese food lover, this restaurant is really worth trying. As appeared in the name, this restaurant offers a very delicious dim sum. In addition, Peking duck is also a signature food of the restaurant.
The staffs are friendly and attentive. The restaurant is putting much effort to protect the environment: stop selling bottled water, no plastic straws or plastic containers for food to take away.
Location: Yone Gyi Road, Opposite Cassiopeia Hotel, near Golden Kite Restaurant
Tel: +95 9 260 324 868
Green Chilli Restaurant (Thai food)
Burmese cuisine and Thai food share a lot in common and Nyaung Shwe also brings some great options for Thai food hunger. Green Chili Restaurant is, without a doubt, one of the best. Here the chef blends Thai flavor with natural produces from the region and tastes are slightly modified to suit more palates.
Notable dishes include spring rolls, onion balls, fish Tom Yum soup, chicken with cashew nuts, pork curry
Location: Hospital Road | Mingalar Quarter, Nyaungshwe.
Tel: +9595214101
Innlay Hut Indian Food House
If you want to have a great time and eat some tasty Indian, this is the place. Innlay Hut Indian Food House is a wooden hut with a nice light setting. The owner is a big fan of Eminen, so you will be treated by Eminen's music while eating. He is probably the coolest person in the village, he'll make you smile, and he'll treat you like a king.
Location: Kyauk Taing Ashae Street, across from the Gold Star Hotel, Nyaungshwe
Tel: +95 9 252 352 879
3. The best restaurants for Western cuisine
The Garden
Located next door to the bus station, The Garden is one of the most popular Western restaurants in Inle Lake. It offers a large choice of pizza, crepe, sandwich, salad as well as some modern local dishes. The staff is very friendly. It is a cozy place to have some wine, beer, or coffee and read news on Wifi.
Location: Yone Gyi Street Kan Thar Quarter 2, Nyaungshwe Myanmar
Tel: +95 9 265 212 151
The French Touch
The French Touch is rather a cafe/bakery than a restaurant. It is a favorite place for local ex-pats and travelers who would like real coffee and authentic croissant. Once you go across, the bright orange exterior will catch our eye. Once inside, you can see photography on the walls which turned out to be the work of the owner, a photographer.
Notable dishes of the restaurant include croissant, sandwich, Shan noodles, chicken salad, banana flower salad, yogurt, and avocado milkshake
Location: Kyaung Taw Shayt Street | N0 23, Myo Lac Quater, Nyaungshwe
Tel: + 9595251365
The Golden Kite
If you are looking for real Italian cuisine in Inle Lake, this is the place for you. They do homemade pasta from an old recipe of a family from Bologna with good Parmesan cheese. You frequently get a tour of the kitchen where you can see the owner's Italian basil, imported cheese, salami, and his pride and joy, a wood-fired brick oven. Authentic pasta dishes go for around 5,000 kyats, and pizzas are 7,000 kyats which considering the imported ingredients is very reasonable. They also serve Red Mountain wine at reasonable rates.
Location: Corner Myawady Rpadd./Yone Gyi Road, Nyaungshwe
Tel: +95 9 528 0493