Best Restaurants in Mandalay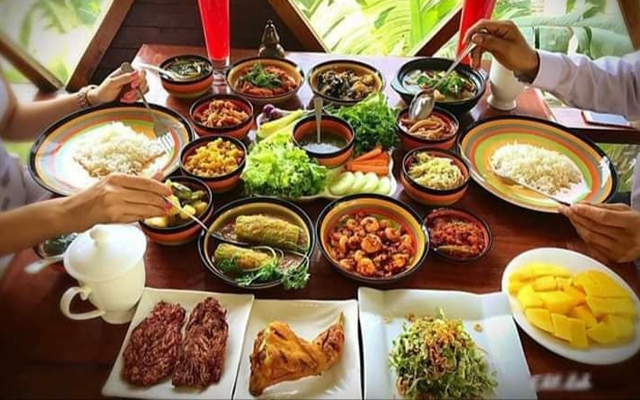 Mandalay was the final royal capital of Myanmar before the kingdom was annexed by British in the late 19th century.  Nowadays, Mandalay is a bustling, modern city ringed with ancient monuments. Thanks to cultural values, Mandalay is always mentioned in must – see list of travelers. But one thing which may make you surprised is that Mandalay is heaven for food lovers. Travelers can find various food that is suitable to every taste and budget. To choose a right one, we will list the best restaurants in each style of cuisine.
Typical Local Restaurants
These are basic restaurants serving food like buffet style. The dishes are cooked in advance and placed on unheated metal trays. Guests will point what you want to eat. The staff will assist you to take small portion into plates. Rice and side dishes will be offered to eat with main dishes. Do not expect hot food and English speaking staffs in this kind of restaurant as they mainly serve local people. However, price is cheap and the taste is authentic. If you want to experience the way the locals do, below are the options:
Lashio Lay
No. 65 23rd Street, between 83rd and 84th Street, Mandalay, Myanmar
Shan Ma Ma
No. 4-8, 81 Street, between 33rd and 34th Street, Mandalay, Myanmar
Golden Shan
22nd Street, between 90 and 91 Street, Mandalay, Myanmar
Too Too
27th Street, between 74th And 75th Streets, Mandalay, Myanmar
Noodle & Street Food Restaurants
In Burmese traditional cuisine, people eat rice for lunch and dinner. However, Myanmar has also a big collection of noodles and snacks which travelers can find easily in Mandalay. The most favorite noodles in Mandalay are Mont Di, Mee Shay and Shan noodles. You can find all of them in following restaurants:
Mogok Daw Shan Noodle
Between 77th and 33rd Street, Opposite Diamond Plaza, Mandalay, Myanmar
Soe Soe Restaurant
No. 89/11, between 84th and 85th Street, Mandalay, Myanmar
Shwe Pyi Moe Tea Shop
Corner of 75 Street and 33 Street, Mandalay, Myanmar
Local Cuisine Restaurants
If you are still interested in traditional food but look for better service and nice decorated restaurants, please come to these places:
Mingalabar Myanmar Restaurant
71st Between 28th & 29th Street Chan Aye Tharzan Township, Mandalay Myanmar
Unique Myanmar Restaurant
Corner of 27th & 65th Streets, Chanayethazan Township, Myanmar
Green Elephant Restaurant
Yamonar (River View), Thiripissayar Quarter 27th Street, Between 64th & 65th Street, Mandalay Myanmar
Asian Cuisine Restaurants
As the second biggest city in Myanmar, it is not difficult for visitors to find food from neighbor countries.
Spice Garden (Indian food)
No. 417 Corner of 63 Rd & 22 Nd Road in Hotel By The Red Canal, Mandalay, Myanmar
Tom Yam Koong (Thai food)
68th Street Between 43 & 44 Street, Mandalay Myanmar
Hana Yakiniku Japanese BBQ Restaurant
No. A1, 27th Street Between 68th Street and 69th Street, Mandalay 05021 Myanmar
The Golden Duck (Chinese food)
Strand Road, Mandalay, Myanmar
Gangnam 31(Korean food)
Grand Park Hotel – 31st Floor, 84th Road between 39th & 40th Steet, Mandalay, Myanmar
Western Cuisine Restaurants
Western travelers usually spend long time to visit Asian countries. So, you may miss your home's taste during the trip. If you would like to have a break from Asian foods, these places are for you:
Ned Kelly Restaurant & Irish Pub
No. 101 28th Street, Mandalay, Myanmar
Central Park (Good pizza)
No. 101 on The Corner of 27th Street and 77th Street, Mandalay, Myanmar
Moat Bar & Grill
26th Street Corner 66th Street, Hilton Mandalay, Mandalay 11121 Myanmar
Station 36 (Good beef steak)
36th St, Between 78th & 79th Rd Mahar Aung Myay Township, Mandalay Myanmar
Mangia Italian Restaurant (Good pasta)
77th Street Between 34th And 35th, Mandalay Myanmar