Best Places for School Trips in Myanmar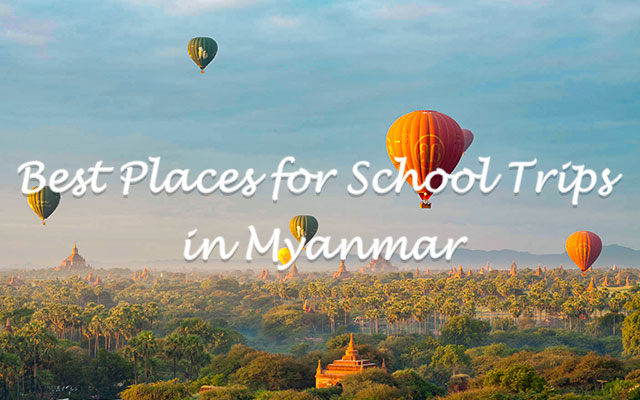 For the student groups seeking the most adventurous and rewarding journey in Asia, there is no country equal to Myanmar. Also known as Burma, it is one of the undiscovered paradises in the world. It was virtually cut off from the rest of the world for over 50 years. So, Myanmar still remains the unique lifestyle and culture. The influence of many Asian cultures and of its former colonial master, Britain, can be seen in its customs, architecture and cuisine.
Blessed with cultural riches and striking natural beauty, Myanmar offers so many educational experiences to students. As a developing country with a lot of needs particularly in the countryside, there are great opportunities for community and social projects which students can participate in to make a difference. In addition, students are able to uncover the spiritual life in fabulous ancient pagodas or discover the peaceful ways of life in floating villages.
For school trips, we would like to suggest some of the country's most beautiful regions where students can gain an insight into Burmese culture and society: Yangon with colonial architecture; Bagan archaeological zone that rivals the Temples of Angkor in its beauty; Mandalay – the former royal capital; Inle Lake and Kalaw in the Shan State – the ideal bases for boating and hiking excursions.
Yangon
Yangon (formally Rangoon) is the main gateway to Myanmar. It is a hub for commercial business and has the largest international airport in the country. Yangon has changed the most since the country opened its doors to foreigners. The city now is a combination of past and present. In Yangon, travelers can easily find big and modern buildings with supermarkets, shops, cinemas, restaurants… Boutique hotels and rooftop bars are popping up all over the city. However, many historical and traditional architectures are still well remained.
Students can discover local culture and history through handsome colonial buildings, bustling open-air markets alongside sacred shrines and temples, including the golden complex of Shwedagon Paya, a must-see of the city. Be sure to spend an evening wandering around the Shwedagon pagoda to see how beautifully it is lit up at night. Yangon also has many interesting museums where students can learn about the country such as National Museum, Bogyoke Aung San Museum…
Read more: Local Markets in Yangon, Myanmar
Last but not least, Yangon circle train will bring amazing experience to students. It is slow train to take people from Yangon downtown to its rural areas.  It runs in a circle clockwise and counter-clockwise with about 15 departures a day. This bumpy ride travels through 38 stations while vendors hop on and off between stops selling boiled peanuts, fruits and Myanmar traditional food. For less than one US dollar, students can experience the true essence of local life in Yangon as they travel through the city's rural landscape. It provides a window into the daily routine of the Myanmar people away from the commercial centre of the country.
Bagan
Bagan is one of the greatest archeological treasures of Asia with more than 2,000 ancient temples and pagoda ruins remaining for visitors. These beautiful structures were constructed between the 11th and 13th centuries. Students can wake up early to view sunrise over temples, ride an electric motorbike to explore hidden trails connecting temple groups to one another, or cruise along Irrawaddy River to view the sun going down to reach the temples.
Read more: Bagan temples
Students also have a chance to explore the nearby villages of Bagan on bicycles. Cycling is an amazing activity for students as it helps to improve their fitness, enjoy breathtaking views and get an authentic experience. The friendly villagers are happy to take students on a tour of their home, showing you all aspects of their day to day lives. They will teach students how to do their traditional jobs such as spinning cotton into thread, making shawls from the cotton, making lacquerware from bamboo and even pressing peanuts to make peanut oil. It was great for students to learn how their village operates and how they make money to support their families.
The most popular and spectacular experience in Bagan is to take a sunrise hot-air balloon flight over the ancient kingdoms. It is definitely a once-in-a-lifetime experience for students to witness stunning view as the sun begins to rise above the horizon.
If they have a bit of extra time in Bagan, visit Mount Popa, an extinct volcano and the popular Popa Taungkalat monastery sitting on the top of the volcano. This trip is not only for the incredible view, but gives them the fun experience to reach the top. There are 777 steps to get to the top. According to Burmese tradition, shoes must be left at the bottom. People must climb on barefoot through particular stairs which are filled with naughty monkeys.
Inle Lake
Inle lake is home to Intha people who are known for paddling fishing boats by their feet. They live in floating villages and plant trees in floating gardens. Students can take a boat trip or paddle kayak to visit traditional villages to learn about unique methods of creating floating gardens and houses. They will be surprised to see masses of tomato fields and other crops growing above the water.
Along the trip, students will visit a number of different local artisan workshops where they can explore the beautiful lotus weaving, blacksmith production, handicrafts, and wooden handlooms. It is a great chance for students to witness and join the procedure to make a finished product.
If students have extra time in Inle Lake, they can try a cooking course. Shan food is very popular through the country. So, it cannot be better to learn how to cook it in its home town. A cooking class will include a visit at the local market with local people to buy some ingredients to prepare for the class. Then, students can learn how to cook local cuisines with the guidance of cooking mentors. Students and teachers will enjoy the meal after that.
Inle Lake nestles between two mountain ranges, home to different ethnic minorities. So, this is great area for outdoor activities. Students can join on a trek through quiet forests and enjoy village homestay with a local family, or experience Myanmar's lush landscapes by bike.
Kalaw
Kalaw is an old hill station with a laid back atmosphere, refreshing climate and scenic views. It is also known as Myanmar's trekking hub of the country. We can organize trekking trips to nearby villages so that students can meet and help locals with their works. The trek can last from 1 to 4 days depending on their fit. For long day trek, students will stay overnight in monastery or local houses in villages. The most popular trekking route is from Kalaw to Inle Lake.
Kalaw is also a base to visit Green Hill Valley where retired elephants are taken care. The founders aim is to give the old elephants a stress-free and happy retirement. Here, students can join daily care for elephants including feeding and washing them in the river. In addition, students can help to plant regional trees for forest recovery efforts. It is amazing experience to build their love with nature and animals.
 Mandalay
Mandalay is the last kingdom of the Burmese before the colonial period. It is often called the cradle of Burmese culture. It is a wonderful destination to gain insights into the history of the ancient kingdom. Students are also offered an ample opportunity to dive in a peaceful atmosphere in earlier kingdoms such (Inwa, Amarapura) and explore the values of Buddhism through numerous beautiful pagodas as Mahamuni Pagoda which houses Mahamuni scared image, Shwenandaw Monastery – noted for its exquisite wood carvings, gold leaf beating workshop, Kuthodaw Pagoda – known as the world biggest book.
Once filling of city life, travel out of city for 2 hours to Dat Taw Gyaint Waterfall. It is a magical waterfall with a blue, natural and refreshing swimming hole. The hike to the falls is downhill and will take you about 45 minutes. Spend a few hours wading in the swimming hole with the locals
Mandalay lies on the bank of Irrawaddy River, home to the endangered Irrawaddy dolphin. Students can join The Living Irrawaddy Dolphin Project which aims to protect the dolphins and the unique heritage of cooperative fishing, where fishermen and dolphins communicate and fish together, by supporting local communities to develop community-based ecotourism.
Final Lanes
Myanmar Travel team believes that there is nothing better for character building than cultural explorations combined with real life adventures. So, our school trip's program is designed to create authentic and personal contact with Burmese culture and people. The trips are packed with activities such as biking through Bagan, meeting local students, artists, learning a bit of Burmese language, team building games with another as well as the local youths in the community. All our school trips to Myanmar are accompanied throughout by an English speaking local group leader who will meet you at the airport and be with you until you depart. The group leader will act as your guide, interpreter and general facilitator throughout your trip.
Our school trips to Myanmar are specifically tailored to specific learning requirements. Groups of friends or teachers looking for more inspiration for your students feel free to contact us and together we can plan the whole trip.