Bagan Temples
Bagan, formerly named Pagan, is an ancient city by Ayeyarwady river and in 2019, Bagan was approved as UNESCO World Heritage Site. In the golden time of Bagan Kingdom, almost five thousand temples & monasteries was built and over two thousand temples have been survived up to now.
With the pure charm & natural beauty, Bagan Archaeological zone is always in top list of any Myanmar trip. Most of the travelers often spend 2-3 days to visit Bagan. With so many temples located only in small valley in different shape and size, it is hard to visitor to decide which temple should visit, when is the right time for each of them…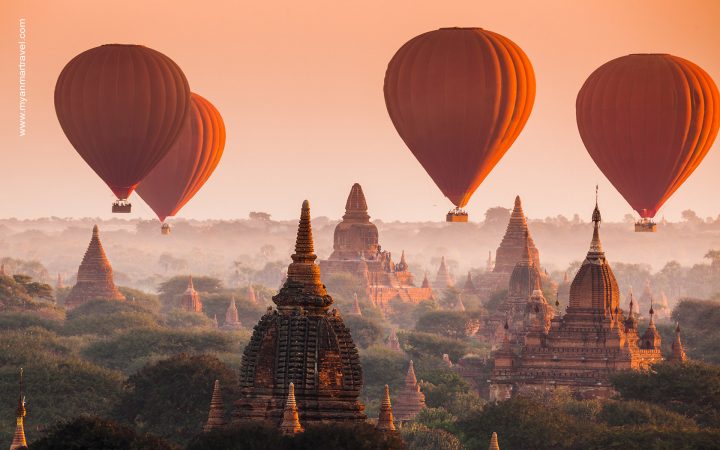 1. Architecture of Bagan temples
Bagan stands out for the magnificent architecture of the buildings, and their contribution to Burmese temple design. The artistry of the architecture of pagodas in Bagan proves the achievement of Myanmar craftsmen in handicrafts. Most of the Bagan temples fall into one of two categories:
Stupa-style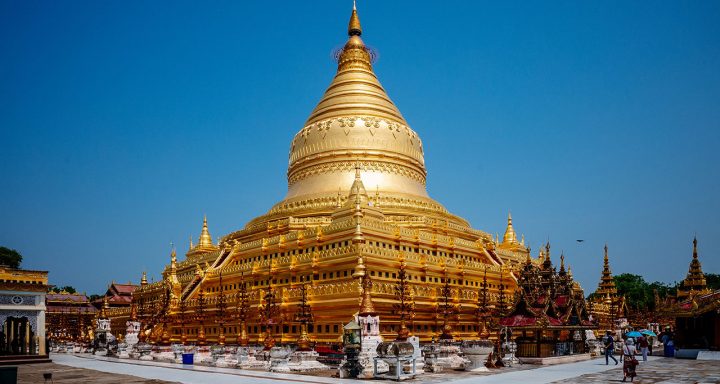 The Bagan stupas (or pagodas) are usually bell-shaped brick structure, with one or more rectangular terraces at their base, and contain a relic chamber. It usually rises to a gently tapering peak gilded metal and jeweled finial topped with a sacred parasol-shaped decoration (hti). They took their influence from early Pyu constructions which were based on the stupa designs of India and Ceylon. The stupas represent Buddhist cosmos: its shape symbolizes Mount Meru while the umbrella mounted on the brickwork represents the world's axis. The Bagan-era stupas were the prototypes for later Burmese stupas in terms of symbolism, form and design, building techniques and even materials.
Gu-style hollow temples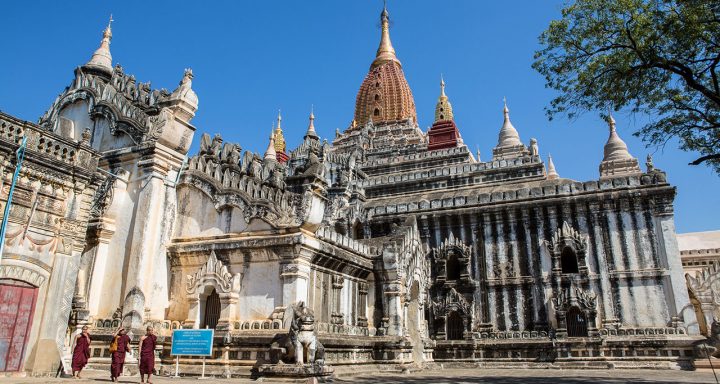 It is a structure used for meditation, devotional worship of the Buddha and other Buddhist rituals. The gu temples come in two basic styles: one main entrance and four main entrances.
The main features of this style are a vaulted indoor chamber and pointed arches. The temples were often built around a stupa and included a variety of other buildings such as living quarters for monks and ordination and assembly halls.
2. How to visit Bagan Temples
Bagan itself is a big region with so many temples and pagodas. As they are not located in walking distance, travelers cannot explore on foot. You can choose one of following ways to visit around
Ride a bicycle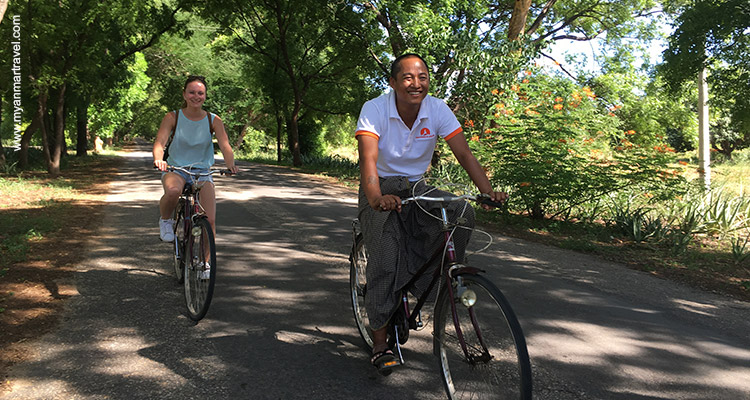 This is the cheapest way to get around, and also gives you the freedom to do sightseeing as you wish. Riding a bicycle allows you to get to most of the temples. Bear in mind that it can get hot and dusty when cycling, especially in the summer. So you should plan what to visit in advance, then ask recommendation from tour guides or receptionists to decide what to visit. Then, pick up a tourist map to avoid getting lost in the heat.
Almost all hotels and guesthouses have them for hire. You can also rent it from various restaurants and shops on the New Bagan and Nyaung U. Prices are usually around 3 USD per day.
Ride an E-bike
If you want to drive by yourself but with less physical effort, E-bike is an option. You can rent E-bike from many shops in Bagan. The price is around 8 USD per day.
E-bike is similar to a motorbike, but probably goes a little slower and is more usable for someone who's less experienced in riding motorized bikes.
If you've never ridden a scooter or E-bike before, should practice before you start driving among the locals on the main roads and dirt roads. For anyone who has done this before, it's simple, but if it is your first time, definitely be cautious and be sensitive to your safety!
Tuk-Tuk with Driver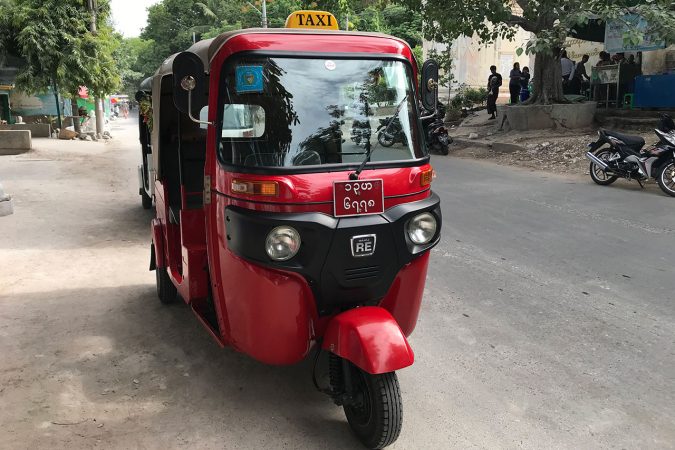 Tuk tuks in Bagan are small. It can accommodate two people only, unlike other Asian countries where you can fit a family. Tuk – tuks have no door, so you can get the cool breeze and are able to enjoy the scenery with the feeling of being "outdoors".
It costs about 20 USD to hire one tuk – tuk for whole day. We took a rest for two hours at my request and picked you up again in the afternoon to see the sunset. The drivers are happy to wait for you while you hang out at the pagodas.
Horse cart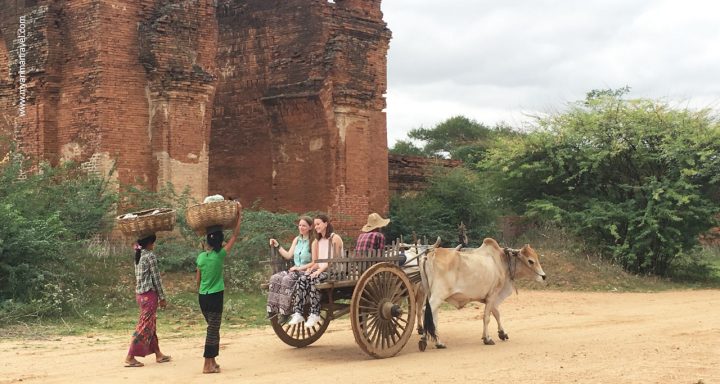 Riding in a horse cart around the old temples of Bagan is one of those iconic experiences in Myanmar. Most drivers speak at least some English and will of course know good routes around the temples and some hidden gem. You can rent a horse cart with a driver for around 10 USD for a full day. One cart can be shared between two or, at most, three people.
However, horses have to follow more well-trodden tracks than bicycles, so there are areas they cannot reach. In addition, it is quite slow and not really comfortable mode of transportation. So, you should try it just in few hours to get different feeling and experience
Hot air balloon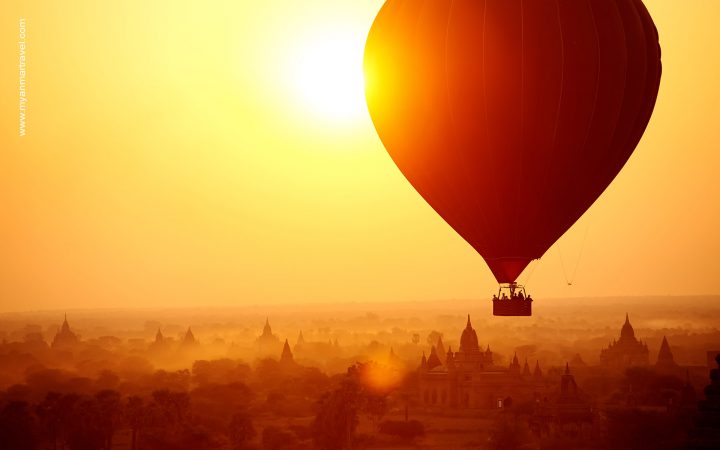 The most exotic and spectacular way to see the pagodas is to take a hot air balloon flight. The flight is set up at dawn to see pagodas as far as eyes can see. It costs 280 – 380 USD per person depending on which service class you choose.
Balloon flights are operated from October and April. You should book well in advance, particularly at popular times of year such as Christmas and New year.
Read: Hot air balloon Bagan
Private car/van

Private car/ van with Air-con and experienced driver is the most comfortable way to get around Bagan.
It carries your day bags, drinks and has air-condition allow you to relax a little bit when travelling between 2 sites of Bagan.
Experience driver & Local tour guide who live day in and out in Bagan will show you max and the best of what you should visit in a day.
If you want to avoid the heat and dust, it is the Cars/vans will usually cost between $30 and $60 per day, depending on the season and how far you travel.
Book guided tour with private tour guide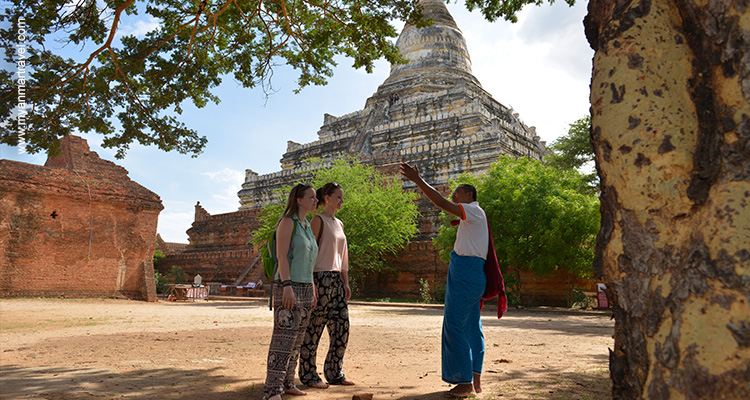 Certainly, you can simply rent a car or bike and do sightseeing yourselves. However, there are hundreds of pagodas and temples. Therefore, it is better to have someone who take you to the key ones, show you what the different statue poses mean and tell you the history. The local guides with deep knowledge of the region will make your trip more alive. You just need to sit back and enjoy the historic sites that make up Old Bagan.
3. Popular pagodas and temples
There are so many temples, you could not visit them all in a day Bagan tour, but there are 10 top best temples in Bagan and you should not miss them.
Ananda Temple
It is built in Indian-style architecture and was completed in 1105 AD. It is one of the most important Buddhist temples in Bagan. Although it was significantly damaged in the 1975 earthquake, Ananda has been completely restored.
It was built with bricks and plaster. Inside are four Buddhas adorned with gold leaf and each faces a specific direction to represent attainment of the state of Nirvana.
Shwezigon Pagoda
The golden Shwezigon Pagoda in Bagan is one of Myanmar's most important Buddhist shrines, and pilgrims from all over the country. King Anawrahta was responsible for the construction of Shwezigon, and it was completed in 1102 AD.
This Buddhist pagoda is believed to house a tooth and bone from Gautama Buddha. The detail of this pagoda is seriously impressive. As you walk around, you'll run into locals worshiping and monks praying.
It's easy to recognize the Shwezigon pagoda since it's plated with gold and glimmers beautifully under the sun. The pagoda has survived numerous earthquakes including the massive quake that hit the country in 1975 but has undergone numerous renovations ever since.
Dhammayangyi Temple
Bagan's most massive temple, Dhamayangi Temple, was built by King Narathu in 1170 A.D. Although the temple construction has not been completed, it displays the finest brickwork and is worth a visit.
Thetbyinnyu Temple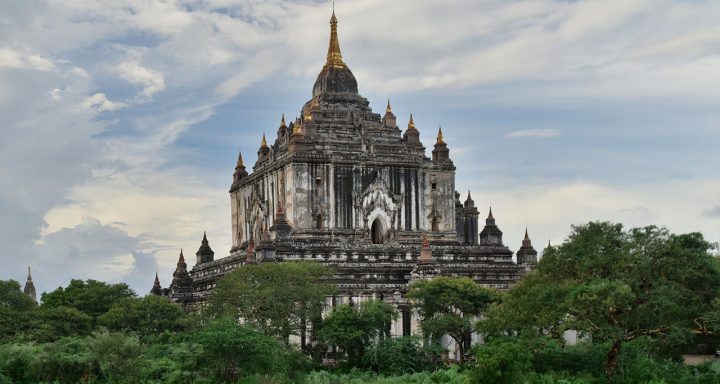 The Thetbyinnyu Temple is the tallest one in Bagan. It is near the Ananda Temple and was built in the 11th century. It stands just over 60m (229ft) tall, and can be seen from almost anywhere on the plain. Built by King Alaungsithu during the 11th Century, the Thatbyinnyu Temple is known for its magnificent white facade dominating the entire Bagan plains.
Shwesandaw Pagoda
The Shwesandaw Pagoda is the second tallest in Bagan and was built in 1057 during the reign of King Anawrahta who is believed to be "the father of the Burmese nation". This pagoda has five stone terraces with a stupa situated on top of those terraces. It is used to popular spot to view sunrise and sunset. After an accident that a tourist fell down in 2016, tourists are banned to climb up all pagodas in Bagan.
Sulamani Temple
It is one of our favorite temples in Bagan. After King Narapatisithu unearthed a small ruby, a temple was constructed in 1183 on the site where the ruby was found. Its name means small ruby. Sulamani Temple is a beautiful, multi-tiered temple that has a massive entrance on each side. The temple has many depictions about the previous life and teachings of Buddha.
Htilominlo Temple
This pagoda is located at the northeast of old Bagan, on the Bagan-Nyuang Oo Road. It was built in 1211 and was completed in 1231, among the youngest temples of Bagan. This Bagan temple was named after King Htilominlo who ordered the construction of this temple
The temple consists of three stories and is 46 meters high. Built entirely with red bricks, the temple is recognized for its elaborate moldings. Just like with most of the Bagan temples, this temple houses a statue of Buddha in each of its gates.
Bu Paya Pagoda
Though this pagoda may not be the most impressive, the view it offers is stunning. Located on the banks of the Ayeyarwady River, this gilded, dome shaped pagoda is unlike any that you'll see on our list. As it is near night market, many travelers prefer to come here for sunset, then visit night market.
Gu Byauk Gyi Temple
Built in 1113 AD, Gu Byauk Gyi Temple is a must for all those history buffs and ruin enthusiasts. Gu Byauk Gyi is probably the most important temple tied to Myanmar's past.
Constructed in 1113 AD under the reign of King Kyanzittha, the Gubyaukgyi Temple represents the Indian influence in Buddhist architecture. Unlike the other Bagan pagodas and temples, the overall design of the Gubyaukgyi temple is pretty unique. All four sides are straight and the exterior walls are covered with stucco, which allows some parts to remain intact.
Inside the Gubyaukgyi Temple, you will find ancient mural paintings that were installed in the ceilings and walls from when the temple was first built.
Manuha temple
This is perhaps the easiest one to visit. It's strategically located within the village of Myinkaba and close to the main road. This temple is pretty unique. The overall layout is different from the other temples and Bagan pagodas.
The temple's main feature is the 3 chambers that are filled with massive Buddha statues and each statue is made by stucco and painted gold. At the back, there's an extension of an even bigger chamber occupied by an oversized statue of a reclining Buddha.
4. Map of Bagan Temples
Read: Things to do in bagan
5.Travel Tips to visit temples in Bagan
• You will need to pay 25,000 Kyats (about 17 USD) for Bagan archaeological site entrance fee when you arrive at airport or bus station. Ticket is valid within 3 days and you are allowed to visit all pagodas and temples within the site.
• You will have to take off shoes and socks when entering any pagodas and temple. So, sandals are recommended.
• Long trousers, dresses and skirts (over knee) are recommended when visiting the temples & pagodas
• Bagan is in dry zone, so it becomes very hot at noon time, especially in March and April. You should not do outdoor activities at noon time. Please prepare appropriate clothing, sunhats and water when touring.
• Tourists are banned to climb the pagodas. So, you can view sunset from some moulds or take sunset boat trips along Irrawaddy river.