Nightlife in Inle Lake
After a mazing Sunset, It gets dark very quick in Inle Lake and most of the visitors are advised to go back to their own accommodation before dark. There are no traffic light on the lake and it is dangerous to travel by boat on the lake in the dark.
If you still want to discover the nightlife in Inle Lake, it is possible but you should choose accommodation near Nyaungshwe town or any hotel/ resort connect to town by the newly built small road around the lake.
Myanmar Travel listed all nightlife activities and location about nightlife in Nyaungshwe town, Inle Lake. If you stay at some remote luxury resorts and can not reach to town by road, please enjoy the tranquility of the lake and some activities that resorts organize for their home guests.
1. Night market in Nyaungshwe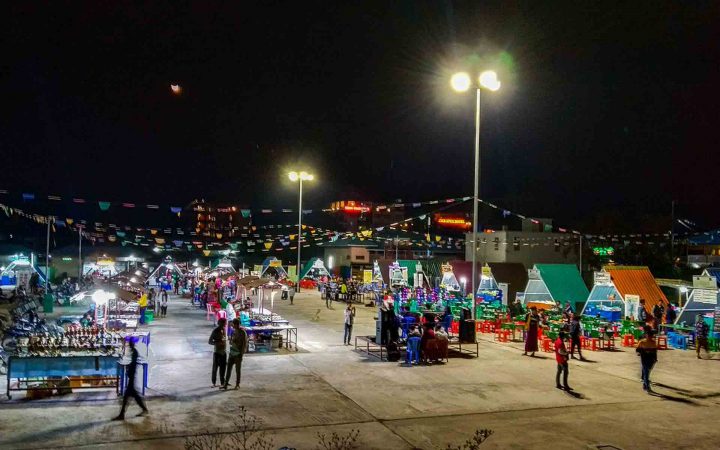 The night market in Nyaung Shwe is a simple one where you can find vendors selling handicrafts, traditional food and drinks at cheap price. It's not a traditional market, but more like upmarket food vans with a party vibe. You can find all kinds of food, from grilled skewers, famed tea leaf salad, hot pot to regional food like Shan noodles…
Night Market is an ideal place to mingle among locals who come here to eat and relax after working hours. It starts from 6.00PM.
2. Aung Puppet show
Mr. Aung is 4th generation puppet master. His family has been practicing and performing the art of traditional Burmese puppetry for more than 200 years. They try their best to keep this tradition alive by entertaining tourists who come Inle Lake. Mr. Aung is highly skilled and passionate in his job. He puts everything he has into each show.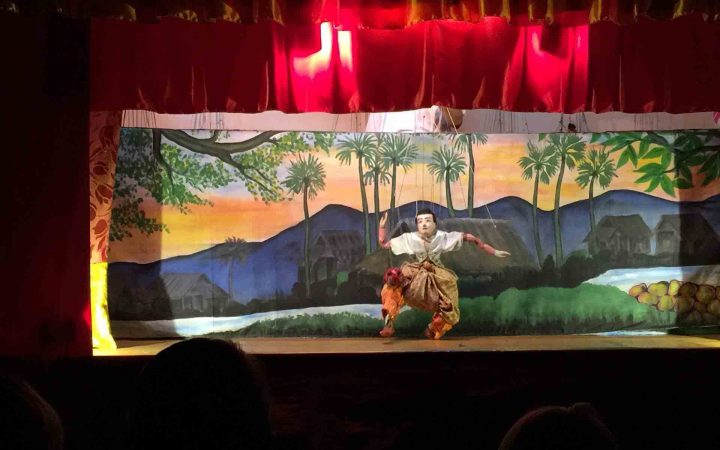 The show is 30 minutes long, taken place in a small room of his house. After the show, it is interesting to talk with Mr. Aung to know more things related to puppets.
There 2 two shows each evening which starts at 7.00PM and 8.30PM. Price is 5000 Kyats (3 USD). You can buy his hand mate marionettes at the price of 10,000 Kyats (7 USD) for souvenirs.
Read more: Things to do in inle lake
3. Enjoy Shan cuisine
Shan food is very popular throughout Myanmar. You can find Shan restaurants in every city or town you visit. However, it is the best to enjoy it in Inle Lake as it is more authentic.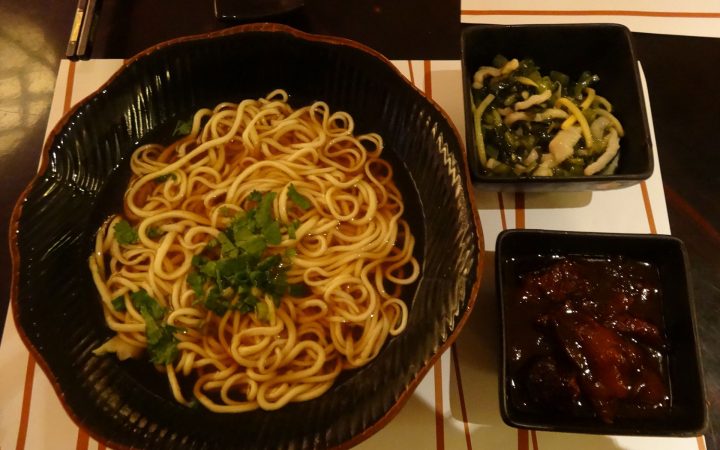 There are some dishes you should not miss: Shan noodles, Chickpea tofu soup, Shan Yellow Rice cake with tomato sauce and Shan fish rice. Below are some good restaurants in Nyang Shwe:
The Shan Restaurant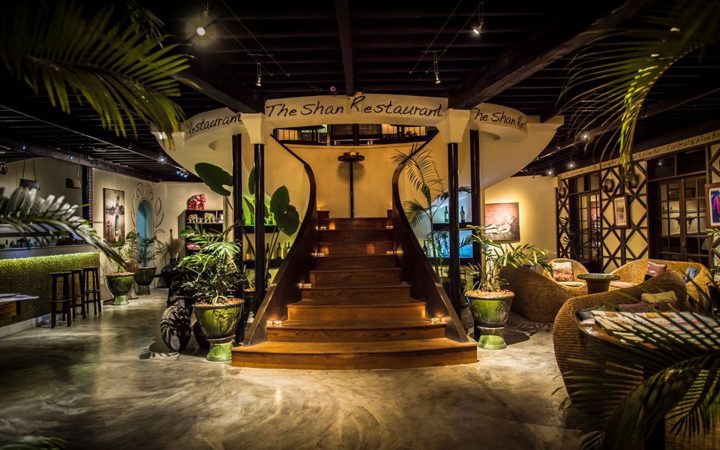 Beautiful restaurant inside Viewpoint Lodge which is located on the edge of canal leading to Inle Lake. It offers authentic Shan food with high quality ingredients. It is peaceful place to end your day after boat trips or trekking with the view overlooking the canal.
Talk Nan Bridge & Nyaung Shwe Canal, 11101 Nyaungshwe Township, Myanmar
+95 94 500 066 01
Sin Yaw Restaurant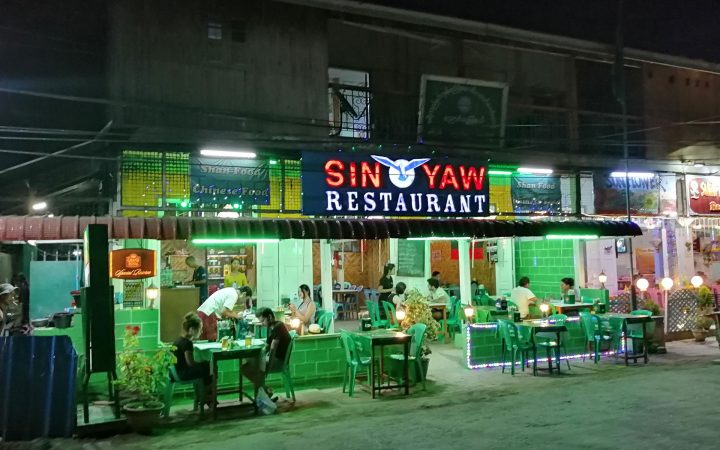 It is a basic local restaurant which offers very good Shan food. They have a set menu with all the typical food big enough for two people. You can try a different variety of vegetables and meat (choose two between pork, chicken and fish, caught straight from the lake). There's a vegetarian option if you want too. They serve rice and/or noodles along with it. The customer service is exceptional. Each dish comes with an explanation of how they prepare it.
Mingalar Ashae Street Kantar Quarter, Nyaungshwe Myanmar
+95 9 493 51883
The Shan Noodle & Food House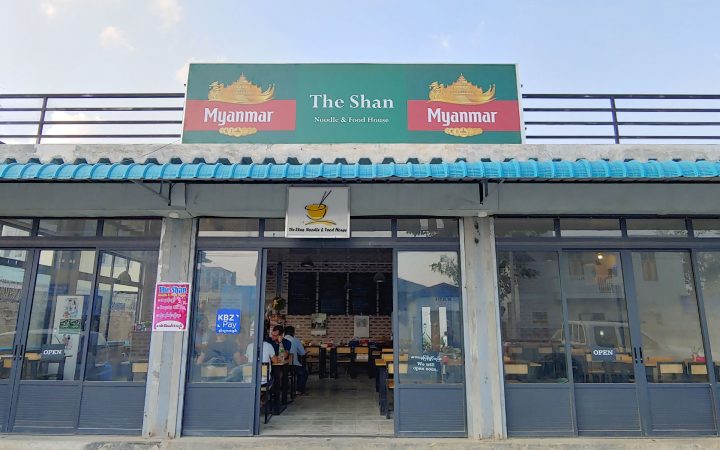 Here you can try delicious Shan noodles at reasonable price. Other Shan traditional and vegetarian food are also available.
Paung Daw Side Road ,Nyaung Shwe, Nyaungshwe Myanmar
+95 9 780 777674
4. Bars & Pub in inle lake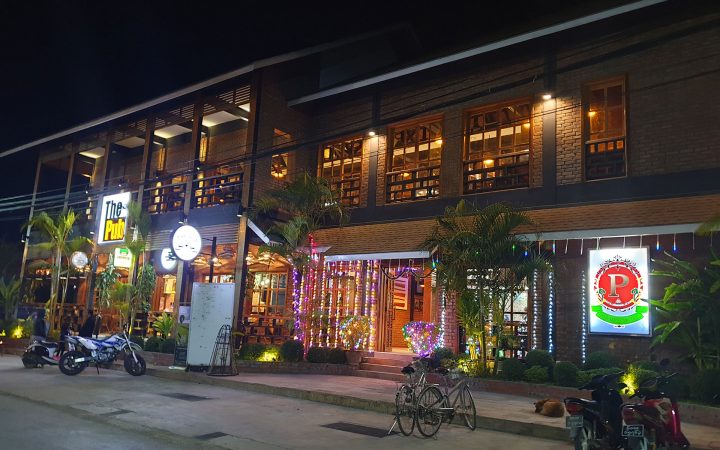 Nyaung Shwe town is coming more lively and exciting when the dark comes. Now, travelers can drink and entertain in bars and pubs around the town. However, most of the bars close around 11pm that is one of the big differences compared with nightlife in main cities.
Asiatico Pub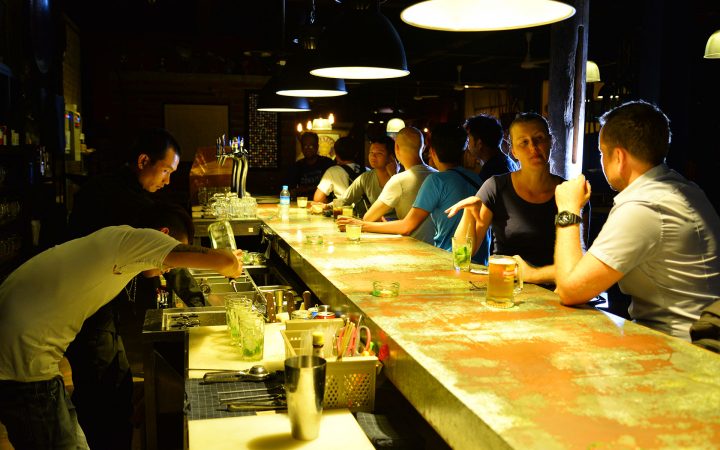 Asiatico is special thanks to its great rooftop. It is nice place for travelers who love to watch the sun go down in green surroundings. Additionally, the owners put lot of their effort into the decor. They use many local things to decorate their pub, perhaps the most striking of which is the real trishaw hanging from the roof. It makes the pub itself different from the others in town.
The pub is famous for cocktails with a unique Myanmar spin and pizzas. The pub plays dance music and also has a pool table If travelers look to make friends over a game of pool, please go there.
Open 11am to 11am (rooftop 4pm to 10pm) daily.
Museum Road, Nyaungshwe Myanmar
+95 9 45209 6741
Peter Tapas and Grill bar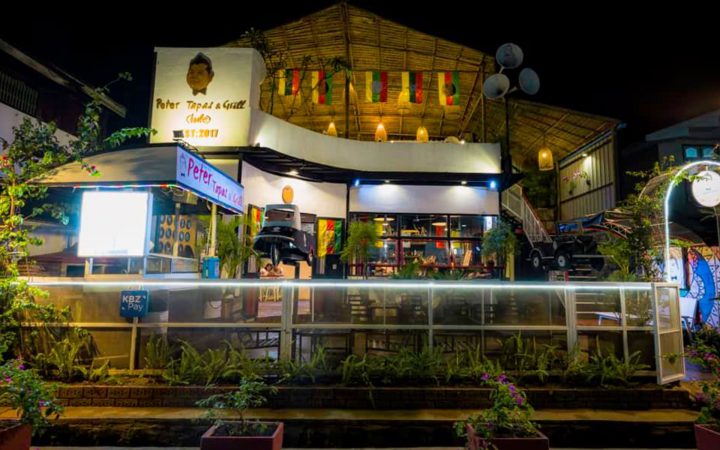 It is a street bar located near the Nyaung Shwe night market. A large roof is installed over the bar to serve clients in rainy season.
The bar focuses on serving special beverages and the 'street tapas'. Its design is a street theme with street signs, traffic lights and license plates. They set big tanks as tables while small tanks are used as chairs. The most famous drink is the Big Bowl which is a giant cocktail that up to six people can share. Beer cocktails are also on the menu as well as bar snacks to go with the drinks.
As for food, they offered only grilled meat and vegetables, but guests are allowed to order food from night market vendors.
Open 3pm to 10.30pm daily
Phaung Daw Site Road Face to face with Royal Inle Hotel, Nyaungshwe Myanmar
+95 9 42831 6310
One Owl Grill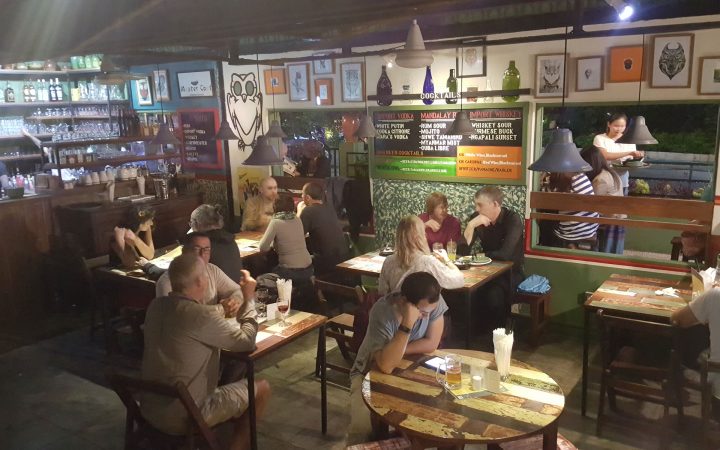 This bar is located on a main junction in town. There are owl paintings, photos and art pieces inside the bar, even in the bathroom.
It offers variety of cocktails and grilled food. Lovers of Mexican food will get a free shot of tequila with every two tacos ordered. Their beer cocktails are the best: the Black Owl is a pomelo, lime, orange and beer mix. The Red Owl ingredients are similar but pomelo is replaced by strawberry. The atmosphere here is a relaxed and friendly with plenty of backpackers.
Open 9am to 11pm daily
1 Yone Gyi Street Inle Lake, Nyaungshwe Myanmar
+95 9 262 972 841
Chillax Bistro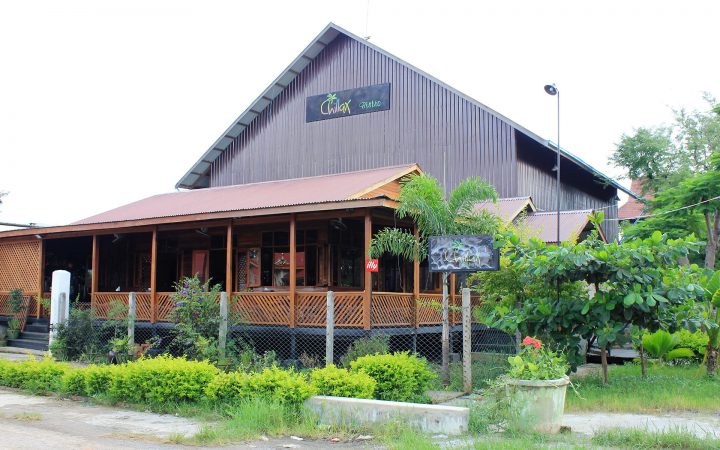 If you want to look for good western food, especially burgers, it is good option. In the large outdoor veranda area, diners can try pizza, Mexican burritos and sandwiches. You can also find popular local dishes here.
Cocktails are exciting and delicious and price is reasonable. The most popular cocktails are the Inle Mojito and the Myanmar Mule which includes a delightful mixture of local liquor, sugar syrup and fresh lime. Chillax's homemade yoghurt is also delicious.
Open 9 am to 10 pm daily .
Kyaung Daw Anauk St, Nyaungshwe 081 Myanmar
+95 9 431 14526
Ginki Nyaung Shwe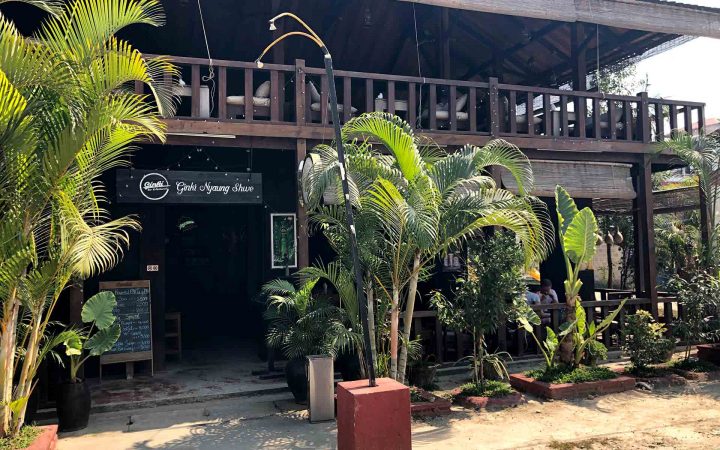 This is one of four sister restaurants around the country. The menu features Shan, Indian, Thai and European favorite food. The most popular dish is grilled pork neck followed by pizzas, pastas, fire-grilled chicken and steamed sticky rice. Happy hour is from 1pm to 5pm. The open-air setting, funky wooden furniture and regular acoustic band performances make Ginki a top choice for unwinding in Nyaung Shwe.
Open 11am to 11pm daily.
No.19, Sao San Tun Street Myo Lal 6th St, Nyaungshwe 11012 Myanmar
+95 9 306 66456