Local Markets in Yangon, Myanmar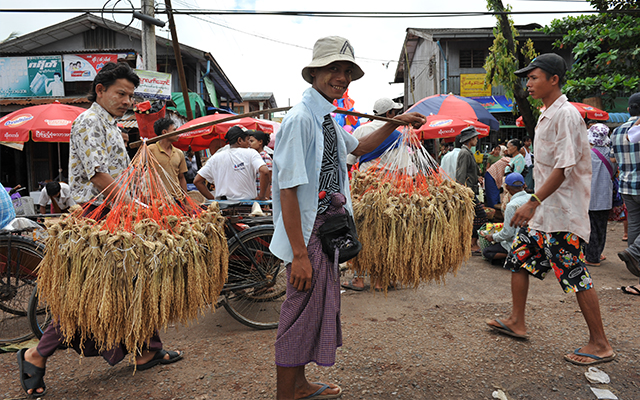 Together with the historic pagodas, Yangon local markets is great option for visitors who love to see the culture of local people. The market of Yangon shows so much of local daily life. You could meet & see people at the close lenses. See how they dress, how they meet and talk to others how they shop for a day use…All the farm products and things they exchange… The market is also the nice choice for photographers too. To me – an expat who work and live in Yangon, I love to explore local culture and cuisine… and all things shows at these market. I make this short list of 7 amazing markets in Yangon for those who have the same interests.
7. Bogyoke Aung San Market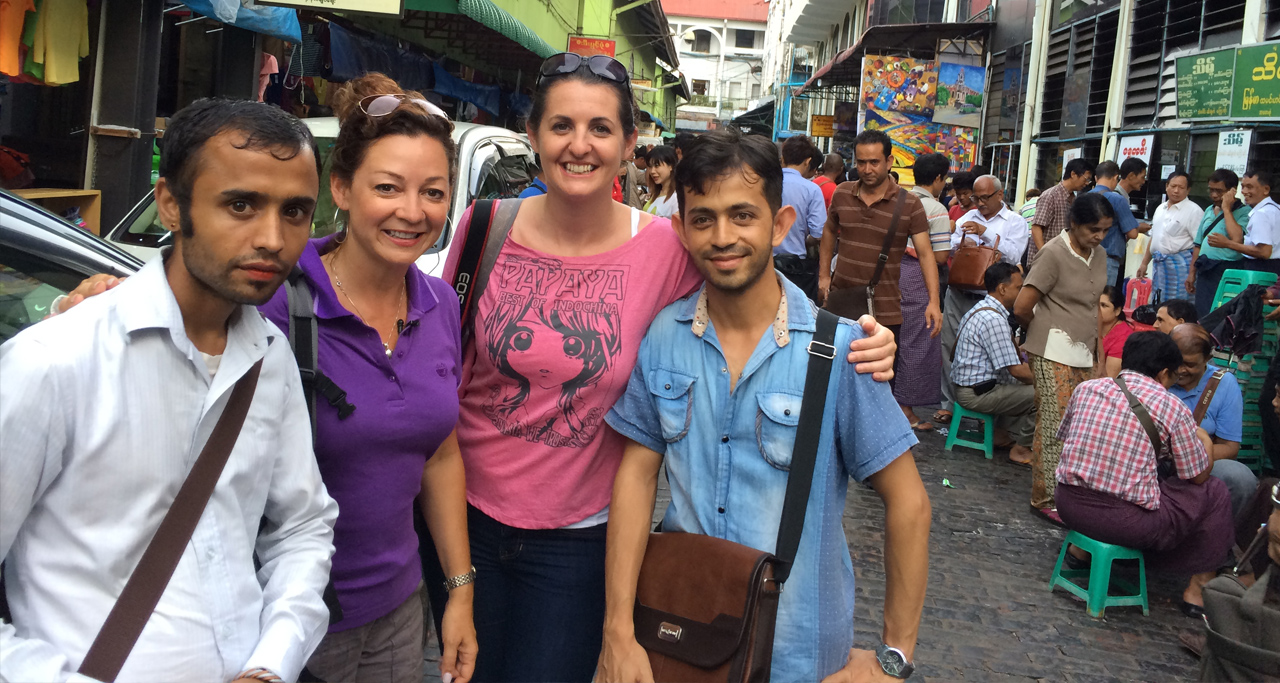 Photo with the guys who selling expensive stones 😀
It is formerly known as Scott market, situated in the heart of Yangon. This market has a huge number of shops selling luxury items, handicrafts, foodstuffs, clothing, jewelry. fashion and consumer goods. It is the most popular place for travelers to buy souvenirs in Yangon, especially a longyi (a traditional skirt worn by both men and women). You can get your items tailored by taking your cloth to one of the stalls with the sewing machines.
Note: Market is closed on Mondays and public holidays
6. Yangon Chinatown

The Chinatown market is one of the busiest markets in Yangon. If you come in the morning , you will enjoy exploring the busy and colorful street market which takes in 18th Street through to 24th. Street food is the most popular product as most roadside stalls serve snacks. There are also a bunch of local products such as gold and jewelry stores, cyber cafes, restaurants, temples, and fruit vendors. The narrow streets leading off the main roads are a warren featuring baskets, paper goods, crafts, flowers, and even songbirds.
When the sun goes down, it is the time to visit the night market. At that time, street vendors gather to sell their wares at the night street market, and the area comes to life again. Especially, enjoy barbeque at 19th Street, the main centre of Chinatown where there are lots of beer stations and bars.
5. Theingyi Zay (Market)
Theingyi Zay (Zay or Zei is the Myanmar word for Market) is the largest traditional market in downtown Yangon, located in Latha township. The market was first built in 1905, started in the shade of a nearby monastery which attracted many traders even before the British. Today, it consists of five blocks, lettered A through to E. They surround the intersection of Mahabandoola and Shwedagon Pagoda Roads.
The market gives visitors a chance to experience classic Yangon buildings and post-war structures, while browsing through more than 1,000 shops that peddle anything from rice and fish paste to herbs, medicines and toys.
At night, the market transforms into a busy nightlife area, with plenty of nightclubs and Karaoke Bars plus restaurants with fashion show entertainment. In fact, it's probably the only market in Myanmar that offers traditional Burmese medicine and karaoke in the same location!
4. Thiri Mingalar Market
Located outside city centre, Thiri Mingalar Market is the biggest farmer market in Yangon. It is the wholesale market for fruits, flowers and vegetables to be distributed all over Myanmar. You might stumble across mounds of cabbages, racks of bananas, trays of watermelons or piles of flowers. Crowds of trucks, tuk-tuks, bicycles, laborers, and shoppers create an energetic bustle around Thiri Mingala. Many sellers and workers also make their homes there after busy working days. It is a great chance for visitors to encounter the chaotic and lively market as well as witness how people earn their livings. It's a must-see for tourists and a great place to capture some colorful pictures.
3. Da Nyin Gone Market.
It is a wet market can be found next to the Danyingone railway station in Yangon, one of the most thrilling stops along Yangon's Circular Railway. The market spills onto the platform in a flurry of activity; traders hustle at train doorways; vendors dash to stalls with arms full of produce; Thanaka-painted children dart between legs; and beggars wave metal cups and wait for some money. However, everyone always listens for the signal of an oncoming train, ready to collect their goods and stampede when the train comes.
2. Anawrahta Road Night Market
nawrahta Road is Yangon's busiest and most central market. It has unique atmosphere where the lighting is dim from fluorescent lights and candles but the products are fresh. The market starts before sunset as people return home from work. Fish, chicken, and pork are sold right on the roadside, by colorful piles of vegetables, fruits, and flowers.
The most temptations, especially for food and adventure lovers are many piles of salted fish and fried items skewered on a stick including crickets and any edible animal parts. Just enjoy and finally, pay for the number of skewers you have eaten. If food is not your thing, just simply stop for a while to watch the way the local vendors cook these dishes right in front of you; or try coconut jelly. The Anawrahta Road night be one of the most impressive night markets you will see in Burma as well as Southeast Asia.
Read more: Best 10 Things to do in Yangon
1. Strand Road night market
It is the newest market in Yangon and the first one managed by the government. It runs along Strand Road between 37th and Wa Dan Streets (Kyauktada and Lanmadaw Townships). This market is a great place to try Myanmar street food and exotic tropical fruits at cheap price. The night market operates daily from 3pm to 11pm