Monywa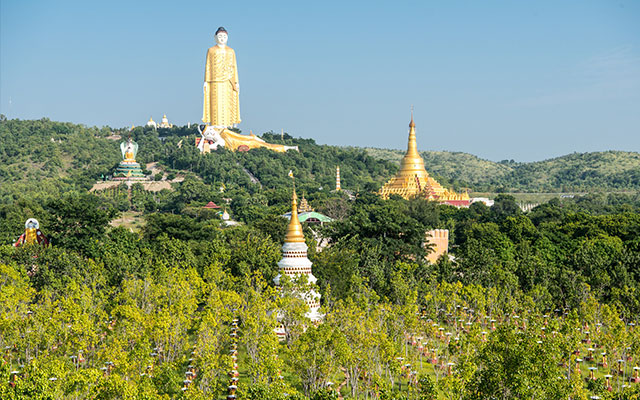 Monywa is the largest city in Sagaing Region, Myanmar. It is located 136 km north-west of Mandalay city, on the eastern bank of the Chindwin River. Monywa serves as a major trade center for India and Burma through Kalay Myo road and Chindwin river.
Thanks to the industry that surrounds the town, the town looks more dynamic than other regional centres in Myanmar. The main street (between the clock tower and the Bogyoke Aung San statue) becomes colorful after dark, with a vibrant atmosphere and numerous food stalls and beer stations.
With regards to tourism, Monywa is still little known to travelers. However, if you love to discover Myanmar culture and Buddhism, it would be a big miss if you do not visit Monywa – home of the giant Buddhas. Please find general information of this interesting city in this article.

Best time to visit Monywa
Monywa has 2 main seasons: rainy season from May to September and dry season from October to April. Temperatures are always high throughout the year. The hottest month is April with an average maximum temperature of 38°C. The winter months (December–February) are significantly milder (around 28 °C in January).
For the best weather, plan your trip to Monywa during the dry and cool months that runs between November and February. The temperatures begin to climb steadily in March, and the hot weather continues into October alongside higher chances of precipitation that restore the fields, mountains, and forests of Myanmar after the dry season.
How to visit Monywa
Monywa has its own airport. However, no airlines operate commercial flights from/to Monywa at the moment. To reach Monywa, two nearest airports are Mandalay and Bagan. Then, you can travel to Monywa by several ways
By bus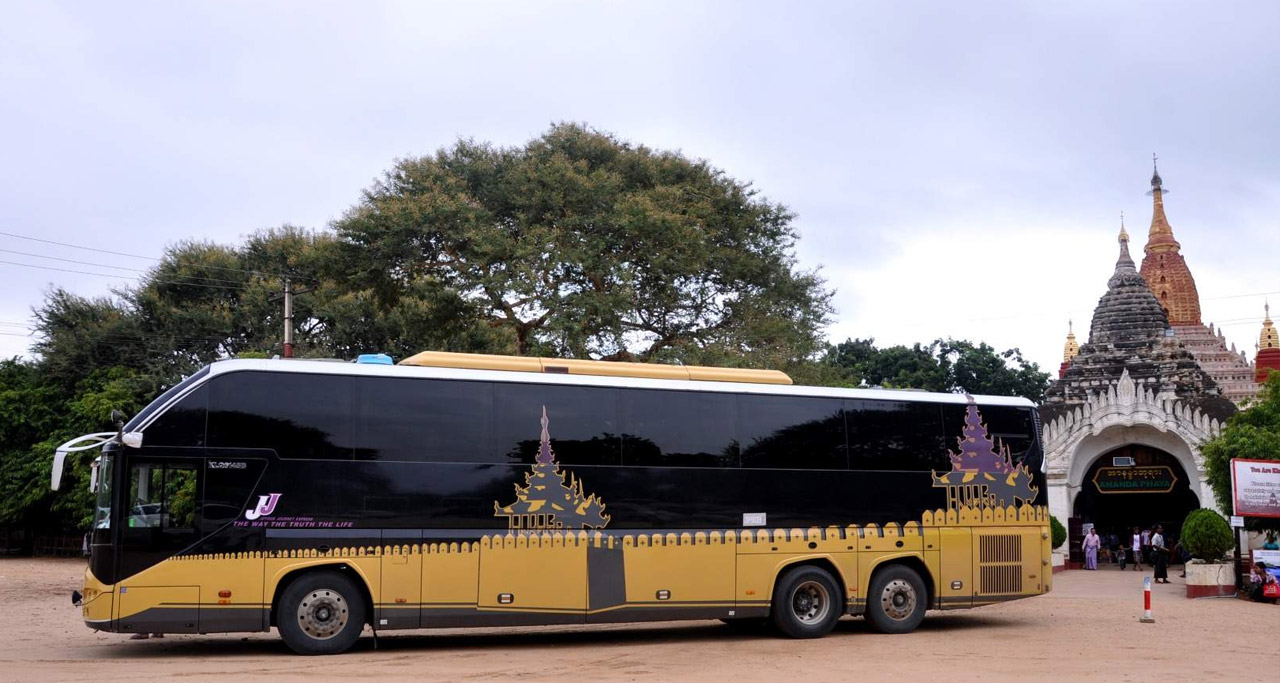 There are several local mini buses operated between Mandalay/Bagan and Monywa every day. You need to take a taxi from airports to bus stations in the city (45 minutes from Mandalay airport and 10 minutes from Bagan airport) to catch these buses. Bus journey takes around 4 hours from both cities.
By train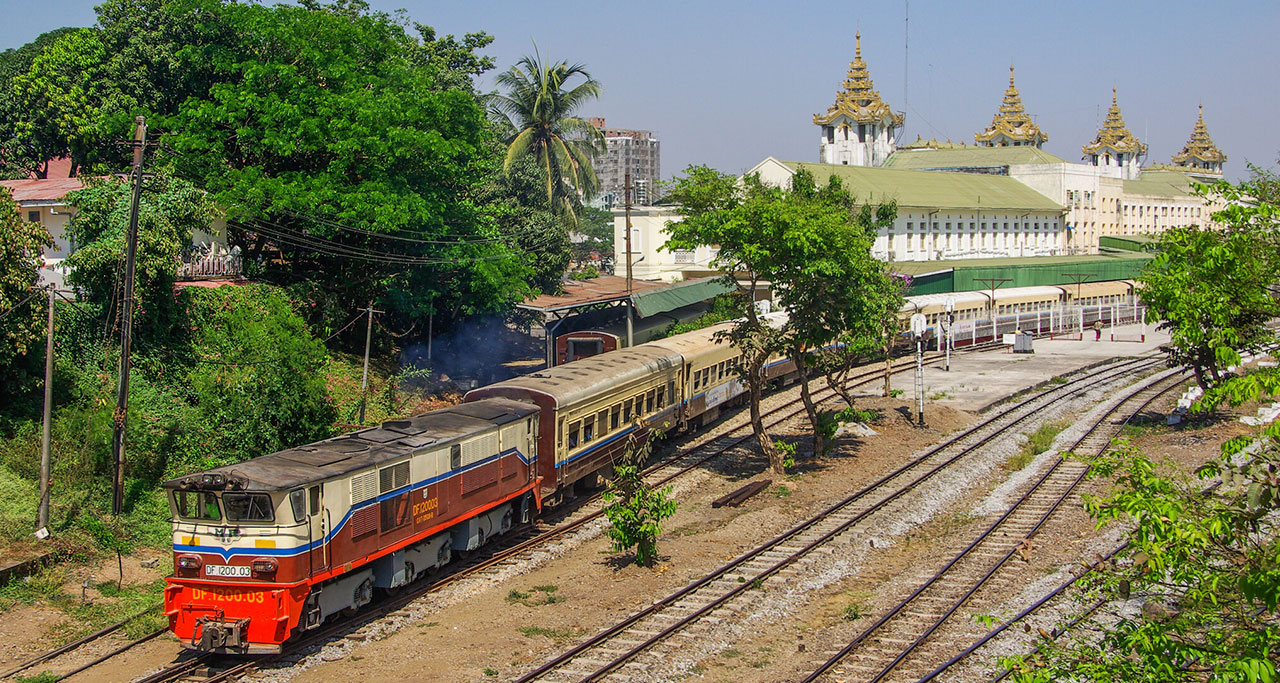 There is one train between Mandalay to Monywa per day. It departs at 5.30AM and takes around 6 hours. It cannot be booked online. You should book ticket through your hotel or buy it directly at Mandalay train station upon arrival.
Besides, private RBE charter train is available for this route. If you travel in a group of 7 – 24 people, you can charter this train. It gives you the flexibility of departure time. In charter package, you will be provided a sightseeing tour, pick – up service, meals, cocktails, water. Train attendant and minibar are also available on train. Price is from 80 USD per person.
By boat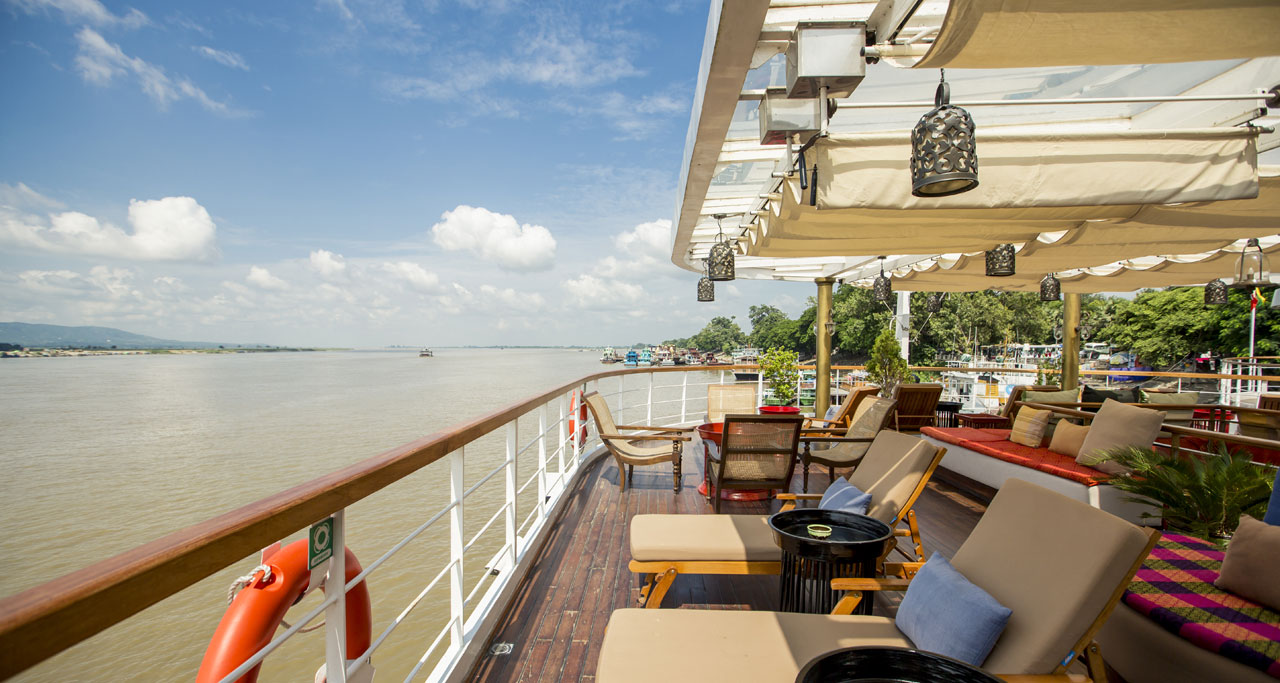 There are no direct boats from Mandalay or Bagan to Monywa. But few overnight cruises between Mandalay and Bagan which go through Monywa. In the cruises' schedule, it will stop at Monywa for 1 day, so passengers will have time to explore the town. If you look for some relaxation, it is a good idea.
By private car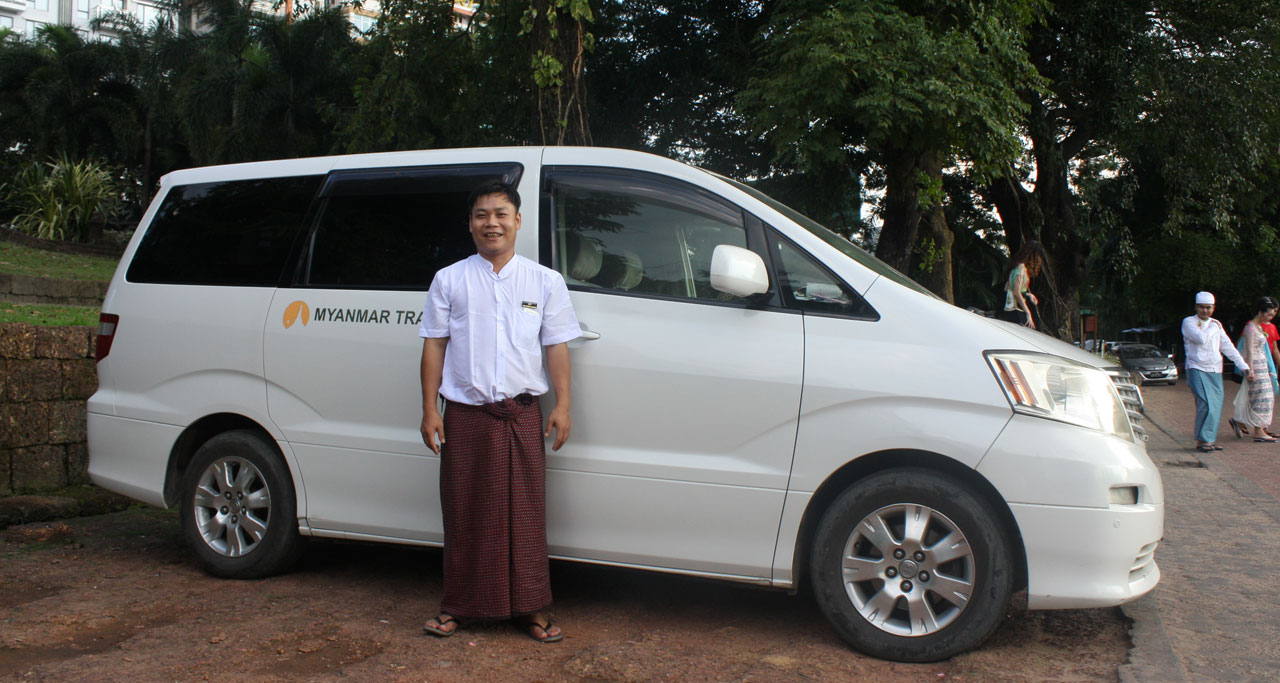 Travelers prefer to rent a car to pick them up at Mandalay, transfer to Monywa, do sightseeing for 1 or 2 nights and then continue to Bagan or vice versa. Mandalay and Bagan are two main attractions in Myanmar. This way is the most convenient to combine all destinations. In addition, you also can stop at some small typical towns such as Pokkaku on the way.  It takes around 2.5 hours to travel from Mandalay and 3 hours from Bagan to Monywa by car.
Highlights of Monywa
Thanboddhay Pagoda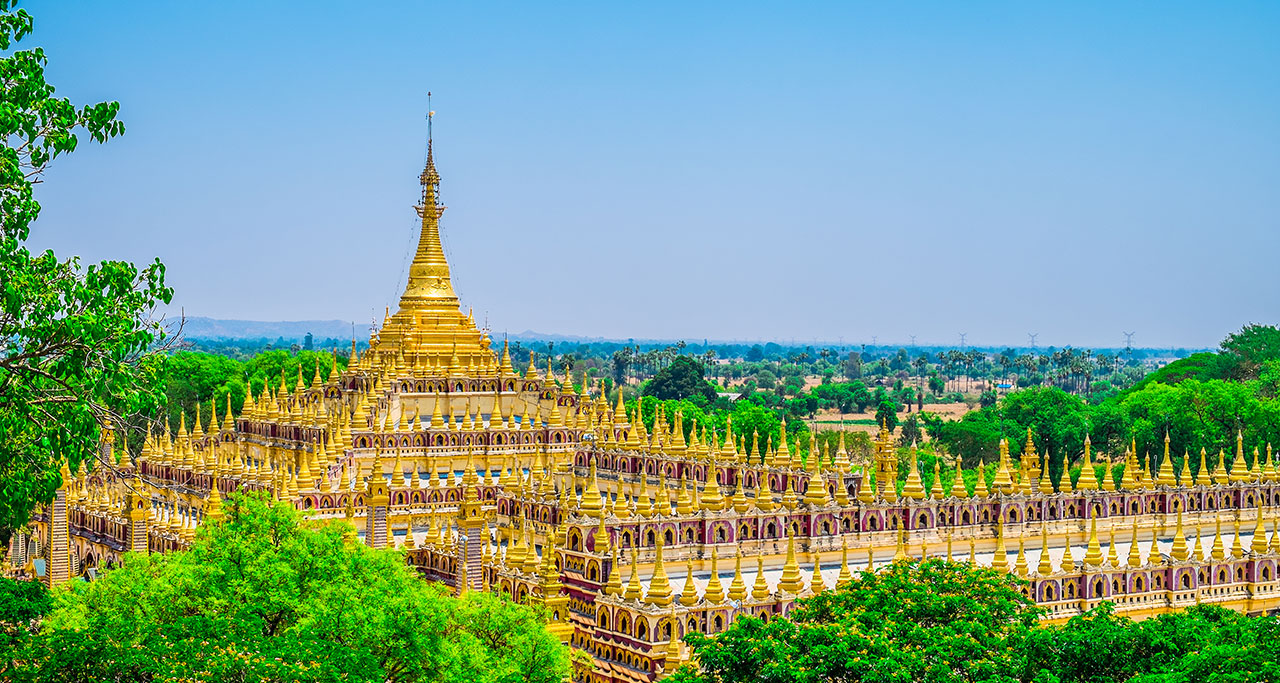 It is colorful and unique pagoda, located 20km south east of town. The pagoda is house of over 500,000 Buddha images and features many hundreds of golden spires. The 15 hectares complex consists of an ornate main pagoda, a large prayer hall and a watchtower where people can enjoy views of the pagoda and surrounding plains. Unlike most of the pagodas in Myanmar, the entrance of this pagoda is not guarded by the mythical lions. It is replaced by statues of a pair of white elephants which are sacred and auspicious in Buddhist symbolism.
The main pagoda is one of the most ornate and colorful monastery buildings in the country. Every corner of the structure is covered with Buddha images. Its square base is surrounded by over 800 richly decorated small pagodas, statues of lions and mythological creatures. At the center is a large golden stupa topped with a hti top element. The walls and pillars contain dozens of ascending rows of niches that enshrine small Buddha images. The main stupa is 40 meters high.
At the beginning of the Tazaungmone month of Burmese calendar (November), the pagoda festival is held with musical performances, dancing, lots of food and vendors selling their wares. At that time, the villagers from all around come to enjoy the music and dancing, do some shopping at various stalls set up by sellers from all over the country.
Entrance Fees: 3 USD
Maha Bodhi Tahtaung Monastery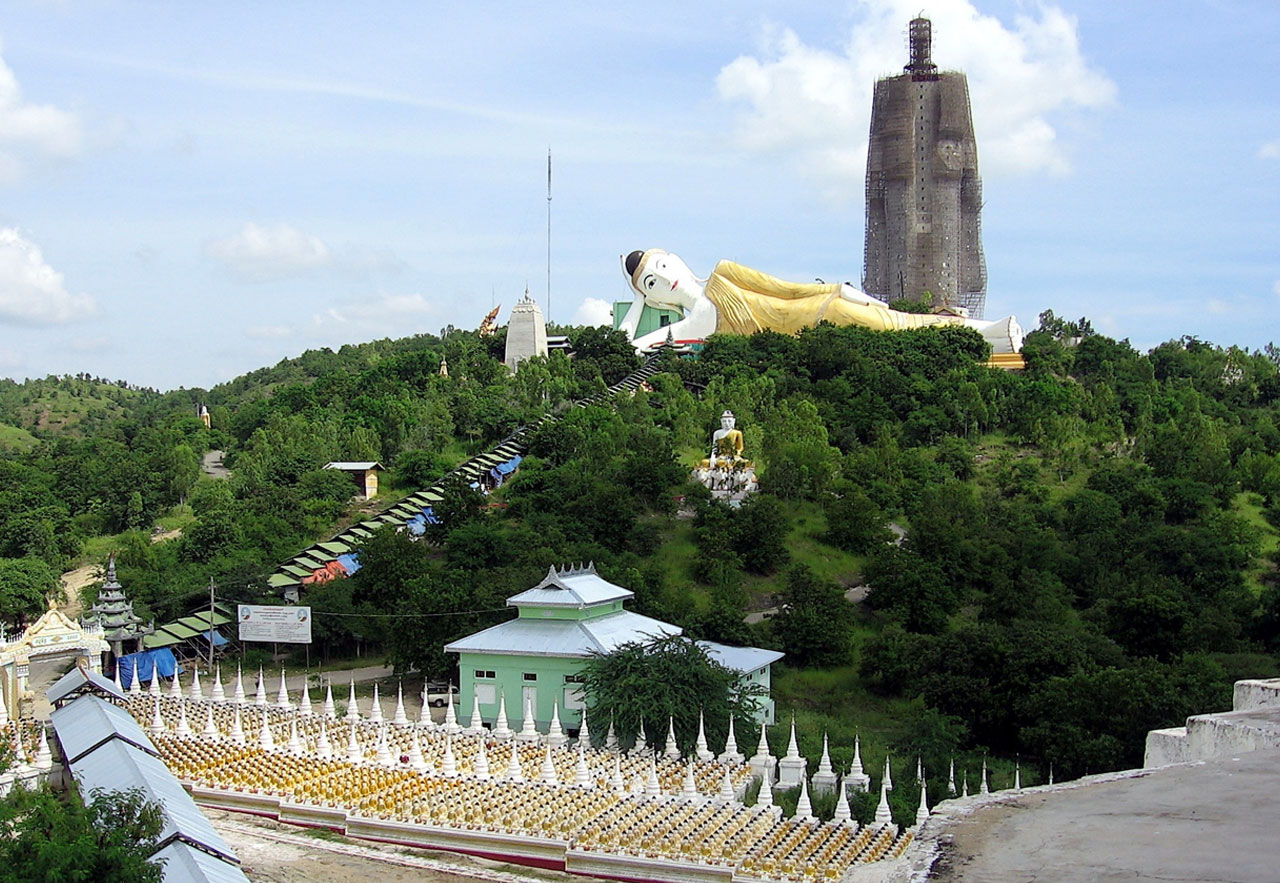 It is located just few kilometers from Thanboddhay pagoda. It is famous for Laykyun Sekkya standing Buddha statue which is dressed in a golden robe. At 116 meters, it is the third tallest statue in the world (as 2018). It is located at the back of a large religious site which includes bodhi trees, hundreds of sitting Buddhas, Aung Sekkya Stupa and a huge reclining Buddha lying in front of the Laykyun Sekkya.
The interior of statue features depictions of Buddhist teachings, including some alarming images of depravity and the punishment of evil-doers, plus some propaganda photos of the generals who were in power when it was completed in 2008.
The ground floor exhibits a number of Buddha images in several mudras. The stairs to the platform where the image is on is guarded by two large white Chinthes, mythological creatures resembling a lion.
The statue is hollow; visitors can climb to nearly the top where visitors have great views of the surrounding country side with background of the mountains.
Entrance fees: 3 USD
Pho Win Taung caves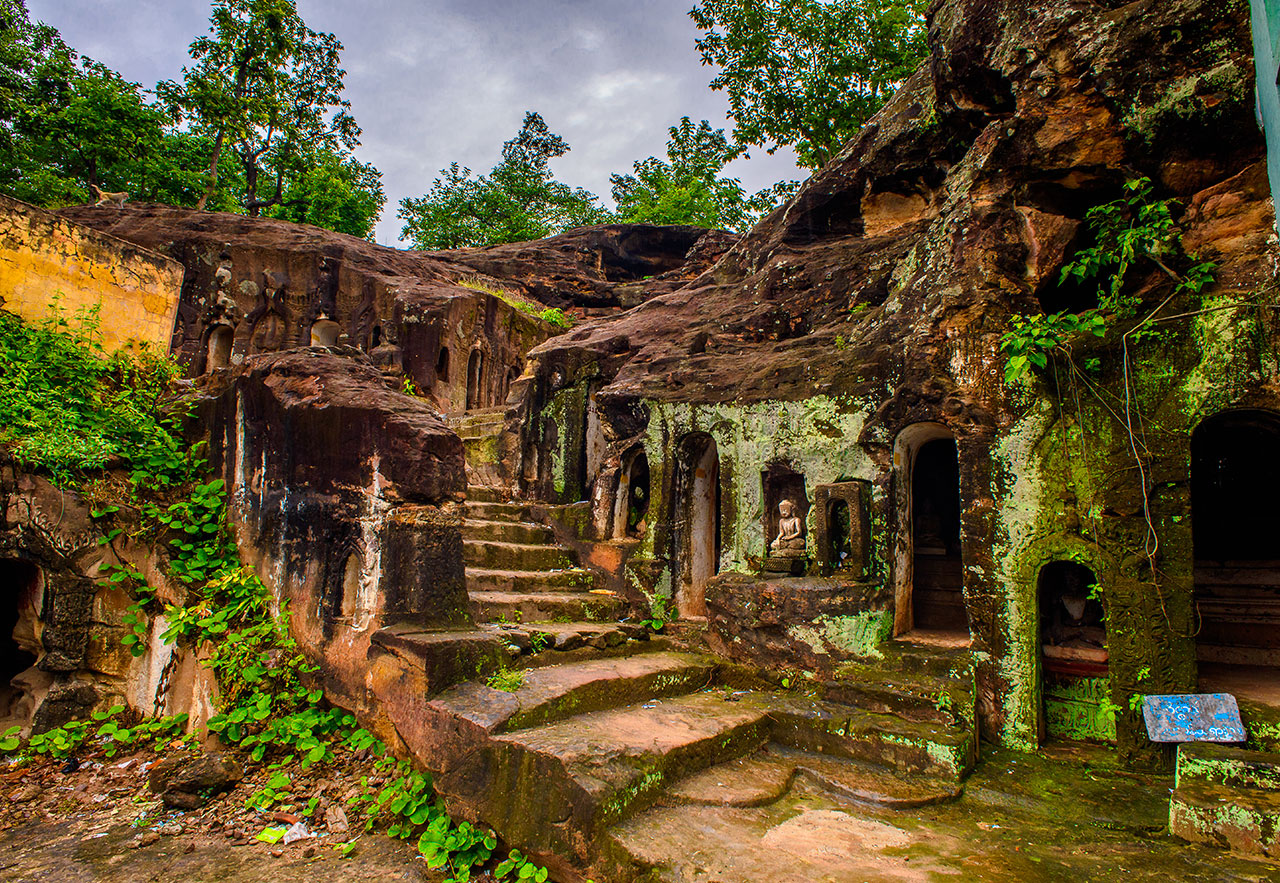 It is Buddhist cave complex, located 25 kilometers west of Monywa. It is accessible either by car over the new bridge or by a ferry across the Chindwin. After taking off the ferry, you need to take a jeep at the scenic Nyaungbin village to visit the complex.
The complex covers 947 small and large richly decorated caves. They were built between the 14th and 18th centuries. The complex contains ornate mural paintings and hundreds of Buddha statues which are carved into a sandstone outcrop. Visitors will find geometric patterns and Jataka stories through the caves.
The Pho Win Taung Festival takes place in November and held on the ground ancient buildings It is the biggest festival of the year in Monywa. Visitor will surely enjoy the sense of traditional music and plays as well as the large skill selling of numerous valuable herbal from the Chindwin River.
Entrance fee: 3 USD
Kyaukka Village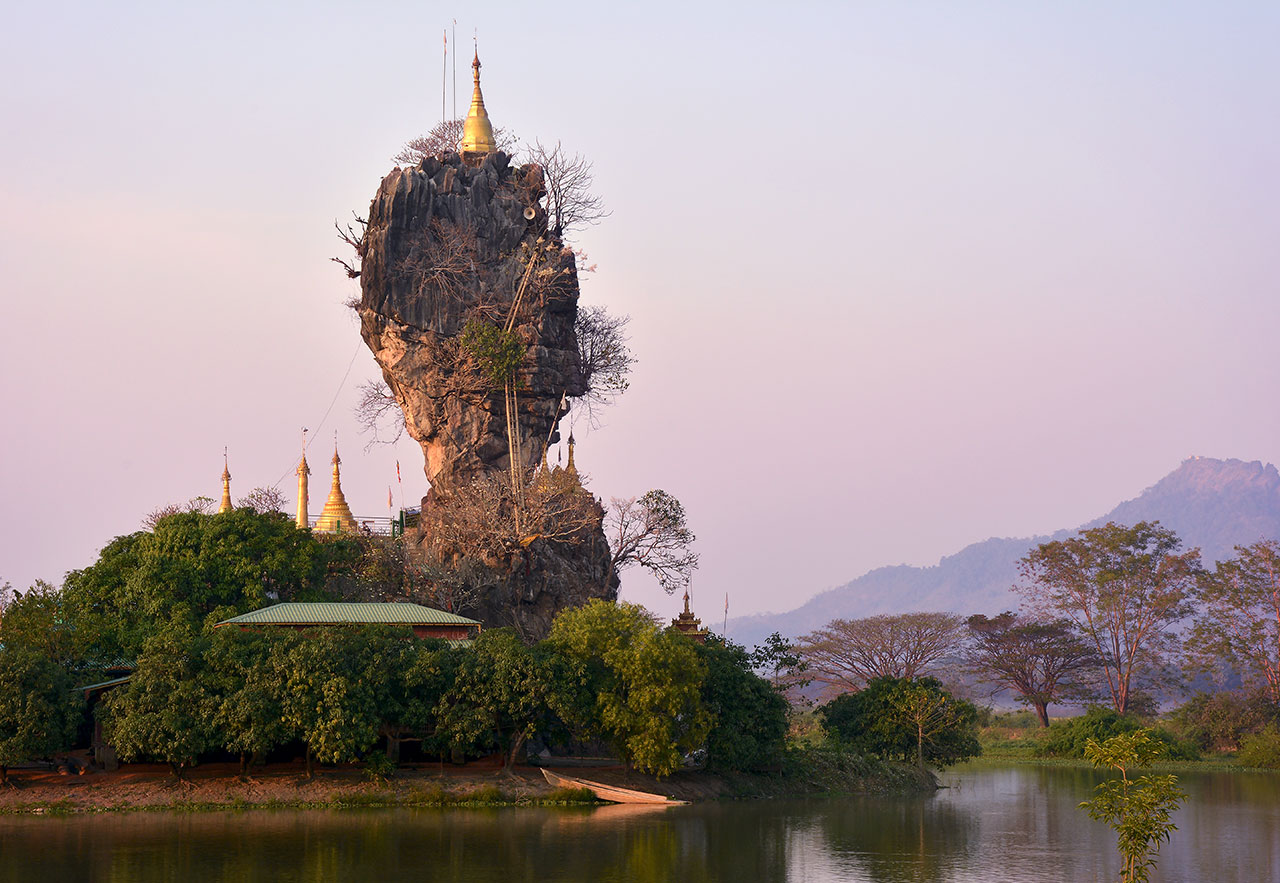 It is a small village located in Kale Township, about 12 miles from Monywa. It is well known for black Kyaukka lacquerware. Kyaukka lacquerwares are heavier, more refined and artistic than Bagan lacquerwares. Tourists can take a tour of the village to visit the lacquer workshops which give an insight into the process. There are also shops selling souvenirs.
Nearby is The Ledi Kyaung Monastery which is also well worth visiting. It was built by the famous Ledi Sayadaw, a renowned Pali scholar. There are now 806 stone slab inscriptions which preserve some of the Sayadaw's writings.
Accommodation
As a small town, there are no luxurious hotels in Monywa. All hotels are middle – range. Below are good options which we recommend you to stay
Win Unity Hotel
It is a great choice for accommodation when visiting Monywa. Only 0.5 km from the city center, the hotel offers easy access to the city's must-see destinations.
Win Unity Resort Hotel offers impeccable service and all the essential amenities to bring comfort to travelers. While lodging at this hotel, guests can enjoy free Wi-Fi in all rooms, 24-hour security, shrine, daily housekeeping, gift/souvenir shop. It also has a swimming pool, setting up in lovely garden with open view to the lake nearby.
The hotel has seven types of rooms: Suite Room Lake View, Deluxe Lake View, Deluxe Garden View and Superior Rooms are built in bungalows with own veranda. The Standard Rooms in two multistory buildings give you an economic option.
Price: from 50 USD per room per night
Glorious Monywa Hotel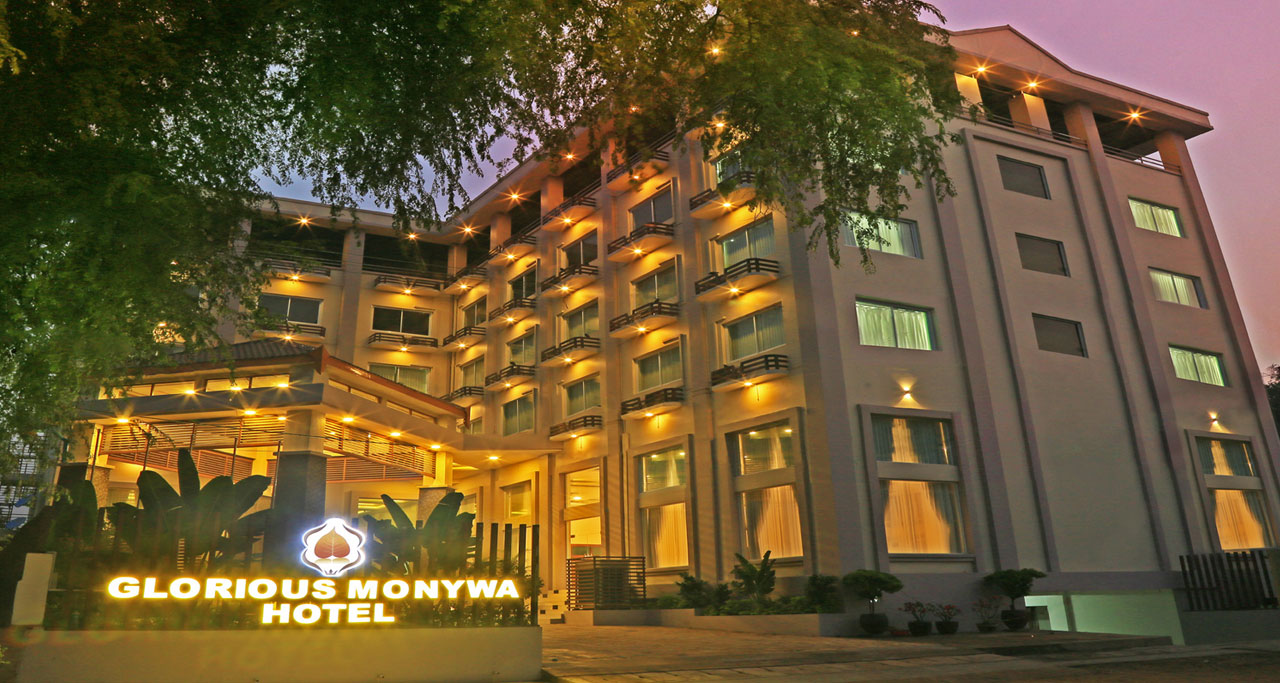 Glorious Monywa Hotel is new hotel in town. The facilities of this property consists of a restaurant, a 24-hour front desk and room service, along with free WiFi. The property provides a concierge service, ticket service and luggage storage for guests.
Guest rooms are equipped with air conditioning, a flat-screen TV with satellite channels, an electric tea pot, a shower, a hairdryer and a closet. A seating area is available in all rooms.
Price: from 40 USD per room per night
Restaurant
Like accommodation, the town does not offer too many options for eating. Below are clean restaurants which you can visit for meals
Chindwin River Restaurant
It is a green restaurant serving delicious Asian foods in Monywa. Large trees of the garden make visitors feel the natural cool. Clean, hygienic foods, reasonable price and being taking care by waiters while dining are the significant factors of this restaurant.
Staffs are very friendly and helpful. Located near the beautiful Lake and on the way of Main Road, the restaurant at night has lively atmosphere but without noise .
Address: Bogoyke Street Aung Chan Thar Quarter, Monywa Myanmar

Phone: +95 9 254 764 843
Zawe Marn Myanmar Cuisine
This restaurant offers clean, tasty and authentic Myanmar food. Most dishes are already cooked. You point what you want to eat and they will take it for you. They also serve a lot of mini side dishes with your meal. This is how most restaurants for Burmese food sells in Myanmar.
The owner woman is kind and she managed her staffs to take good care of the guests. She can speak English well. Beer is available and they serve fruits, tea salad and Natural Plum Sugar (Hta Nyat – Myanmar Traditional snack) for dessert.
Address: Butar Road Near Yoma Bank, Sulegone Qtr, Monywa Myanmar

Phone: +95 71 24 027
Win Unity Restaurant & Lakeview Terrace
It is a restaurant located in Win Unity hotel's complex. If offers a great view of the lake. It serves both local and international food at reasonable price. It is good choice if you are looking for relaxing atmosphere.
Address: Bogyoke Road, Yone Gyi Quarter, Kantharyar, Monywa Township, Sagain Division, Myanmar

Phone: 95-71-22438, 22013, 23225, 23226
Crush Cafe & Bistro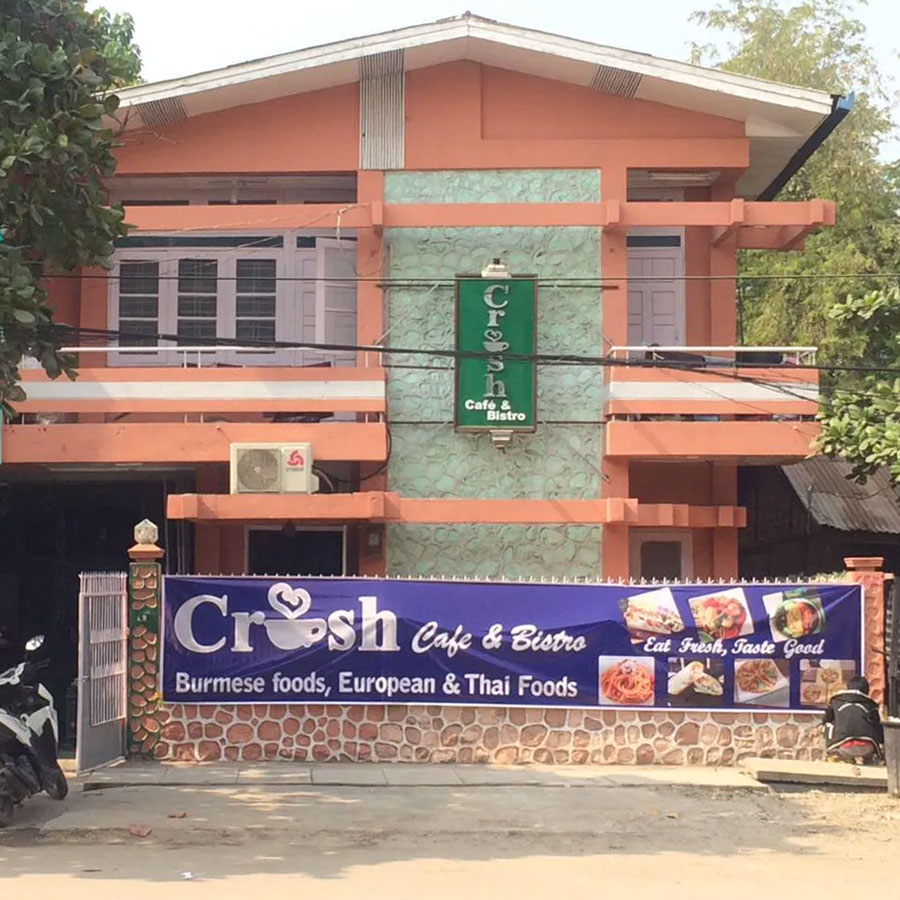 It is lovely restaurant in Monywa town. You can find both Western and local food here. Pizzas here are pretty good if compared with other restaurants in town.
Address: Kyaukkar Road | Near Monywa University, Monywa, Myanma

Phone: +95 9 761 425286
Sky View Restaurant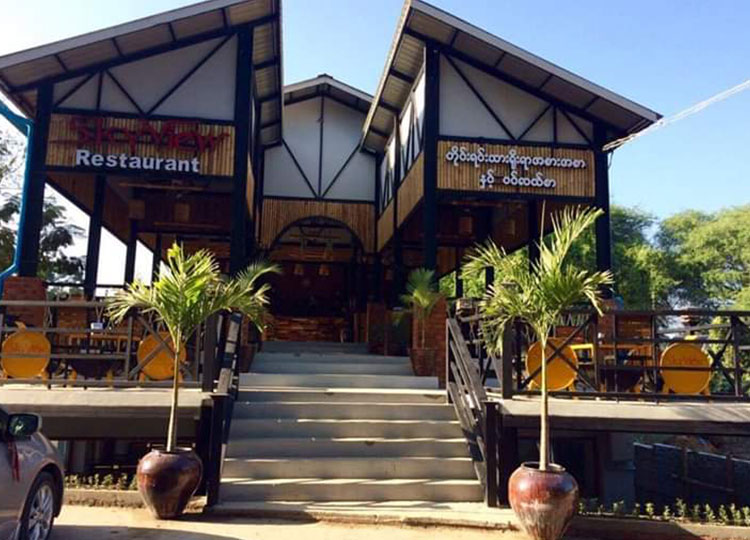 This is clean and modern restaurant next to Jade Royal Palace Hotel. Good selection of food and prices were reasonable. Service is good. However, staffs speak little English, so ordering is sometimes difficult.
Address: General Aung San Road Near Jade Royal Hotel, Monywa Myanmar

Phone: +95 9 42116 4505