Mandalay Travel Guide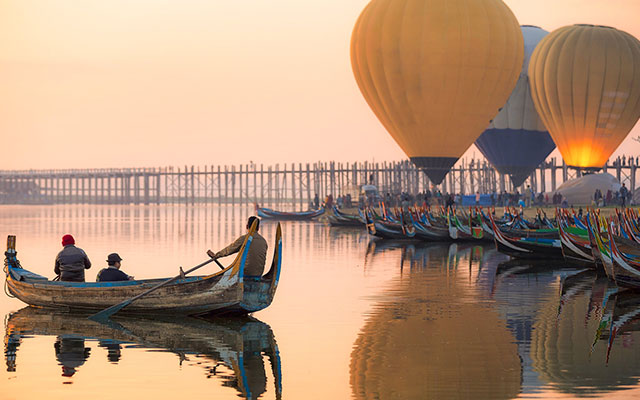 Mandalay is the second largest city in Myanmar and sits on the banks of the famous Irrawaddy River. It is a popular spot in any Myanmar trip. Capture a magic sunset moment over Ubein bridge, take a trek up to Mandalay Hill for a breathtaking view, or take the local ferry to remote villages of Mingun, Mandalay has a lot more to offer than what you think. Our Mandalay Travel Guide will give you full information for your trip to this beautiful city.
 The best time to visit Mandalay
Mandalay is located in the central dry zone of Myanmar. So, the weather is little bit hotter and drier than other parts of the country. The best time to visit Mandalay is from November to February when the weather is coolest and dry. During this period, the average temperature in day time is around 29° C and the rainfall is very low (about 3 days of rain per month).
With low travel cost, the rainy season (from May to October) is also good time to visit Mandalay. Due to its location, Mandalay receives less rainfall. In peak months of rainy season, it rains in about 9 days per month while rain falls over half of number of days in the coastal areas as Ngapali or Yangon.
Mandalay experiences very hot climate in March and April. So, you should avoid to come in these two months if you are not familiar with the intense heat.
For more information on Mandalay weather, view on our post: https://myanmartravel.com/mandalay-weather/
How to get to Mandalay?
Mandalay is the second biggest city in Myanmar. It has an international airport which is about 45 km from city centre. Travelers can fly directly to Mandalay from China (Kunning), Thailand (Bangkok & Chiang Mai) and Singapore. You can get a private taxi or public buses into town. Private transfers are also available from most travel agents and hotels.
View more information here: https://myanmartravel.com/mandalay-international-airport/
Except for three above countries, travelers from all over the world need to fly to Yangon, the main gateway to Myanmar. To get in Mandalay from Yangon, you may have some options to choose, by air, train or bus.
By air
There are many direct flights from Yangon to Mandalay per day. The earliest flight departs at 6.30AM and the latest one departs at 18.00. Flight time is one hour and ten minutes. You can choose to fly with Air KBZ, Air Thanlwin, Golden Myanmar Airlines, Man Yadanarpon Airlines or Myanmar National Airlines. Airfare is about US$ 100 per person.
By bus
Buses between Yangon and Mandalay takes about 9 hours through Yangon – Naypyitaw –Mandalay Expressway. There are a lot buses running every day since 6.00AM to 10.00PM including JJ Express, Yar Zar Tun, Elite Express and others. They operate both Normal and VIP bus service. If you opt for the Normal service, you'll get a very affordable ticket (US$ 10) on a comfortable bus that features air conditioning and reclining seats! The VIP service takes the level of service and amenities up a couple of notches, providing you with even more comfortable seats that feature TVs in the seatbacks, plus snacks are served along the way. The only drawback is that the price of a seat on the VIP bus is almost double that of the Normal service (US$ 19). Most of buses depart from Aung Mingalar Bus Station, Yangon and arrive at Kywel Sel Kan Bus station, Mandalay.
By train
Trains from Yangon to Mandalay are a pretty comfortable. If you choose the Upper Class, you will have a comfortable seat and you can easily wander around to stretch your legs whenever you need to – something that you can't really do on a bus.  The journey lasts about 15 hours but you should expect one or two hours later.
In fact, the train ride is the slowest way to travel but it is a highly recommended experience, over the old British-built colonial railway.  There are 3 trains per day with departing at 5.00, 15.00 & 15.45. There is one more train on Sundays which depart at 19.00.
The trains are affordable, with ticket prices for a seat in Upper Class coming in somewhere between the cost of the Normal and VIP buses mentioned above.
How to get around Mandalay?
To get around Mandalay city and its surrounding, there are many vehicles for you to choose, such as taxis, motorcycle taxis, bicycle or on foot.
Walking
Mandalay is a nice city to walk around. The streets in the city center are arranged in a grid and have numbers rather than names. If you are staying at central Mandalay hotel, you can easily walk to most places in the city. However, there are very few traffic signs or controls, so just be careful when you are exploring!
Bicycle
If you wish to see the main sites like Mandalay Hill, Royal Palace or the Kuthodaw Pagoda then a bicycle would be best as these sights are a far walk from the city centre. While some of the main crossroads are a little difficult, overall the city's grid layout is quite bicycle friendly. You can hire a bike for around 5 USD a day. Most hotels and guesthouses offer bike hire.
Taxi / Motorcycle taxi
For day trips such as to Amarapura, Inwa, and Sagaing, taxi is an easy and fast option. You will find plenty of taxis in Mandalay close to hotels or parked on the side of the street. In every touristy place, you will encounter guides touting for business. Expect to pay around 20 USD for a day hire. Taxis from most hotels to a restaurant or the ferry station are 6,000 kyats (4 USD) one way or 10,000 kyats (7 USD) round trip. If you are taking the boat to Bagan from Mandalay, arrange your taxi the night before.
Motorcycle taxis are available throughout Mandalay and can be a cheap option for sightseeing. You can pick up a day sightseeing tour on a motorcycle taxi for 15,000 kyats (10 USD).
Trishaw
Mandalay is homeland of Myanmar Trishaw. It was invented by Sayar Nyo, a car repairer from Nyaung Bin Market, Mandalay in 1938. It is made of three wheels – a combination of a bicycle and sidecar which has two back to back seats for two passengers on the left side of the driver. Once the main mode of transport in the city of Mandalay, pedal trishaws are not as popular as they once were. It is slow mode of travel but comfortable and very convenient way to watch people and take photos at leisure.
Bus
Mandalay does not have public modern buses as ones in Yangon. Public transport in Mandalay consists of pick – up trucks which stop frequently and often don't move off until they are jam packed. The destination will be displayed in the front window but in local script. If you are interested in local experience, you should try at least once. Cost is 500 kyats (0.3 USD)
Private tours
Actually, you can simply explore Mandalay by yourselves. However, organized tours with private car and guide will bring you more benefits. Local guides with huge knowledge of their region will tell you interesting stories about the people, history, culture of the destination. You can ask him anything you want to know about Mandalay and Myanmar.
Attractions in Mandalay
Like other cities in Myanmar, Mandalay is home to many pagodas, some of which are impressive in their architectural style and construction. The remarkable ones are Mahamuni Pagoda which houses the most scared Buddha image in Myanmar, Hsinbyume Pagoda – a unique architecture resembles the description of the mythological mountain Mount Meru in white color, Kuthodaw Pagoda – known as "the world's largest book…
Mandalay can also be considered as city of royalty. The other attractions in Mandalay are reminders of the time when Burmese kingdoms were still in existence. This is the city where the Royal Palace as well as ancient capitals as Amarapura or Inwa can be found. Last but not least, the best attraction in Mandalay is not made by man. Mandalay Hill is the most famous attraction of the city for a panorama view of the city, a necessary stop for any traveler who arrives in this part of Myanmar.
Find out the best places to visit in Mandalay in below post: https://myanmartravel.com/attractions-in-mandalay/
Where to stay in Mandalay?
Compared to other tourist attractions such as Yangon or Inle Lake, Mandalay does not have many new hotels, especially luxury ones. In recent 5 years, Mandalay has only new luxury hotel which is Pullman Mandalay Hotel. Most of new hotels are middle – ranged. However, Mandalay still offers enough options for every budget in Mandalay.
You can see our suggestion of the best hotels here: https://myanmartravel.com/best-hotels-in-mandalay/
What & Where to eat in Mandalay?
Mandalay is a big city so you will find plenty of food options! From delicious local and street food to the international fast food, there is a wide range of restaurants something for everyone. The people who visit Mandalay in the first time should not miss the native food of Mandalay which do not have the same taste as other areas.
Please find out what they are here: https://myanmartravel.com/best-food-in-mandalay/

Then, if you look for the best restaurants for your meals, please view ones we suggest in this post: https://myanmartravel.com/best-restaurants-in-mandalay/
Nightlife in Mandalay
If you want a big night out, Mandalay may make you disappointed with what the city offers. Unlike Yangon, Mandalay has very limited options when it comes to night time. But it does not mean that the city is not alive at night.  The city does not have modern pubs and bars where people can dance or sing. There are just few bars locating in big hotels where you can have some beers or cocktails in live music.
Instead, Mandalay has satire and puppets. The city has Moustache Brothers, who combine comedy, tradition and political commentary. Theatre arts are also represented at night thanks to the Mandalay Marionettes. The absence of pubs does not mean the absence of beer, which can still be enjoyed in the city with some beer gardens serving both local and foreign beer. There are also KTV where you can sing until midnight.
Get more ideas for what to do at night in Mandalay in below post: https://myanmartravel.com/nightlife-in-mandalay/
Best hospital in Mandalay
If possible, try to get to a health care centre in Yangon. For urgent cases, here are a list of medical centres in Mandalay: https://myanmartravel.com/best-hospitals-in-mandalay/
In conclusion, Mandalay has so much to explore and you should spend at least 3 days here. The city itself has enough to keep you occupied for 1-2 days, but the surrounding area is a real treat. Contact Myanmar Travel for any advice for your trip. Our experienced consultants will help you to build the best itinerary to fit your hobby and budget.