Things to know about Burmese Ruby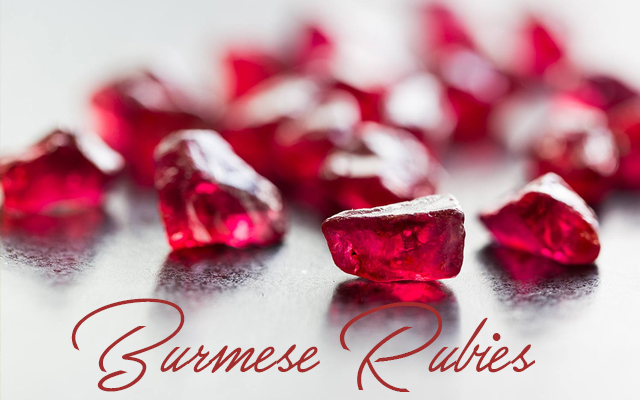 Ruby is very nice gemstone which is found all over the world, including Africa, Australia and America. However, ruby from Myanmar, formerly known as Burma, tends to be the most visually stunning. Burmese Ruby is the rarest and most valuable member of the corundum family. What makes the term "Burmese ruby" universally popular? Please discover all things about this beautiful gemstone it in this article.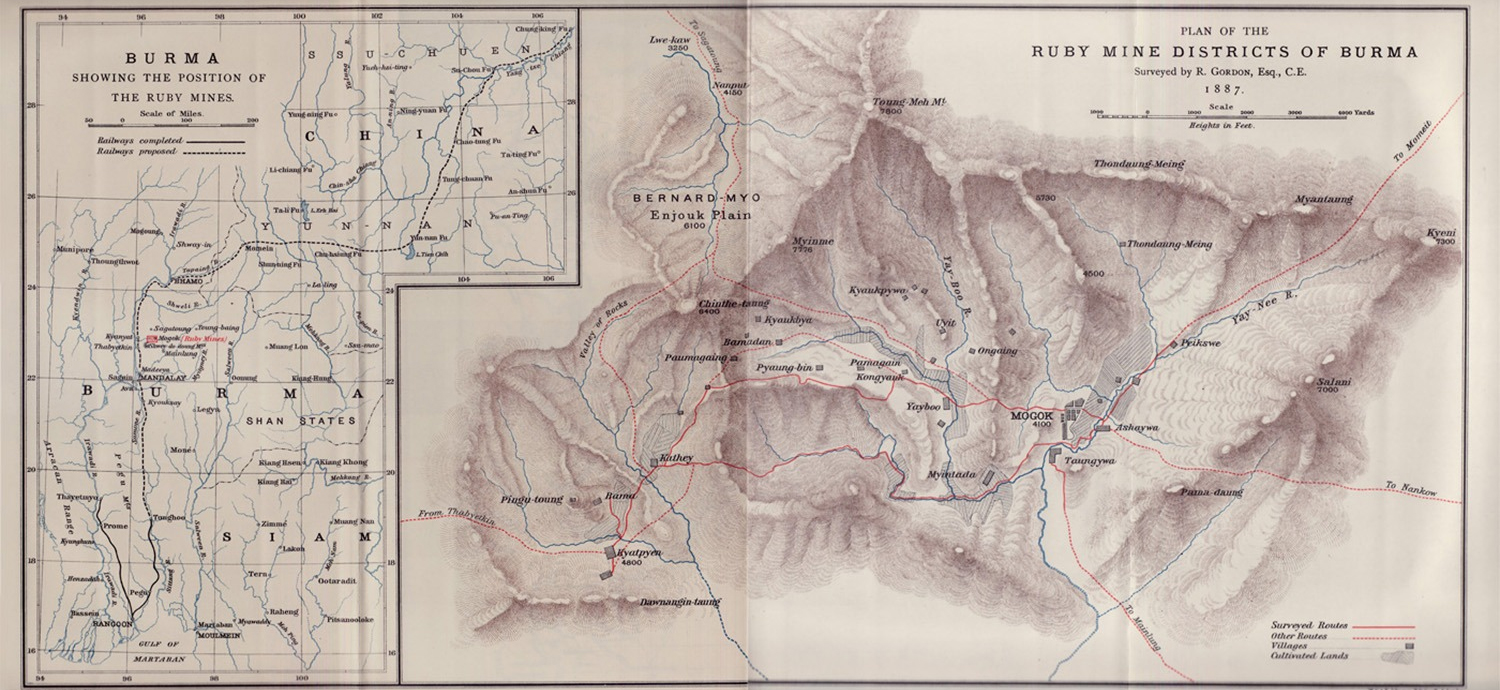 What is a Burmese Ruby?
Although there are many ruby mines which have produced high quality in Myanmar, Burmese ruby is a name for the ruby mined from the Mogok tract of upper Burma. This storied deposit was known for over 1000 years as the home of the finest ruby on the planet.
Mogok rubies possess not just red body color, but, by a freak of nature, red fluorescence, too. In addition, the best stones contain tiny amounts of light-scattering rutile silk. In gemstone trade, an old Burma ruby by default means, a high quality ruby displaying pigeon blood, dark red or deep pink color, which are considered to be most desirable colors.
New Burma ruby and old Burma ruby are not the same.
Old Burma ruby (or Burmese Ruby) is the one mined from the Mogok. It is remarkably expensive because of superior color quality and consistency. At the moment, most of the alluvial deposits in the Mogok region are mined out. Therefore, its price is dramatically higher in comparison to other rubies.
New Burma Ruby is called for one coming from new mines which have been explored in the southern region of Myanmar (Mong Hsu). New Burma Ruby has average class and is in smaller sizes, generally under half a carat. Now, it is difficult to obtain a new Burmese ruby of 1 carat or larger. Further, New Burma Ruby is not as fine as the Old Burma Ruby due to the presence of different geological conditions.
The rubies from Mong Hsu mines in the rough form are cloudy with a purplish color. People usually improve this by heat treatment to remove the silk as well as the blue which thereby results in transparent red stones. So, it can look similar to untreated Mogok rubies. In fact, we cannot distinguish the difference between them through a naked eye. We can see it only under a microscope. A natural Burma ruby is much more worthy than the treated one. It is thus advisable to buy Burmese ruby certified by recognized national or international laboratories.
Pigeon Blood Ruby
People often mistake Pigeon Blood ruby either as a different variety or assume that it is by default a Burmese ruby. In fact, Pigeon Blood is a name of the most desirable and sophisticated color in ruby's world. It gets the name from the color matching exactly with the blood drawn from a freshly killed pigeon.
A Pigeon Blood Ruby displays this color with a slight tint of purple that goes on to form a deep red color when seen in light. For this reason, Pigeon Blood Ruby price per carat is exponentially higher than other ruby varieties. Since, it is found in majority of rubies from Myanmar, people often address Pigeon blood ruby as Old Burma ruby or vice-versa.
Rabbit Blood Ruby
It is also referred as Royal Red, the next best color of Burmese Ruby. It is a slightly darker red with an orange tint. These rubies tend to have a bit more iron than those of the pigeon's blood type. This cuts the fluorescence and blue transmission, making the stone a darker, pure red.
The color of fine Burmese Ruby comes a result of two factors.
According to "Ruby & Sapphire: A Gemologist's Guide" by Richard Hughes, the first factor is a combination of the slightly bluish-red body color of the gemstone and the "purer" red fluorescent emission, which work together to give the gemstone its high-intensity color. The second is the presence of "silk"–tiny inclusions scatter light onto "facets that would otherwise be extinct," giving the color a softness and greater dispersion across the gem's face.
Burmese Ruby Prices
The existence of rubies in Burma was brought to the attention of Europeans by explorer Marco Polo in the 13th century. Centuries later, due to the limited supply, Burmese rubies have become so rare that they have always created a stir in auction rooms. In the auction history, unheated Burmese rubies were going for more $1 million per carat. The Jubilee Ruby, weighing 15.99 carats, is the most expensive colored gemstone ever sold at auction in the United States. Set in a distinctive gold and diamond mounting by Verdura, it was sold for $14.2 million, which equates to $885,000 per carat in 2016.
In December 2015, Christie's Hong Kong offered an exceptional Burmese ruby and diamond ring of 15.04 carats known as 'The Crimson Flame', which fetched just under $18.5 million. The Ratnaraj Ruby, a superb 10.05-carat Burmese 'pigeon blood' ruby ring was created by. Faidee. It was sold for $10.2 million at Christie's in Hong Kong in 2016.
The Most Famous Burmese Rubies
Few Burmese rubies have distinguished themselves because of their sizes and extraordinary beauty. Below are some famous and remarkable rubies found in history: Alan Caplan Ruby, also known as the "Mogok Ruby", is one the finest rubies in the world. It is a 15.97-carat, untreated, natural ruby with a perfect cushion-cut, and an "eye clean" clarity, having an intense red color approaching the benchmark pigeon's blood color for rubies. It was named after Alan Caplan, a famous mineralogist and gemstone dealer who acquired the stone in Burma.
The Carmen Lúcia Ruby is one of the finest and largest faceted Burmese rubies known. The stone was also mined from Mogok in the 1930s. At 23.10 carats, the extraordinarily rare Burmese ruby exhibits a richly saturated red color known as "pigeon's blood." This magnificent ruby was a gift to the Smithsonian and the people of the United States in 2004. It is now on display in the Gem Gallery at the National Museum of Natural History.
De Long Star Ruby, a remarkable star Burmese ruby, can be found at the Natural History Museum in the New York City. It is a 100.32-carat, has vivid purplish-red red and an eye-catching 6-rayed star effect. It received its name from Mrs. Edith Haggin de Long who purchased the stone in 1937, later donated it to the museum.
The Nawata Ruby is an exceptional ruby gemstone that weighs 496.5 carats. It is a national treasure of the Union of Myanmar. It is also called SLORC Ruby (State Law and Order Restoration Committee). The Nawata Ruby was found in 1990 by Than Htun, the owner of a brothel in Mandalay. He smuggled the ruby to Thailand and tried to sell it for 2 billion dollars. The military Junta in Myanmar then knew that. He sent agents to recover the stone. Than Htun was then executed or sentenced to life in prison.
Buying Rubies in Myanmar
Although Myanmar is one of the world's major producers of high quality rubies, not all rubies you see in the country are good quality. Many of them are heat treated or glass filled with low value. Try to find the good reputation shops which has a 'Certificate of Authenticity' from Government. Besides, always make sure to get the products tested with Stalwart Gem Laboratory. It is the establishment mainly provides gem testing.
It is recommended by the Myanmar Government's Myanmar Gems Museum to confirm the purity of the ruby. If you buy a low quality product, you just need to show the certification which you receive from Stalwart, a full refund will be processed.
Below are some recommendations where you can buy good quality rubies:
Tin Fu Jewellery
No. 63 Central Hall, Bogyoke Market (Scott Market), Yangon
Yadanarsone Jewellery
No. 138 Central Hall, Bogyoke Market (Scott Market), Yangon
Taw Win Nan Gems & Jewellery
No. 13 Mandalay Gems Center, Aung Myay Thar San Township, Mandalay
Elegant Art Gems &Jewellry.
No. 48 New University Avenue Road, Bahan, Yangoon
My-Hoya Gem and Jewelry Shop
No 25/26/47/48/23/140, Nawarat Building | top floor, Bogyoke Aung San market, Yangon