Souvenir in Myanmar
Myanmar attracts more and more people to come every year. In each trip, travelers love to bring home nice memory of the trip.  The easiest way to do that is by taking a piece of this golden land. It will be special gift to loved ones. Myanmar truly does have some amazing souvenirs which should know beforehand. Please find a list of items you should consider and list of shops that will make your shopping much easier.
The unique souvenirs in Myanmar
Gemstone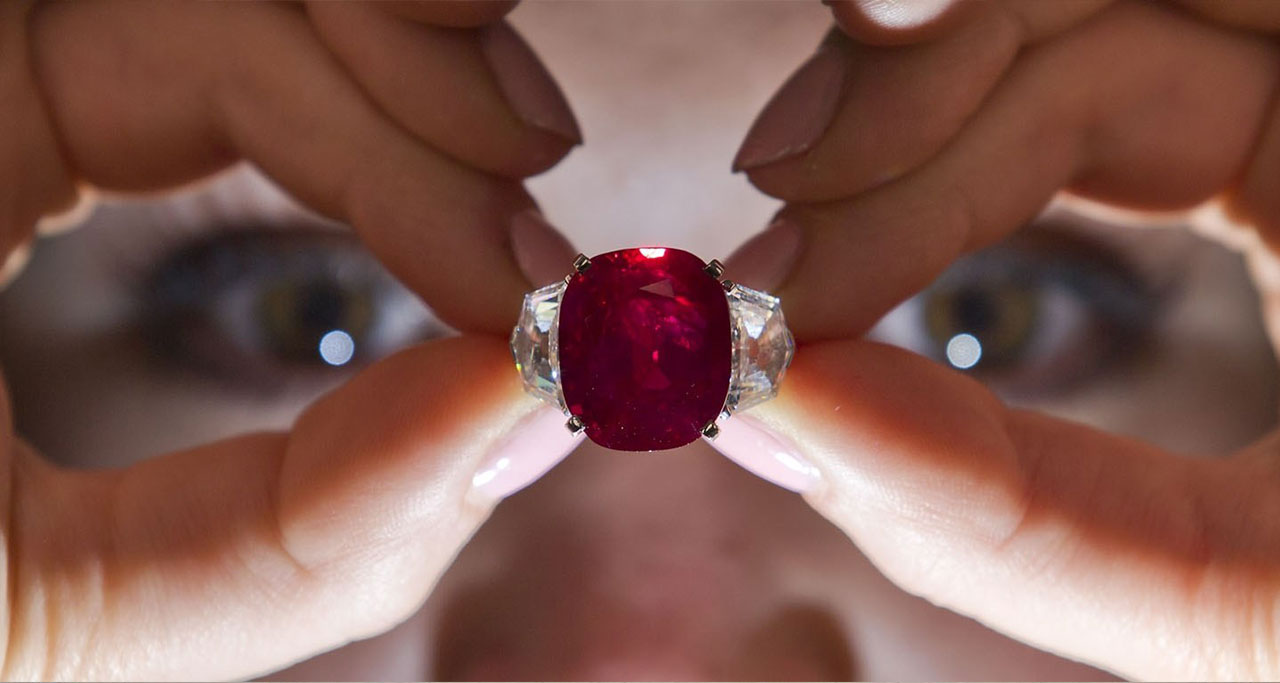 Myanmar is homeland of high quality collection of gemstones such as pigeon blood ruby, jade, or sapphire. They are well – known all over the world. So, you should not miss a chance to buy gemstones in their homeland at cheaper price. There are various versions for your choice: You can buy raw gemstone, jewelry which is made of them or gemstone paintings. Gemstone paintings are made by pulverizing gemstones into pieces, then powdering and using colors for the paintings. The paintings can be landscapes, Buddha monks, culture of in Myanmar.
Longyi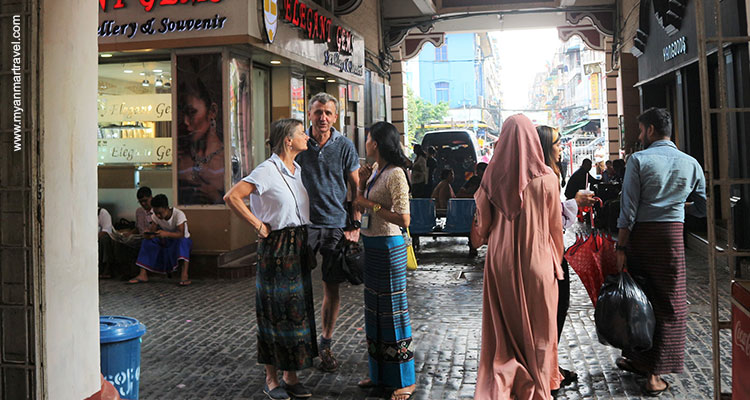 Longyi is a traditional Burmese costume worn by both genders in Myanmar. It is a long skirt, simply worn by wrapping around the waist and knotted in front. Thanks to this, the local people who wear it feel very comfortable. It is called "Paso" when worn by men and named "Htamein" when used for women. The travelers have many options of the design and the materials to choose. You can choose materials to get it tailored or buy the ready-made ones in markets or shopping sites. Bogyoke Aungsan Market is best known for purchasing longyi in Myanmar.
Thanaka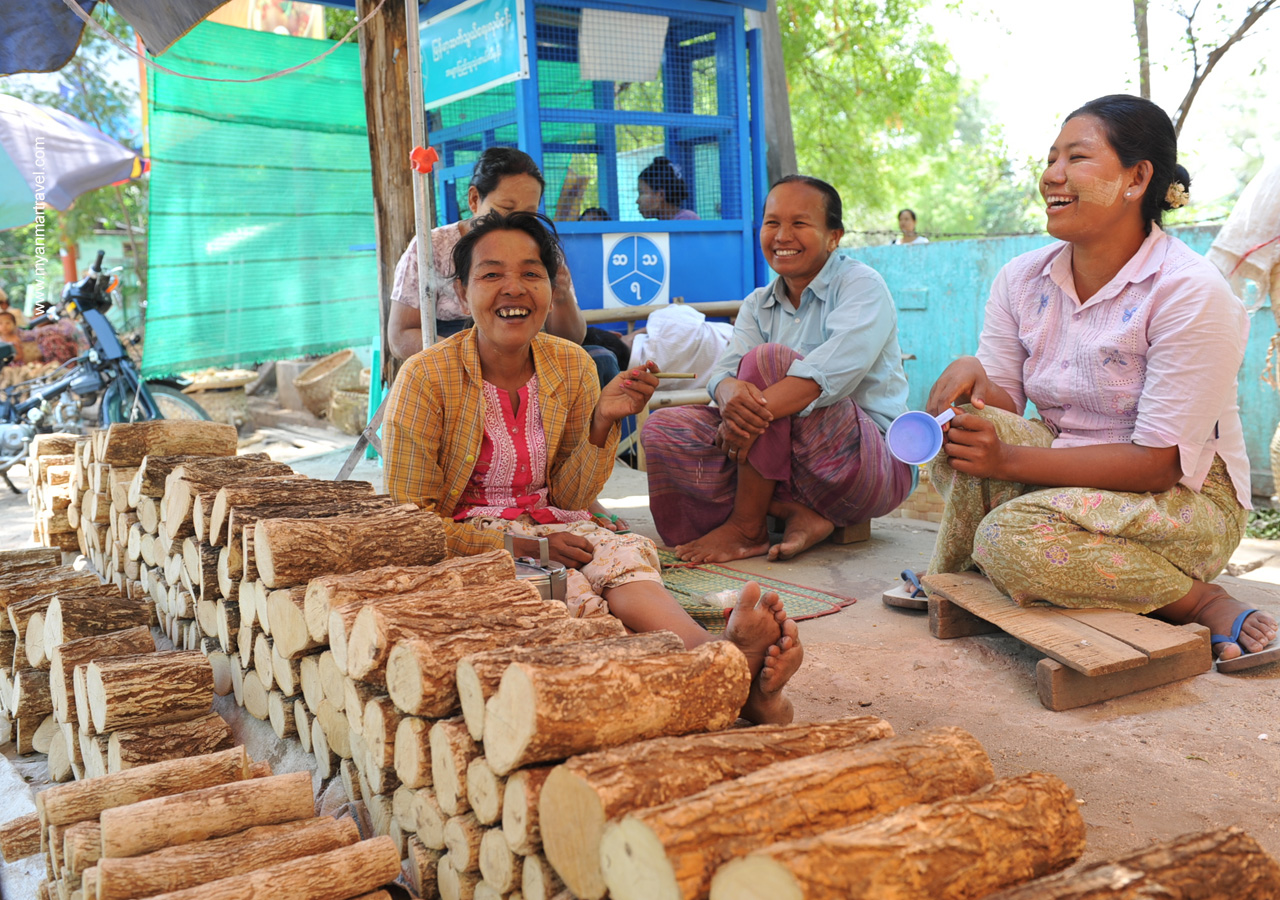 Thanaka is a traditional way to protect skin of local people. It has been used by both men and women, from children to adults. It derived from the tree marks growing in the Central regions of Myanmar. Local people make Thanaka paste by grinding the bark of Thanaka tree on circle stone, then applied on the face, arms, and neck. This helps in protecting the skin from sunburns, acne, and infections.
For convenience, travelers should buy Thanaka powder instead of the logs. There also has the Thanaka cream which can be used directly without any efforts. You can find all of them logs at local markets or souvenir shops all over the country.
Tea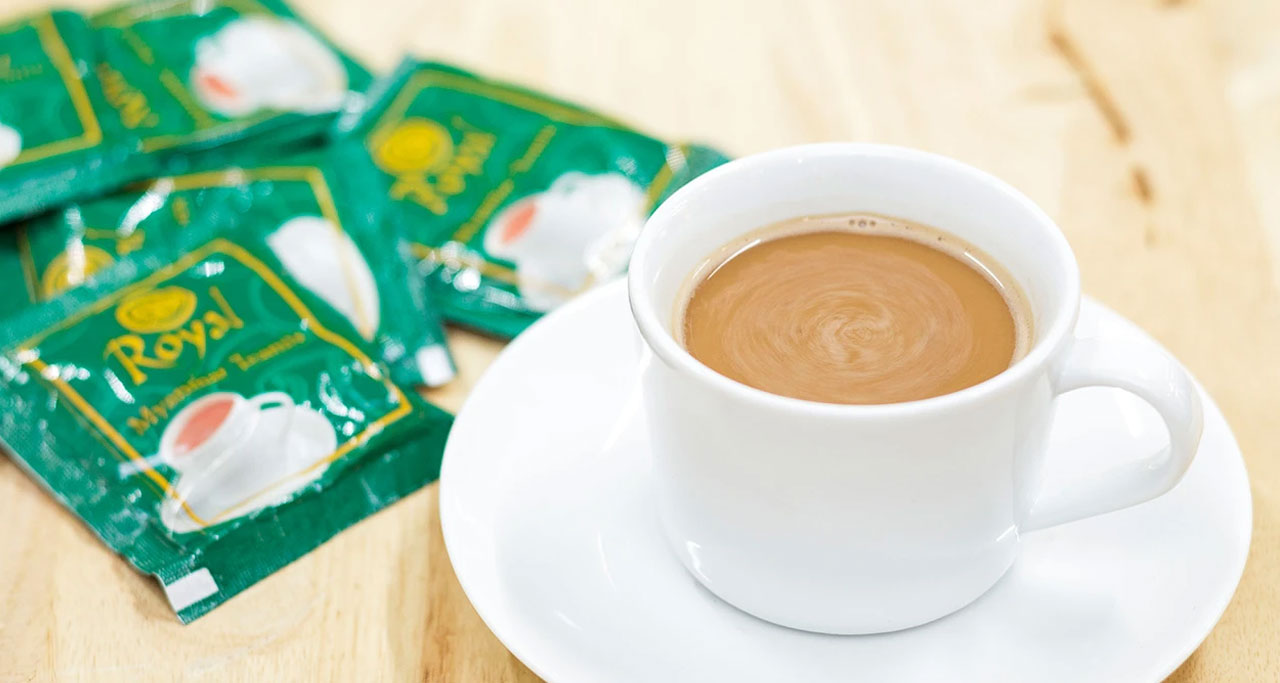 Tea has an important role in Burmese culture. Burmese people like to drink tea after meals and in leisure time. Small tea shops with plastic furniture are ubiquitous across the country. Like old school cafes, they are favorite hang-outs for people to socialize or just chill out sipping tea. The favourite one is black tea with sweetened condensed milk. Besides, local people also use tea leaf to make a salad, one of the best specialties in Myanmar.
You can purchase the dried tea leaves to make tea at home or the tea powder mix sold in small sachet instead.
Sand Paintings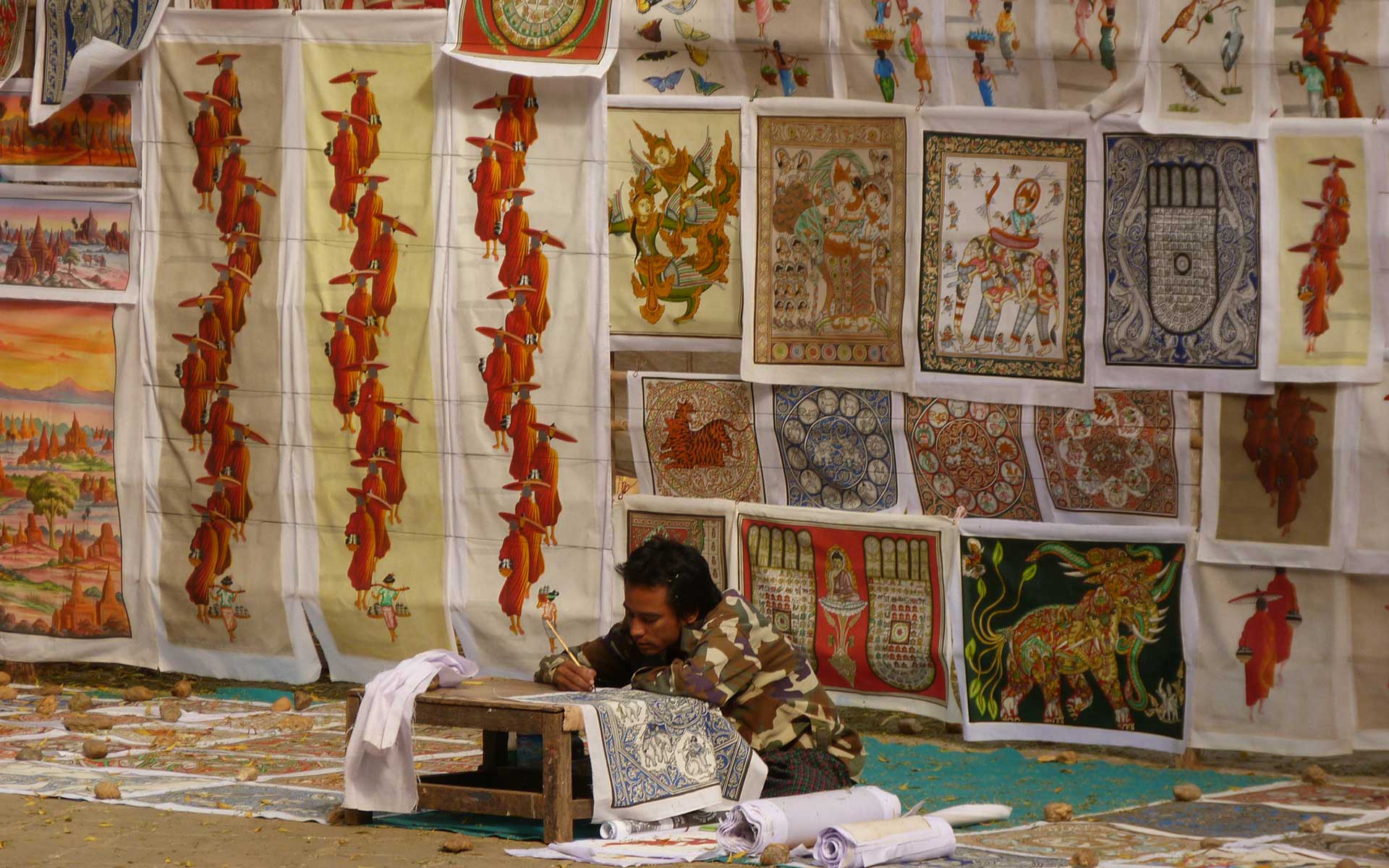 Burmese sand painting is one of the most unique art forms you ever see. To make a painting, an artist sketches on a cloth and then covers it with glue. After that, he sprinkles sand over and adds paint giving it a vibrant look.
It originated in Bagan a very long time ago. The sand paintings will tell you stories of lifestyles, people, and Buddhism in the land of golden pagodas. It would be truly a man-made masterpiece.
Sand paintings range from a few hundred to several thousand kyats. Sand painting can be found anywhere in Myanmar, however, the best place to buy is in Bagan. You can find plenty of vendors selling this beautiful product around the Buddhist sites in Bagan temple plain or Nyaung Oo.
Handmade parasol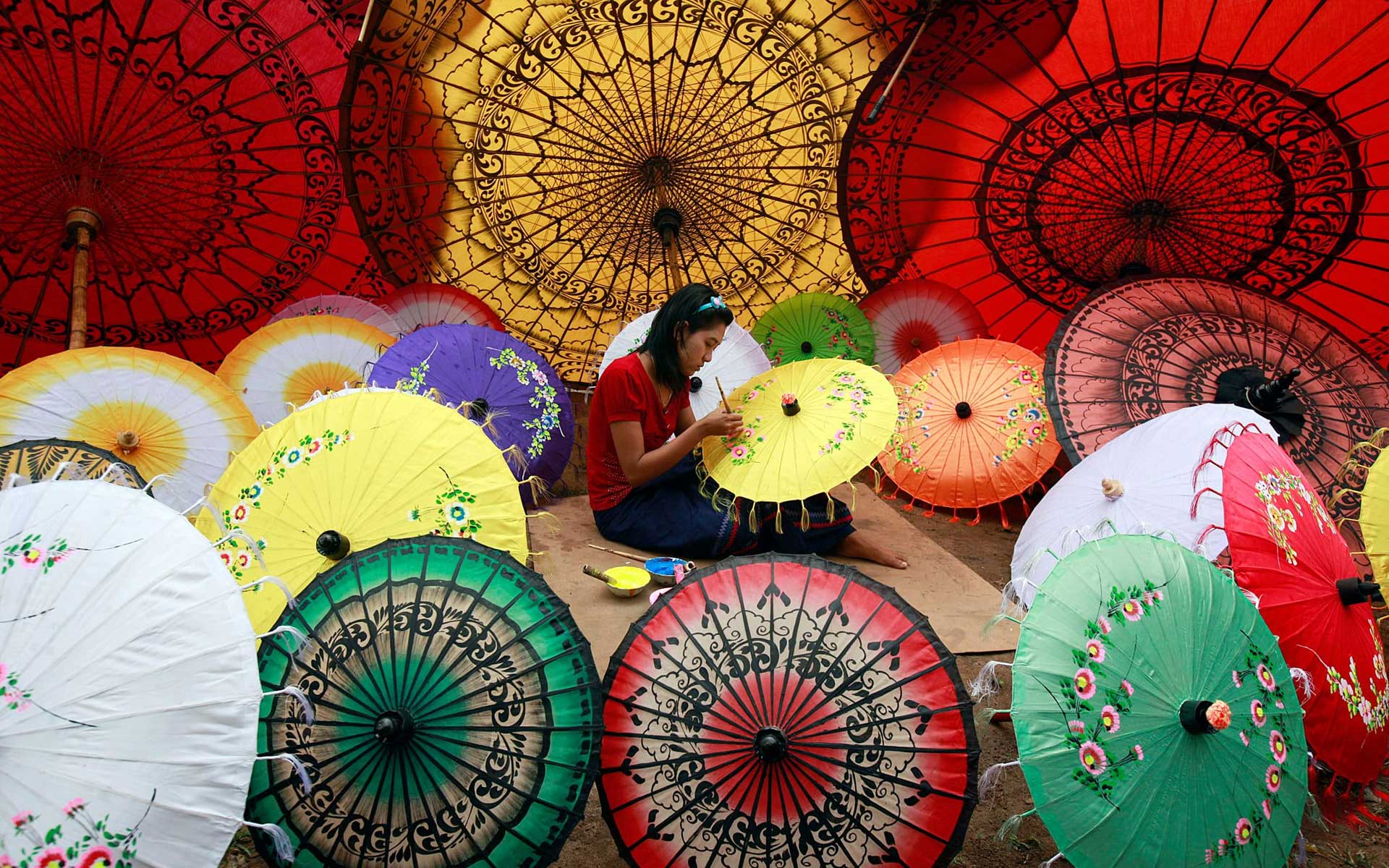 The eye – catching design of umbrella makes it become a lovely Myanmar souvenir to buy on your trip.The most well – known area of the country where parasol is made is Pathein. Pathein is located along the Irrawaddy river in southern Myanmar. The city has a number of umbrella workshops which produce hundreds of Pathein parasols locally known as "Pathein Hti".
Parasol making is a cottage industry mostly run by families. It has been around for more than a century now. Previously, umbrellas were made of paper. Now, other materials are used such as silk, satin, cotton.
Together with Pathein, Inle Lake and Pindaya are popular places where tourists can visit and learn about the umbrella hand making's process and get one as the commemoration of the vacation to Myanmar.
Marionette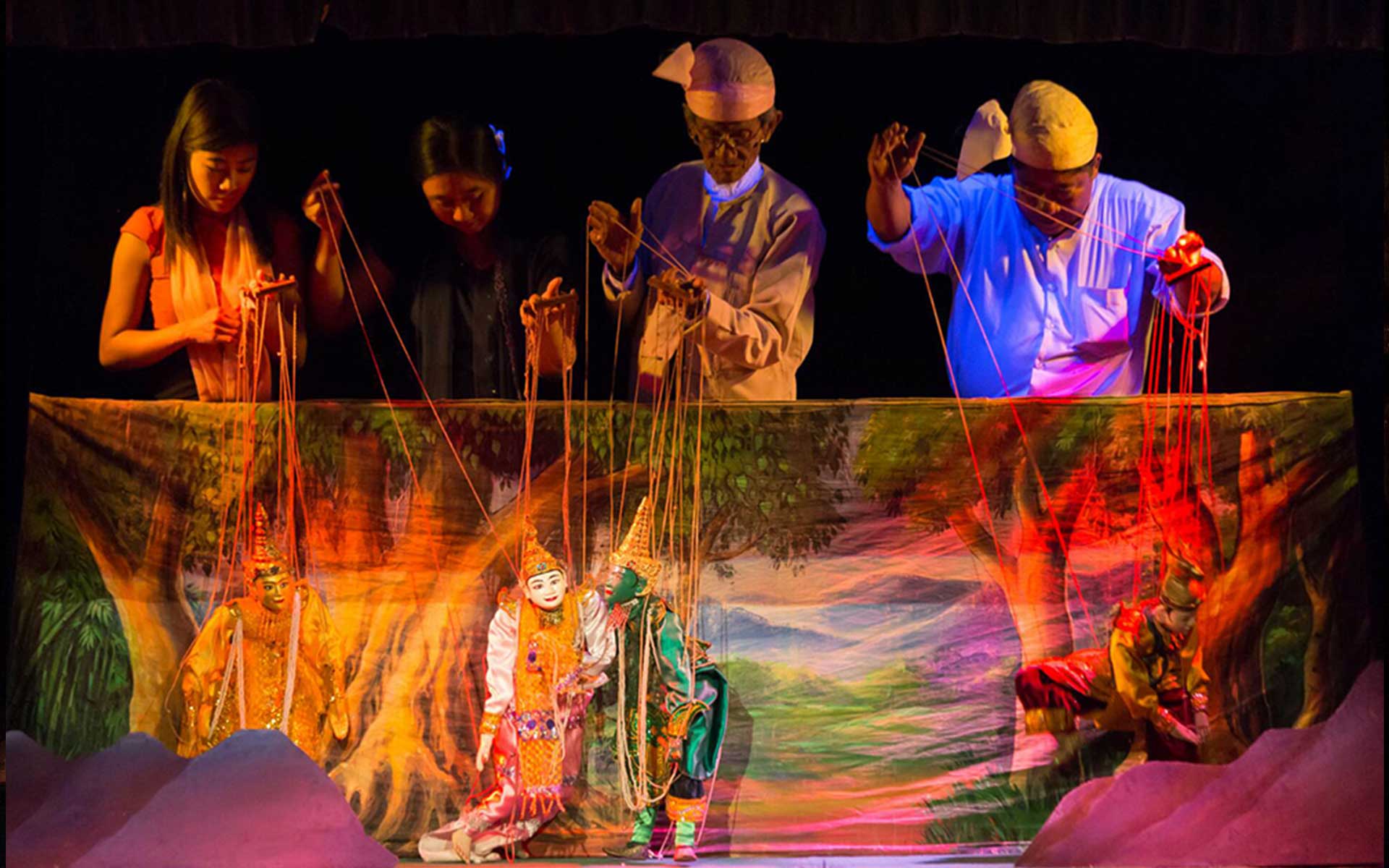 In Burmese, it is called as Yoke thé. Puppets have been used to perform in Myanmar for centuries. An operators control the marionettes by a string by in opera performances. Every performance usually has 28 characters. The characters are elaborately and colorfully dressed.
The art of puppet show in Myanmar is very famous. You can see puppetry performances in famous theatres such as Htwe Oo Myanmar Puppetry Home in Yangon, Myanmar Marionette Theatre in Mandalay, Aung Puppet show Inle….Besides, it is also performed in restaurants and hotels in the tourist areas. After watching the show, visitors can buy puppets as souvenirs with prices from about 10,000 kyats (about 7 dollars). You also find lots of them in souvenir shops and markets.
Tapestry paintings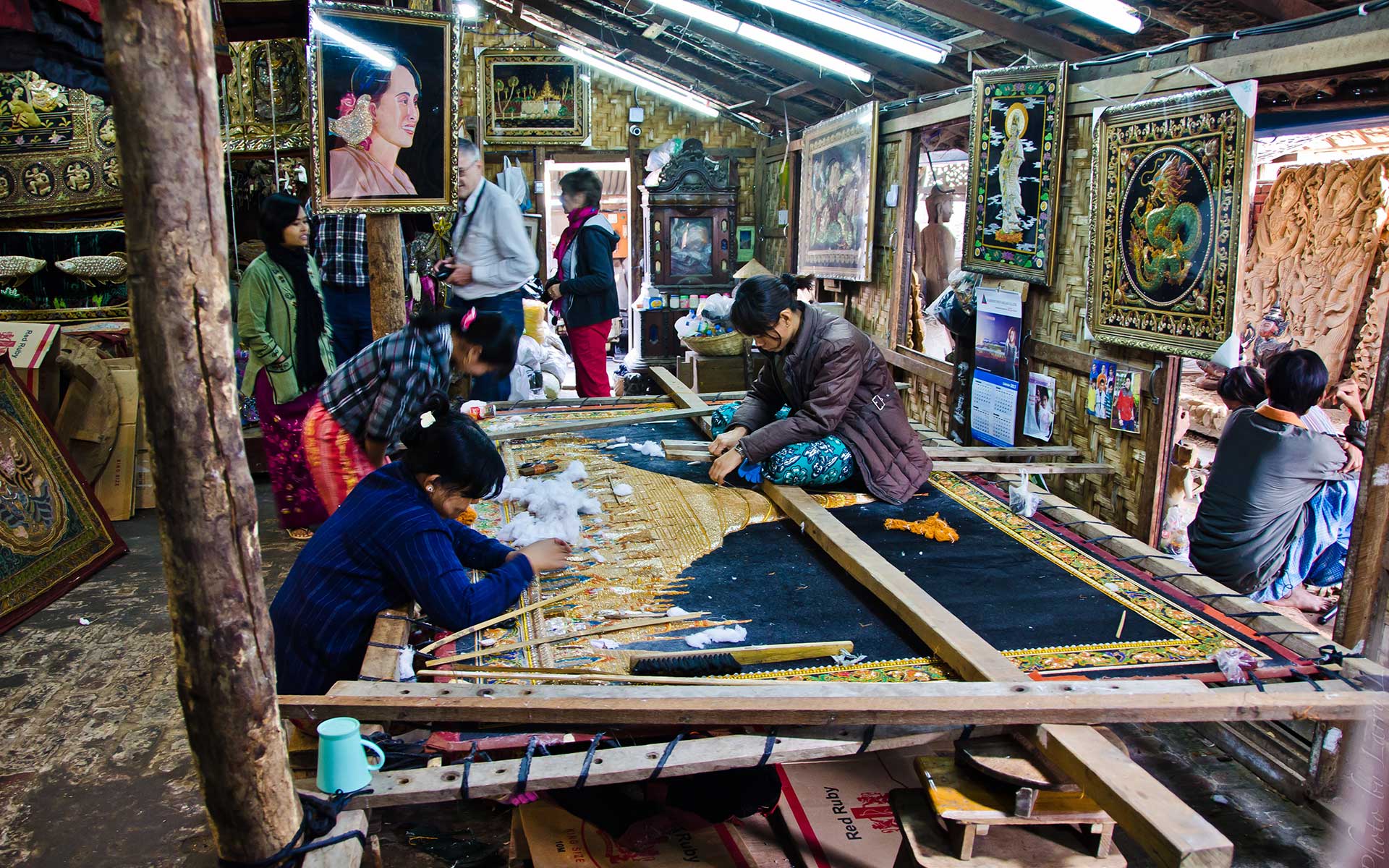 Myanmar Tapestry is the genuine Myanmar handicraft, called 'Shwe-Chi-Htoe in Burmese. It is a technic of gold embroidery, form of needle work to create a variety of pictures and patterns with gold and silver thread on the clothes, especially on the velvet. It is so delicate and detailed that requires skill and patience. Originally, only Royal families were allowed wear tapestry clothes and accessories. For now, this art can be seen mainly in the accessories. Especially, the tapestry paintings are the most famous. The original place of the tapestry is Mandalay.
Tapestry trade has been existed in Myanmar for thousand years. The tapestries describe classic Buddhist stories or other non-secular objects of Burmese Buddhism such as legendary animals, Hintha, Kalong, etc. The tapestries which are framed cost between 5,000 Kyats and 50,000 Kyats (about 4 to 40 USD)
Wind chimes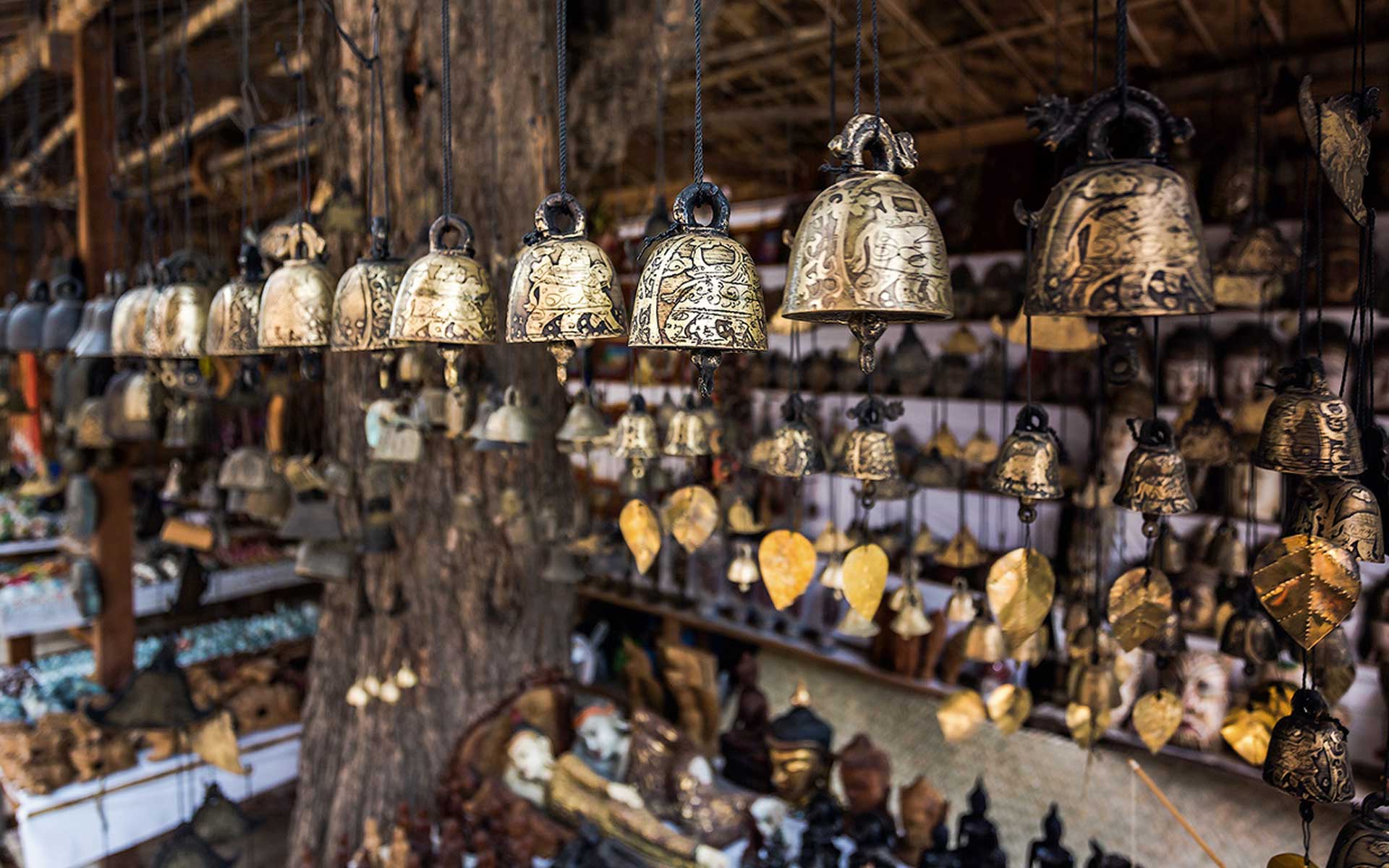 Wind chimes carry the rich sonority of Burmese culture. They are used when attracting attention for religious ceremonies. They are also said to eliminate the bad spirits and get them away from the receivers and also bring good luck. The wind chimes are made in many different sizes so it is a good choice for souvenirs. The wind chimes' surface is decorated with historical landmarks or astrological signs, which are imagined according to Myanmar. The price of these wind chimes is also quite different. The small wind chimes are priced at around 1,000 kyats (about 1 dollar), and the larger ones are priced at 10,000 kyats (about 7 dollars). Wind chimes are sold around the temples and pagoda throughout the country.
Buddha Statues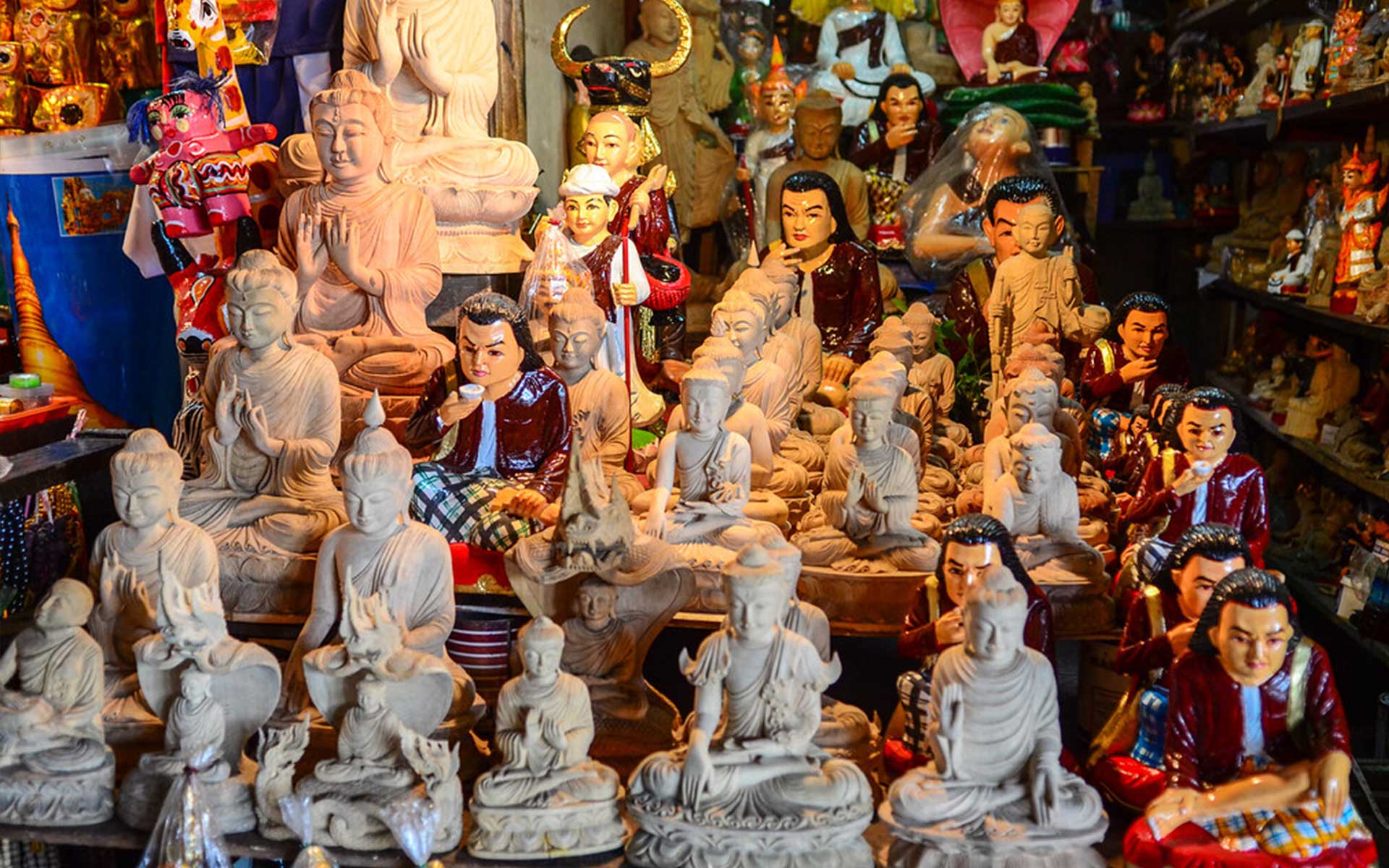 Nearly 90% of population in Myanmar practice Buddhism. Therefore, you will see Buddha statues sold in many shops throughout Myanmar. The local Buddha statues are made exquisitely that may convince you of their religious values. May be there is no better place to buy the sacred and beautiful Buddha images than Myanmar. The price of this item is ranged from several thousand kyats to tens of thousands kyat for large size Buddha statues and better quality.
Souvenir shops in Yangon
Bogyoke Aung San market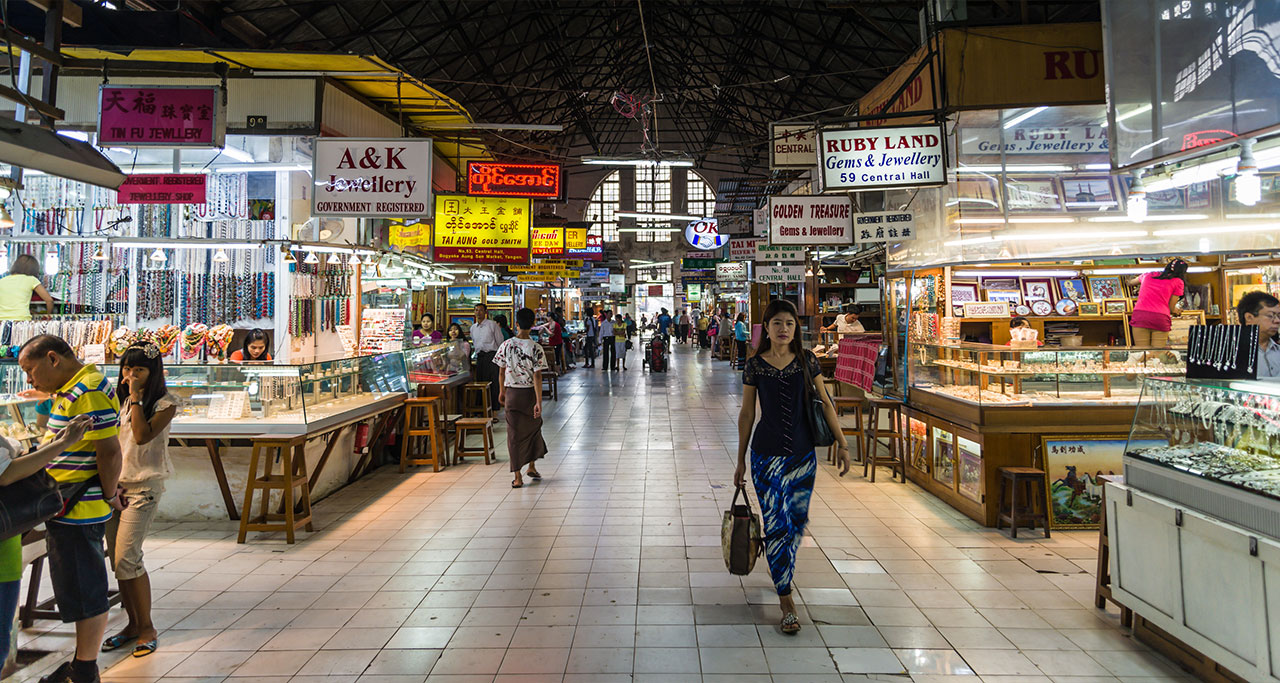 It is the most famous market in Myanmar where travelers can find all kinds of souvenirs, from expensive jewelry, longyi and lovely handicrafts.
Address: Bo Gyoke Rd, Pabedan, Yangon, Myanmar
Opening hours: from 9.00AM to 5.30PM (closed on Mondays and National holidays)
Pomelo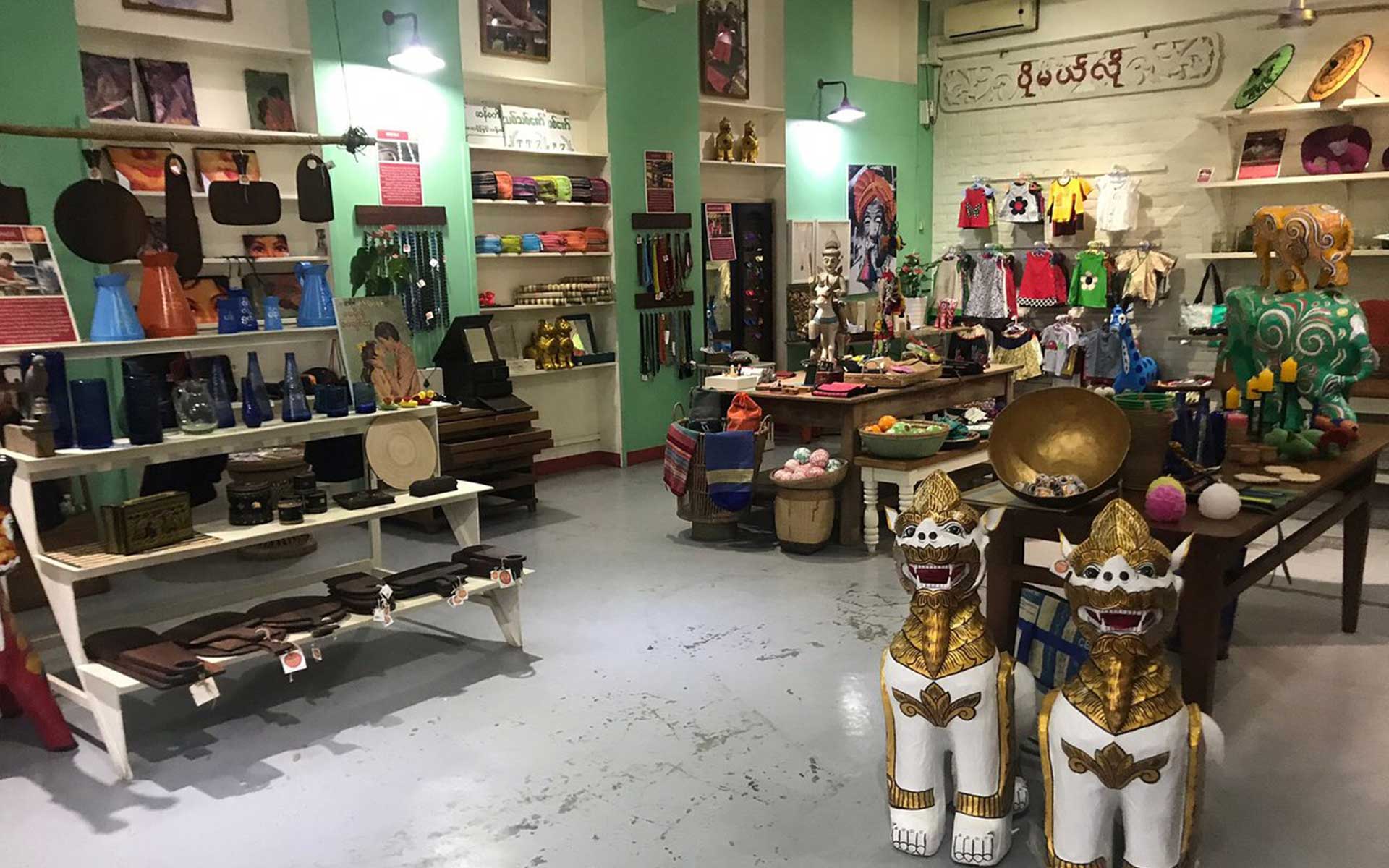 Pomelo is a non- profit business which hires artists from diverse backgrounds. They may come from orphans, former sex workers or disabled people. Their goods are made from local materials that truly captures the essence of Myanmar. Their beautiful products span from stationary, jewellery, accessories, toys to even household items and decorations.
Address: No (89) 2nd floor, Thein Phyu Road, Botataung Township (right next to Monsoon Restaurant)
Opening Hours: 10:00 AM – 10:00 PM
Karaweik Arts & Crafts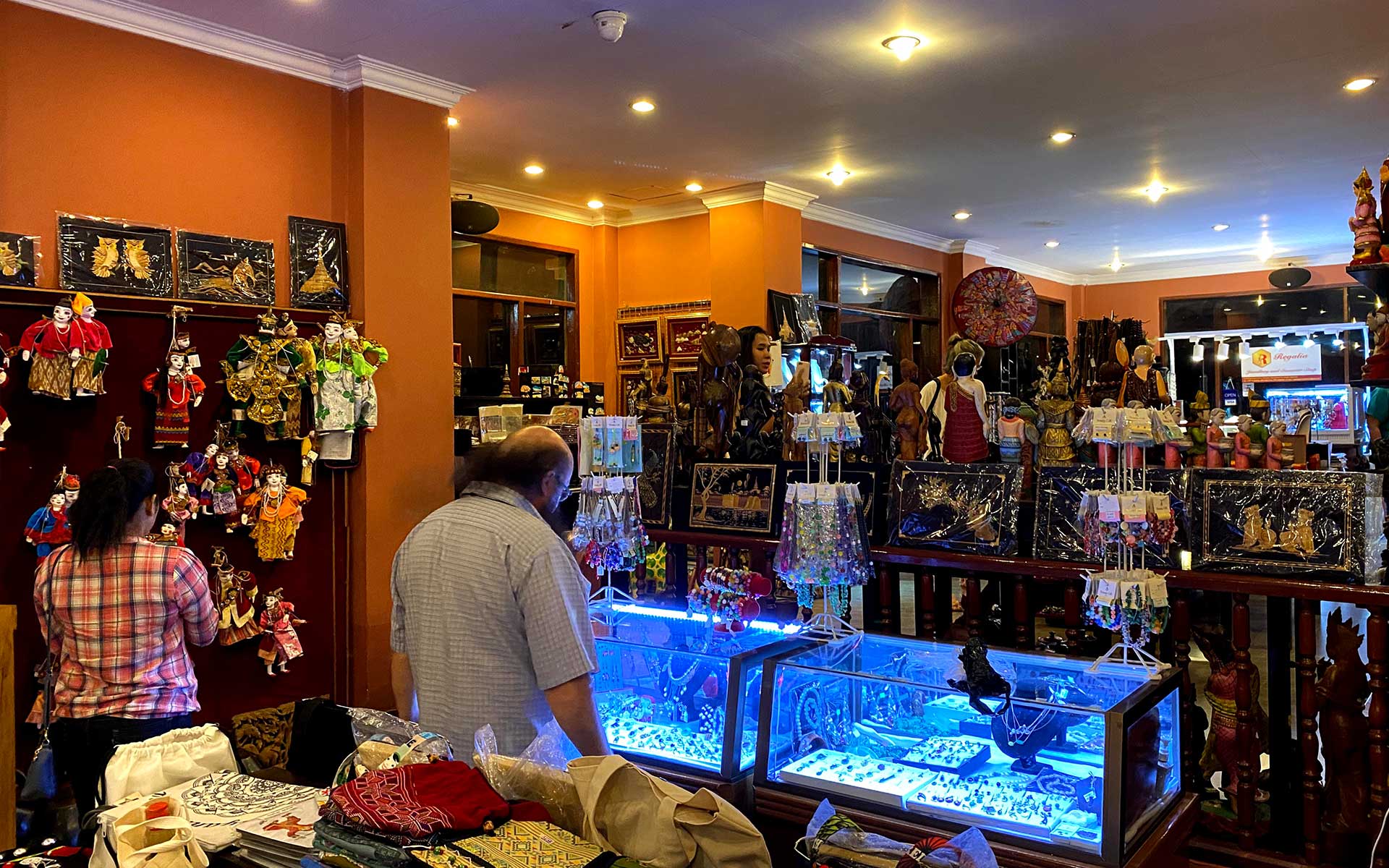 This store is located at a famous Yangon landmark which makes it convenient for tourists to pop in and have a look. They sell a variety of souvenirs such as key-chains, toys, jewellery, lacquerware, marionettes and even Myanmar styled chess boards!
Address: In front of Karaweik Palace, Yangon
Opening Hours: 10.00 AM – 8.30 PM
Oakkalapa King Fancy & Souvenir Shop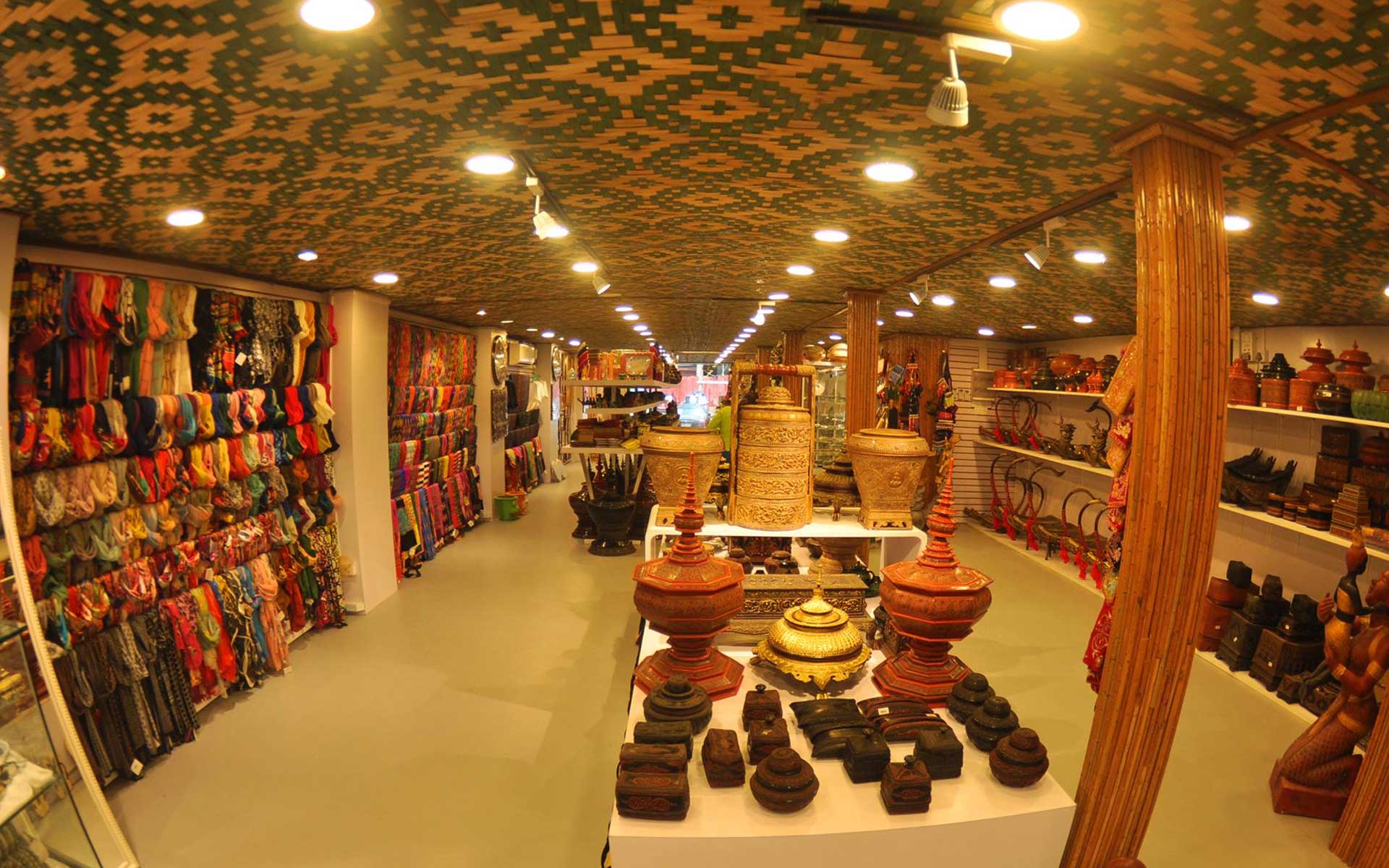 You can find here a large range of items such as art pieces made from sand or gemstones as well as lacquerware and tapestry. They also sell jade, amber, pearls and jewellery made from those materials. If you want authentic and affordable souvenirs, this is where you need to go.
Address: No-83/91, Bo Aung Kyaw Street, Kyauktada Township
Opening Hours: 8:00 AM – 7:00 PM
Nandawun Myanmar Gems & Handicrafts centre.
It is located right beside Myanmar Book Center where tourists seeking out books about Myanmar in both English and Burmese. They also sell marionette, lacquerware, keychains and other classic souvenirs!
Address: No 55, Baho Road, Corner of Baho and Ahlone Road, Ahlone Township
Opening hours: 9.00AM – 6.00PM
Tips for Successful Shopping in Myanmar
If you buy something in markets or vendors on the streets, do not forget bargaining. Like any other countries in the Southeast Asia, the merchants often sell at the higher prices. Hence, before you purchase, please go around and practice bargaining. Often, people will bargain at 30 % discount of the selling prices.
If you buy gems and valuable things, please make sure to buy at government – certificated shops to avoid fake items. Remember to keep the guarantee paper and receipt to check upon departure at custom.