Yangon Weather: General information & Best time to visit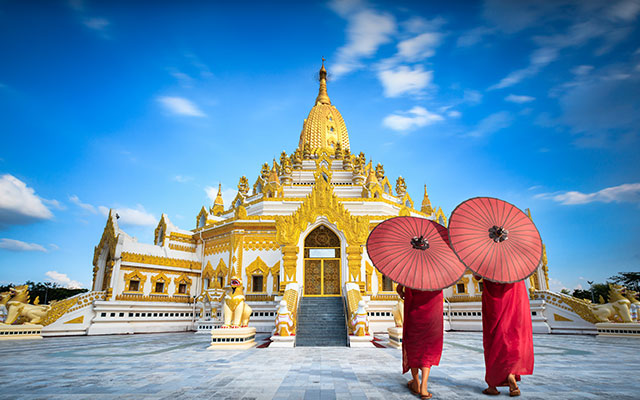 Yangon is the former capital of Myanmar, filled with golden pagodas, historical sites, museums, and busy markets. As the main gateway to Myanmar, Yangon attracts lots of people to visit almost all year round. If you're looking for the best time to go, let's learn about Yangon weather with Myanmar Travel to decide the right time for your trip.
Yangon Climate Summary
Yangon lies on 27m above sea level. Like the most parts of Myanmar, Yangon has a tropical climate. It experiences two seasons – rainy and dry. The rainy season is from May till October while the dry season is from November till April.
Temperature
On average, the temperatures are always high. The average annual temperature in Yangon is 27.3 °C (81.1 °F). The hottest period of the year is from March to May with the peak falls in mid –   April. Temperatures are regularly around 38.2°C (100.8°F) at day time and it rarely drops below 24.4°C (76°F) at night. January has the lowest average temperature of the year. It is 24.8 °C (76.6 °F).
Evenings in Yangon are often pleasantly cooler than expected. You could find yourself feeling chilly, where nighttime temperatures sometimes dip as low as 18 °C (64 °F).
Rainfall
The annual rainfall is 2378 mm (93.6 inch). In winter time, there is much less rainfall in Yangon than in summer. The driest month is January, with 3 mm (0.1 inch) of rainfall. With an average of 516 mm (20.3 inch), the most precipitation falls in August.
Humidity and Wind
Yangon has some extremely humid months, with other comfortably humid months. The least humid month is January (54.4%), and the most humid month is August (88.1%).
Wind in Yangon is usually extremely calm. The windiest month is April, followed by May and July. April's average wind speed of around 4.1 knots (4.8 MPH or 7.6 KPH) is considered "a light breeze." Maximum sustained winds (the highest speed for the day lasting more than a few moments) are at their highest in early May where average top sustained speeds reach 10.1 knots, which is considered a gentle breeze.
Air quality can be poor as dust, and particulate matter from agricultural fires add to the pollution. Many locals choose to don masks. If you suffer from respiratory issues, check the air quality before arriving.
Weather by months
January
January is one of the best times to visit Yangon, but it's also one of the busiest. The key sights such as Shwedagon Pagoda will be inundated with visitors. You'll need to book popular hotels in advance. Accommodation prices will be at their highest. The weather in January is ideal with averages around 25 °C and very low chance of rain. January is the driest month with the humidity of 60%, so you can see clear blue skies every day.
February
February in Myanmar is much the same as January: weather will be cool, pleasant, and dry. The humidity is around 65%. Expect temperatures to increase a bit with highs in the mid-30 °C.
Chinese New Year usually falls in February and visitors will find the largest celebrations such as lion and dragon dances happening in Yangon.
March
March is still dry but temperature begin to heat up in Yangon. Temperatures in Yangon can approach 38 °C (100 °F). Don't expect rain but humidity is close to 70%. Poor air quality plagues parts of the country where agricultural fires burn out of control.
In this month, you can join the Shwedagon Pagoda Festival where you will find street vendors, food, music and traditional entertainment.
April
April is typically the hottest month to be in Yangon. Temperatures can hover near 38 °C (100 °F) with high humidity exasperating the problem. Until the monsoon arrives in late April, air quality is at its worst. Thankfully, the Water Festival (usually April 13 to 17) helps everyone cool down. It is the biggest festival in the country when people have fun by splashing water on strangers. Local people believe that water will take out of bad things before new year comes. Be ready to get wet!
Read more: Myanmar water festival
May
May is generally the beginning of the rainy season as the first rains arrive but not regularly (less than half of the days in month). In May, you can still enjoy plenty of sunshine between downpours, but humidity jumps to suffocating levels. Fortunately, the new rain helps clean the air and provides some relief from peak temperatures.
June
June is one of the three rainiest and, for this reason, overcast months. As rainfall doubles that in May, you should expect rain most days.
July
July is not different as June. Rainfall is still in full wings. Humidity is around 85% and an average temperature is 27 °C. Flooding and mudslides can create significant transportation delays.
Mid – July is starting time for Vassa, a retreat observed by Theravada Buddhists, which runs for three months. During this time, you'll see less of Myanmar's maroon-robed monks as many of them remain in the monasteries for meditation.
August
The monsoon season continues at its heaviest during August. Temperatures in Yangon hover in the 27 °C while humidity near 90% makes everything sticky.
September
September like May is a shoulder month between wet and dry seasons. The rain subsides somewhat yet it's still overcast. Visitors can still expect it to rain over half the days in the month. You won't see many festivals or significant events in September.
October
October has a relatively light rainfall, the humidity drops just below 80% and the sun shines a little more. Temperatures tick slightly upward (average of 31 °C) in preparation for the end of the monsoon season. The green jungle foliage becomes even more lush.
October is month of the Thadingyut Festival (Lighting festival), one of Myanmar's most visually spectacular. The event celebrates the end of Vassa and reemergence of the monks, along with sunnier weather. Many buildings and pagodas are lit with candles and electric lights. Street stages are erected for free cultural performances to enjoy. One famous place to celebrate is Pwe Zay (street fair with many stalls and booths) in Yangon. It is held in Yay Kyaw in Pazzaungdaung Township annually. There are lots of food-stalls that sell a variety of Myanmar Traditional Foods, some of these you can only find during the festival.
November
Very little rain falls in November, and temperatures remain pleasant, making the month one of the best times to visit Myanmar. November is often considered the start of the "busy" season as ever-larger numbers of tourists begin arriving.
In November, do not miss the Tazaungdaing Festival (Festival of Lights) where tradition sees 9,999 candles lit at pagodas. Head to the Shwedagon Pagoda for the best displays.
December
Myanmar sees virtually no rain in December, and temperature lows of 17 °C at night which brings cool feeling. With an average daytime temperature of 27 °C and tolerable humidity, December is one of the best times to visit Myanmar, especially during Christmas and New Year period.  Although Buddhism is main religion in Myanmar, Christmas is also a public holiday. You'll see Christmas trees in big buildings and at hotel lobbies. Some hotels and tour agencies may organize special Christmas dinners and performances for their guests.
The best time of year to visit Yangon.
The best time to visit Yangon is during the period from November to February – the coolest and driest months of year. Although these are also peak months for number of tourist arrivals, you'll enjoy the best climate while exploring exciting places. It is also time of some big festivals in the country. Prices for hotels and flights will be most expensive during these months, though you can save if you purchase well in advance.
If you're willing to risk a mix of rainy and sunny days, consider visiting during late October before the masses arrive or March and April when it is less crowded. However, traveling during the monsoon season in Myanmar can still be enjoyable. Although having a flexible itinerary is vital, you'll get a lot more personal space and accommodation discounts.