Yangon International Airport Guide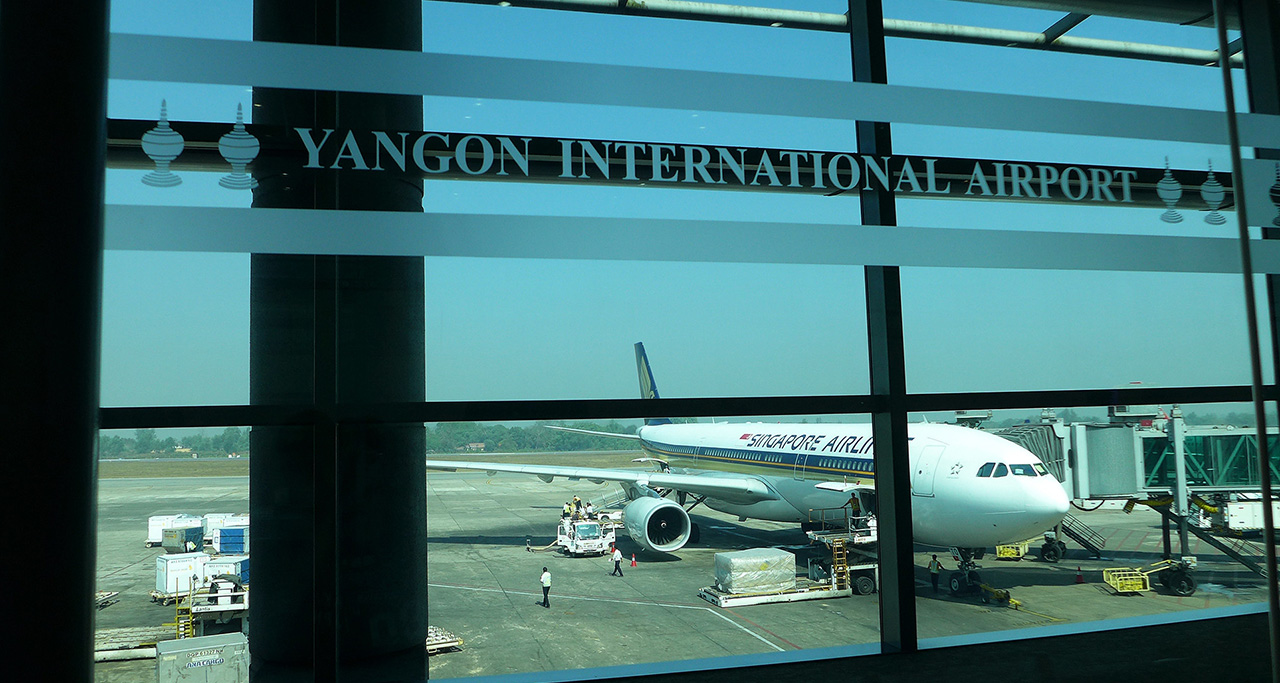 Yangon airport is the busiest and largest airport in Myanmar and thousands of passengers pass through its gate every year. It is the main gateway to reach the golden land of Myanmar. Travelers choose Yangon as a base to travel throughout the country.
Facts
Airport code: RGN
Location:Yangon Airport Rd, Mingaladon township, Yangon, Myanmar (Burma)
Distance to City Center:15 km
Capacity: Yangon airport is under development to meet future demands with a handling capacity of up to 20 million passengers per year.
Airlines: 34 airlines operate to and from 33 international destinations and 5 airlines operate domestic routes.
Terminals
There are 3 terminals
Terminal 1: the international terminal. It was officially opened on March 12, 2016.
Terminal 2:  It used to be the first main international terminal serving a mix of international and regional airlines. It is now undergoing a facelift.
Terminal 3: the domestic terminal. It was opened few months after T1 came into operation. T3 provides similar facilities to T1 – such as a variety of F&B outlets, retail options, business lounges, baggage handling & security systems.
Arrival & Departure
Arrival
International flights will arrive at Terminal 1. Upon arrival at Yangon International Airport, if passengers already have a Visa on hand, proceed to the immigration counters to clear immigration. There will be designated counters for Myanmar nationals and Foreigners. All foreigners are required to have their valid passport and travel documents ready for inspection. In case passengers are allowed to get Visa on arrival, come to Visa on Arrival Booth first to complete Visa procedure. After Visa is done, proceed to immigration counters. The visa-on-arrival option is limited to some nationals only. So before you travel, please make sure you can get visa on arrival or need to apply Visa in advance.
After immigration head to the baggage claim area. Once you enter the arrivals hall, you will find a travel agent, taxi counters and tourist help desk to assist you with necessary services. There are also a currency exchange shops, SIM card shops and ATMs located here.
Departure
Check-In
Passengers are advised to reach the airport at least 2.5 hours prior to their flight departure
Please present your passport and boarding pass.
Since the boarding gate check-in counters might be subject to change, please check at the airport to the day of departure.
Security Check
Security Check is done just before the check-in counter area, but there is another Security Check after Immigration before the boarding gate.
Immigration
Go to the boarding gate after completing the Immigration check. Please prepare your passport and your boarding pass.
Transit
Connect with international flights:
If traveler intends to pass through immigration, a transit visa may be required. Transit visa is valid within 24 hours and visa fee is US$ 20. It can be obtained on arrival. Please confirm with your airline to determine. A visa is not required for direct airside transit through this destination. Traveler must be in possession of a valid passport and onward ticket, and must remain in the airport's transit area. There are some shops and fast food restaurants in this area.
Connect with domestic flights:
After completing the Immigration, use the shuttle bus from 1st floor to proceed to the domestic terminal (Terminal 3).
Services & Facilities
Wheelchair service & assistance
Wheelchairs are available through pre-arrangements with the airline that you are travelling with. It is recommended that these services be arranged with the airline at least 24 hours in advance.
Medical service
The Airport Medical Clinic is located at the first floor of transit area in International Terminal, opposite to the Boarding Gate No.8-11, next door of Customer Airport Service ("CAS") department.
Clinic Hotline: +959 894892533
Available: 24 Hours
Dining
Yangon airport has a great variety of restaurants and cafes within each of its terminals, catering for all tastes and needs.
Terminal 1:
Ground Floor: Kel's Kitchen, KFC, Parisian, Café de Yangon, The Coffee Bean & Tea Leaf, Craft Café, Gong Cha.
1st Floor: The Coffee Bean & Tea Leaf, Cha Thai, Escape Café & Bar,
2nd floor: Swensens, Thai Express, Yamagoya, Bon Voyage, Burger King, The Cocoa Trees
Terminal 3:
Ground Floor: The Coffee Bean & Tea Leaf, Café Corner, Gong Cha, J'Donuts, Kaung Lun Lote, Mohinga, Hruspy Hreme, KFC, Meeting Point, Monster Cheese, Parisian, Thai Express
1st Floor: Parisian, Tom N Toms Coffee, Gloria Jean's Coffees
Airport Lounges
Yangon International Airport has numerous airport lounges available to travelers.
Terminal 1: Mingalar Sky Premium Lounge, Mingalar Sky Lounge, Mingalar Sky CIP Lounge
Terminal 3: Mingalar Sky Lounge & MNA Lounge
Shopping
There are variety of shops located at Terminal 1. Travelers can buy clothes, shoes and accessories from world famous brands as Versace, Calvin Klein, Furla…. Besides, there are also jewelry, souvenir and book shops.
Money Exchange
A number of currency exchange shops are available at the airport, primarily concentrated at arrival areas. They are managed by big local banks such as KBZ, CB… Many ATMs are also available.
Hotels near Yangon airport
Below are good options which are within distance of 1km from the airport. It is convenient for travelers who has limited time between two flights.
Myanmar Life Hotel
It has outdoor swimming pool and on site restaurant. Free airport shuttle service is available
Price is from US$ 40 per night
Akore Myanmar Life Hotel
It is sister hotel of Myanmar Life hotel. It offers free airport shuttle service, outdoor pool usage, free Business center and Gym usage.
Airport Avenue
Hotel It is new hotel with friendly staff. It has swimming pool and free airport shuttle. The room is spacious with a comfortable bed
K.C Hotel & Residence
It offers accommodation with a restaurant, free private parking and a bar. With free WiFi, this 3-star hotel offers an ATM and ticket service. The accommodation features a 24-hour front desk, room service and currency exchange for guests. Free shuttle service from/to airport is also provided.
Transportation
Taxi
There are taxi counters situated at the arrival hall of each terminal. You will see attendants wearing shirts with "taxi" written on it. Taxi costs around 10,000 Kyat to downtown, which is about 7 USD. The duration of the journey is about 30 – 45 minutes. Payment can be made in either USD or Kyat.
Bus
Between terminals
Inter-terminal shuttle buses operate between Domestic Terminal (T3) and International Terminal (T1) with free of charge as per the following schedule
Operating Hours
From 05:30 AM to 09:00 PM
Frequency
Every 15 Minutes to 20 Minutes
Bus Stops
International Terminal – Opposite of Gate 3
Domestic Terminal – Opposite of Departure Door 1
Bus to downtown
The Yangon Bus Service provides shuttle buses between Yangon International Airport and Yangon Central Railway. Currently, they provide 2 routes: via Pyay Road and via Kabar Aye Pagoda Road.  There is a representative of the company at the airport's bus stop, so they can help you to choose the correct bus line.
The bus can be boarded outside of Departures door 1 at Terminal 1. If you arrive in domestic terminal, the bus can be boarded across the street from door 1. The fare is 500 Kyats (approximately 50 US cents). Fare payment is in cash only and payable on the bus.  No change will be given back, so ask for 500 MMK notes when exchanging money at the airport. Bus takes about 1 hour to get to Yangon Central Railway, in central Yangon. Bus runs 24 hours a day and departs every 10 – 20 minutes
Car rental
If you are looking for the most convenient way to get from Yangon Airport to the city, book private car. Myanmar Travel provides car rental with high quality vehicles at reasonable price. With the cost from 15 USD, you will be greeted after arrival. Our driver will assist you with luggage and escort you to your hotel.