Best hotels in Yangon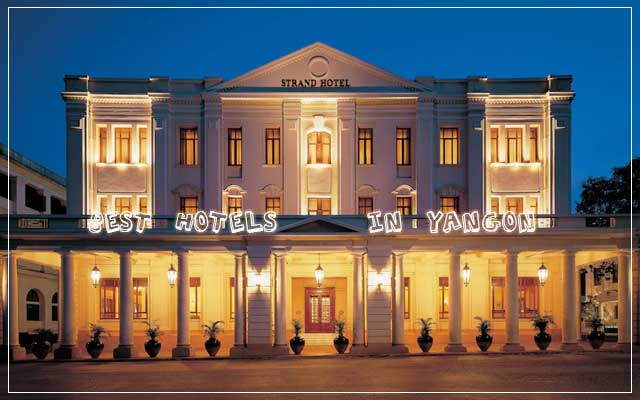 Yangon is the biggest city in Myanmar and a base to reach to other attractions within the country. When Myanmar opened its door about 10 years ago, travelers were easy to get stressed when looking for a good accommodation in Yangon. The lack of accommodation supply pushed the hotel price increased incredibly. Travelers needed to pay up to $100 for very basic room. The situation has changed a lot at the moment as hundreds of new establishments have been built from budget to luxury hotels. However, this brings another stress to travelers. It is not easy to decide which is the best hotel to stay among too many options. If it is your case, we are happy to give you some suggestions.
In Yangon, there are three main areas where tourists usually consider to stay: downtown, Kandawgyi Lake and Inya Lake. Please go with us to find the difference between them and best hotels in each area.
Here are top best hotels in Yangon:
Best hotels in Downtown Yangon
It is the most convenient part of the city to stay in. There are a good range of hotels, restaurants, local markets and modern shopping centers within walking distance. There are also lots of attractions which you can visit on foot as Sule Pagoda, Bogyoke market or 19th century British colonial buildings. Its neighborhood is China Town, the most vibrant place for night life in Yangon.
Luxury hotels in downtown
The Strand Yangon
The Strand Hotel is one of few historical hotels in former capital Yangon. Opened in 1901 when the country was ruled by British, the hotel has hosted important guests as Prince Edward, George Orwell and Noël Coward. A century later, the hotel is now a Myanmar icon thanks to the perfect mix of old world colonial charm and modern luxury. Customers can see this through white-washed façade, teak-framed windows, the lobby with its cane furniture or soaring ceilings.
With excellent location along the Yangon River and Chinatown, it is easy for guests to reach major attractions in the city
Price: from US$ 400 per night.
Address: No.92 Strand Rd, Yangon, Myanmar (Burma)
Excelsior Hotel
Excelsior Hotel was built in an old building, which was once the headquarters of the Steel Brothers trading company. The hotel has 74 rooms and suites, all designed with the charm and magnificence of British colonial style. Customers will receive ultra-modern comfort and exquisite service when staying here.
It has nice location, just around the corner from the magnificent Sule Pagoda and Yangon's colonial heritage buildings. The modern Sule Square, Junction City shopping malls and Bogyoke Market are all within easy walking distance.
Price: from US$ 140 per night
Address: 19, 43 Bo Soon Pat Street, Yangon 11143, Myanmar (Burma)
Pan Pacific Hotel
Located in one of tallest buildings in Yangon downtown, Pan Pacific Hotel features breathtaking city views of Yangon and Shwedagon pagoda. With 336 luxuriously furnished rooms and suites, the hotel provides full facilities and services to make guests satisfied: an outdoor infinity pool, spa, 2 restaurants, fitness centre and business services.
It is located next to Junction City, one of biggest shopping centre in Yangon where you can find everything you need.
Price: from US$ 120 per night.
Address: Corner of Bogyoke Aung San Road and, Shwedagon Pagoda Rd, Yangon, Myanmar (Burma)
Pullman Hotel Centre Point
Pullman is located in the beautiful Colonial Quarter overlooking Maha Bandoola Park, City Hall and Sule Pagoda. It is very close to Bogyoke Aung San Market and the night market.
The hotel features two restaurants, two bars, two swimming pools, a fitness center, a business center, a ballroom that can host up to 600 guests and 5 meeting rooms.
Price: from US$ 110 per night
Address: 65 Corner Of Sule Pagoda Rd And, Merchant Rd, 11182, Myanmar (Burma)
Middle – ranged hotels in downtown
The Loft Hotel Yangon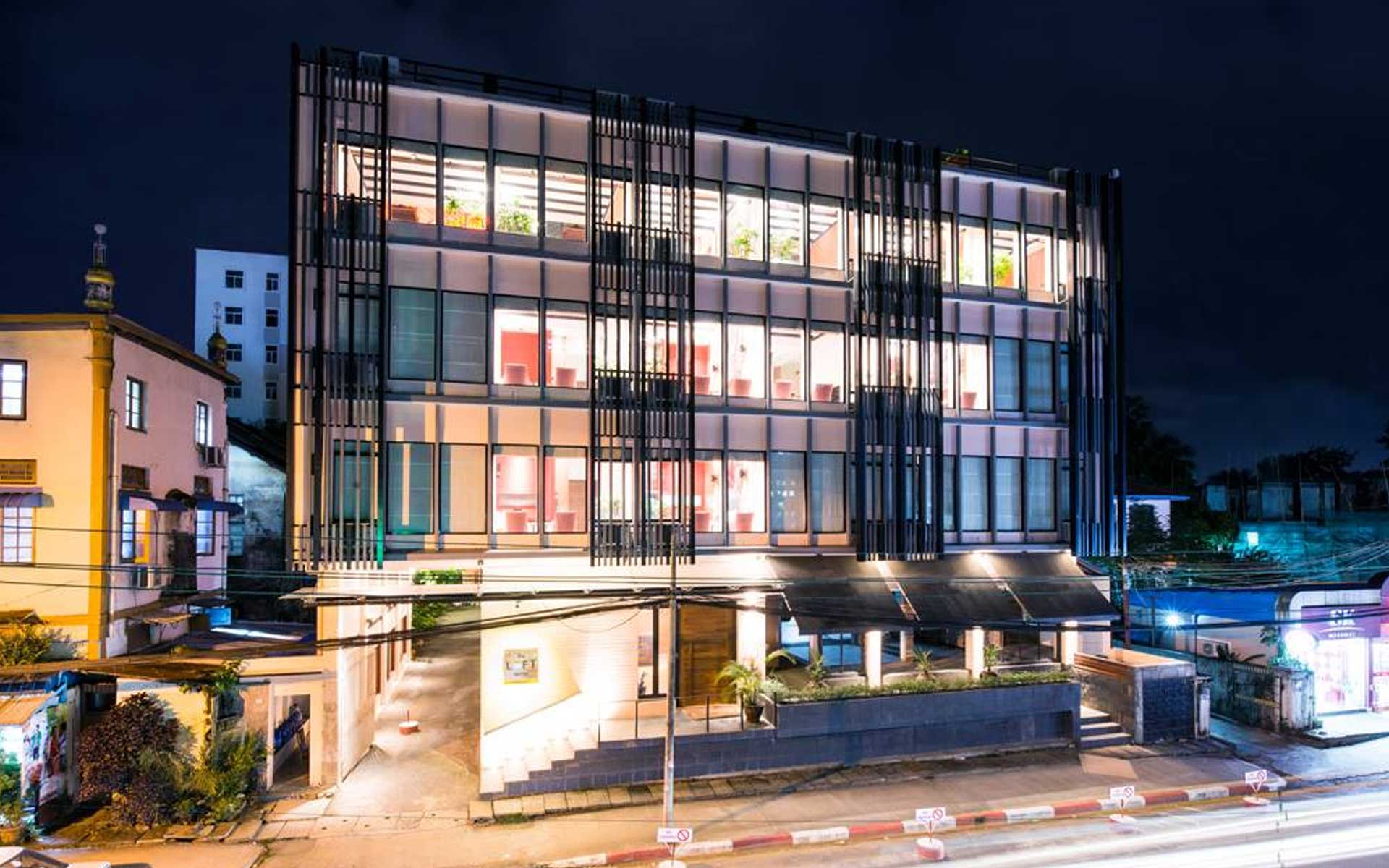 The Loft is a beautiful boutique hotel. It offers 32 rooms and suites which are well-equipped with satellite TVs, a seating area and a safety deposit box.
Located right at the heart of city, it takes just a short (300 meters) walk from Bogyoke Aung San Market. It is also easy to walk to the Sule Pagoda and the National Theatre of Yangon
Price: from US$ 130 per night
Address: Myanmar (Burma), Yangon, 33, Yaw Min Gyi Street, Dagon Township邮政编码: 11191
Read: Top 11 hotel in mandalay
Hotel G
It is a modern and colorful hotel in the vibrant entertainment neighbourhood of downtown Yangon. It is convenient to get to city's animated marketplaces, beloved teashops and the magnificent Shwedagon Pagoda. This stylish hotel features modern decor and a range of amenities including a bar and restaurant, business center and fitness center.
Price: from US$ 70 per night
Address: No. 5 Alan Pya Pagoda St, Yangon 11182, Myanmar (Burma)
Top Hotels in Kandawgyi Lake & North Central Yangon
Kandawgyi Lake is a nice location to stay as you can enjoy stunning view of the lake and Shwedagon Pagoda. This is a great choice if you're looking for a bit more peaceful and quiet area but still close enough to downtown and attractions of the city. Compared to hotels at downtown, the prices in this area are a bit lower.
Luxury Hotels near Kandawgyi Lake
Savoy Hotel
Founded in 1995, the Savoy Hotel is one of Yangon's most favorite boutique hotels. Savoy Hotel is located in a quiet and leafy residential area of Yangon, making it an oasis of calm after embracing the hustle and bustle of Yangon city life.
The hotel includes an outdoor swimming pool, a garden and sun terrace. Featuring Myanmar antique furnishings and colonial-style fittings, its 30 rooms are fitted with polished wooden flooring and floor-length windows.
Price: from US$ 250 per night
Address: 129 Dhammazedi Road, Yangon, Myanmar (Burma)
Wyndham Grand Hotel
Wyndham Grand Hotel is a new hotel located along the shores of Kandawgyi Lake. Wyndham Grand hotel provides full services which a 5-star hotel has to offer. As conveniently situated among the world-class multi-functional commercial complex known as Kantharyar Center, it is good choice for both business and tourists who look for a relaxing and convenient accommodation.
Price: from US$ 100 per night
Address: No.11, Corner of Kan Yeik Thar Road & U Aung Myat Road, Yangon, Myanmar (Burma)
Middle-ranged hotels near Kandawgyi Lake
Rose Garden Hotel
It is a nice property with traditional Myanmar style. From here, you can walk to Kandawgyi Palace and Shwedagon Pagoda. The Hotel features an outdoor swimming pool, an elegant lobby, a gourmet restaurant, a stylish bar, and 296 beautifully decorated guestrooms.
Price: from US$ 70 per night
Address: No. 171 Upper Pansodan Rd, Tsp, Myanmar (Burma)
Jasmine Palace Hotel
It is a modern city offering a magnificent view of the thriving city center or the stunning Shwedagon pagoda. It takes about 15 minutes to get to downtown. It provides fitness centre, a swimming pool and well – equipped for guests.
Price: from US$ 60 per night
Address: 341 Pyay Rd, Yangon 11111, Myanmar (Burma)
Summit Parkview Hotel
Summit Parkview Yangon is located in the up market vicinity of Embassies, Shopping Centers, Food Outlets, National Museum and the People's Park. The hotel is a short walk to the Shwedagon Pagoda. It takes 10 minutes to drive to Downtown. All rooms are spacious, neat and well maintained. Rooms are fitted with a Flat-Screen Cable TV, Air Conditioning, Hairdryer and Coffee/Tea making facilities. Shower facilities or bathtub are included in all rooms.
Price: from US$ 60 per night
Address: 350 Ahlone Road, Yangon, Myanmar (Burma)
Hotel Grand United Ahlone
Hotel Grand United Ahlone is located in a serene neighborhood close to downtown Yangon. So, it is easily accessible to local attractions such as Shwedagon Pagoda, Bogyoke Market, Sule Pagoda, National Museum, National Theatre and Kandawgyi Park. It is also close to the famous business districts in Yangon, along with embassies, UMFCCI and exhibition halls. The hotel features elegant guestrooms and suites, equipped with modern amenities and facilities. From the hotels, guests can enjoy the views of the Shwedagon Pagoda, Yangon River and the City.
Price: from US$ 55 per night
Address: Women Hospital, No. 35, Min Ye Kyaw Swar Road (Corner of Hnin Si Gone Road, Front of Central, Yangon, Myanmar (Burma)
Best hotels in Inya Lake
As the Yangon largest lake, the area is popular by Yangon's upper class. The shores of Inya Lake house a variety of hotels and restaurants. It's a great spot to stay in Yangon if you want to see the non-touristy and quiet side of the city. It's about 8km from the downtown, so still convenient for you to explore the city. This area is on half way between Yangon airport and downtown. It is also a good choice if you just look for an overnight stop between two flights.
Luxury hotels near Inya Lake
Hotel Melia Yangon
Melia Yangon is a big and modern luxury hotel located right on the banks of Inya Lake. It connects directly with Myanmar Plaza shopping mall and office tower. The rooms here are spacious and luxurious, with great views of the lake and access to the hotel's amenities including swimming pool, spa and fitness centre.
Price: from US$ 100 per night
Address: 192, Kabar Aye Pagoda Rd, Township 11201, Myanmar (Burma)
Read: Best hotels in Ngapali
Lotte Hotel Yangon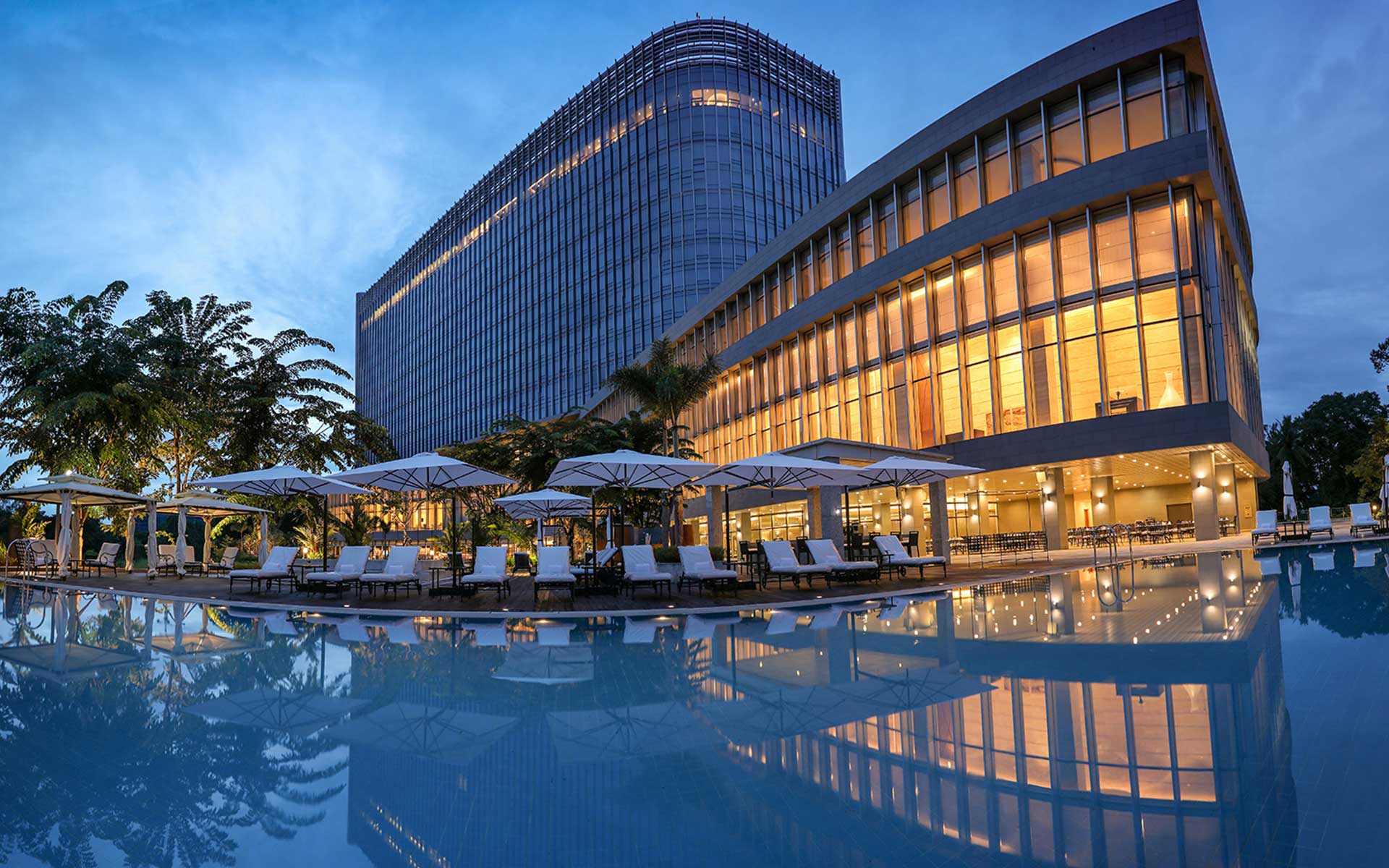 This is another luxury hotel on the lakefront. It offers a huge selection of spacious rooms and suites, an indoor pool, spa, fitness centre and several restaurants. The rooms are also well-appointed.
Price: from US$ 100 per night
Address: No. 82, Sin Phyu Shin Avenue Pyay Road, 6½ Mile, Ward 11 MM, Yangon 11052, Myanmar (Burma)
Middle – ranged hotels near Inya Lake
Hotel Parami
This stylishly decorated hotel includes a range of amenities including a swimming pool, spa, fitness center, and free WiFi. With 112 rooms and suites, it is good option to stay in the post area of Yangon.
Price: from US$ 60 per night
Address: No. 2 Parami Rd, Yangon 11221, Myanmar (Burma)
The Link Yangon Boutique Hotel
The Link Yangon is a small boutique hotel, just a few blocks away from Inya Lake. It has a selection of comfortable and affordable rooms managed by friendly, helpful staff.
Price: from US$ 60 per night
Address: No. 32 (D New University Ave Rd, Yangon, Myanmar (Burma)