Best Beaches in Myanmar
Let us now explore the coastal regions – mainly the best beach in Myanmar. Myanmar is known as land of golden pagodas. It is certainly not a first place appeared in mind when travelers look for beach vacation. However, with over 2,000 km of coastline and thousands of islands in Bengal sea, Myanmar offers wide selection of beautiful beaches which are awaiting you. When you plan a trip to Myanmar, this information could be useful in case you want to beach relax at the end of the trip.
1. Ngapali Beach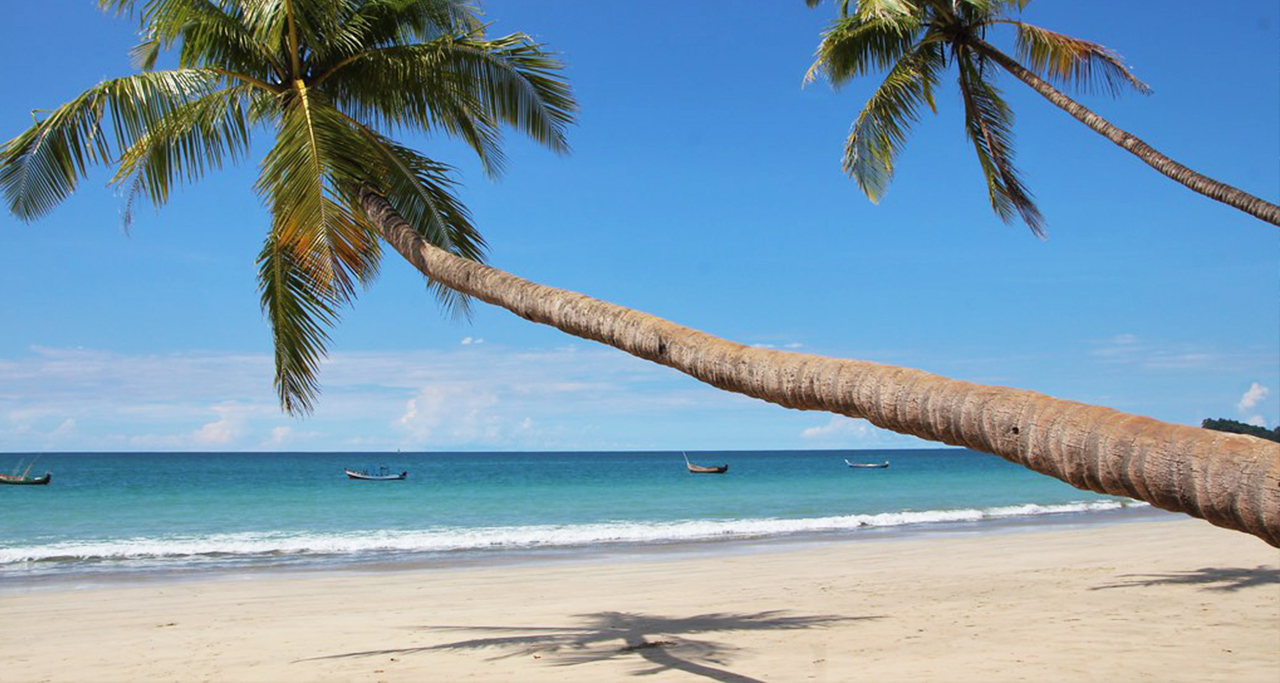 It is the best developed beach in Myanmar where visitors could find good quality resorts and enjoy lots of water activities. There are numerous options to fulfill your time in Ngapali such as cycling tours, hiking in the nearby mountains, scuba diving, snorkeling, or kayaking. If you are interested in culture, visit the fishing village to observe the traditional way of life. At the end of the day, just take a walk along Ngapali beach as the sun goes down, and stop in at one of the local restaurants to taste delicious seafood.
Hotels around Ngapali Beach offer accommodations fitting all budgets, from basic guesthouses to beach front luxury resorts, but vacancies may be difficult to get during the special occasions as Thingyan festival or Christmas & New Year Holiday.
Getting there:
By Flights
There are few direct flights from Yangon or Heho (Inle Lake) to Ngapali per days. It takes about 1 hour.
It is also possible to fly from Bagan to Ngapali but the flights will have 1 stop at Heho airport. So, flight time is 2 hours instead of 1 hour as direct flights.
All flight options costs around US$ 100 – 120 per one way ticket.
By Bus
There are both day and night buses between Yangon and Ngapali. Even the road condition has been improved so much compared to the past but journey still takes very long (11 hours). The better quality of new buses make the trip from Yangon to Ngapali is less hectic for passengers ( mostly local & backpackers)
Bus ticket price is pretty reasonable: around 15$ /passenger one way.
2. Ngwe Saung Beach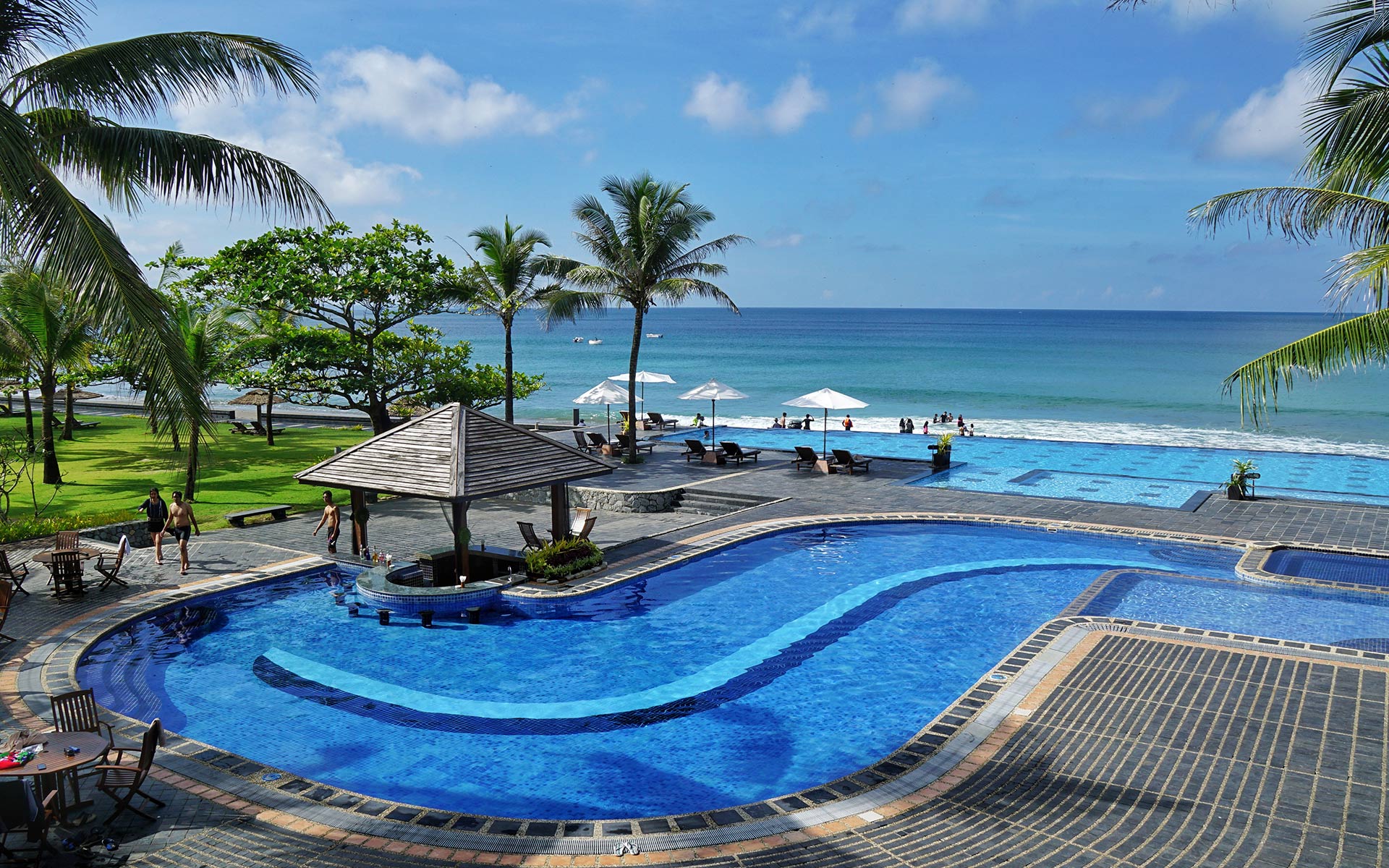 It is one of two beaches within relatively easy driving distance from Yangon. The infrastructure here is quite similar to Ngapali but it is much closer to Yangon. So, it is ideal place for local people to travel on weekends. Many foreigners also love this place as it is less touristy than Ngapali.
Ngwesaung's white sand and clear waters are also perfect backdrop for local activities like horseback riding and watersports. One of the best way to explore this beach is to hire a boat to visit the nearest islands for snorkeling and fishing. Or just long walks along the beach, ending with posing at the twin stupas of Kyauk Maumghnama Pagoda. Lastly, you can't leave without trying the catch of the day from the many local restaurants.
In Ngwe Saung, there are many beach front resorts but at more affordable prices. Budget accommodation is also easy to find.
Getting there
Road transportation is the only way to get to Ngwe Saung. A five to six hour bus ride (approximately $25 USD roundtrip) is the most common mode of transport. However, traveling by private car is more comfortable option. Myanmar Travel provides private car rental service between Yangon and Ngwe Saung at reasonable prices. Please contact us for the best offer.
3. Chaung Tha Beach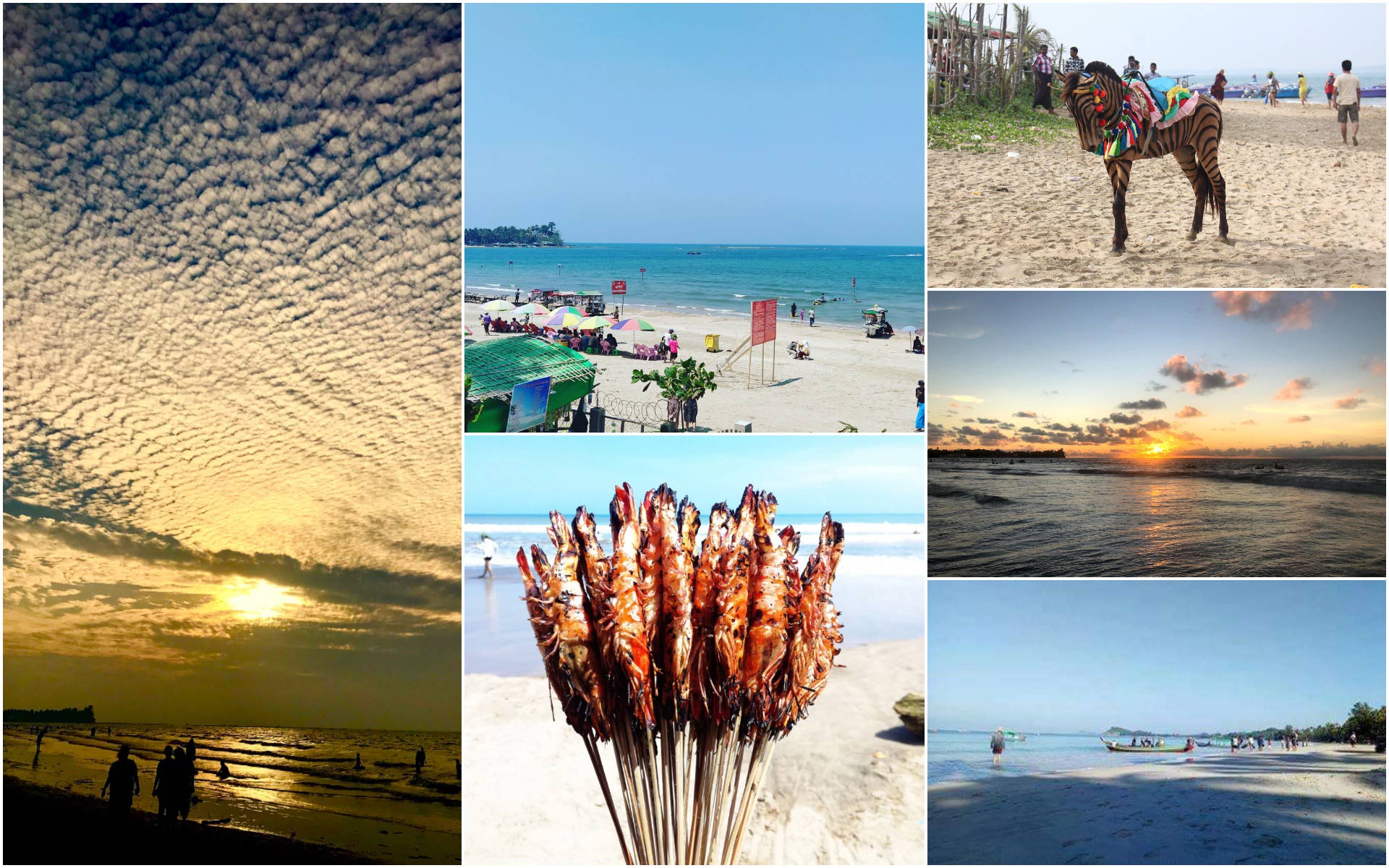 Chaung Tha is about the same distance from Yangon as nearby Ngwe Saung beach. However, Chaung Tha doesn't have nice resorts you'll find in Ngwe Saung. It's home of simple hotels right on the beach. It is a reason why Chaung Tha is the most popular beach among locals than foreigners. On national public holidays or a long weekend, it becomes very crowded with locals from Yangon who've traveled here for a bit of relaxation.
Chaung Tha hasn't got infrastructure like Ngapali, but you'll still be able to go snorkeling, horse riding, fishing or cycling in the area.
If you wish to experience local life, come and stay at an inexpensive hotel and enjoy fresh seafood at beer stations and restaurants along the beach.
Getting there
Like Ngwe Saung, traveling by car/bus is the only way to get to Chaung Tha. The bus from Yangon to Chaung Tha leaves at 6 am daily, making the 260 kilometre trip in around six hours. Along the way, the bus stops at several restaurants and roadside markets to give passengers a chance to eat and stretch their legs. Buses run from Yangon to Chaung Tha for approximately $20 USD there and back.
If you look for more comfortable ride, please contact Myanmar Travel to arrange private car.
4. Maungmagan Beach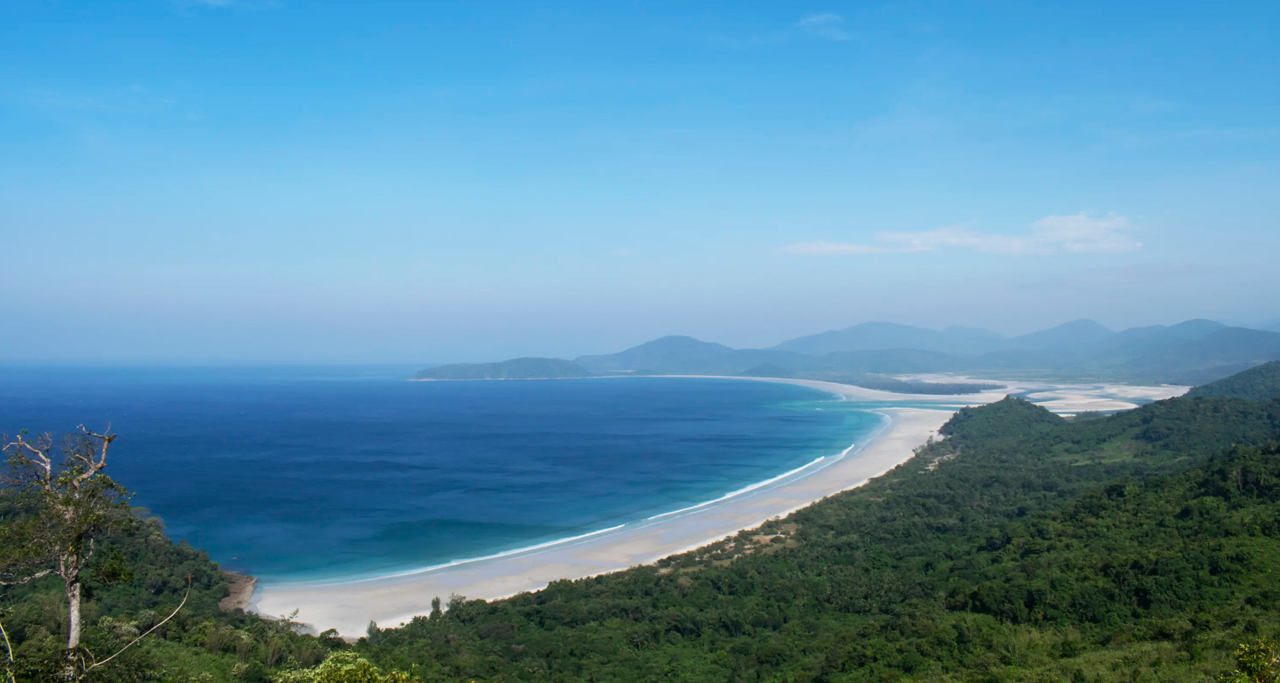 It is most culturally significant beach in Myanmar after Ngapali. It was known since a visit of Emperor Alung Si Thu in the first Myanmar dynasty. During colonial times, Maungmagan was also the English's main beach for relaxing and drinking tea.
Maungmagan is located around 12 km from Dawei. Its name can roughly be translated to "the beach where the emperor's concubines bath".
Nowadays, it serves mainly local people from Dawei. Therefore, the beach is relatively quiet during the weekdays. While here, people can enjoy the beautiful views of the hills rising up from the shoreline. There are some restaurants that serve delicious seafood where you can come and enjoy sun sets behind the mountains.
You will not find palm tree in Maungmagan beach. Pine trees are favorite there, though the crystal-clear water is still the equal of any tropical beach in the region.
Actually, the beach is very under developed. So, don't expect luxury vacation as in Ngapali or Ngwe Saung. There is only beach hotel available but service is poor due to the lack of international travelers.
Getting there
By Flights
Fly into Dawei Airport and take a rented motorcycle or local taxi to the beach.
By Bus
It takes about 13 – 14 hours, so night bus is recommended for this route. You will depart from Yangon in late afternoon and arrive in Dawei next morning.
By  Train
It is also available but very long. It takes 24 hours from Yangon to Dawei.
5. Mergui Archipelago – Untouched beach in Myanmar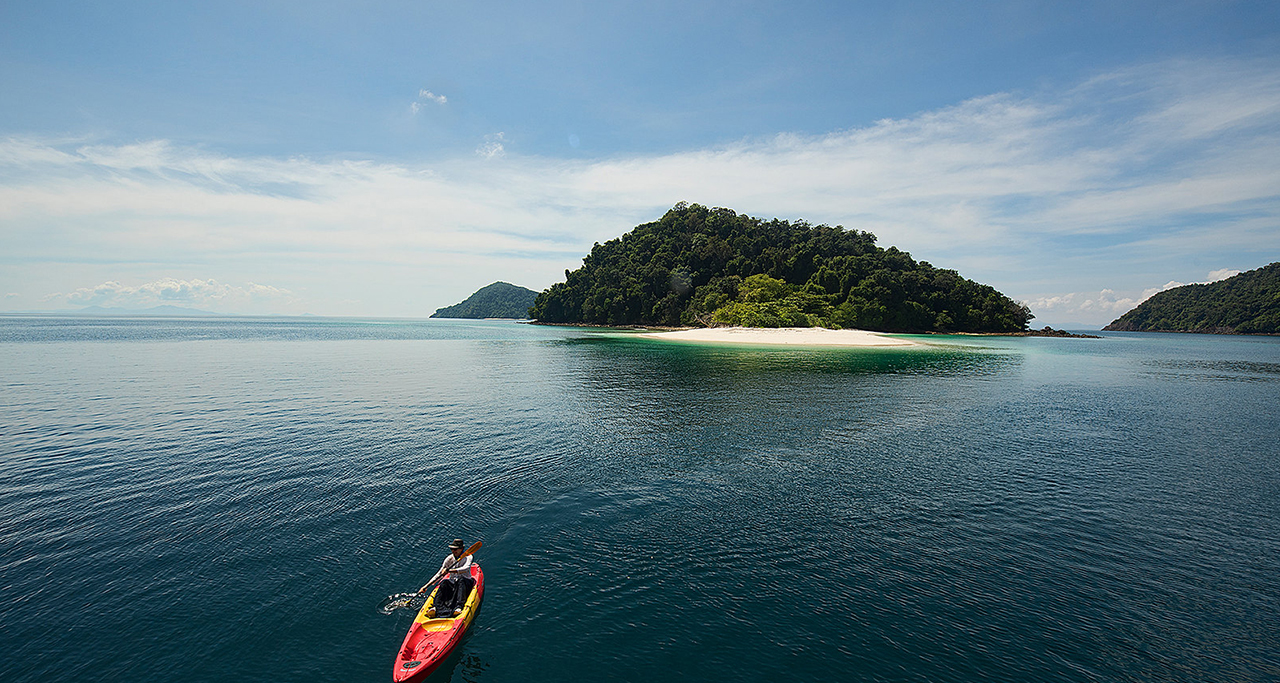 Mergui is located in Southern Myanmar. With a lack of infrastructure and remote location, this place isn't not very popular for travelers. Providing lots of potential with more than 800 islands, crystal clear waters, and unique diving spots, the development here is still slow.
So far, there are a few eco resorts on private islands which differ in price (price range from US$ 100 to US$ 800 per night). These resorts are accessible by boats only. There are no public boats but you need to use transfer services of resorts. Besides, there are some daily tours to nearby islands which you can join if you stay in Kawthaung town.
The top thing to do in Mergui Archipelago is snorkeling and scuba diving. Many cruises and yachts come from Thailand and stay for a few days around the archipelago to enjoy its unique diving spots, full of untouched submarine nature. The eco resorts also set up their own diving and water sports centre that provides full experience for their guests.
The archipelago of islands is home of the Moken people, one of the many minorities of Myanmar – informally called the "sea gypsies". They live off the life in the sea, with a nomadic lifestyle jumping from island to island. Trekking through the jungle and visit Moken people is also one of highlights in Mergui.
Getting there
Kawthaung is a base town to reach to surrounding islands in Mergui. There are 2 ways to reach Kawthaung:
Fly from Yangon
There are several flights which are operated with Air KBZ or Myanmar National Airlines. Price is around US$ 130 – 160 per oneway ticket
Travel by boat from Ranong, Thailand
From Ranong airport, it is 30 minutes to the pier (taxi approx. US$ 20 or shared songthaew at US$ 10). After checking out at Thailand immigration, you can hire a long tail boat (US$ 15), or share with others, for the 30 minutes to reach Kawthaung, with a couple of customs checkpoints along the way, where you might have to show your passport and e-visa letter.
6. Tips for visiting Beaches in Myanmar
Most of beach resorts are closed during monsoon season, from May to October. Transportation are also hard to book during this period. So, please plan to arrive in right time if you are beach lovers.
Myanmar is not the land of bikini and swimwear as most locals swim in their clothes. Foreigners are afforded an exception, but you should wear somewhat conservative swim attire