Things to do in Yangon
Yangon also known as Rangoon, is the capital of the Yangon Region and the largest city of Myanmar Yangon served as the capital of Myanmar until 2006, when the military government relocated the administrative functions to the purpose-built capital city of Naypyidaw. With over 5 million people, Yangon is Myanmar's most populous city and its most important commercial center.
The city center is developed around Sule Pagoda, which is reputed to be over 2,000 years old. Yangon is also home to the gilded Shwedagon Pagoda – Myanmar's most sacred Buddhist pagoda.
Yangon is also described as a big botanical garden. The city is so green with lots of trees around Golden valley & the lakes (Kandawgyi & Inya Lake). There are so many things to see and experience in Yangon. We listed 10 Things to do in Yangon.
10. Sunset at Shwedagon pagoda
Shwedagon Pagoda is the most important Buddhist landmark in not only Yangon but also throughout Myanmar. It is believed to enshrine strands of Buddha's hair and other holy relics. The pagoda is covered with hundreds of gold plates and the top of the stupa is encrusted with 4531 diamonds; the largest of which is a 72 carat diamond.
The best time to come is before sunset so you can experience the pagoda in both daylight and during its dramatic transformation from day to night.
9. Visit Sule pagoda & walk down Yangon' memory lane at Pandosan Street.
Another stupa-shaped pagoda that's hard to miss when visiting this city is the Sule Pagoda. It is located in the heart of downtown Yangon. Like the Shwedagon Pagoda, the Sule Pagoda serves as a culturally, historically and even politically significant landmark found within the city. The pagoda's compound is open to visitors from 4 a.m. to 10 p.m. every day. You have to pay an admission fee of around $2 to enter the premises of the pagoda.
From here, continue walking to Pandosan street where you'll see buildings with western-style architecture lining the street for about three blocks. It brings you back to one of the significant historical periods that made Burma what it is today: British rule over the country.
8. Visit National Museum
One of the greatest ways to learn more about a country's history and heritage is to visit a museum. National Museum is a place for you to explore every aspects of Myanmar. The building has five floors, housing hundreds of artifacts. Many of their pieces are representative of the art, history, and heritage of the people in the country. The museum offers many interesting and educational exhibits, curated according to the time period and cultural aspects each one represents.
7. Try Myanmar Tea at local tea shop
Myanmar is the heaven of tea shops as tea is a major part of Myanmar's culture. You'll find them everywhere when you are in Myanmar, especially Yangon. There are two main types of tea available: plain hot unsweetened green tea is usually served in a big thermos right at the table for free and the famous Burmese sweetened tea, a mix of brewed black tea and a lot of unsweetened milk which is served hot in a small mug.
The food and its preparation can range from shop to shop but you will typically only find snack foods or breakfast options at tea shops. Whether you choose to eat them or not, they'll be brought to your table but you just pay for what you eat. Tea houses are definitely the places to go if you want to delve into local life.
6. Ride Yangon circular train
It is slow train that connects rural suburbs and townships to the city's commercial heart. The Yangon circle line train was built by the British during the colonial times and it was opened in 1954. The train operates on a 45.9 kilometers long loop and it stops at 39 stations. Yangon circular train stops almost every station, making it very convenient for local people to get around the city. It offers a good chance to join daily life of local people and capture the most authentic picture of Yangon. If you want to know how life is like outside the city, then this is a must-do activity while in Yangon.
5. Shopping at Bogyoke Aung San market
It is formerly known as Scott market, situated in the heart of Yangon. This market has a huge number of shops selling luxury items, handicrafts, foodstuffs, clothing, jewelry. fashion and consumer goods. It is the most popular place for travelers to buy souvenirs in Yangon, especially a longyi (a traditional skirt worn by both men and women). You can get your items tailored by taking your cloth to one of the stalls with the sewing machines.
Note: Market is closed on Mondays and public holidays
Read more: Best 7 local Markets in Yangon
4. Have lunch at traditional restaurant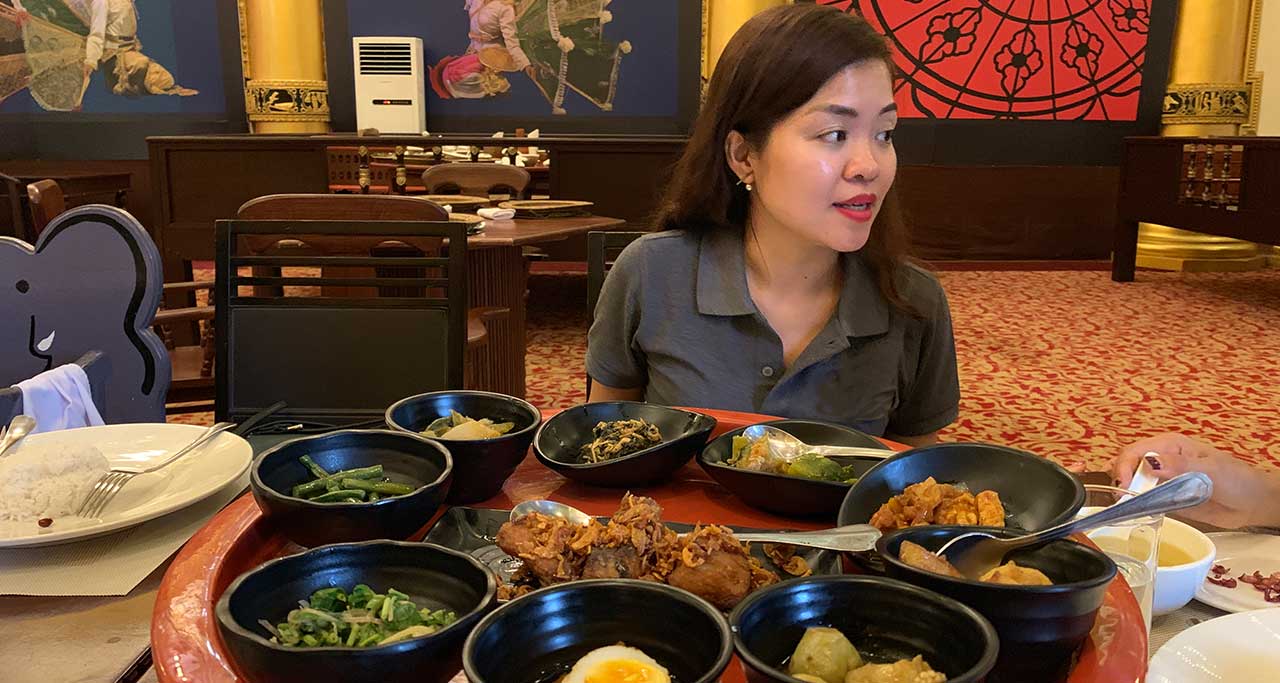 Cuisine is one of the best ways to experience a new place. When you're at Yangon, don't miss out on trying Burmese food and other dishes found around the city such as Shan food, tea salad,Paratha, and Mohinga. There are some nice restaurants which you can come and enjoy traditional food as 999 Shan Noodle, Feel Myanmar Food, Sharky's, Padonmar…
3. Visit Kandawgyi Lake and have dinner at Karaweik Palace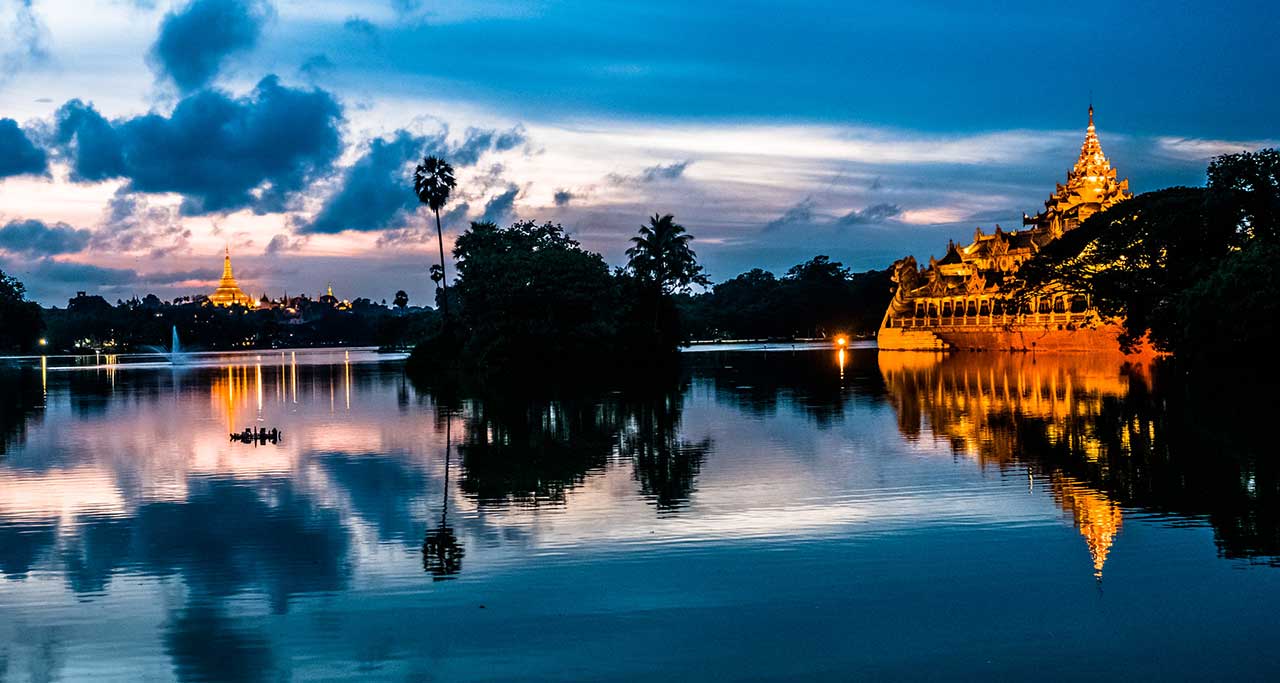 Kandawgyi Lake is is one of two major lakes in Yangon, a peaceful setting for a late afternoon or early evening stroll. Along the boardwalk, you can visit Shin Upagot Shrine whose namesake is said to protect human beings in moments of mortal danger.
In this area, you can find a number of lakeside cafes and restaurants. We recommend you to spend time at Karaweik Palace overlooking to Lake and Shwedagon Tower. You will be served a buffet dinner of fine Burmese food followed by an amazing cultural show.
2. Strolling around & enjoy barbeque at China Town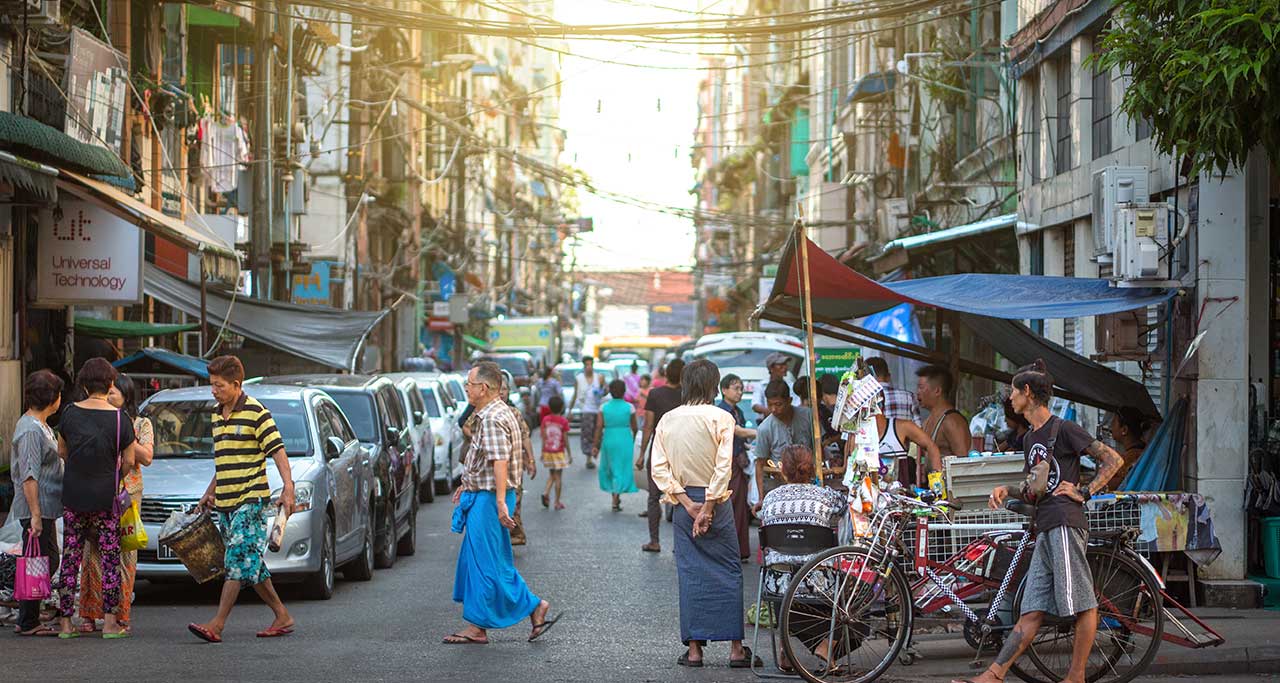 No visitor to Yangon should miss the opportunity to explore China Town. Many of Chinese descent reside within this area in the Burma capital. Founded in the 1800s, you'll get a feel of how Chinese culture made itself at home in Yangon while visiting this place.
If you come in the morning, you will enjoy exploring the busy and colorful street market and can observe locals going about their daily routines.
However, the more exciting time for travelers to come is probably after 5.00PM. At that time, street vendors gather to sell their wares at the night street market, and the area comes to life again. Especially, enjoy barbeque at 19th Street, the main centre of Chinatown where there are lots of beer stations and bars.
1. Experience Yangon Nightlife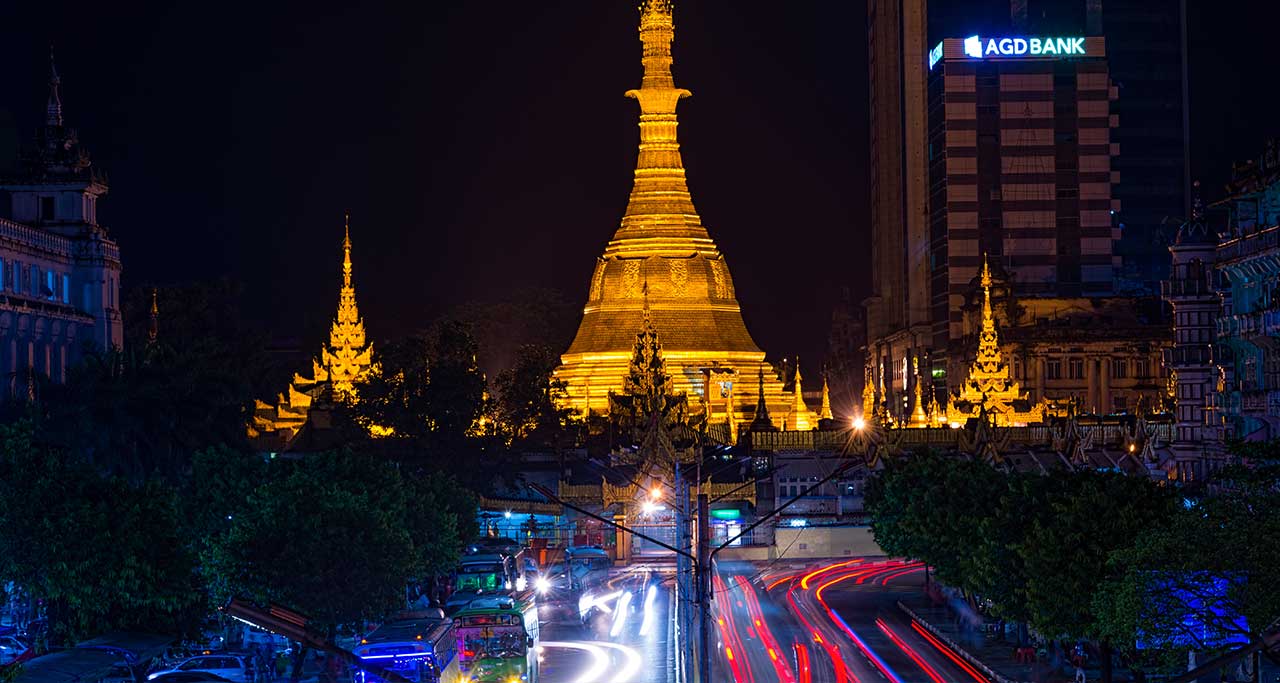 A trip to any city cannot be completed if you miss to explore its night life. Yangon nightlife is not something outstanding in Myanmar, but it is still worth to spend time to experience. Try going out to clubs and bars while in Yangon and find out how fun the city can be after the sun goes down. Many of these are located in downtown Yangon, near the lakes Kandawgyi and Inya, and near Sule Pagoda. If you're not up for partying too hard, there are places to go get a drink at 19th Street in Chinatown.
Read more: Best Nightlife in Yangon
Myanmar Travel offers many options of city tour which cover these interesting things. Please contact us and let our experienced team to help you to arrange a wonderful visit.