Shopping centers in Yangon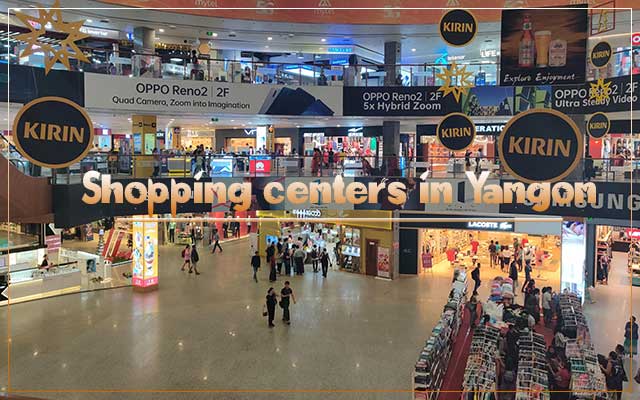 Yangon is the biggest city in Myanmar where there are many shopping malls selling good quality products, coupled with food and entertainment. Although Yangon is not a well – known place for shopping, you should not miss the joyful experience of shopping in this city. Here, you can find unique products at reasonable price, ranging from silverware, handicrafts, antiques, gems or traditional clothing. As a tourist, there are 3 popular areas to stay as downtown, Kandawgyi Lake and Inya Lake. For your convenience, we would like to give you a list of shopping centers in each area.
Shopping centers at Yangon downtown
Bogyoke Aung San Market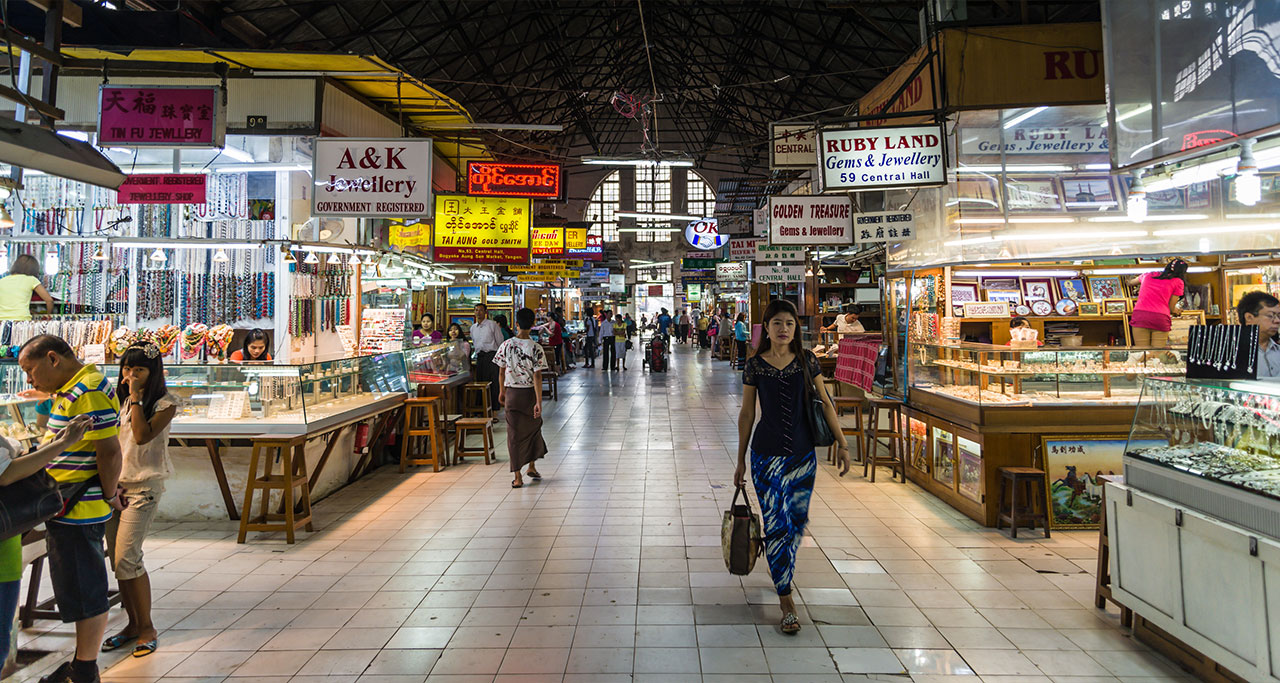 Bogyoke Aung San Market is a major bazaar located in central Yangon, Myanmar. Formerly known as Scott Market, it was renamed to honor General Aung San after Burmese independence in 1948
The market has colonial architecture and inner cobblestone streets. It is a popular spot for both locals and tourists who look for antique, Burmese handicraft and jewellery, art galleries, and clothing. Besides, there are numerous stores selling medicine, foodstuffs, garments and so on. With 1,641 shops, you can find everything you might want here.
Bogyoke Market is also a popular black market location to exchange currency
Opening Hours: 9.00AM – 5.00PM (Closed on Mondays & Public Holidays)
Location: Bogyoke Aung San Road, between Shwe Dagon Pagoda Road. & Shwe Bontha Street, Latha Township
Junction City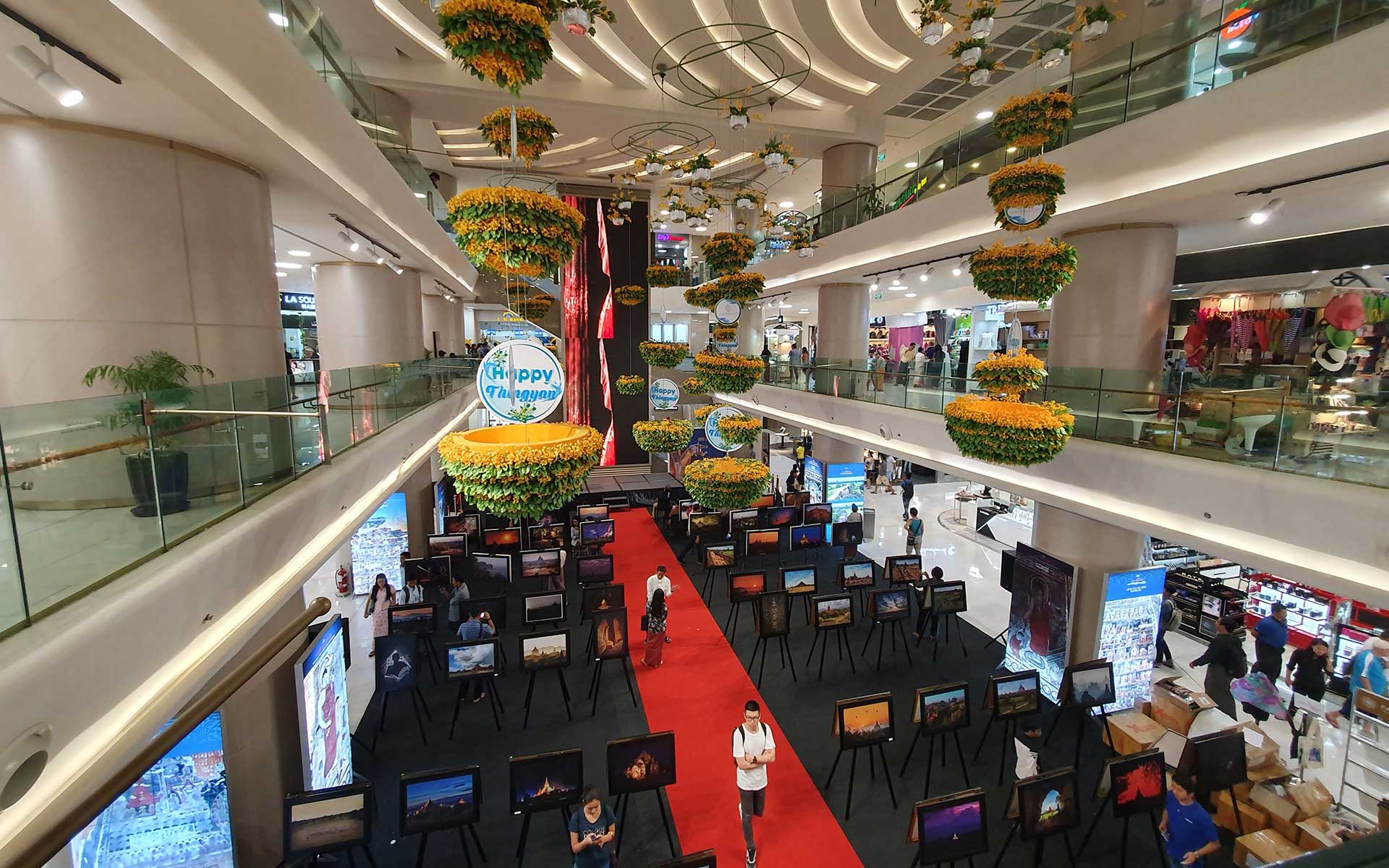 Junction City is one of the most modern shopping centers in Yangon. It is very popular place for local people. The shopping center has 5 floors with underground parking and numerous international known brand stores such as Coach, Hugo Boss, Versace…  It helps to create an upmarket vibe for visitors.
Junction City has the largest food court and cineplex in Myanmar. You can find many restaurants, cafes, and eateries that serve all kinds of food. You can also catch the latest movie in the cinema hall of the mall. The shopping center is part of a big complex which also has an office building and a 5-star hotel.
Opening hours: 9.00AM – 9.00PM (daily)
Location: at the junction of Bogyoke Aung San Road and Shwedagon Pagoda Road
Taw Win Centre
Taw Win Centre is an air-conditioned indoor shopping mall. It is located in a peaceful environment, away from the busy traffic noise of the city. However, you will not find any difficulty to find it as it is just 10 minutes to drive from downtown. It is favorite place for local people as products here are sold at reasonable price. You can find many retail outlets selling Asian and western clothing and cosmetics, furniture store, jewelry store, electronics store… There is a bunch of good restaurants with varieties of choices of food are available. There is also a bank, ATM and money changer available at the basement of the mall.
Opening hours: 9.00AM – 9.00PM (daily)
Location: 45 Pyay Road.
 City Mall St. John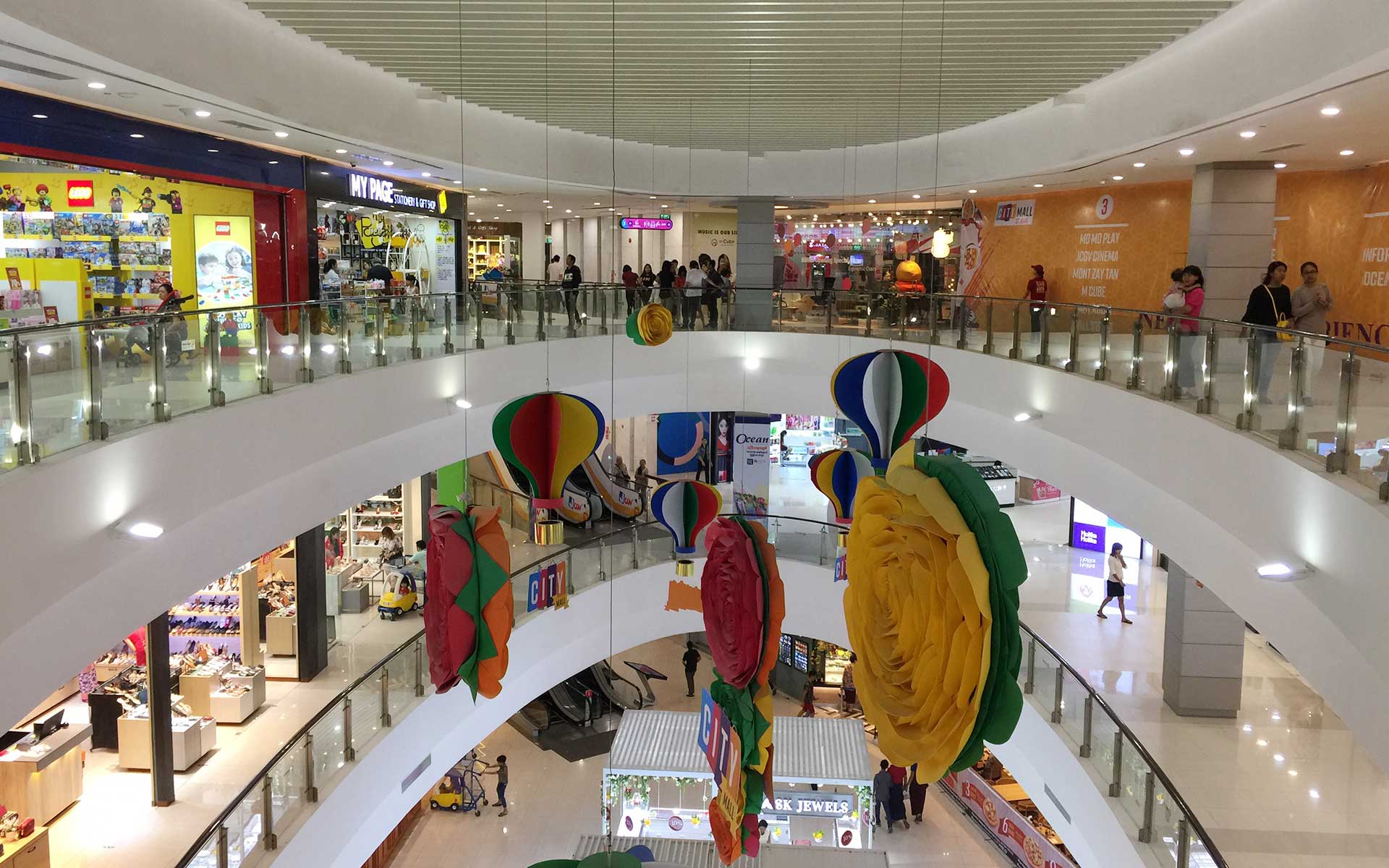 The City Mall St. John is located a few hundred meters away from Taw Win center with ample parking and a bus stop right in front. It is a very lively shopping center that has nice cinema halls, restaurants, fashion stores, branded outlets of home and lifestyle products, and a big supermarket. There is also a kid's play area on the third floor, along with a large food court. With large public space, it is nice place for families to hang out.
Opening hours: 9.00AM – 9.00PM (daily)
Location: 6, corner of Pyay Road & Min Ye Kyaw Zwa Road.
Shopping centers near Kangdawgyi Lake
Yuzana Plaza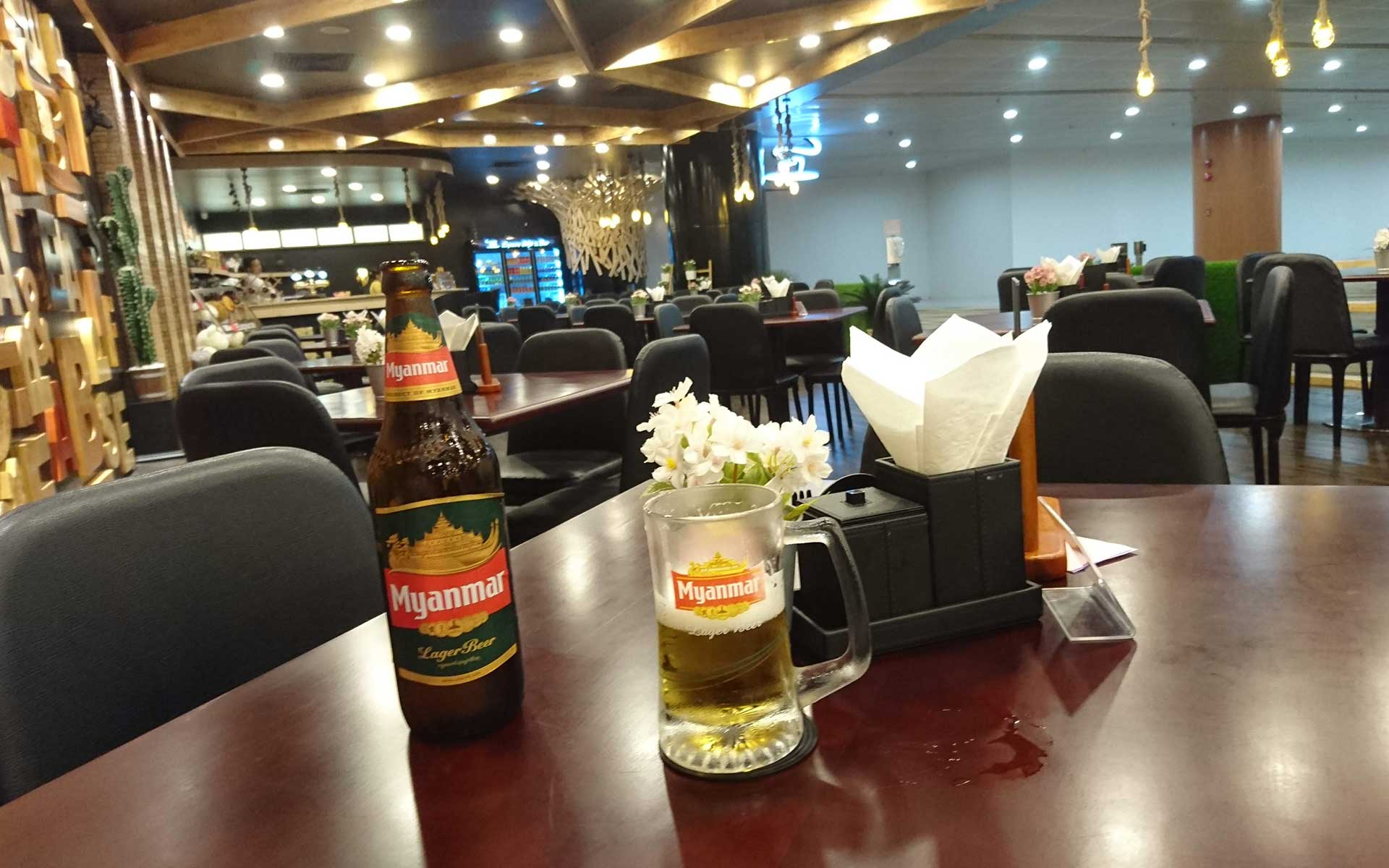 Although many new emporiums appear within the capital of Myanmar, Yuzana Plaza is still one popular name for shopping lovers. It is one of the earliest shopping malls to appear in modern Myanmar, breaking away from the traditional concept of open-markets. There are numerous shops to be visited within the plaza, selling everything from electronic products to fashion and furniture. On the ground floor, there are many wholesale outlets, selling packaged food, beverages, and even pets.
Visitors can have nice culinary experiences at Yuzana Plaza with various restaurants and food outlets situated on most of the upper floors. It's definitely a place worth to visit if you're in the area.
Opening Hours: 08.30AM – 5.00PM
Location: Banyar Dala Street, Mingalar Taung Nyunt Township.
United Living Mall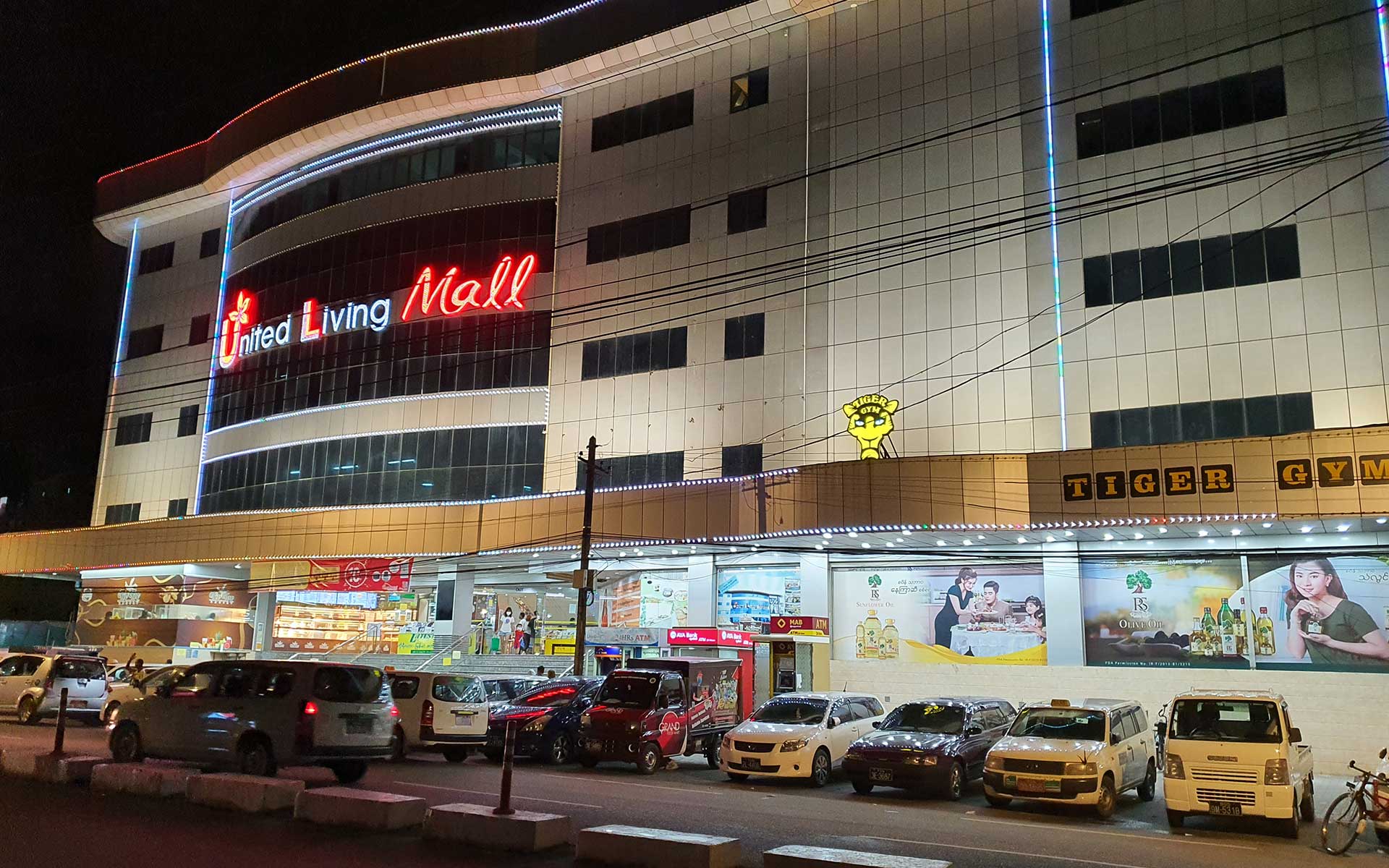 The United Living Mall is a popular shopping spot in Yangon among families. It provides a huge collection of products and year-round deals. You can buy everything you need for your house, from home essentials and groceries to fresh ingredients for cooking. The United Living Mall is like an upscale supermarket with less crowds compared to other malls in the city.
Opening hours: 9.00AM – 9.00PM (daily)
Location: Kyaik Ka San Road
Shopping centers near Inya Lake
Myanmar Plaza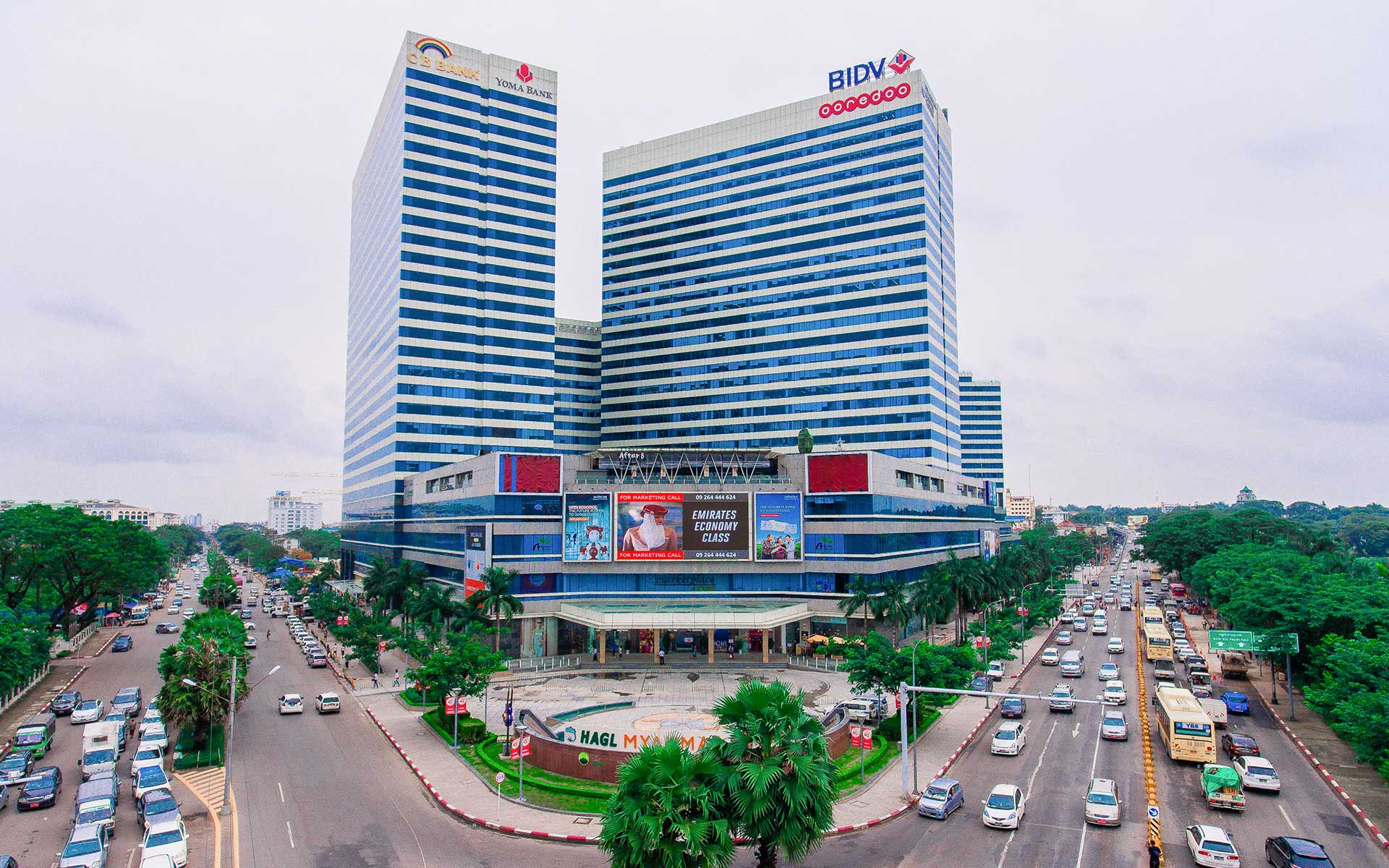 Myanmar Plaza is one of biggest shopping center in Yangon with nice view of Inya Lake when you stand on upper floors. You can take a short walk to Inya Lake that is just five minutes from the mall. The plaza has retail outlets for the sale of home products, electronic stores, beauty, fashion stores, and a large food court. Many cafes, fast food restaurants, tea shops, and restaurants are located here. The stores in this mall feature both local and international brands. Myanmar also has a bar and pub on its premises.
Opening hours: 9.00AM – 9.00PM (daily)
Location: No. 192 Kabar Aye Pagoda Road.