Bagan Travel Guide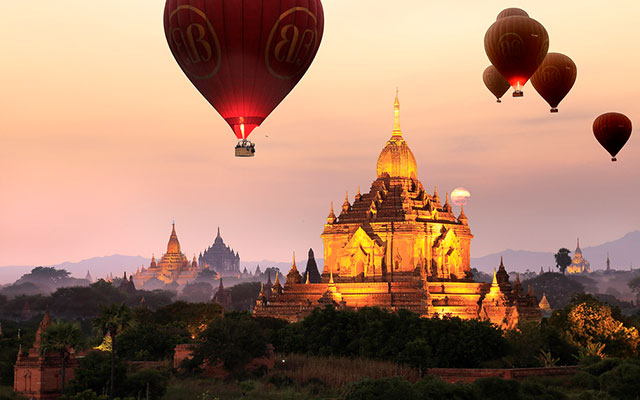 Bagan is one of the most fairytale-like places in the world. The area contains more than 2,000 small and big temples (pagodas) dating between the 11th and 13th centuries. Thanks to this, Bagan earned the UNESCO World Heritage status in July 2019. Here is a complete travel guide on when & how to travel to Bagan, where to stay, things to do and a list of 10 most beautiful Bagan temples you should visit while you are in Bagan. Let's start and explore.
When is the best time to visit Bagan?
Like most of Southeast Asia, the best time to visit Bagan is the cool season which lasts from November to February. During this period, it is not too hot with a steady temperature at 30°C during the day and goes as low as 14°C at night. With the lower than average temperature and a higher chance of clear sky, it is ideal for outdoor activities such as temples exploring, cycling, especially hot air balloon flights.
The rainy season between June to October is also good time to visit Bagan. Due to its location in dry zone of the country, Bagan receives much less rainfall than other parts. So, rain does not much affect your outdoors. When you visit Bagan in this period, you can book hotels at half of normal prices and have more privacy in visited sites.
Travelers should avoid March to May, especially April as it is considered to be the hottest month of the year. Bagan has higher temperature than other parts as Yangon or Inle Lake. The average temperature can be as high as 40°C.
To know more how the weather likes in Bagan in each month, view on our post:
How long to stay in Bagan?
Normally, travelers should spend at least 2 full days in Bagan. It is a minimum which allows you to see all the main sites without exhausting yourselves. In Bagan, you should be aware that you can't spend the entire day from morning to evening touring the temples. It's just too hot for that around lunchtime and you should spend it to relax at hotel. So, with 2 full days, you can divide your exploration into 2 parts with your first day exploring the temples and the town of Old Bagan, and the second day, exploring the temples around New Bagan.
If you can have one more day, you can take your time and explore all the temples at a much slower pace which is the best way to see Bagan. You can also fit in a side-trip like a sunset boat ride along the Irrawaddy River, or a day trip to Mt. Popa.
How to get to Bagan?
Bagan has no international airport. It has only small airport serving domestic flights from Yangon, Mandalay and Inle Lake. So, the first thing you must do is to get yourself to Myanmar via Yangon or Mandalay. Yangon is the largest city in Myanmar and the main travel hub in the country. Mandalay is the second largest city in the country and much nearer to Bagan than Yangon.
From the US or Europe, there are no direct flights to both cities so you will have to fly via the third city. The most popular airlines connect Europe and US to Myanmar are Qatar, Emirates and Bangkok Airways. While Qatar and Emirates only operate flights to Yangon, Bangkok Airways operate daily flights to both Yangon and Mandalay. So, I highly recommend you to choose Bangkok as the connecting point to Myanmar.
From Asia, many airlines operate direct flights to Yangon, Myanmar per day. You can fly from Hanoi or Ho Chi Minh city in Vietnam via Vietnam Airlines, Kuala Lumpur in Malaysia via Malaysia Airlines, Kolkata in India with Air India, Incheon in South Korea through Korean Air, Singapore with Singapore Airlines or Hong Kong via Cathay Pacific…
Once you are in the country, there are plenty of transportations to get to Bagan: flight, bus, car or train.
From Yangon, you will have to either get a domestic flight to Bagan which should cost around 100 USD or you can take a 10 hours bus for 23 USD. Slow train is also available which costs around 18 USD.
We have separate post to describe in details each way of traveling. Please view it here:
Mandalay and Bagan are in much shorter distance. So, flight is no longer the favorite option. Instead, you had better travel overland as road condition is much better now. Many buses are operated through the day at cheap price (6 – 10 US$). Private car is also reasonable if you want to do some sightseeing along the way. In addition, Bagan and Mandalay are both located on bank of Irrawaddy River. It opens another option of traveling by boat between these destinations.
For more information of how to travel, you can refer on our post " How to get from Bagan to Mandalay". Although it is the opposite route, you absolutely can get from Mandalay to Bagan by the same way. Here is our link:
https://myanmartravel.com/how-to-get-from-bagan-to-mandalay/
The most beautiful temples in Bagan & How to visit them?
Bagan has more than 2,000 ancient temples & pagodas. So, temples are undoubtedly the must – visit sites in this area. However, you of course cannot visit all of temples. With duration of 2-3 days in Bagan, we have listed the most beautiful pagodas you should visit in the trip. Find out what they are and how to visit them in below post:
Things to do in Bagan
If you feel overwhelmed with exploring pagodas in Bagan, Bagan has many other interesting things for you to balance yourselves. You can take balloon flights over temples at sunrise to see how magical the town waking up, discover local life through cooking classes at their houses or do short trekking to conquer Mt. Popa… Please find what we suggest as follow:
Where to stay in Bagan?
As the main attractions of the country, number of hotels in Bagan has increased considerably. There are new hotels opening up every year, and they're sorely needed. Nowadays, many hotels have a pool where you can cool off from the midday sun before heading out on another discovery tour of Bagan at sunset. In the high season, you should make sure to book ahead before traveling to Bagan to get good hotels at reasonable price. See our recommendations in below post to pick up one which suites your taste and budget
Where to eat in Bagan?
There's definitely no shortage of restaurants in Bagan. In each area of Bagan as Old Bagan, New Bagan and Nyaung U, you can find many restaurants serving all kinds of food: Myanmar Food, Thai Food, Indian Food, Italian Food, Western Food, Chinese Food. It sometimes will make you stressed to choose a right one. If it is your case, you can view our list of the best restaurants in each area which have received good reviews in this post:
What to do at night in Bagan?
As an ancient town, Bagan has no modern bars or clubs like Yangon. However, travelers never have a chance to get bored as Bagan still has enough things to make your night busy. After a day out, you can spend your evening time to relax in romantic restaurants, enjoy traditional show or treat yourselves by  body or foot massages at your hotel's spa. Get more ideas for what to do at night in Bagan here:
Hospitals in Bagan
Bagan is such a small town thus it has no big international hospital. For urgent cases, there are 2 private clinics where you can come for quick medical check. Here they are:
https://myanmartravel.com/faq/is-there-any-good-hospital-in-bagan-myanmar-1/
Internet in Bagan
There is WIFI available in most hotels/hostels. However, WIFI speed is a matter. Checking emails and receiving and sending messages are fine but it's likely you are unable to watch a 1080p Youtube video via Bagan's internet.
Data connection via local sim cards are a little bit more reliable with 3G and occasionally 4G in Bagan. Ooredoo is cheap and works great in Bagan. You can get 1 GB data for only 1 USD.
Entrance Fees
To enter the Bagan archaeological site, you will have to pay for a ticket which costs about 15 USD. It allows you to access to all the temples in Bagan within 3 days. You must keep it during your stay in Bagan as you will be asked randomly at any temples to show the ticket.
If you are flying into to Nyuang U Airport, there will be a ticket desk right before you exit the building. In case you come on a bus, there is a ticket booth before you arrive in bus station. Remember to have cash in hand as credit card is not accepted.
What to pack
Airy and light clothes. It helps you not to exhaust in the heat of Bagan.
Sarong or long pants to cover your knees and scarf or cardigan to cover your shoulders when you visit temples.
Sweater & light jacket for the cold nights and mornings
Hat, sunglasses & sunscreen to protect your skin
Swimwear for a dip in the afternoon.
Sandals: it is easy to remove when entering temples. You need to enter temples with barefoot.
Camera to capture the beautiful moments in Bagan.
First aid kit.
With this information, we hope that your stay in Bagan will be as pleasant as possible! Let us know if you need our assistance to organize a trip. Myanmar Travel team will get back to you within 24 hours.