How to get from Yangon to Bagan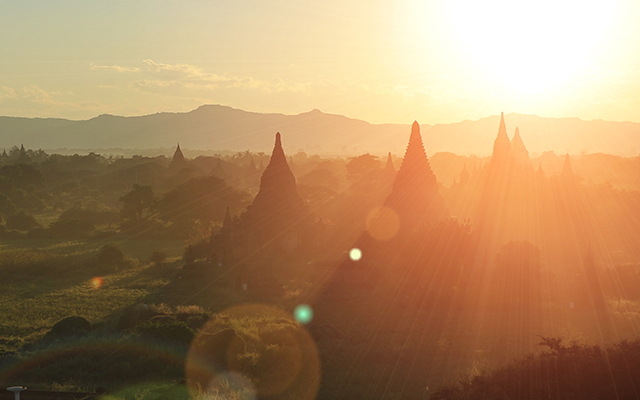 Yangon and Bagan are the top destinations in Myanmar. Formerly as the country's capital, Yangon is an exciting city with a mix of stunning pagodas/temples and colonial heritage buildings. Yangon has much for travelers to see and experience. After discovering the busiest city, most people head to the ancient city of Bagan with over three thousand temples where you can get postcard material for any photo you shoot…
Yangon and Bagan are the 2 must visit city for any traveler to Myanmar. This article shows you the useful information and all the option to reach to Bagan from Yangon. Base on your time limit, your budget and your own travel interest. You could choose the way that fit you most.
1. Yangon to Bagan By Air
A flight from Yangon to Bagan is definitely the most convenient way to travel. The flight only takes 1 hour and 20 minutes. There are five different airlines offering service for this route, depending on time of year: Air KBZ, Golden Myanmar Airlines, Mann Yadanarpon Airlines, Myanmar National Airlines, and Air Thanlwin (formerly Yangon Airways).
Airfare is more expensive but it saves much of your travel time. There are not budget airlines in Myanmar at the moment, so it costs you from US$ 80 one way. Price is depending on booking time and each airway company. However, compare to other options. Flying is the most comfortable levels and save much of your time.
In additional, when you land at Nyaung U Airport, you get amazing views of Bagan field from above. It is also big benefit you fly. So make sure you don't fall asleep in the last 5 minutes of this flight and a window seat is highly recommended.
If you choose this option, you should book the hotel in Bagan in advance and also airport transfer from Bagan Airport to your hotel.
Note: You are required to buy Bagan Archaeological ticket of 25,000 MMK ($22USD) when landing. Bagan airport does not have ATMs or exchange services so make sure you have enough cash (Myanmar kyat or US Dollar) for your entrance fee in this city.
2. Yangon to Bagan By Bus
This is also a good choice for getting from Yangon to Bagan for both foreign travelers and domestic tourists. It's the perfect option as it is pretty comfortable and price is affordable. Besides, it provides more options for departure time than the train. The ride takes about ten hours and road condition is quite good.
There are both day and night buses. Due to long journey, night bus is preferable option. It helps not to waste precious daytime hours and save money for accommodation. You'll find blankets on board but wear a jumper because the buses are always over-air conditioned.
Bagan Min Tha and JJ Express are the two most reputable companies and you can also upgrade to VIP options for a slightly comfier ride. If you choose an Express bus, you'll have standard seats and the benefit of toilets onboard, steward service, and snacks, but when traveling overnight it's usually advisable to spend a little more and take a VIP bus instead. Both companies mentioned above do have VIP buses, but for a slightly more luxurious journey, consider traveling with JJ Express. It costs about US$ 20 per person.
All buses will depart from Aung Mingalar Bus Station and check in time is one hour prior to departure. Normally, it takes around 1 hour to get there from downtown. But during rush-hour in Yangon (6.00 -7.00 PM), you should expect for an hour and a half ride. Taxi would cost around US$ 7 – 10.
When you arrive in Nyaung U Bus station in Bagan, it is also easy to find a taxi or tuk tuk to your hotel. Depending on location of your hotel, price range is from 5 to 10 USD. The main road leading from Nyuang-U bus station to the other areas has a checkpoint, where all foreigners have to pay zone fee to enter the Bagan Archeological Zone.
Read: Things to do in Yangon
3. Yangon to Bagan By Train
It is the slowest option for getting from Yangon to Bagan. The train journey takes about 17 hours and the ride is quite bumpy. This can also be one of the cheapest options, depending on which class you choose. There are 4 classes available:
• Upper Class Sleeper Car – $15 USD per person (not available in low season from April to September)
• Upper Class Seat – $10 USD per person
• Second Class Seat – $6 USD per person
• Ordinary Class Seat – $4 USD per person
There is only train per day that is scheduled to depart at 4:00pm from Yangon and arrive in Bagan at 11.00 next day. However, you should expect few hour delay that is quite typical for any train in Myanmar.
You can book train tickets through travel agents or buy directly at Yangon's train ticketing office. Please be noted that it is not located at Yangon Train station. It is on Bogyoke Aung San Road, a couple blocks down from Bogyoke Aung San Market. Normally, tickets are opened for sell 3 days in advance and you need to show your passport to buy it. If you book through travel agent, you need to send passport copy to them.
Going by train from Yangon to Bagan is not usually recommended. However, if you have plenty of time, it is good experience to understand more about the country. Also, the scenery is gorgeous and there's wonderful cross-section of society on the trains.
4. Yangon to Bagan By Private Car
If you prefer to see the countryside and landscape cross the country of Myanmar in the most flexible way. This is your smart option. May family or small group choose this option. When you have more than 5 passengers, the cost per head is very reasonable.
The trip will take about 8 hours at 620 kilometers (390 miles). Although it is more expensive than other options, the benefits you get are equal. You can decide what time to start. The driver will pick you up from lobby of your hotel in Yangon and delivery you to the steps of your Bagan hotel. Along the drive, you could stop whenever you want for photo opts or tea break.
Especially, you can have a short lunch stop and visit Naypyidaw – Myanmar current capital. It is so interesting to fund Naypyidaw is an unique and youngest capital city in the world.
Myanmar Travel provides high quality private Car/ Van rental service for one way or round trip. With friendly and experienced local drivers team, you will have the most pleasant ride. Any transfer requirements, please contact us. Our travel consultant will reply you in within 12 working hours.