How to get from Yangon to Inle Lake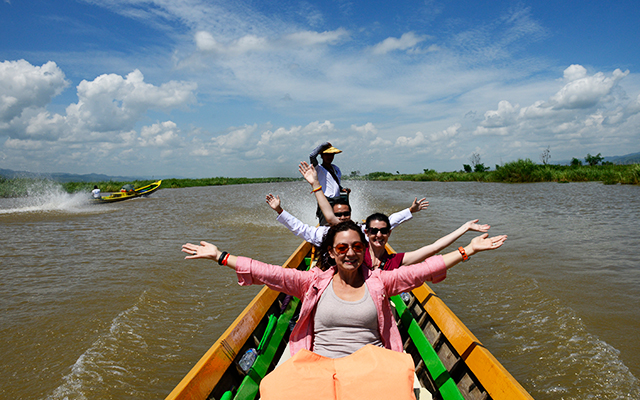 Inle Lake is the second largest lake in Myanmar and well – known for leg – rowing Intha people.. There are no international flights which take you directly to Inle Lake. Travelers need to fly to Yangon, then travel from Yangon to Inle Lake. Both Yangon and Inle are the most visited cities in Myanmar. This article will provide you some useful information for planning the Myanmar trip.
1. By Air
If you are in short time, a flight is definitely the best option. You will fly from Yangon to Heho airport, the nearest one to Inle Lake. Flight time is 1 hour and 10 minutes. There are five different airlines offering this route, depending on time of year: Air KBZ, Golden Myanmar Airlines, Mann Yadanarpon Airlines, Myanmar National Airlines, and Air Thanlwin (formerly Yangon Airways).
Yangon Airport is located in Mingaladon, about 15 km from city centre. Due to busy traffic, it can take 60 minutes to reach to airport from downtown. Heho airport is 30km away from Nyaung Shwe town, a gateway to Inle Lake and takes around 45 – 60 minutes for transfer.
As a result, the journey will take totally about 4.5 hours. Anyway, it's much faster than going by road
There are not budget airlines in Myanmar at the moment, so airfare is quite costly. It costs minimum US$ 90 per ticket depending on booking time and airway company. If you compare benefits you get to other modes of transportation, it is still worth to pay some extra.
2. By Bus
Buses are operated between Yangon and Nyaung Shwe town. As usual, it is the most popular mode of transportation thanks to reasonable cost. There are plenty of buses available from early morning until late evening. The journey takes about 10 hours.
There are different types of buses: minivans, regular buses and VIP buses. Both regular and VIP buses are air-conditioned and have reclining seats. You'll get blankets, drinking water and some snacks. However, VIP buses have 2+1 layout and extra leg space. The price difference between the two is not much (7 – 10 USD), so you had better choose VIP buses to have more comfortable journey. Famous Traveler Express and JJ Express are the two most reputable companies and do provide VIP buses. It costs about US$ 25 per person.
All buses will depart from Aung Mingalar Bus Station and check in time is one hour prior to departure. Normally, it takes around 1 hour to get there from downtown. But during rush-hour in Yangon (6.00 -7.00 PM), you should expect for an hour and a half ride. Taxi would cost around US$ 7 – 10.
When you arrive in Nyaung Shwe town, foreigners need to pay 15,000 Kyat (12 USD) as an entry fee for Inle Lake. Make sure you are bringing cash, otherwise you will have to look for an ATM to pay the entrance fee.
3. By Train
Probably, it is the least preferred way to reach Inle Lake due to long time journey. It takes totally 25 hours and even longer if there are delays. There are no direct trains between Yangon and Inle Lake. Travelers will need to change the train at Thazi station. In particular, it is divided into 2 parts:
From Yangon to Thazi
The journey between Yangon and Thazi takes around 15 hours. There are both day train (departs at 5.00AM) and night train (departs at 15.45). If you take a day train, you need to spend a night at Thazi and catch a train to Inle next day. Therefore, night train is better option as you need to wait for only couple of hours for next journey. To have a comfortable journey, you should book a seat in the upper-class cabin, which costs about 8 USD. The seats partially recline and are a bit softer.
You can book train tickets through travel agents or buy directly at Yangon's train ticketing office. Please be noted that it is not located at Yangon Train station. It is on Bogyoke Aung San Road, a couple blocks down from Bogyoke Aung San Market. Normally, tickets are opened for sell 3 days in advance and you need to show your passport to buy it. If you book through travel agent, you need to send passport copy to them.
From Thazi to Shwenyaung
There are no trains which go directly to Nyaungshwe town. You need to get off at Shwenyaung station which is 12 km away from Nyaung Shwe. There are 2 trains per day which depart at 5.00 AM and 8.00AM. These trains offer amazing scenic ride that might be the highlight of your trip.
Buy the tickets at Thazi station by paying about 2 USD for an upper-class seat. Once you arrive, you will have to pay Inle Lake entry fee for foreigners, which is 15,000 Kyat (12 USD). After that, you can take a tuk-tuk or a cab to get to Nyaung Shwe.
In addition, you may get off at Kalaw station after 5-hour journey from Thazi. Kalaw is hill town where you can do trekking to Inle Lake. It is ideal option for travelers who love nature and want to discover ethnic groups in Shan state. The trek can last 2 or 3 days with overnight stay at monastery in local villages.
4. By Private Car
If you don't want to fly, the next best option is to arrange a private transfer. Although the journey is longer than flight, you will have more space and more comfortable than in a bus or train.
The trip will take about 9 hours through 637 kilometers. From city centre, take a drive head north to Mingaladon, the airport town. Then, you will drive most of the way to Inle Lake through the Yangon-Mandalay Expressway.
To shorten driving time in one day, you may break the drive into two days and spend a night in Naypyidaw. It's about halfway between the two destinations. As the capital of Myanmar, there are plenty of accommodations, restaurants as well nice attractions to discover. In case you only want to drive within a day, Naypyitaw is a great place for lunch break.
Myanmar Travel provides private Car/ Van rental service for one way or round trip. You will receive door to door service. The driver will pick you up at your hotel in Yangon and drop you off at your hotel in Nyaung Shwe and surroundings. For any transfer requirements, please contact us. Our travel consultant will reply you in within 12 working hours.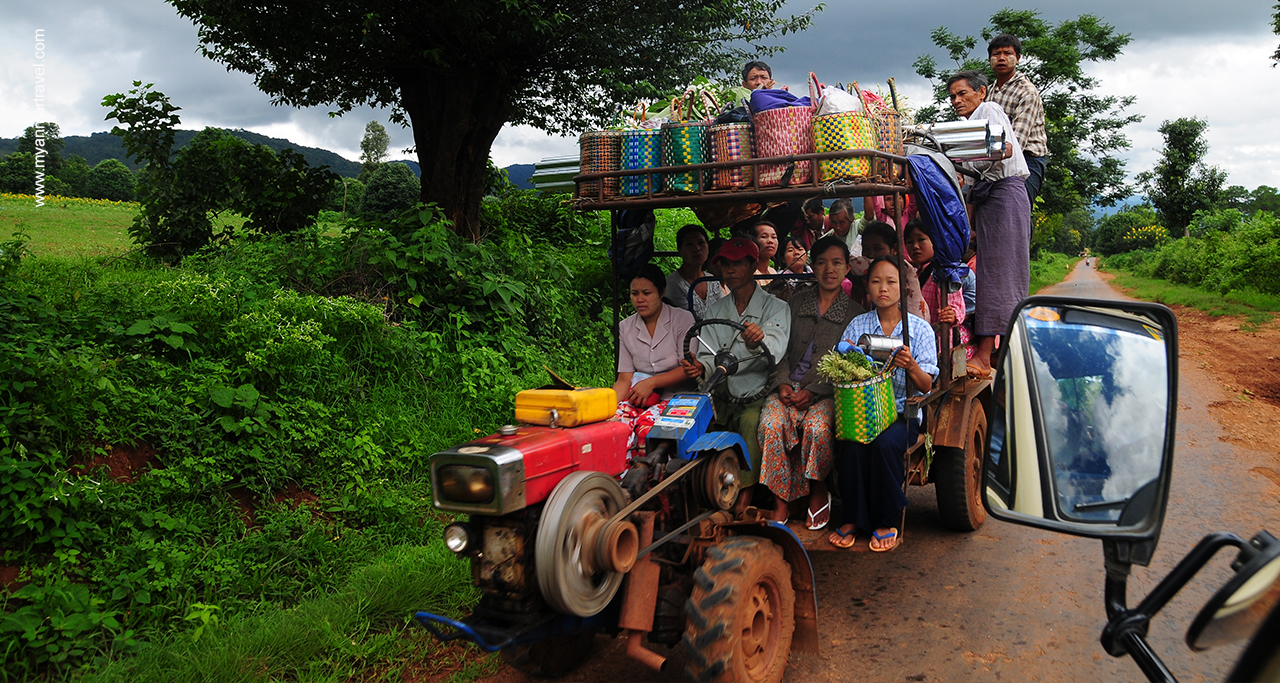 Sometimes on your drive to Heho, you see local travel like this.