Where to eat in Yangon?
Myanmar cuisine is influenced from various regions of Myanmar. There are 135 different tribes and ethnic groups, each of them bring to Myanmar cooking some of their own dishes to enrich Myanmar culinary. Beside neighbor countries as China, India and Thailand also contribute to the diversity of Burmese food. The modern cuisine can be categorized in two varieties: coastal and inland. The cuisine of the coastal regions such as Yangon, Bago and Tanintharyi regions use fish and seafood-based products like fish sauce, dry prawns, and fish paste (nga-pi). People in inland regions like Kachin and Shan State seem to prefer meat and poultry. Salad plays an important role in Myanmar cuisine. Salads are mixed from various ingredients ranging from meat, fish, strach to fresh vegetables. Myanmar cuisine is tasty and spicy.
1. Eating custom
Burmese people have 3 main meals like other Southeast Asian countries. Breakfast often consists a quick meal or snack such as a bowl of noodles. A traditional lunch or dinner is served with rice. Dishes are served simultaneously. A typical meal includes steamed rice as the main dish and accompanying dishes including a curry, stir fried dishes, soup, fresh or boiled vegetables to go with a salty dish, almost invariably a curried sauce of pickled fish (ngapi yayjo).
Burmese people love to drink tea. People often drink tea after meals or in leisure time. Going to the Burmese family to be a guest, the owner used to entertain guests with tea. It is a reason why tea shops are found in every city, town, and large village. These establishments are important for social gathering.
2. Myanmar special food
If you are wondering what to eat, we would love to present some popular food you should try during your trip in Myanmar
Mohinga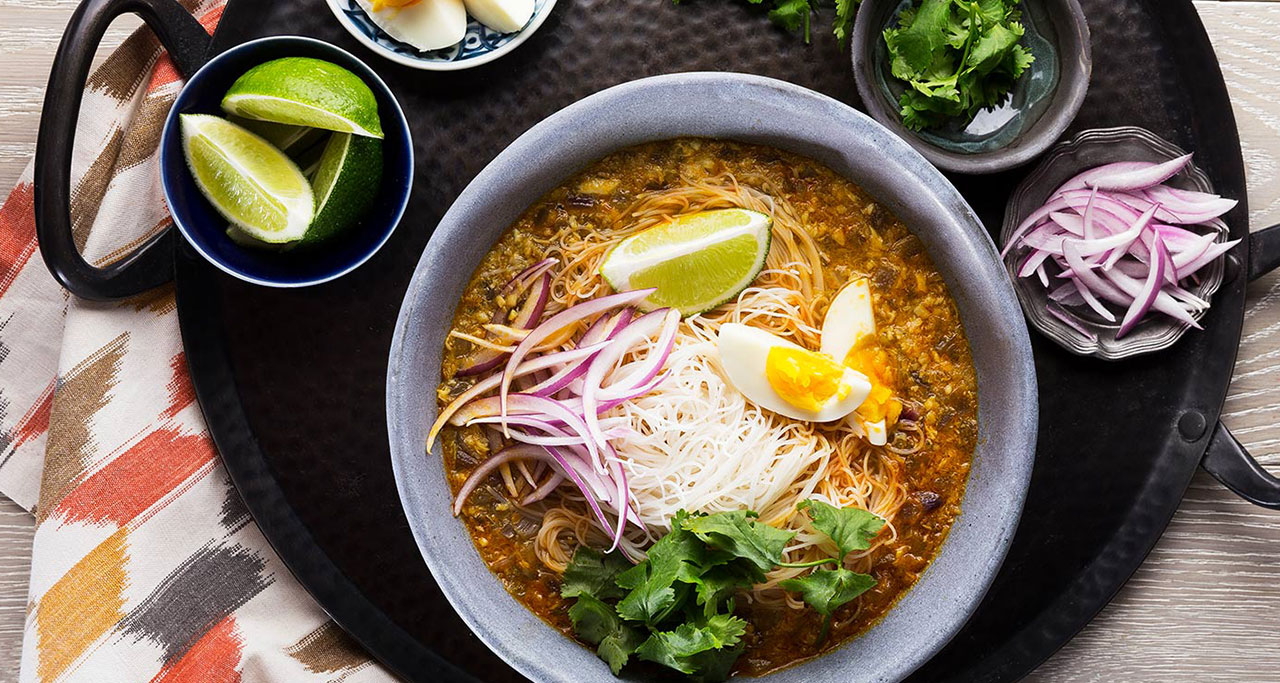 Considered as a national dish, mohinga is a soup-based dish that is often eaten at breakfast. This fish broth is flavored with ingredients such as ginger, garlic, lemon grass, fish sauce, turmeric, ngapi and banana stem. Cooked or dried fish can be added for further nutrition, while thin rice noodles fill out the bowl.
Lahpet Thoke (Tea leaf salad)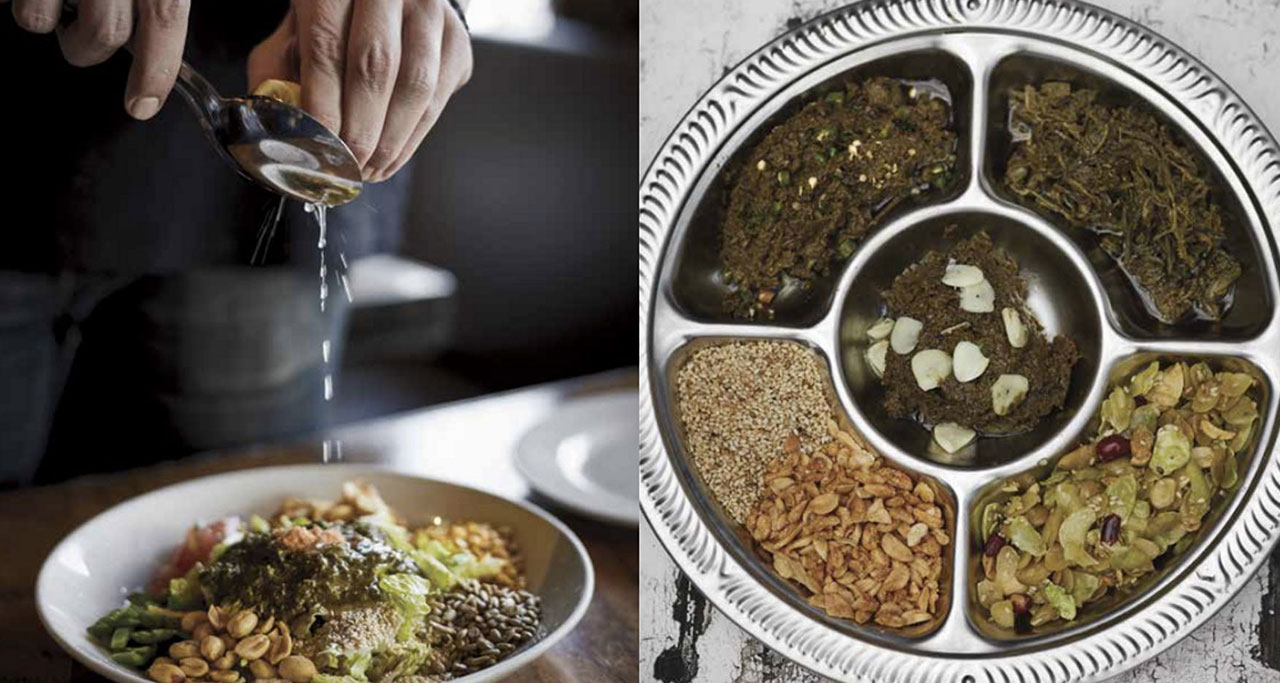 It is the most popular dish throughout Myanmar. To make the dish, slightly bitter leaves are mixed by hand with shredded – small cabbage, cherry tomatoes, crispy fried beans, nuts and peas, oil and garlic, sliced filets, spicy pepper. The dish can be a snack, an appetizer or, coupled with a plate of rice. However, this famous dish in Myanmar is also known as a stimulant and can cause unsleepiness. Therefore, you'd better not eat too much in the evening.
Burmese Curry
The curry is a delicious food to try with pork, fish, shrimp, beef or lamb. These include rice, a tart salad, a small dish of fried vegetables, a small bowl of soup and a large tray of fresh vegetables to be eaten with sauce and various herbs. The popular sauce used is Ngapi's dipping sauce which is a mixture of dried chili pepper, garlic and dried shrimps fried all in oil.
Deep – fried snack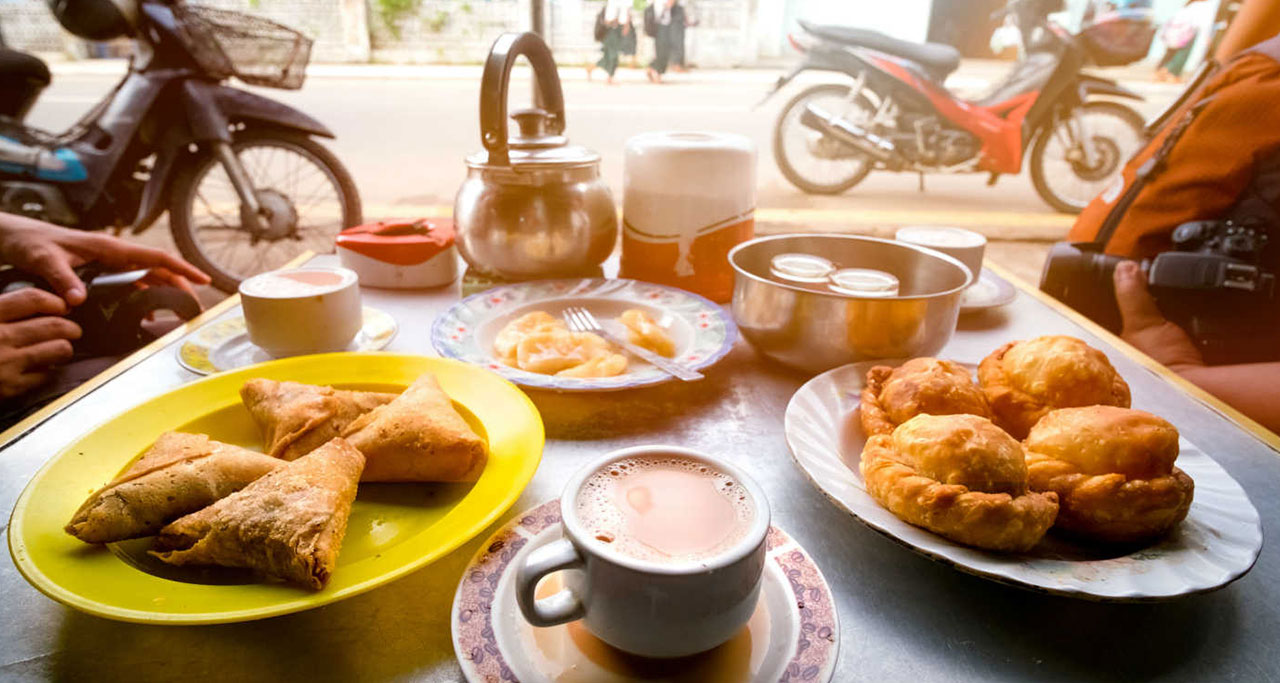 It is very popular in Myanmar. You can find many kinds of snacks on the street or in tea shops. The favorite food are deep-fried samosas, spring rolls, savory fritters, sweets, breads, noodles topped with deep-fried crispy garnishes.
Muon (Sweet snack)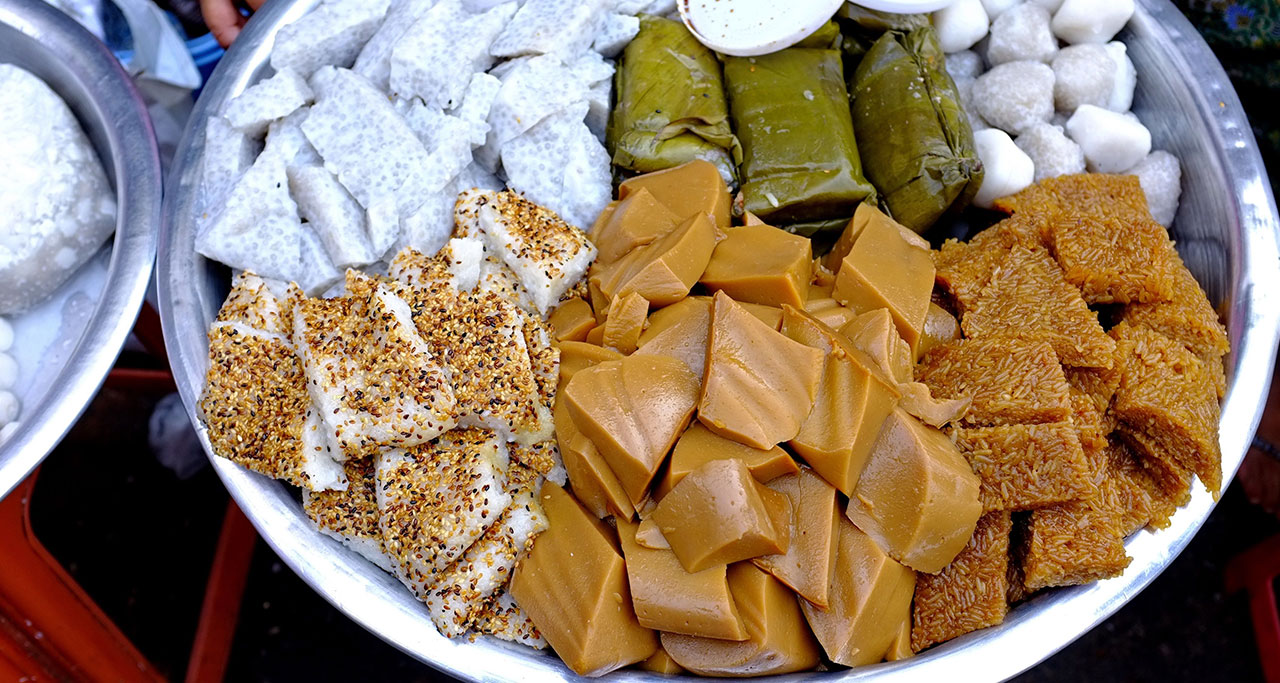 It is a kind of unique Myanmar food which is generally not packed with sugar. They are getting their sweet flavors from ingredients such as grated coconut, coconut milk, rice flour, cooked sticky rice, tapioca and fruit. It is not eaten as a dessert but as appetizers, to be taken with tea in the morning or afternoon.
Burmese sweets that include hsa nwin, crispy-semolina flour biscuits with coconut milk, butter and raisins; and moun bein and moun pyit thalet, Burmese-style crepes, served sweet or savory, with a consistency hole.
Shan-style noodles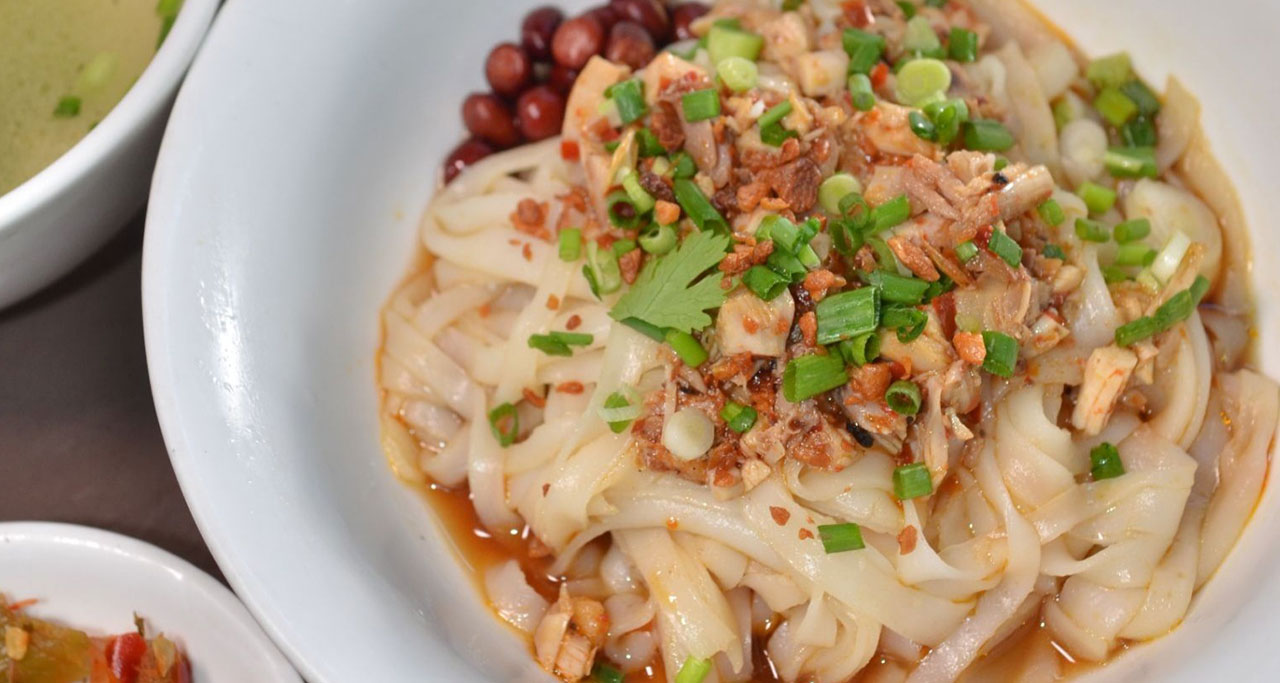 It will be a big mistake when talking about Myanmar cuisine without mentioning Shan noodle. It can be found everywhere throughout Myanmar. The dish is a combination of thin rice noodles in a clear peppery broth with marinated chicken or pork, garnished with toasted sesame and garlic oil. It is served with a side of pickled vegetables.
Compared with most of the Burmese noodle dishes, it is quite simple. However, it still attracts people thanks to its own taste. A "dry" version with the broth served on the side, is also common.
Read: Best Nightlife in Yangon
3. Restaurants in Yangon
Here are the good restaurants to try Myanmar cuisine which includes different types of Ethnic cuisines in Yangon.
Myaung Mya Daw Cho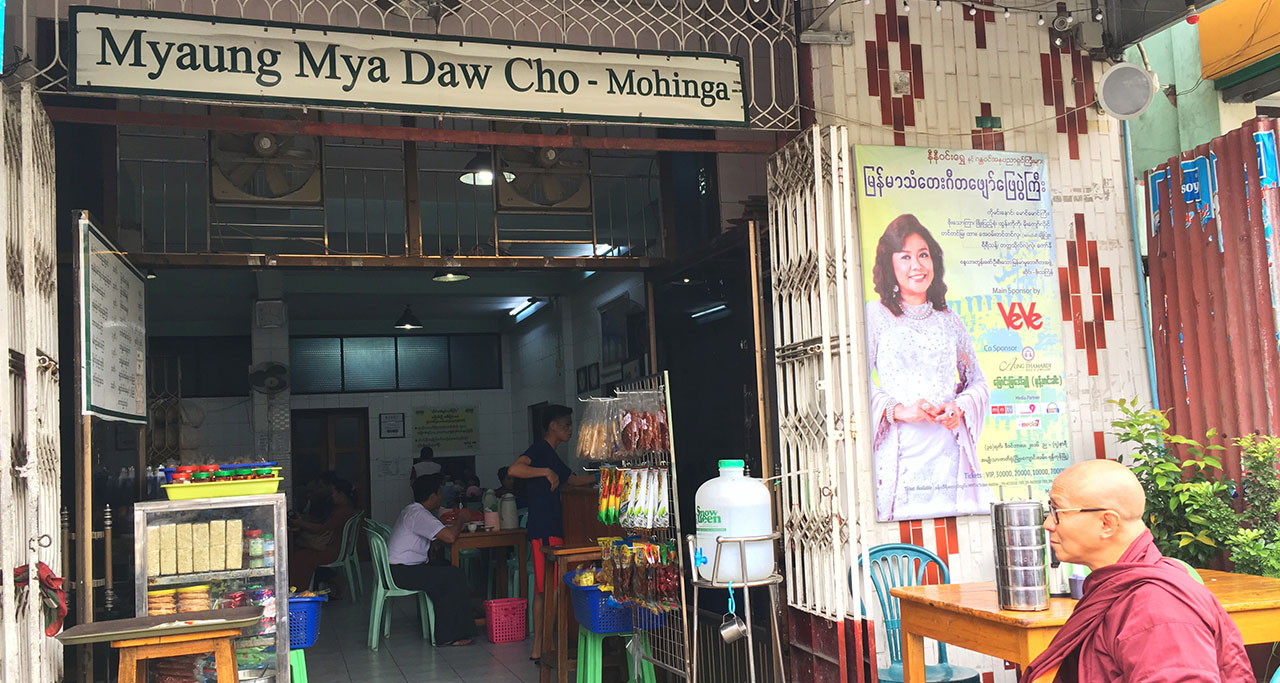 It is a favorite place amongst locals and travelers serving incredible mohinga throughout Yangon. This local shop does not have menu English and staffs do not speak any English word. However, it could make your experience more authentic.
Padonmar restaurant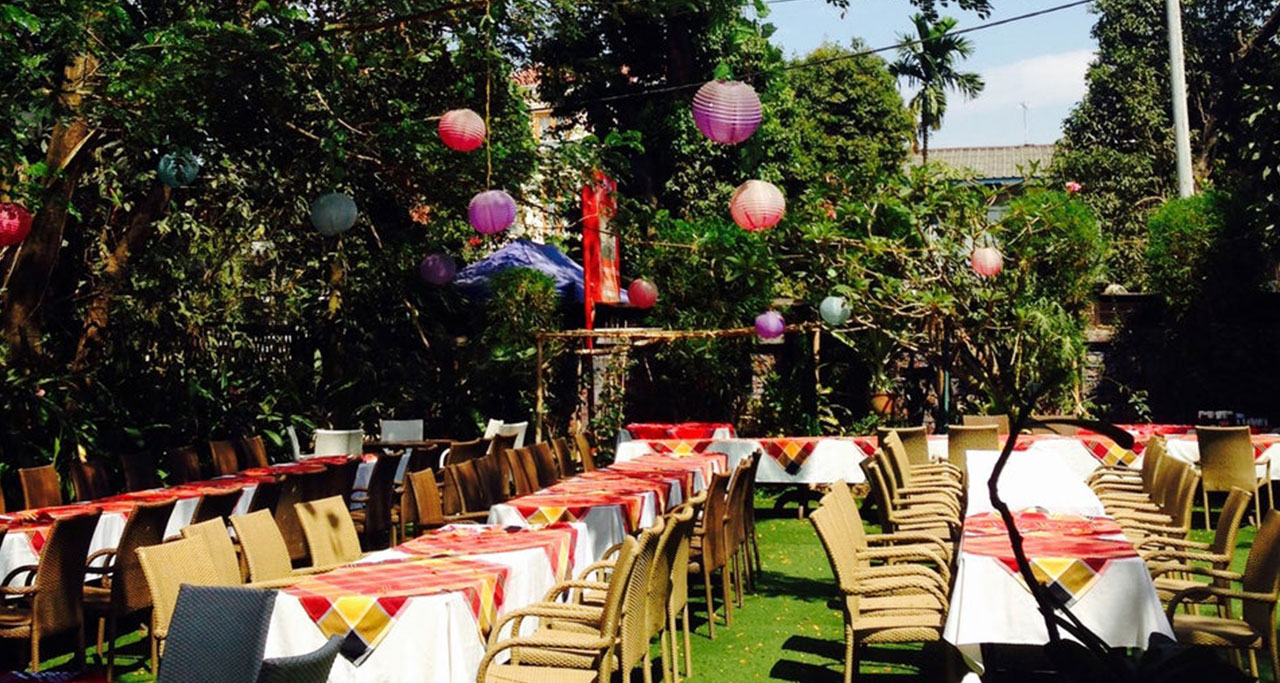 Tucked into Yangon diplomatic quarter, Padonmar restaurant housed within an old colonial period villa, is known as a stand-out dining destination for Burmese cuisine. Here, traditional recipes from Burmese cuisine are brought up-to-date in set menus that include grilled Aubergine salad and Roselle leaves soup and fish or meat curry as well as the dishes can be ordered separately. Apart from authentic Burmese dishes, the restaurant serves Thai food as well. You will be welcome by fish crackers or tofu crackers while you are waiting for your order. At the entrance of the building, you will see the pictures of many diplomats, ambassadors or the leaders of various countries who had the state visit to Yangon and had dinner at the restaurant. Apparently, the service of the restaurant is excellent and the price is reasonable. Anyway don't forget to try Myanmar beer, too. In case of no table for you, you should book in advance!
Minn Lann Seafood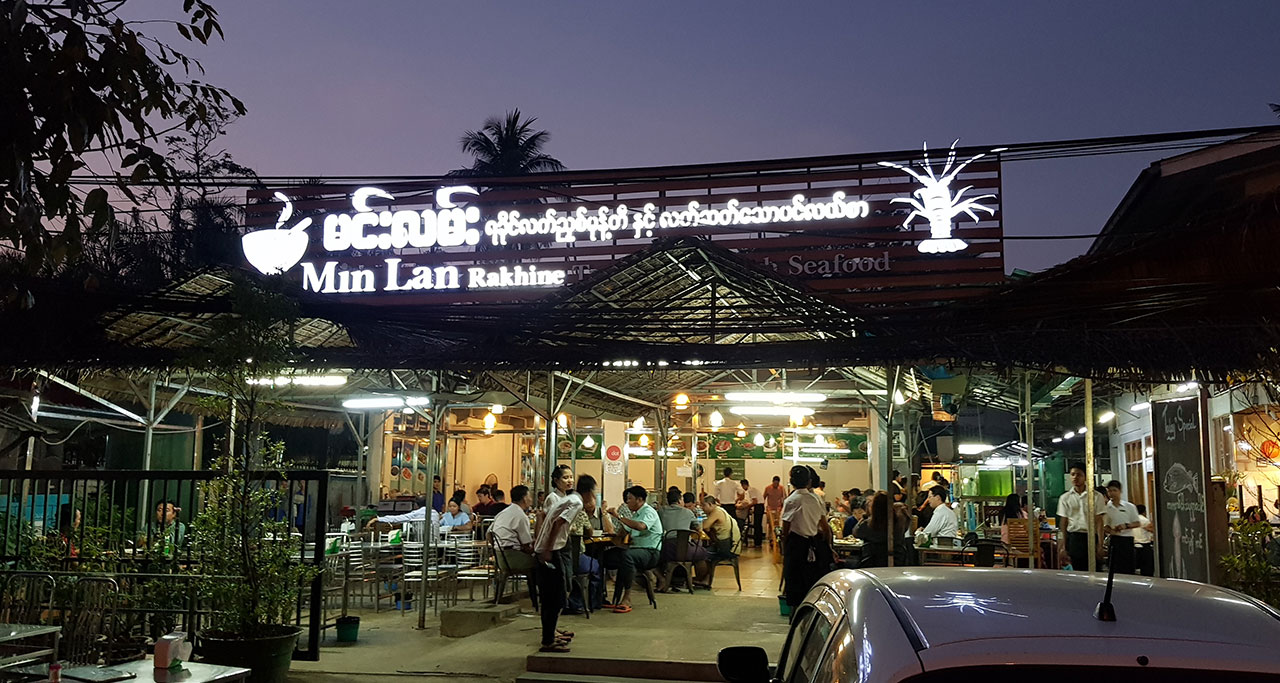 Craving for seafood during your visit in Yangon? Well, Yangon has amazingly tasteful with no-oil seafood restaurants. Among them, Minn Lann seafood is the best and it's a chain of restaurants with over 5 big restaurants in Yangon. This is authentic Rakhine cuisine which is the cuisine of Rakhine ethnic group, one of main Myanmar national races.
This is a must place to try seafood if you are a fan of spicy and fishy taste. As Rakhine state lies on the western coast of the country, their cuisine is made by a lot of seafood related things such as fish paste, dry fish or dry prawn and lime and green chilli. One of the dishes you should try is 'Rakhine Mote Tee', rice noodle salad with green chilli which is accompanied with fishy soup. And trust me, the price of the seafood is less expensive than other countries.
Janamon Ethnic cuisine
Situated near the east gate of the great Shwedagon pagoda, Janamon Ethnic cuisine is the cuisine of Mon ethnic group whose state located in the lower part of Myanmar near Kayin state. Mon people are from the same race with Thai people, so, their cuisine is similar with Thai cuisine. Generally, the foods are spicy but if you don't like it, please tell them not to make your food spicy, but you are recommended to try at least once. Although the restaurant is not a big fancy place, the foods are remarkably delicious. Recommended dishes are the veggie fritters, coconut rice with minced chicken, spicy sour soup, and the mon soup (the best). Black sticky rice and Sago are great sweets to finish your lunch. Most dishes can be customized and you can choose fish, prawn, pork or chicken. With friendly, attentive waiters and tasty foods, it's a fantastic lunch spot!
Nam Su – Shan Tea House and Cocktails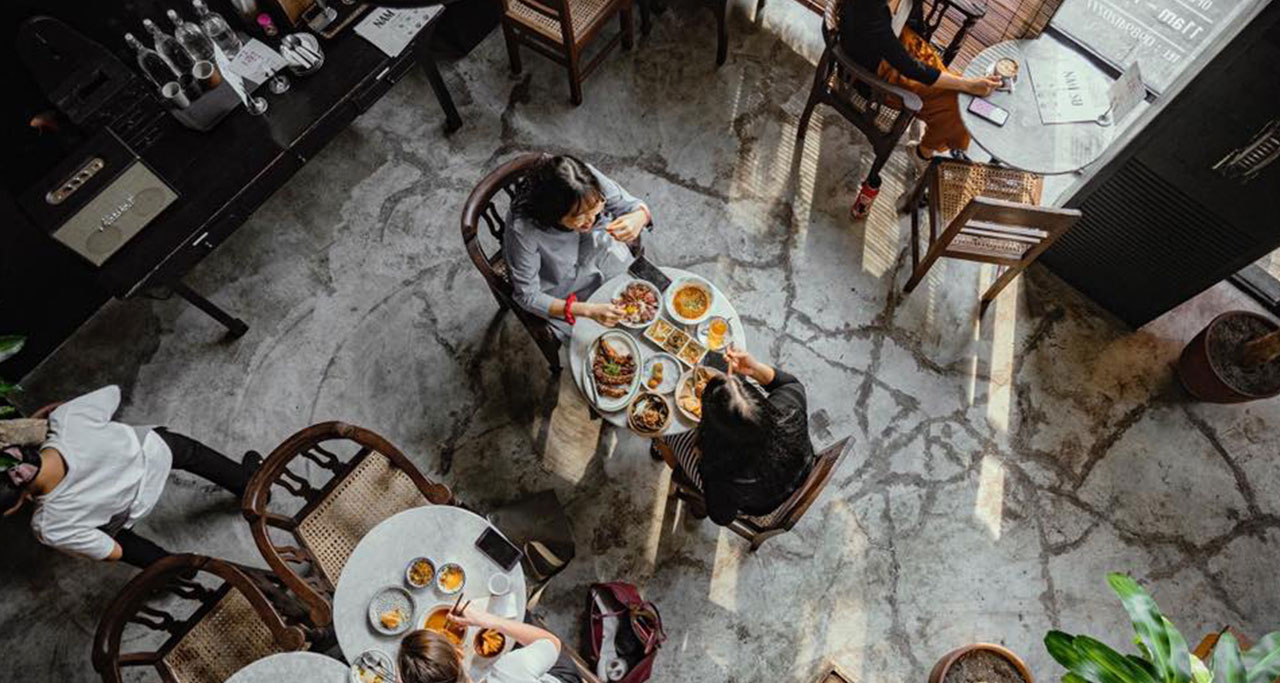 This is the newest fine dining restaurant where you can have signature cocktails and Shan foods at a same place. Situated in the middle of downtown, you should try this to enjoy Yangon's great dining experience. The restaurant is decorated with modern retro in an old building and inspired by Shan cuisine which uses peanut powders and special sauces to make Shan noodles. Shan state is the biggest state in Myanmar and located in the east of the country. As the state is in mountain ranges, don't expect their cuisine will be fishy taste.
The restaurant offers wide range of Shan foods and probably the best cocktail in Yangon. Braised Pigs Brain Shan Noodles, 12 hours steamed Rib Shan Noodles, dessert like "Khaw Pout" which is fried black sticky rice and Salted Egg Custard Bun, are recommended to try.
Nam Su restaurant is a good place for vegetarians too as they will serve you Shan Noodle with Tableside Cut Noodle with peanut, chilli and lime.
Agape Kachin Food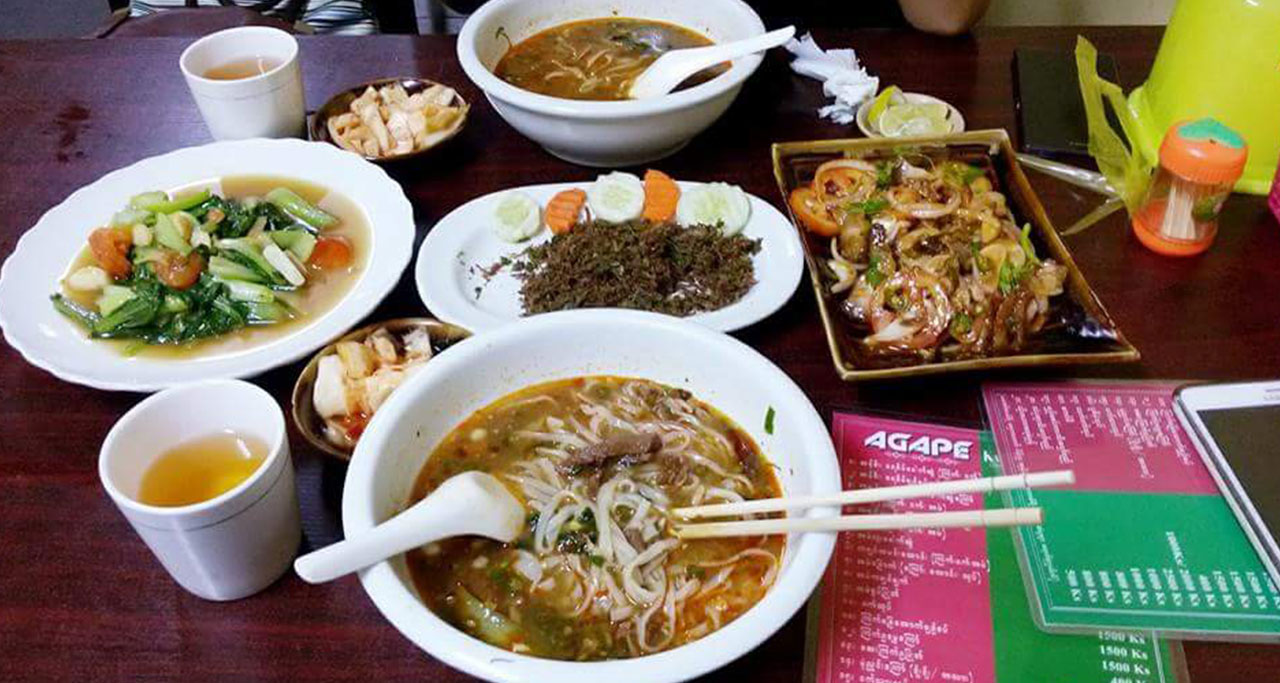 Before we talk about the Kachin food, the rice wine of Kachin state is so famous in Myanmar. The cuisine itself is with strong and spicy taste, too. Kachin state is situated in the northern part of Myanmar next to China and they eat meat a lot. In Agape Kachin food restaurant, you can have authentic Kachin foods like sour and spicy noodle soup with beef balls, grinded beef salad which is very nice if you have the rice wine and grinded budina salad which is so authentic and rare to find in Yangon.