Goteik viaduct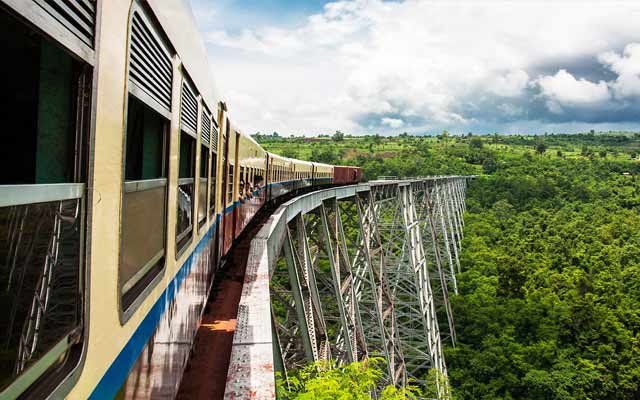 Gokteik Viaduct is one of Myanmar's most stunning man-made marvels built by the colonial British. It is a railway trestle between Mandalay, the royal capital and Lashio, the principal town near China border. Until now, it is one of the few historical rail journeys of the world that still operates for the local community. Whether you are a train enthusiast, adventure lover, or just interested in a unique and local experience, this train is a must-do experience.
1. Main Specification
Location: Nawnghkio, western Shan State, Myanmar(100 km Northeast of Mandalay)
Length: 689 meter (2,260 feet)
Height: 102 meters (335 feet)
Structure: the viaduct has 14 towers that span 12 meters along with a double tower 24 meters long. These 15 towers support 10 deck truss spans of 37 meters, along with six steel-plate girder spans 18 meters long and an approach span of 12 meters.
2. History
After Myanmar was defeated in the 3rd Anglo-Burmese War in 1885, Myanmar was annexed by British. They then paid their attention in new frontiers of fortune in the Far-East. Merely a decade later, an ancient trade route once documented by Marco Polo was surveyed for a railway. It was the most direct path between Mandalay, Myanmar's regional northern capital, and South-West China. The British aimed to construct this railway to take profits from local resources and gain political advantage.
The trestle was designed in London. Pennsylvania Steel Company from Steelton USA was then awarded the contract in April 1899 to construct the trestle. Three steamers laden with steel components were shipped overseas from New York in August, October, and November of the same year. The construction project was overseen by Sir Arthur Rendel, engineer for the Burma Railway Company.
The construction of the bridge was started shortly after. Setting an extraordinary pace in a remote and difficult environment, the trestle was completed in just 11 months. At 102 meters high, the viaduct was the second-highest bridge in the world at the time of its construction.
Although many similar constructions were built before and after Goteik, no other one has ever exceeded it in size except for the monstrous Lethbridge Viaduct in Alberta, Canada which is about the same in height but more than twice the length. The Joso bridge in the U.S. state of Washington, the Poughkeepsie bridge in the U.S. state of New York and the original Kinzua viaduct in the U.S. state of Pennsylvania are the only other traditional steel trestles that are equal in size to Gokteik.
3. How to visit Goteik Viaduct
Goteik Viaduct connects Mandalay with Lashio on 13-hour train journey with many stops on the way. No matter where you get on the train, it will be many hours before you ever see the trestle. So, most travelers do not stay on the train for the long haul.
As Mandalay is more popular destination than Lashio, travelers prefer it as a base to start a journey.  The train departs from Mandalay in early morning (at 4.00AM), so you should travel by car Pyin Oo Lwin for overnight stay. While it takes 4 – 5 hours by train, the drive takes only 2 hours. Pyin Oo Lwin is the former British summer capital. It is well worth a visit for the colonial buildings, its botanic gardens, and a ride in the miniature stagecoaches.
The train departs from Pyin Oo Lwin at 8.22 AM and takes about 3 hours to go across Goteik Viaduct. Depending on which is your next destination, you can choose the station to get off
If your purpose is to visit Gotaik Viaduct only, get off the train at Nawnpeng station on the other side of the bride and take a taxi/private car back to Pyin Oo Lwin or Mandalay
If you love adventure, travel further 3 more hours to Hsipaw, the laid-back and friendly town of the Twilight over Burma: "My Life as a Shan Princess Fame". It is surrounded by a charming farmland district where fields are tilled by buffalo and rustic riverside villages are linked by meandering country lanes.
For vice versa, in case you fly to Lashio, you should travel by car to Hsipaw to take the train. It also takes around 3 hours to reach Goteik Viaduct from Hsipaw.
4. The train journey over Goteik Viaduct
In comparison with trains in other countries, the train ride in Myanmar gets much less comfort. These days, the train over Goteik with antiquated carriages is a cheap form of transport for locals and tourists happen to travel on from time-to-time. So don't expect comfy seats and air-conditioning. However, the train is not about the transfer among destinations, it likes a journey back to history. You can witness the historical bridge and have breathtaking view over the incredible altitude.
The journey will start from train station either in Pyin Oo Lwin or Hsipaw. As in many countries, train stations are colorful places and these are not different. When you get to the train station, you need to join a long chaotic queue for tickets. You will be surprised of how the staffs here sell tickets. Computers are not available. They have several files and pages for reference, then they need to confer again and again with their colleagues to eventually find empty seats. Finally, write out your ticket details by hand in carbon duplicate. In waiting time, you have a chance to ponder how miraculous thing gets done.
On the train, with the opened windows, you enjoy the cool breeze, pass by the beautiful and picturesque landscapes of Shan State. You also see the local life surrounding: farmers in their fields, animals wandering around, and children playing outside their houses… Whenever the train stops, you see the vendors walking up and down the aisles. They sell all sorts of snacks, fruits and vegetables; most balance goods on heads and keep excellent despite the bumpy ride. All are very friendly and get pleased to interact with you, even they don't speak English and just can use body language.
Once crossing Gokteik bridge, the train will move very slowly in order not to strain the old structure too much. The slow passage does give ample opportunities to take photos and appreciate the inspirational view.  Especially, the vice versa train likely will be crossing at the same time, giving photographers a chance to catch a shot of a train on the bridge. The crossing takes about 25 minutes with a stop.
Most tourists choose the soft, reclining seats of the "upper class" cabin over the wood benches of the cattle-car regular class for such a long journey. However, if you take just short part of train, regular class is recommended as it is easy to have a space for photos. The locals are a bit less excited than tourists, so they are happy to offer good position to you.
Myanmar Travel provides short excursions, car rental and other services required for this trip. Should you need any assistance, feel free to contact us. Our travel consultant will get back to you immediately.