Vietnam Visa
Visa to Laos, Cambodia and Thailand is easier to obtain now, you could apply for visa at the arrival airport, while apply visa to Myanmar and Vietnam is bit more complicated. Mostly, visitors have to apply Visa in advance to enter Myanmar and Vietnam. Below are some information about Visa to these countries. For more information, please contact one of our Travel Consultants for instant support and worthy travel advisory.
Most visitors to Vietnam require a visa to enter the country.
Visas are exempted for the citizens of the countries listed below:
– Thailand, Malaysia, Singapore, Indonesia, Cambodia and Laos (30 day visa).
– Brunei, Myanmar (14 day visa).
– Philippines (21 day visa).
– Japan, South Korea, Sweden, Norway, Russia, Denmark and Finland (15 day visa; required to hold a passport valid for at least 6 months on arrival and also must make 30 day pause between two arrivals).
– United Kingdom, France, Germany, Italy and Spain (15 day visa)
– Belarus (15 day visa. This visa waiver is valid until 30 June 2020).
– Kyrgyzstan (30 day visa).
– Chilean holders of ordinary passports with a validity of at least six months are subject to a visa-free stay in Vietnam shorter than 90 days.
– Citizens of China, Cuba and North Korea holding normal passports endorsed "for public affairs" do not require a visa for Vietnam.
– APEC Business Travel Card (ABTC) Holders from Asia-Pacific Economic Cooperation (APEC) member economies are exempted to stay within 60 days without visa.
– Those who directly visit Phu Quoc Island without a visa for up to 30 days. Foreigners and Vietnamese nationals bearing foreign passports who enter Vietnam through an international border gate and then travel to Phu Quoc Island and stay in Phu Quoc less than 30 days will also be granted Vietnam visa exemption. After arriving in Phu Quoc Island, if visitors want to travel to other localities or stay in the island for more than 15 days, the immigration department will be responsible for issuing visas right on the spot.
Vietnam's visa waiver policy is eligible for passport holders of Denmark, Finland, Norway, Sweden, Japan, Russia, South Korea, UK, France, Germany, Italia, Spain. Accordingly, those come from these countries are currently allowed to stay in Vietnam for only 15 days per visit and wait for at least 30 days if you want to apply for the next entry. 
So in case citizen from those countries (Denmark, Finland, Norway, Sweden, Japan, Russia, South Korea, UK, France, Germany, Italia and Spain) wants to stay in Vietnam for more than 15 days or entry Vietnam more than once in less than 30 days, you should apply for single entry visa 30 days valid or multiple entry visas as other.
Visa Approval Letter processing fee:
1 – One-month Single-entry Visa: 15 USD.
2 – One-month Multiple-entry Visa: 30 USD.
Note:
– The above rate does not cover the Visa Stamp Fee, which must be paid at the arrival airport to immigration officers: 25 USD Single Entry or 50 USD Multiple Entry.
I. Vietnam Tour's Visa Service:
Travelers with Vietnam Tour receive a complimentary Visa Approval Letter to make your trip a little easier! A Travel consultant will prepare the necessary paperwork and send you the letter either by email or fax.
Once you have received your Visa Approval Letter you have two options through which to obtain your Vietnam Visa: To save your time at immigration counter, please print out and fill in the VISA FORM in advance.
Option 1: Take your Vietnam Visa Approval Letter and get the visa stamp at the Vietnamese Embassy or Consulate in your home country.
Option 2: Get your visa on arrival at airports in Vietnam. Visa on arrival is the easiest option, especially if you are pressed for time or have no Vietnamese Embassies in your area. Just bring a copy of your visa approval letter (you may be required to show this when you board the airplane) and a passport size photo. Upon arrival in Vietnam show these forms at the Visa on Arrival counter and pay the immigration officers the stamp fee:
* 25 USD for single entry (<30 days),
* 50 USD for multiple entries up to 90 days,
* 95 USD multiple entries from 90 days to 180 days,
* 135 USD for multiple entries from 180 days to 365 days (cash only).
(Please note that the visa on arrival option is not applicable to Chinese citizens. Chinese citizens will need to get their visa stamp at the Vietnamese Embassy in China before being allowed to enter Vietnam)
Choose the option that suits you best, and then send us the following information:
– Your Name (As printed in your Passport):
– Gender:
– Date of Birth:
– Passport Number:
– Expiration Date:
– Nationality:
– Date of Entry:
– Copy of your passport: (scan and e-mail)
We will submit this information to the Vietnam Immigration Office and get your visa approval letter within 3 (three) to 4 (four) business days.
NOTE:
– The Visa On Arrival to Vietnam only works when you arrive by plane to the International Airports of HCM City, Hanoi, Danang, Nha Trang.
If you travel via land (boat or drive) from Laos or Cambodia to Vietnam, please have the Visa in advance because service of Vietnam Immigration Offices at Vietnam borders (in Vinh Suong – Chau Doc or in Moc Bai) is complicated and slow.
– Citizen of following countries must pay 70 USD per visa to obtain Vietnam Visa Approval Letter:
UNITED ARAB EMIRATES
AFGANISTAN
ALBANIA
BANGLADESH
BHUTAN
CAMEROON
ALGIERIN
EGYPT
FIJI
GHANA
GAMBIA
GUINEA
HONDURAS
INDIA
IRAQ
IRAN
JORDAN
KENYA
KUWAIT
SRI LANKA
LILEYA (LIBI)
MOROCCO
MOZAMBIQUE
NAMIBIA
NEPAL
LEBANON
PERU
PAKISTAN
PALESTINE
QATAR
RWANDA
ARAB SAUDI
SUDAN
SENEGAL
SYRIA
TURKEY
ZAMBIA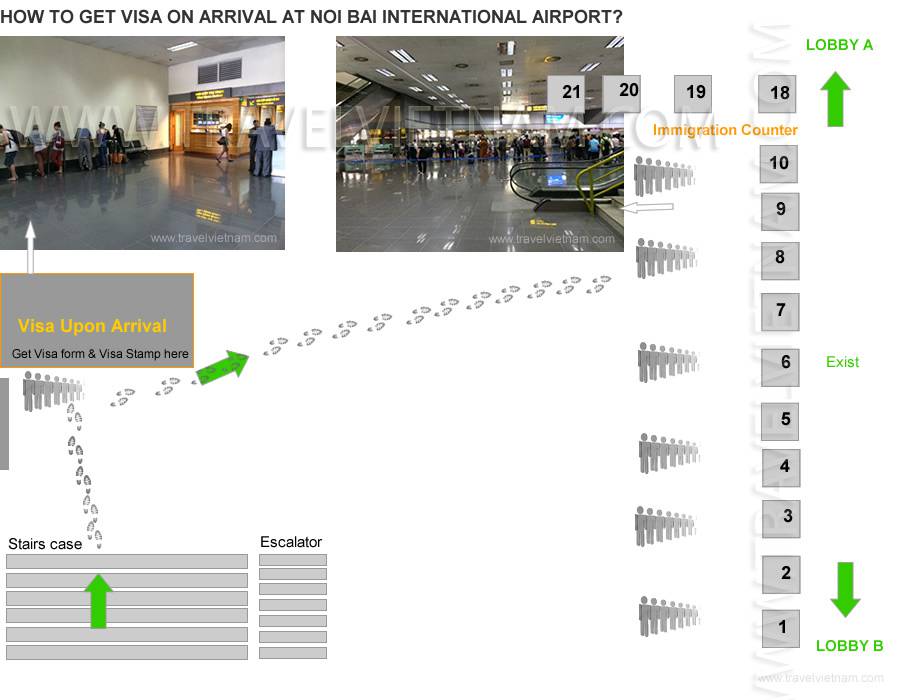 II. E-Visa Service:
An electronic visa (E-visa) is one of visa types issued to foreigners by Vietnamese Immigration Department visa electronic system. Vietnam E-visa is valid for maximum of 30 days, single entry.
Outside Vietnam foreigners who want to enter Vietnam can personally apply for E-visa or through the inviting/ guaranteeing agencies and organizations.
E-visa fee (25 USD) is paid via electronic payment gateway as prescribed by the Immigration Department. The fee will not be refunded in case the applicant is refused to grant e-visa.
Applicants are required to complete a form available on two separate websites (one in Vietnamese and the other in English) run by the Ministry of Public Security. It takes three working days for tourists to find out if their applications have been approved or not, according to the directive. Successful applicants will be able to print off their e-visas to present when they arrive.
Visitors can touch down at any of Vietnam's eight international airports, including Tan Son Nhat in Ho Chi Minh City, Noi Bai in Hanoi and Da Nang in the central region. Visitors can also arrive via land at 13 international border gates, and via sea at seven ports across the country.
Conditions for being granted e-visa:
– Outside Vietnam foreigners;
– Holding valid passport;
– Not falling into the cases of suspension from entry prescribed in Article 21 of Law on foreigners' entry into, exit from, transit through, residence in Vietnam.
Selections:
1. For outside Vietnam foreigners, click here,
2. For inviting, guaranteeing authority/organization, click here,
3. For airlines, click here.
Notes:
E-visa holders in Vietnam may be considered to grant new visa if being invited/guaranteed by authority/ organization/ individual in Vietnam in accordance with Law on foreigners' entry into, exit from, transit through, residence in Vietnam.
Foreigners who entry Vietnam must comply with Vietnamese law.
Inviting/guaranteeing foreigners in accordance with Section 1, Article 16, Law on foreigners' entry into, exit from, transit through, residence in Vietnam; can be applied through electronic system (click here).
LIST OF COUNTRY THAT ALLOWED E-EVISA ISSUING
| No. | ICAO | NATION |
| --- | --- | --- |
| 1 | ARG | Argentina |
| 2 |  ARM |  Armenia |
| 3 |  AZE |  Azerbaijan |
|  4 |  BGR |  Bulgaria |
|  5 |  BLR |  Belarus |
|  6 |  BRN |  Bruney |
|  7 |  CHL |  Chile |
|  8 |  CHN |  China (Not apply to Chinese epassport holders) |
|  9 |  COL |  Colombia |
|  10 |  CUB |  Cuba |
|  11 |  CZE |  Czech Republic |
|  12 |  D |  Germany |
|  13 |  DNK |  Denmark |
|  14 |  ESP |  Spain |
|  15 |  FIN |  Finland |
|  16 |  FRA |  France |
|  17 |  GBR | United Kingdom of Great Britain and Northern Ireland |
|  18 |  GRC |  Greece |
|  19 |  HUN |  Hungary |
|  20 |  IRL |  Ireland |
|  21 |  ITA |  Italy |
|  22 |  JPN |  Japan |
|  23 |  KAZ |  Kazakhstan |
|  24 |  KOR |  Korea (South) |
|  25 |  LUX |  Luxembourg |
|  26 |  MMR |  Myanmar |
|  27 |  MNG |  Mongolia |
|  28 |  NOR |  Norway |
| 29 |  PAN |  Panama |
| 30 |  PER |  Peru |
| 31 |  PHL |  Philippines |
| 32 |  POL |  Poland |
|  33 |  ROM |  Romania |
|  34 |  RUS |  Russia |
|  35 |  SVK |  Slovakia |
|  36 |  SWE |  Sweden |
| 37 |  TMP |  Timor Leste |
| 38 |  URY |  Uruguay |
| 39 |  USA |  United States of America |
| 40 |  VEN |  Venezuela |
| 41 | NLD | Netherland |
| 42 | NZL | New Zealand |
| 43 | AUS | Australia |
| 44 | IND | India |
| 45 | CAN | Canada |
| 46 | ARE | United Arab Emirates |