Myanmar Traditional Clothes
One of the most unique images you can see when traveling Myanmar is that both men and women wearing long skirt. It is one kind of traditional clothes in the country. Let discover this tradition with Myanmar Travel through this article.
1. History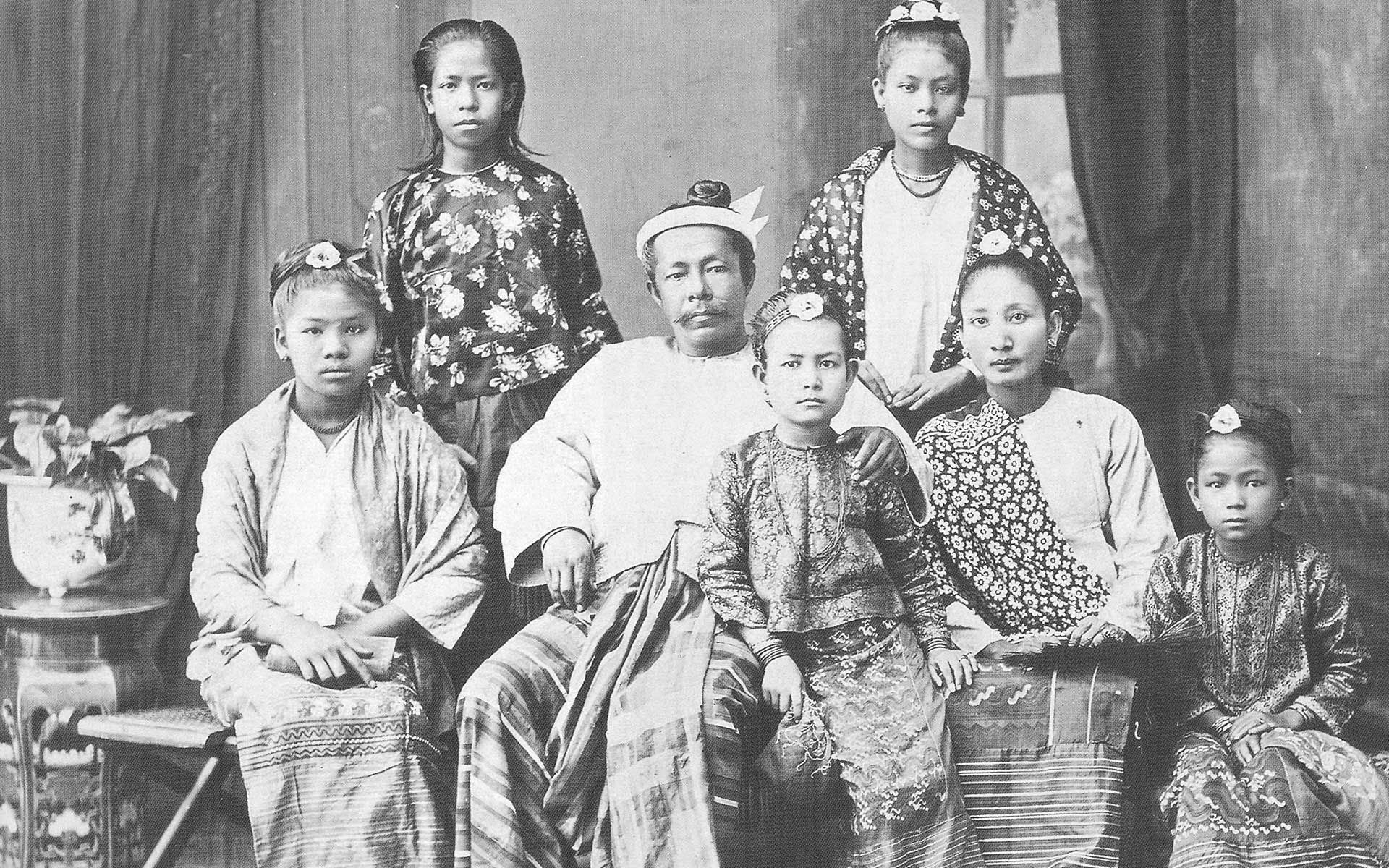 The traditional clothes of Burmese people are said to be date back to the 1750s. They were worn by people who held high positions in the Konbaung court. At that time, the clothing was decorated with stunning jewelry and precious stone.
In the past, women wore a set of clothes including floral head ornaments, uniquely decorated blouses, felt footwear, and a htamein, which you can see many women wearing today. A set for men included a turban, hnyat-phanat slippers, a silk jacket embroidered with fur, and a cotton shirt. Myanmar traditional clothes changed slightly at the end of the British era in the country. When Indian immigrants made their way to Myanmar, the style was also altered slightly to mimic their dress.
2. Typical items
Longyi
It generally likes a tube skirt, worn by both men and women. It is widely recognized as Myanmar national costume. Actually, longyi is not unisex costume but it has difference between men and women.
Longyi worn by males are called Paso. Paso is just a sheet of cloth which is functional, comfortable, and breathable when Myanmar gets to be unbearably hot. The sheet used to fold into the longyi is usually about two meters in length and 80 centimeters wide. Men wear the modern paso by making a fold on either side in front and tied by tucking them together at the waist just below the navel.  A paso is usually decorated with stripes or checkers and are more in dark color (black, brown, dark blue…)
One worn by females is called htamein. Unlike the male's version which are usually plain in color, htameins can be vibrant, colorful, and filled with patterns. They are also made up of a number of different materials. Women wear a htamein by folding it to the left and then wrap around the middle into the waist. Htamein has a plain black strip of cotton about 5 inches wide sewn and attached to the top part of the circular skirt. It is known as "Ahtet hsin". It helps to keep the longyi firmly in place especially if it is made of silk or satin. It prevents frequent adjusting and keeps the skirt neat and level.
Tops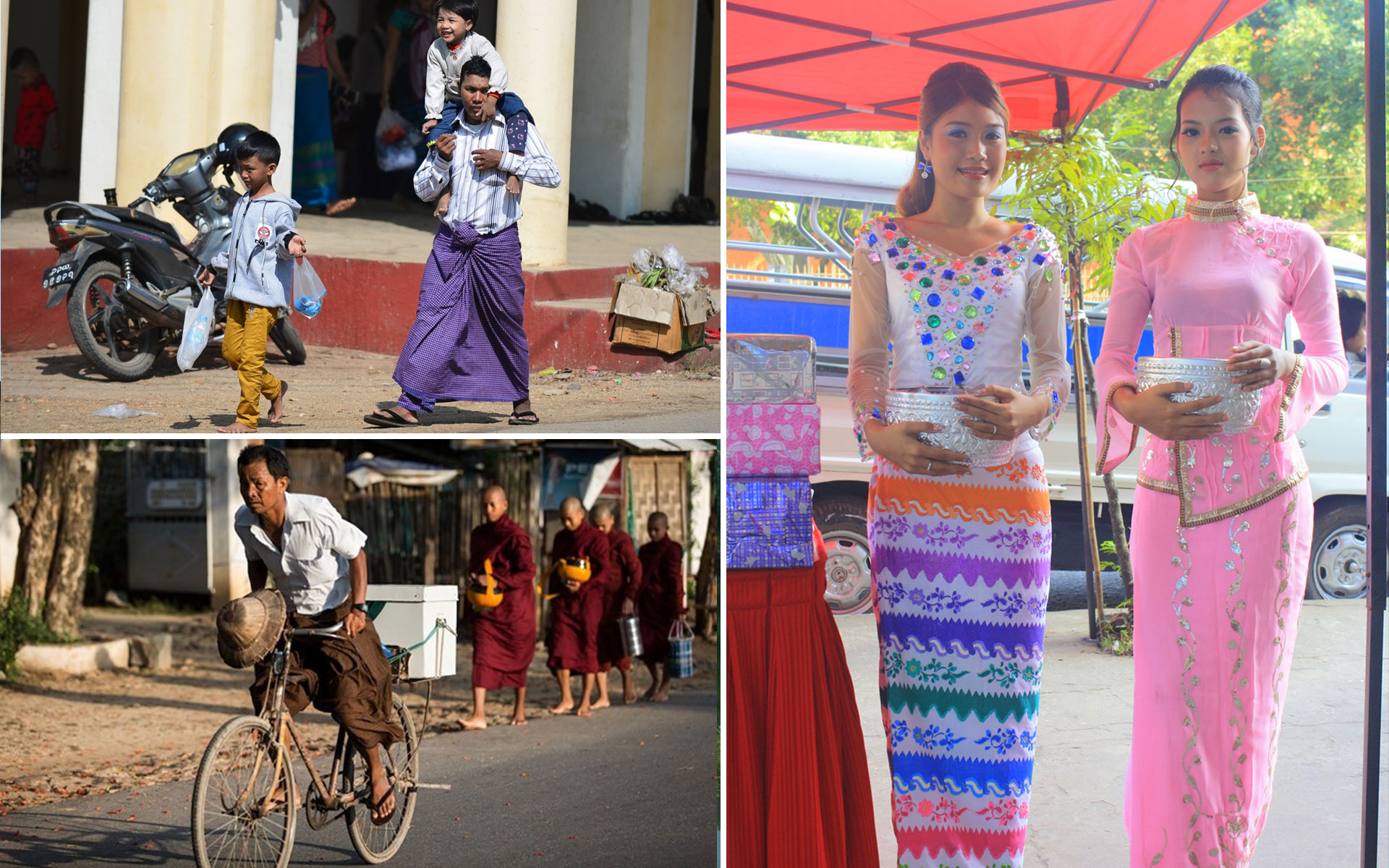 Previously, men used to wear longyi with a white and stiff-collared shirt, buttoned down the front. It is the same as a western style shirt. The shirt was either long-sleeved or short-sleeved. Men usually wore short-sleeved shirts with collar on informal occasions. Today, they have switched to T-shirts and sports shirts of all colours and designs for casual wear.
Burmese women wear a waist-length blouse called eingyi. There are two prevalent styles: yinzi- buttoned at the front, or yinbon – buttoned at the side. For formal and religious occasions, Burmese women typically don a shawl.
Jacket

For business and formal occasions, Burmese men wear a jacket called a taikpon eingyi  over an English collar shirt. This costume was popularized during the colonial era.
In formal occasions as weddings or in traditional dances, Burmese women wear a buttonless tight-fitting hip-length jacket called htaingmathein. It sometimes has flared bottoms and embroidered sequins. Htaingmathein in Burmese means "does not gather while sitting". It refers to the fact that the tight-fitting jacket does not crumple up when sitting. This jacket was popular among the aristocratic classes during the Konbaung dynasty.
3. Acheiktextiles
Acheik or luntaya acheik is the indigenous textile pattern in Myanmar. It features intricate waves interwoven with bands of horizontal stripes, embellished with arabesque designs. Luntaya means a "hundred shuttles" in Burmese. It shows the time-consuming, expensive, and complex process of weaving this pattern.
Firstly, three of four raw silk threads are twisted tightly by a machine for tautness and smoothness. After that, silk-woven faces are removed by washing in boiling nut soap liquid. This step helps the fabric become softer than ordinary silk thread. While boiling the silk, colors can be added to dye the thread. And then, the dyed threads are washed with water and dried under the sun. For weaving, it may require using 50 to 200 individual shuttles, each wound with a different color of silk. The weaving requires at least two weavers to manipulate the shuttles to achieve the designed patterns. There are fifty-two kinds of classic achiek designs, and they are expensive as it takes much time and effort to produce.
Acheik textiles have flourished since the nineteenth century CE. During the ancient period, achiek was used only for royal costumes. Other people could only wear achiek if the king rewarded them. Until now, achiek workshops are mainly based in Amarapura, Sagaing, and Mandalay in upper Myanmar.
Nowadays, cotton and silk are mixed and Achiek designs are modified to make it cheaper by machine. Although handmade achiek textiles are expensive, Myanmar ladies prefer it as it show their pride. They wear classic design textile pattern for both special social and religious occasions. Since Myanmar people have worn acheik designs ancient times until today, Myanmar acheik continues to be a living heritage.
4. When to wear traditional clothes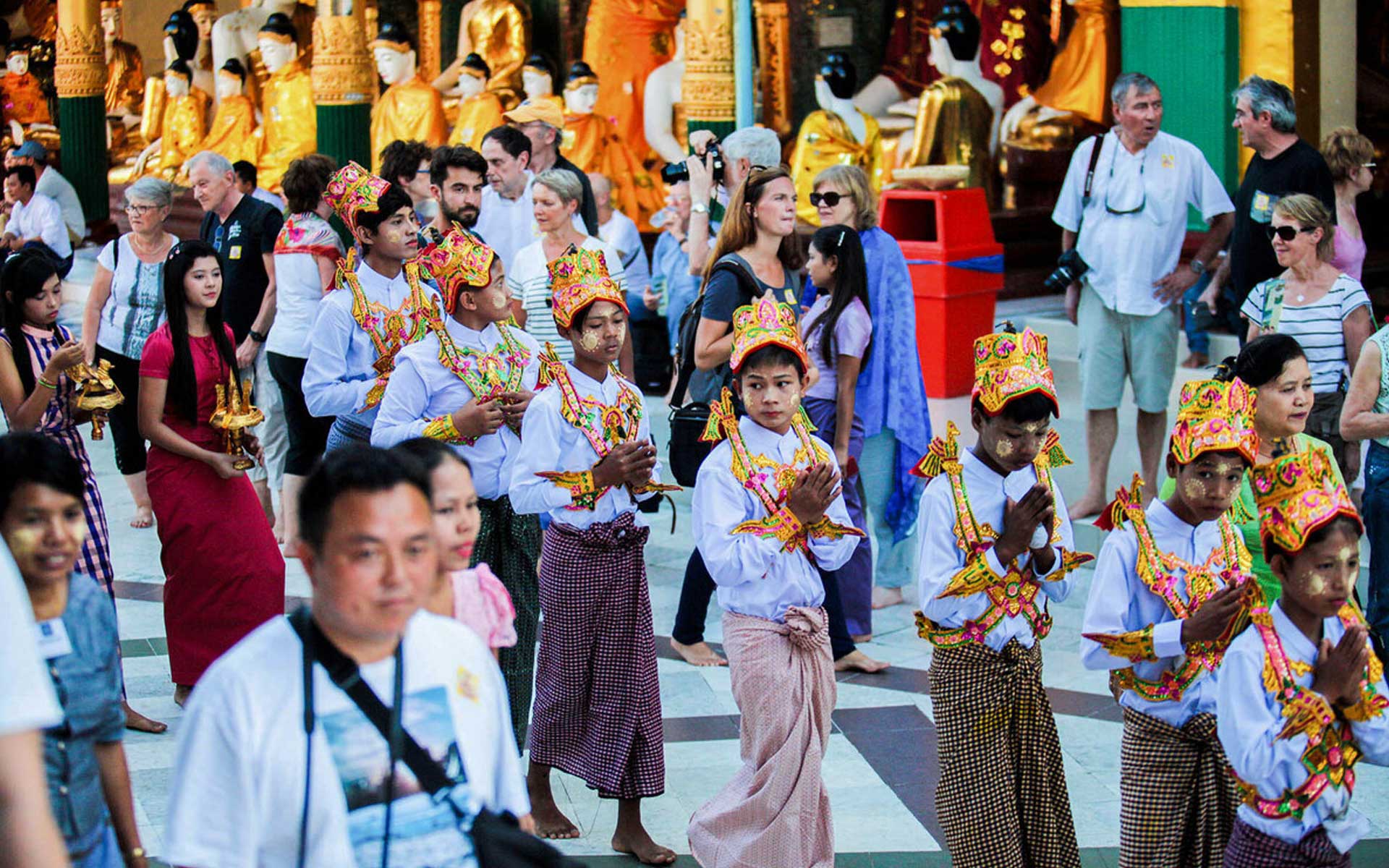 Unlike other countries where people only wear traditional clothes on special or formal occasions, Myanmar people wear traditional clothes every day. They wear longyi while doing housework, doing farming, riding a motorbike, going to work and even playing sports.
For local people, longyi is a kind of comfortable and brisk clothes. It is very suitable for the hot weather of this country.
Traditional clothes are simple to wear. Therefore, it is convenient to take in and take off those clothes when needed in daily life. It is also easy to mix with other itimes.
Finally, these traditional costumes can be pulled up and become the "raincoat", the sun shirt or may be enrolled to make a stable substrate for Burmese women to carry commodities (fruits, rice bags, foods).
5. Where to buy traditional clothes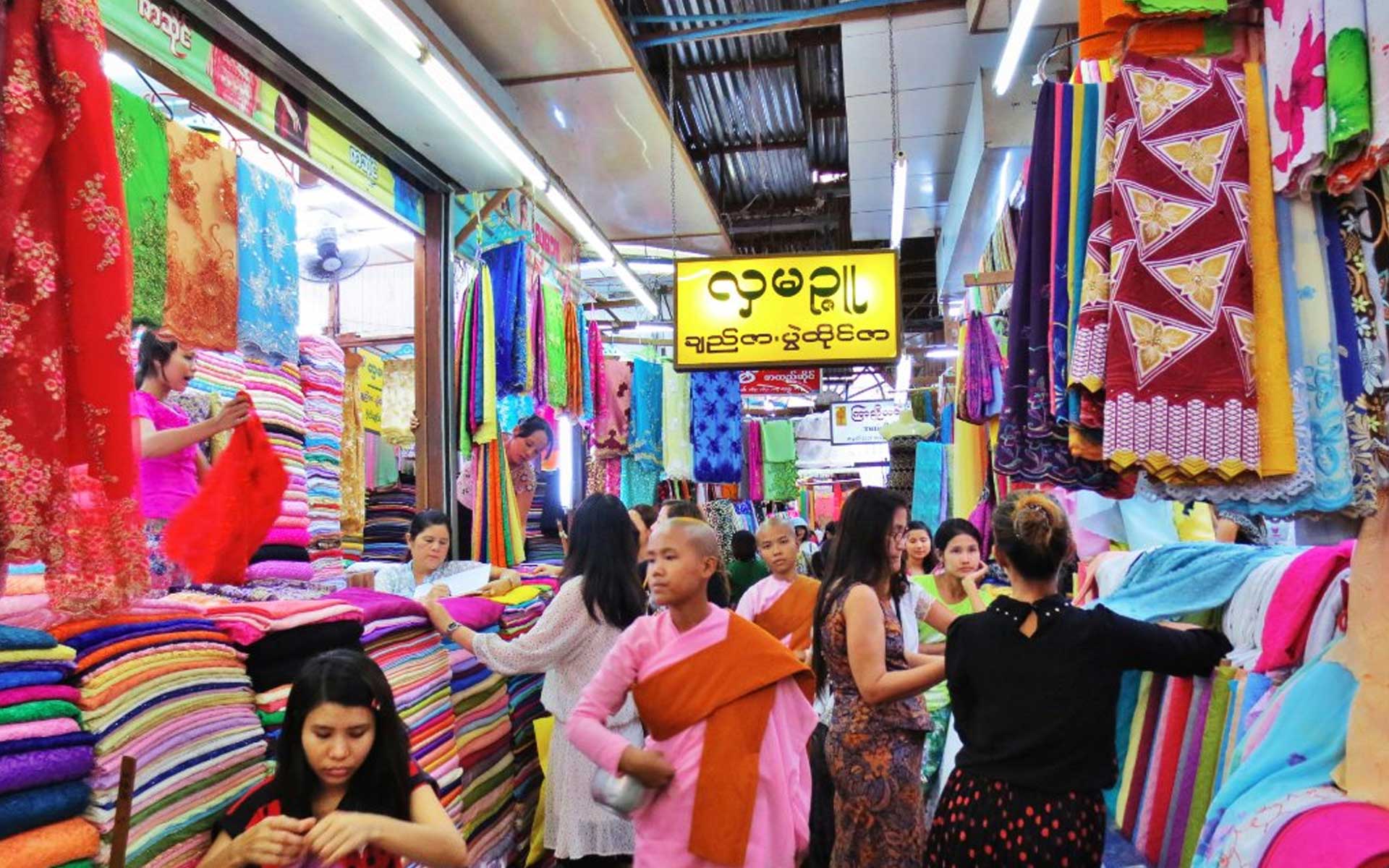 Wearing Myanmar dress is a great experience for tourists when traveling to the country. It can be souvenir you can bring home to your friends and family. You can easily find longyi for purchase in markets and shops on the streets. Bogyoke Aung San Market in Yangon is a good place for visitors to buy longyi. You can choose various cloth and design, then get tailored with the price from 10USD.